RTMP vs. RTSP: Which Streaming Protocol is Right for Your Business?
The ability to smoothly, professionally stream live video online is essential to the success of your content. If your viewers have too much difficulty watching the videos you stream, or if your streaming process is too complicated, the content you create won't be seen by the people you're most looking to draw in and you'll fight an uphill battle.
In this article, we will discuss two popular streaming protocols: RTMP and RTSP. Depending on your individual equipment and needs, one protocol will be preferable over the other. We will go into RTMP vs RTSP, so you know which one is best for you. 
First, we'll delve into just what the differences between RTMP vs RTSP are and examine the pros and cons of choosing each protocol. Then, we'll compare the two to help you make an informed decision on what format will work best for your business needs. We will help you determine is RTSP protocol or RTMP protocol is best for you. 
Table of Contents:
RTMP vs RTSP: Streaming Protocols Explained

Which Protocol is Right for Your Needs?

How RTMP Streaming Integrates with Dacast

Conclusion
RTMP vs RTSP: Streaming Protocols Explained
RTMP and RTSP video streaming protocols allow users to view content in any web browser and on most mobile devices.
RTMP and RTSP are both streaming protocols, meaning they are sets of rules that govern how data travels from one system of communication to another. If the video data you're trying to send to your viewers is a car, then the streaming protocol is the road that the car takes to get from one place to another.
The two most common streaming protocols are RTMP and RTSP, which is why you will often see comparisons of RTSP vs RTMP. 
While they both accomplish similar goals, when we compare RTSP vs RTMP there are some important differences.
What is RTMP?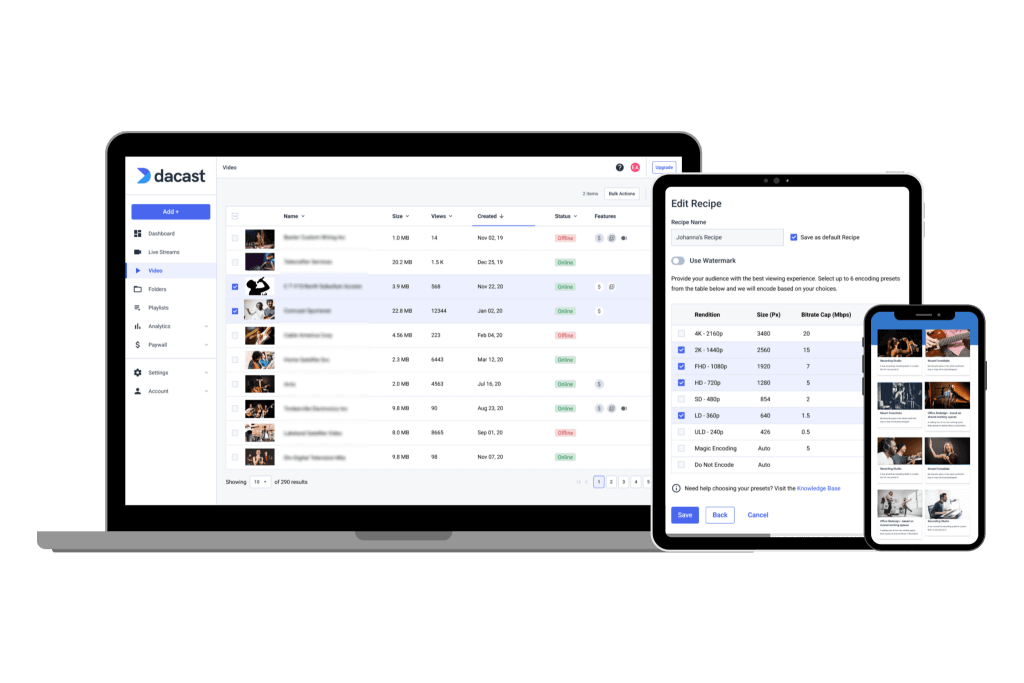 RTMP stands for Real-Time Messaging Protocol. It is a standardized method of moving multimedia files over the internet.
Developed by Macromedia (now owned by Adobe), RTMP streams low-latency, on-demand content efficiently. This data can be pre-recorded or live-streamed, but RTMP is most commonly used today for live-streamed content.
While most live video streaming software supports RTMP ingest, most online video streams utilize the HLS streaming protocol. HLS – HTTP Live Streaming – protocol was pioneered by Apple and is compatible with nearly all mobile devices, game consoles, smart televisions, and computers on the market. The real-time messaging protocol transmits the audio and video files from the RTMP encoder to the video hosting platform, and HLS transmits the files from the hosting platform to individual viewer devices.
RTMP is a very popular streaming protocol, offered as a featured option by most of the leading live streaming platforms such as Dacast, Brightcove, and Wowza.
Pros and Cons of RTMP
Using RTMP in your live video streaming comes with a variety of positive and negative points:
Pros of using RTMP:
Low latency: Low latency allows your live video stream to maintain a stable connection and video feed for the viewer, even if the internet connection is unreliable. This provides your viewers with fewer "lags" when watching your videos with a shaky internet connection, allowing them to quickly resume the stream once their internet connection stabilizes.  RTMP allows for a better viewing experience.
Adaptable: An adaptable feed means your viewers aren't locked into watching your feeds in one linear direction. Adaptability allows them to skip and rewind parts of the feed or to join a live stream after it's begun.

Most viewers now expect the videos they watch to have this capability. 

Flexible:

RTMP allows you to integrate a variety of media types into one cohesive package, seamlessly blending audio, video, and text. Additionally, you can have multiple variations of media channels, such as streaming both MP3 and AAC audio streams or streaming MP4, FLV, and F4V videos. It allows for RTMP audio streaming.
Cons of Using RTMP:
Not supported by HTML5:

RTMP is supported by Flash players, a format that's well on its way toward obsolescence. HTML5 players are quickly becoming the modern standard, but RTMP cannot play on HTML5 players without a converter such as HLS. Using RTMP requires other tools.

Bandwidth issues: RTMP streams can be especially vulnerable to issues of low video bandwidth. This can cause frequent, frustrating interruptions to your streams that ruin the experience for your viewers.
HTTP incompatible: You cannot directly stream an RTMP feed over an HTTP connection. In order to use an RTMP stream on your website, you have to connect to a special server, such as the Flash Media Server, and use a third-party content delivery network (CDN).
What is RTSP?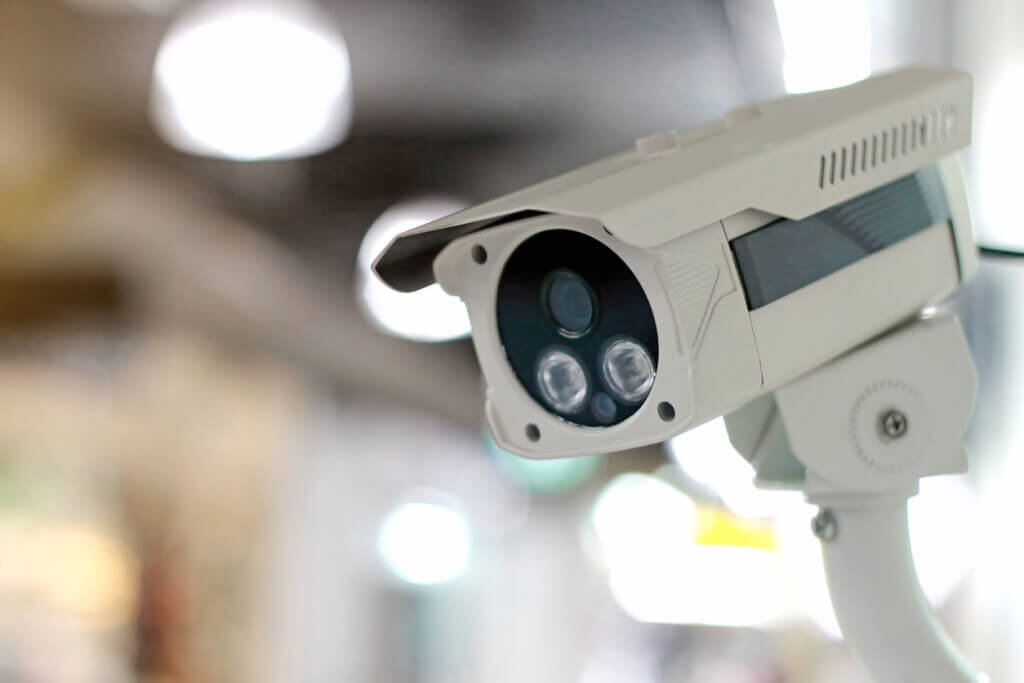 Wondering what RTSP is used for? RTSP, also known as Real-Time Streaming Protocol, is a lesser-known protocol for streaming video online. 
This protocol was designed to control the streaming servers used in entertainment and communications systems. RTSP servers sit between the live stream and the viewer, issuing "play," "pause" and "record" commands.
When the RTSP controls the server-to-client connection, video-on-demand streams are used; when it controls the client-to-server connection, RTSP utilizes voice recording streams. 
RTSP commonly is used for Internet Protocol (IP) camera streaming, such as those coming from CCTV or IP cameras. 
Pros and Cons of RTSP
Before you choose an RTSP live stream for your video delivery, it's important to understand the benefits and downsides of its use:
Pros of using RTSP:
Segmented streaming:

Rather than forcing your viewers to download an entire video before watching it, the RTSP stream allows them to watch your content before the download is complete.

Customization:

By utilizing other protocols, such as Transmission Control Protocol (TCP) and User Datagram Protocol (UDP), you can create your own video streaming applications.
Cons of using RTSP:
Less popular:

Compared to other

media streaming protocols

, RTSP is far less popular. Most video players and streaming services do not support RTSP streaming, making it more difficult to broadcast your stream in your browser. To broadcast an RTSP stream, you must use a separate RTSP live streaming service.

HTTP incompatible:

Like RTMP, you cannot directly stream RTSP over HTTP. Because of this, there is no easy, straightforward way to stream RTSP in a web browser, as RTSP is designed more for streaming video on private networks such as security systems within a business. However, you can stream RTSP using additional software that's embedded into your website.
RTMP vs. RTSP: Which is Right for Your Needs?
Choosing between RTMP vs RTSP streaming protocols greatly depends on your individual business needs and how many extra steps you are willing to take to make your content playable on your website.
To make this decision, it's important to understand how each type of streaming works.
How RTMP Works for Streaming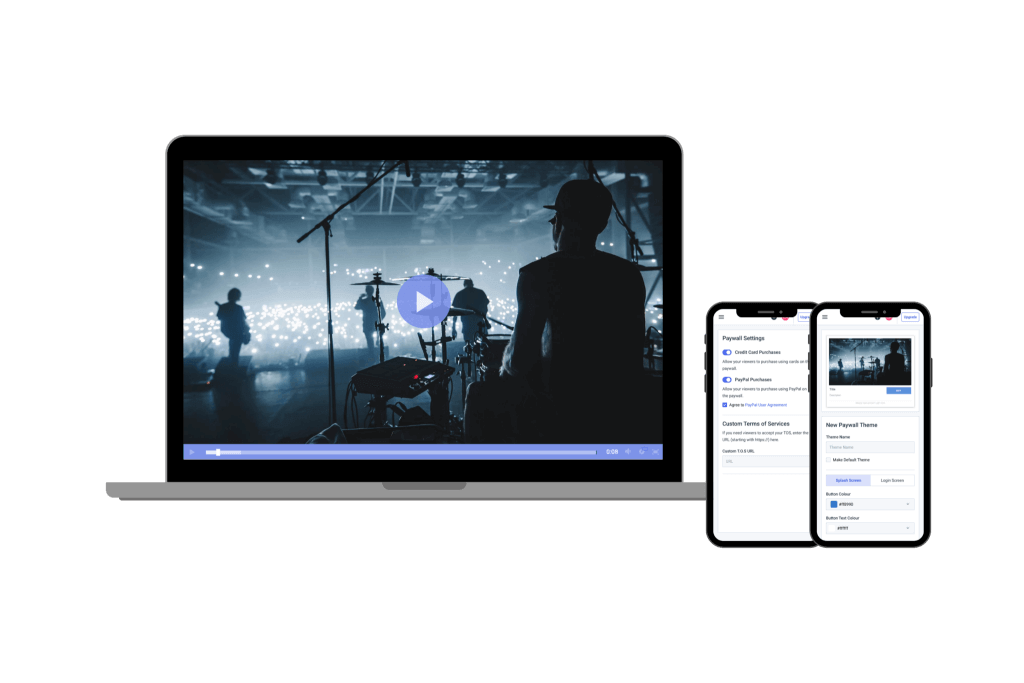 RTMP streaming is based on the Transmission Control Protocol (TCP) and is designed for live streaming through Flash player.
Because of its versatility, RTMP is secure and can stream audio, video, and text files in any web browser and mobile device that is compatible with Flash. This means RTMP streaming is widely accessible to viewers without the need for secondary applications or platforms to make a player compatible. It also makes your task of filming, uploading, and sharing your live-streamed videos easier.  RTMP is made for modern streaming needs.
To capably live stream with RTMP streaming protocol, you will need a live-streaming camera, a capture card or hardware video encoder, and live video streaming software. Once you have all the right equipment, RTMP streaming protocol will help get your content to your viewers.
How RTSP Works for Streaming
Where RTMP uses only TCP to transmit data, RTSP utilizes two network communication protocols: TCP and UDP. 
TCP issues and receives the stream's control commands and UDP delivers the audio, video, and data. Because of the use of these two network communication protocols, an RTSP live stream allows users to begin watching a video while the stream is still being downloaded.
Because RTSP is not designed to stream directly in your web browser, embedding an RTSP stream on your website is more complicated than RTMP. In order to stream RTSP video content, you will need additional software to make your stream compatible.
How RTMP Streaming Integrates with Dacast
At Dacast, we work hard to ensure that you have the most easy-to-use, seamless white-label streaming solution for online video delivery.
To give your viewers the smoothest playback experience, Dacast offers adaptive bitrate streaming. This means that your users will view the highest-quality file that will reliably play on their individual devices and internet connection.
In order to easily offer adaptive bitrate streaming, Dacast utilizes cloud transcoding to help you create the various levels of file quality without much effort on your end. RTMP protocol is the backbone of this service. 
Cloud Transcoding and RTMP
When using the term "video transcoding," it refers to the process of taking a video file from one format and re-encoding it into a different format. For example, transcoding can take an MP4 file and re-encode it into FLV, allowing the video to be more widely playable.
By transcoding in the cloud, you save processing power, time, and money over transcoding all the files locally on your computer. Additionally, cloud transcoding automatically re-encodes your files into all available formats without you needing to do anything or have any specific technical knowledge. RTMP cloud transcoding makes it easier to get quality videos to your viewers.
Because RTMP allows your viewers to watch your videos in different formats on nearly any video player, cloud transcoding makes your videos ready for this varied consumption.
How Does Cloud Transcoding Fit in with RTMP?
RTMP is the most versatile streaming protocol in use, and using it allows your users to view videos in a range of formats. By using cloud transcoding to ensure your files are properly encoded in each format, your users can view your content on any web browser and nearly every mobile device, regardless of the file format their device plays.
Every video producer has their favorite video encoding platform. Dacast seamlessly integrates with three popular encoding platforms: OBS Studio, Wirecast, and XSplit.
1. OBS Studio
Open Broadcaster Software (OBS) Studio is a free, open-source video encoder compatible with Windows, macOS, and Linux systems.
While it is more basic at its core than many other software platforms available, it offers a wide range of plugins to enhance its capabilities and functionality. Many of these plugins help elevate OBS to the level of many of the pricier video encoders.
Key Features of OBS Studio:
Support for audio, video, image, web browser, and graphics sources

Supports video recording and RTMP live streaming

Switch between multiple sources, including camera using a capture card

Variety of community-developed plugins

Studio mode and multi-view features

Pre-program scenes with multiple elements
Pricing:
OBS Studio is open-source and completely free. There is no cost to accessing and using this software. Version 27.1.3 was released on October 4th, 2021, and is available for download here for macOS 10.13 or newer, Windows 8, 8.1, and 10, as well as Ubuntu 18.04 operating systems.
For the Linux version, FFmpeg is required.
OBS Studios is great for beginner broadcasters, as it is free and easy to learn with a little effort. It offers RTMP live streaming support.
2. Wirecast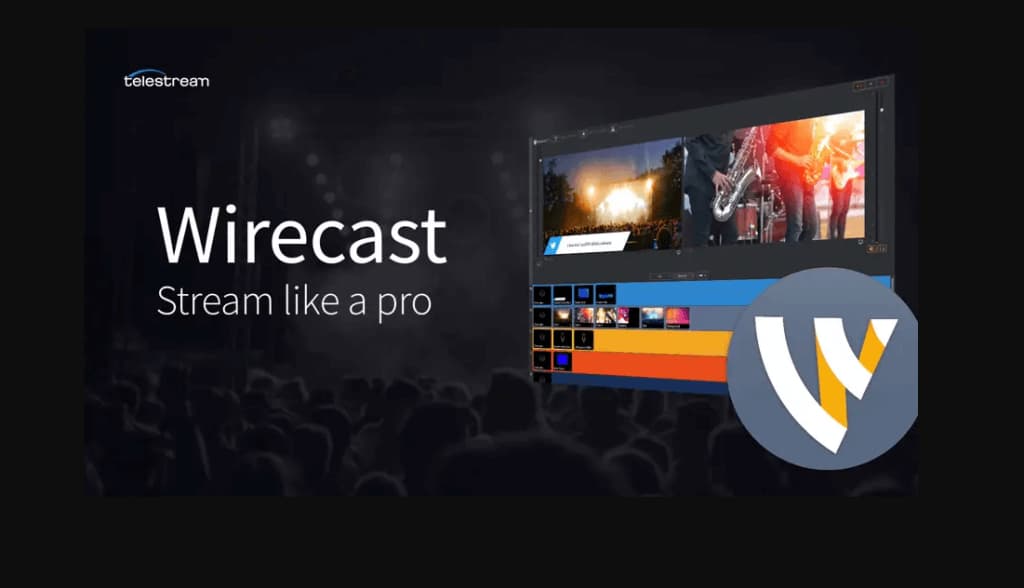 Developed by Telestream, Wirecast is a more robust platform with a wide variety of professional tools to make live streaming easier. From small producers to major brands, Wirecast has a solution that will fit your needs.
Key Features of Wirecast:
Input sources from cameras, mics, webcams, IP cameras, capture cards, and desktops

Offers instant replay, scoreboards, clocks, and timers, making it ideal for sports applications

Audio mixer and up to 8 audio tracks

Built-in video conference tool

Simultaneously stream to more than one location

Stream and record simultaneously, with re-stream and live captions options
Pricing:
The latest version of Wirecast is 14.3.3. It is the newest full version and was released on October 4th, 2021. It features several enhancements and fixes, regarding bugs and other technical mishaps with the previous version, and includes FBLive polling, re-written WebStream plugin, and Virtual Camera improvements.
The software comes in two versions:
Wirecast Studio for enhanced live production & streaming: pricing is $599 with a free trial
Wirecast Pro for advanced live production and streaming: pricing is $799 which also comes with a free trial
The Pro version includes several features not available on the Studio version.
3. XSplit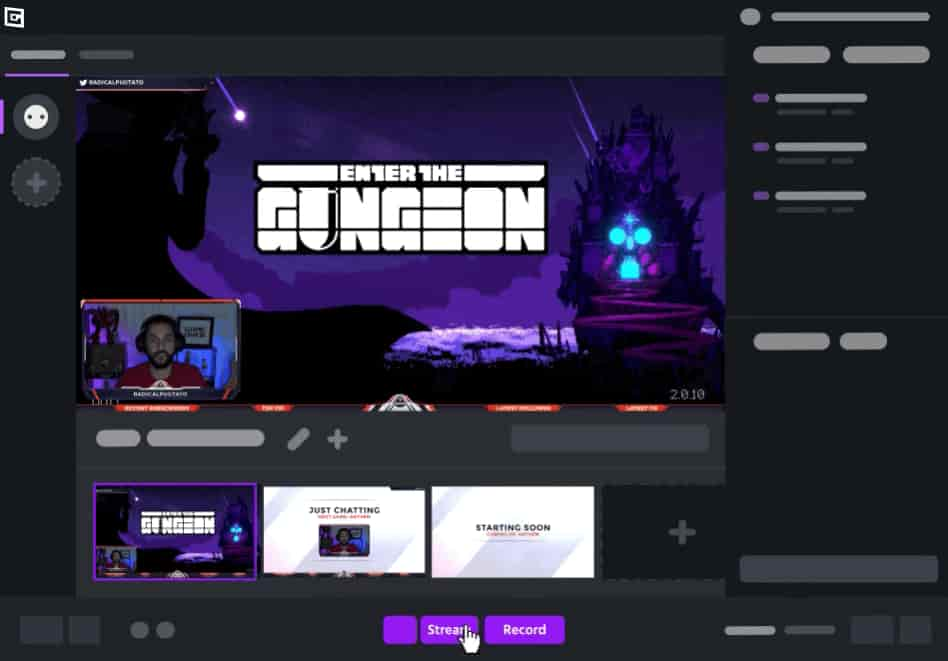 XSplit comes in two versions: Gamecaster and Broadcaster. The Gamecaster version is focused on live streaming of video gameplay. The XSplit Broadcaster version, on the other hand, offers simple, powerful live streaming and recording software. The platform seamlessly integrates with a wide variety of popular streaming gear, including products from Discord, Logitech, and Razer.
Key Features of XSplit:
Offers support for a range of inputs, including all major capture cards, videos, music, and webcams

Professional production features, including enhanced audio

Locally record streams

Integrated chat function

Variety of other custom plugins and integrations

Edit and securely upload video recordings
Pricing:
The pricing plans for XSplit Broadcaster Premium are as follows:
1 Month License: $20.00
3 Month License: $35.00
12 Month License: $70.00
Lifetime License: $230.00
Regardless of your individual needs and budget, there's a high-quality video encoding platform compatible with Dacast that will work for you when choosing the RTMP streaming protocol.
Conclusion:
Both RTMP and RTSP streaming protocols serve their own unique purposes in broadcasting previously streamed video files online. RTMP is a widely compatible, flexible option that allows your viewers to select the web browser or mobile device of their choice to view your content without difficulty. 
On the other hand, RTSP works better for localized streams or, if you utilize additional software to improve compatibility with web browsers, online streaming.
The battle between RTMP vs RTSP depends on the type of content you are streaming.
If you're looking for an easy-to-use, robust platform with broad streaming capability, try Dacast. You get 14 days of free access to see why we were selected as the 2019 Streaming Media Readers' Choice for Best Small/Medium Business Platform. No credit cards or hefty startup fees are required.
For exclusive offers and regular live streaming tips, join our LinkedIn group. Do you have questions or feedback on this article or streaming protocols in general? We'd love to hear from you in the comments below.
Thanks for reading, and happy streaming.
Subscribe Now
Stay up-to-date with the latest features and product releases. Cool tips, expert advice and more.