March 2014
March 18, 2014
gift card offer
For March 2014, DaCast has an Amazon offer for the month for broadcasters who upgrade. This gives a full month of service in the form of Amazon gift cards. Also, tips and tricks for successful sports broadcasting and highlighting the success of VideoHUB in generating massive amounts of Pay Per View live revenue.
Offer – Up to $150 in Amazon Gift Cards
Through the end of March, DaCast is running a special offer. Get $150 in Amazon Gift Cards for signing up for a new Annual Pro plan and $80 in Amazon Gift Cards for a new Annual Plus plan.

Check out our offer blog for full details.
Spotlight – Tips for Sports Broadcasting
Interested in sports streaming and broadcasting? See our Sports Tips and Tricks blog for how to get up and streaming with advice for success. 

Follow our blog as we continue to highlight how to be successful in video broadcasting.
Success Story – VideoHUB
VideoHUB has been using DaCast for years and has generated thousands with Pay Per View.

While the company focuses on a wide range of streaming services, their greatest success has been with the racing market to generate massive revenue.
Monthly Webinar – Getting Started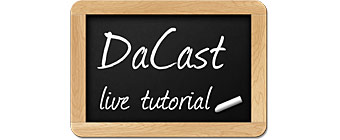 On June 6th, check out our webinar on best practices for paywall selling to make the most of Pay Per View.
Register now to attend the live event. Participate in our Q&A to talk directly with the DaCast specialist presenting.
Background:
This is the March 2014 edition of the live broadcasters newsletter. Each edition varies, although often includes an offer or new feature as a cover story. DaCast broadcasters are often highlighted with a link to a case study that includes more details. The March 2014 newsletter highlights one of DaCast's more successful Pay Per View live broadcasters.