For an overall tutorial of the new analytics, read this article.
The dashboard gives you an analyze of your overall content and provides you with the following information:
Consumption per time
Plays and viewers per time
Consumption per device
Top content
Consumption per location
How to read the graphs
Select a specific date or a date range with the date selector. Or select the quick settings.
To select one date, double click on the date. Click refresh if needed.

Consumption per time

Get the GB consumption per time of all your content over a specific range of time or a specific date

Plays and viewers per time

Get the number of plays and viewers of your overall content

Before 10/11/2018 – the data displayed will be the historical data for hits and visitors

After 10/11/2018 – the new metrics below will apply

Metrics :

 Plays: The number of ongoing playback sessions. 

Viewers: The number of unique viewers with active playback sessions.

Consumption per device

NEW !-See from what devices your viewers like to watch you

Top content

NEW! – Get a ranking of your most successful contents – All type of content included (Livestream, VOD, Playlists, Package) .

Filter the watch time, number of views, and the revenue.

Note: watch time data collected starting 07/29/2018

Consumption per location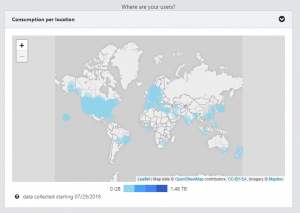 Get a detailed map and table of the city location of all your users.
NEW ! Zoom in the map and see from what cities your viewers watch you