When you set up your live streaming encoder, you'll be asked to enter a username and password.
Follow these steps to find those credentials in your Dacast account:
STEP 1: Click the pencil icon on the right next to your live stream on the "Live Streams" page 
STEP 2: Go to the "General Tab"
STEP 3: Click "Encoder Setup" in the top right corner of the window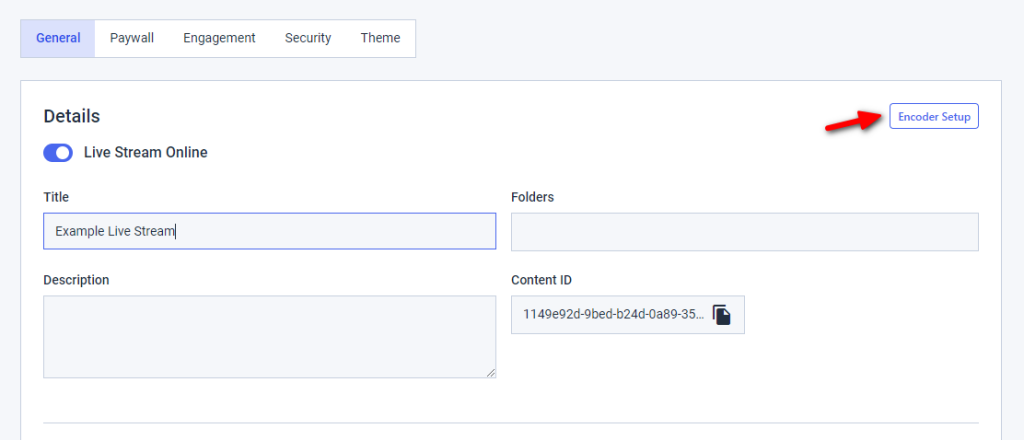 STEP 4: Locate the fields highlighted in yellow on the image below: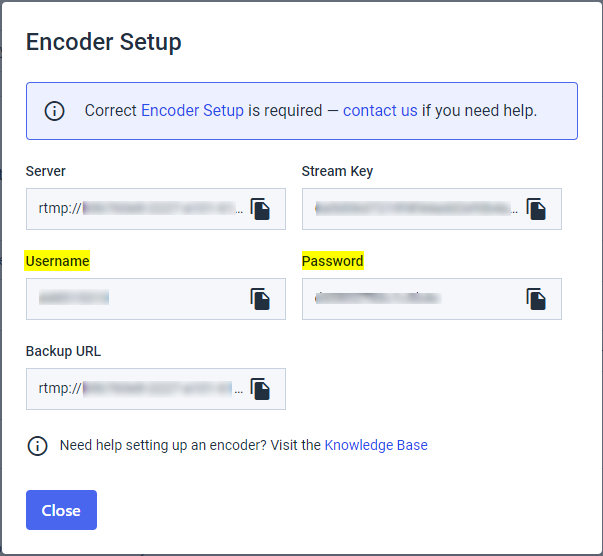 STEP 5: Copy and paste the username and password into the respective fields in your encoder
STEP 6: Save these credentials in a secure place for future reference.

If you are still having issues, try typing the numbers in rather than copying and pasting to make sure you aren't accidentally adding in any extra characters or spaces.
What is an Encoder?
In case you need a quick refresher, an encoder is an essential tool for professional live streaming.
Encoding is a process used to convert the RAW video files captured by a camera into digital files suitable for live streaming over the internet. This process uses either a hardware or software encoder.
Required Live Encoder Settings
The following encoder settings are required for live streaming with Dacast, regardless of your selected resolution and bitrate:
| | |
| --- | --- |
| VIDEO CODEC | H.264 (x264 may work) |
| FRAME RATE | 25 or 30 |
| KEYFRAME INTERVAL | 3 secs (or 3x frame rate) |
| SCANNING | Progressive |
| ENCODING BITRATE | Constant (CBR) |
| AUDIO CODEC | AAC |
| AUDIO BITRATE | 128 kbps |
| AUDIO CHANNELS | 2 (Stereo) |
| AUDIO SAMPLE RATE | 48 kHz (48,000 Hz) |
Any questions or need help/access to this feature? Please contact us.
Not yet a Dacast user, and interested in trying Dacast risk-free for 14 days? Sign up today to get started.
Additional Resources