What is RTMPS and Why is it Important to Secure Streaming?
The technology that brings live streaming to life has evolved a lot in recent years. Broadcasters have moved away from using systems that rely on Adobe's Flash player and are now using the ultra-compatible HTML5 video player.
Real-Time Messaging Protocol (RTMP) is a protocol that has remained important in the live streaming process throughout its evolution. There is one variation of this video streaming protocol that is becoming more and more popular. 
RTMPS is a variation of RTMP that has an added layer of security, which is important since piracy and cybersecurity threats are on the rise. RTMPS has evolved to help keep video streams secure. 
In this post, we will cover everything you need to know about RTMPS and its role in live streaming. We are going to start off by discussing the history and uses of RTMP proper before discussing the ins and outs of RTMPS.
From there, we will take a special look at RTMPS for mobile streaming before we wrap things up with a review of a few other RTMP variations and additional tools for protected streaming.
Table of Contents
RTMP: The History of Multi-Purpose Protocol

What is RTMPS? 

RTMP vs. RTMPS

RTMPS for Mobile Streaming

Other RTMP Variations

RTMP Proper

RTMPE

RTMPT

RTMFP

Other Tools for Protected Streaming

RTMP vs. RTSP

RTMP Ingest on Dacast 

Final Thoughts
RTMP: The History of the Real-Time Messaging Protocol
Live streaming has evolved so much in recent years, and Real-Time Messaging Protocol (RTMP) has played several roles over the course of this evolution.
This protocol was originally created by Macromedia, the predecessor to Adobe, to deliver content from RTMP hosting servers to the Flash video player. That function of the protocol is called "RTMP delivery" or "RTMP streaming."
RTMP streaming was the most popular live streaming system for a while, but it came with one major issue: the Flash video player, an essential piece of the puzzle, was not compatible with mobile streaming.  When mobile viewing started to eclipse computer viewers on the internet, this became a problem.
This became more of a problem as the use of iPhones and other mobile devices grew. Broadcasters knew that they were missing out on a large potential audience by not making their content accessible to viewers on smartphones.
Apple created a solution to this problem by developing the HLS protocol which would work with the universal HTML5 video player. HLS gradually replaced RTMP for live stream delivery as Flash player phased out. 
However, RTMP still had a place in live streaming systems that used HLS delivery. RTMP ingest was born, and the protocol was then used to transport video files from the encoder to the online video platform. RTMP ingest allowed RTMP technology to live on with streaming video content.
RTMP ingest is still the standard use of RTMP in live streaming. RTMP ingest is valuable for broadcasters because it supports low-latency streaming and it is made possible by low-cost RTMP encoders.
RTMP Encoding
Choosing an encoder for your live stream that is both capable and reliable is very important. Streaming platforms like Dacast that use RTMP ingest are compatible with RTMP encoders. Luckily, there are so many great RTMP encoders on the market.
Here are a few of the best encoders that our users rely on to produce high-quality streams:
OBS Studio

Wirecast

VidblasterX

vMix

Teradek hardware encoders

TriCaster hardware encoders
OBS Studio is our preferred encoding software because it is both free and open-source. It also supports the RTMPS protocol, which is great for protected streaming. Furthermore, the platform offers a custom version for Dacast users, which makes streaming with OBS Studio pretty seamless.
For more information on streaming with OBS Studio on Dacast, please check out our dedicated guides for both macOS and Windows users.
What is RTMPS?
RTMPS is a variation of RTMP that uses extra security encryption to ensure that the stream is not intercepted by an unauthorized entity. The extra layer of security in RTMPS can be either TSL or SSL encryption.
RTMPS can often be used interchangeably with RTMP, as long as it is supported by your chosen broadcasting tools. It is particularly useful for broadcasting on a public network. That's why this protocol is popular for streaming from a mobile device.
Broadcasters prefer RTMPS in many situations because of the added security that it provides. RTMPS streaming helps keeps your videos secure. 
RTMP vs. RTMPS
RTMPS is simply RTMP with an added layer of security for protected streaming. Aside from the fact that RTMPS is more secure, the biggest difference for broadcasters is that the live stream's URL will start with "rtmps://" rather than "rtmp://" when you stream with the secure alternative.
The RTMPS protocol works just like the RTMP proper protocol, so it functions the same way with HLS delivery and RTMP ingest.
Unfortunately, there are currently some limitations with RTMPS compatibility with encoding tools, mobile streaming apps, and online video platforms. However, this should not be an issue once RTMPS becomes the norm in the near future.
If you prefer to use RTMPS over RTMP, it is important that all of your tools are compatible and that your settings are properly configured.
RTMPS for Mobile Streaming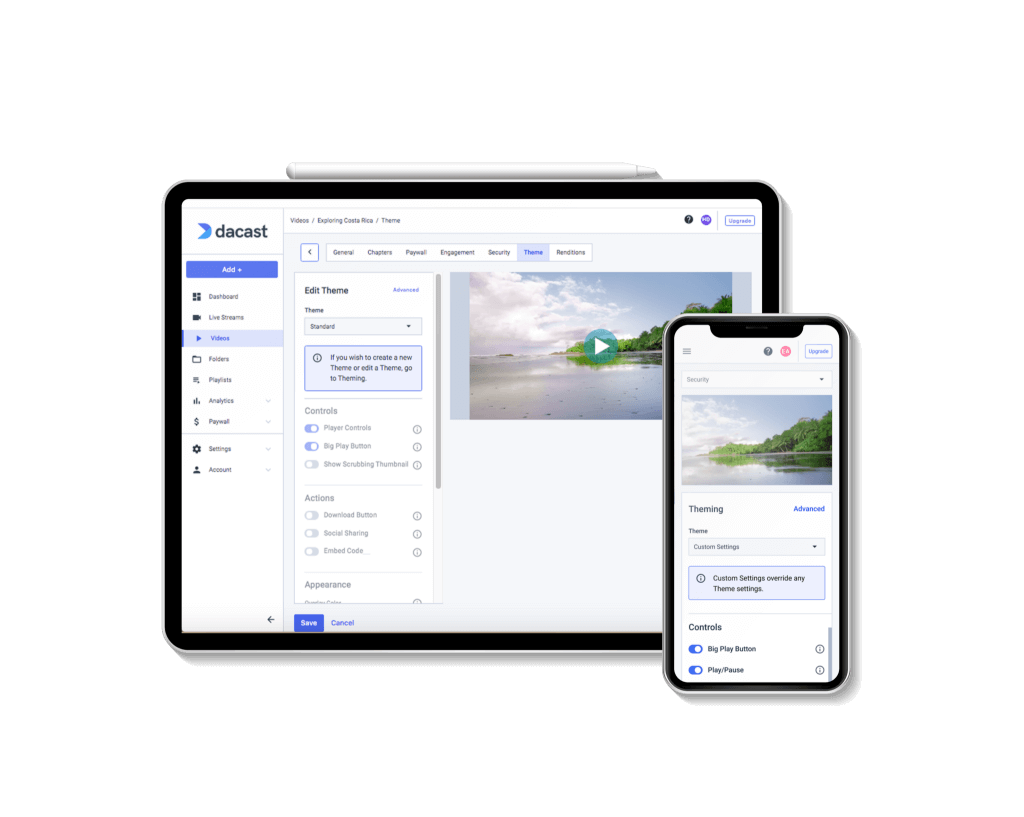 RTMPS is very important for mobile streaming since people who stream on the go often use public internet networks. Public networks expose devices to other users who could hack them and create issues with security. That is why you need RTPMS to keep your stream secure.
Facebook Live is one of the first social streaming platforms to switch from using RTMP proper to the RTMPS protocol for live streaming for this very reason. They noticed the trend in the use of public networks and made the transition as a way to avoid infiltration from external threats.
Experts in broadcasting have remarked that other major social streaming platforms are not yet using the RTMPS protocol despite the fact that their users generally use mobile streaming. They predict that heightened security may be applied to the content delivery network since unfortunate security breaches become more common.
Hopefully, Periscope, Twitch, Instagram, TikTok, and similar platforms will start using RTMPS to keep their users' streams safe and secure.
If you are looking for a mobile live streaming app to broadcast from your iPhone, we highly recommend choosing one that supports RTMPS.
Other RTMP Variations
As we mentioned, RTMPS is simply one variation of the RTMP protocol. There are several other variations of the RTMP protocol that have slightly different purposes in live streaming. 
Let's take a quick look at the other variations and their uses.
RTMP Proper
RTMP proper is the standard version of the protocol, and this is the original form of the protocol that was designed for RTMP delivery. It is built on top of the Transmission Control Protocol (TCP), which is a standard protocol for transmitting data between a client and a server. 
RTMP, on its own, has some issues with security since the protocol is relatively easy to infiltrate. That's why programmers developed the RTMPS variation.
RTMPE
RTMPE is another variation of RTMP that is used for protected streaming. The "E" in RTMPE refers to "encryption." RTMPE uses Adobe's security standards and is slightly simpler than RTMPS.
RTMPT
RTMPT is a special variation of RTMP that encapsulates other variations of the protocol to get them past firewalls. 
RTMFP
RTMFP stands for "Real-Time Media Flow Protocol," and it is used in peer-to-peer (P2P) streaming. P2P streaming is used for video chatting and video conferencing. Apps like Zoom, Skype, and Facetime use this technology. It is also common among social media apps that support video calling, like WhatsApp and Snapchat.
Other Tools for Secure Streaming
RTMPS is a great starting point for protected streaming, but many broadcasters find value in layering up security measures. 
Some of the other top tools for protected streaming include:
Password protection

Double-factor authentication (OVP login)

AES encryption

Tokenized security

Geographic/IP restrictions

Domain restrictions 
Security tools are not just for limited access to your live stream from certain viewers. They are important for keeping your library of content, online video platforms, and viewers' information safe, too. It is important to layer RTMPS with other security measures to keep your content secure. 
RTMP vs. RTSP
Another clarification that we'd like to make is the difference between RTMP and RTSP. Aside from their general importance for live streaming, the two have nothing in common.
RTMP is for transporting files whereas RTSP is for transporting commands. Specifically, RTSP is used for carrying out commands between the viewers and the video player.
When a viewer clicks buttons in the video player, such as "Play," "Pause," and "Fast Forward," RTSP lets the video player know what to do.
There is no significant link between RTSP and RTMPS.
RTMP Ingest on Dacast
Dacast uses HLS streaming to deliver content to an HTML5 video player. However, the platform uses RTMP ingest to transport the video files from the encoder to Dacast itself.
This setup makes Dacast a suitable option for broadcasters who need access to multi-bitrate streaming, low latency, maximum compatibility, and high-quality streaming. These are all important qualities for professional streams. 
Final Thoughts
RTMPS is a valuable protocol for broadcasters who want to keep their streams protected from any external threats. It works almost exactly like RTMP proper, but it has an added layer of security.  This protocol is particularly useful for streaming from mobile devices since it provides the extra security required for protected streaming on public networks.
When it comes to streaming with Dacast, the protocol works seamlessly with our typical RTMP ingest functions. 
For additional information on RTMPS or anything else related to RTMP, please contact our tech support team. An expert team member can answer your questions and point you in the direction of additional information.
In the meantime, feel free to head over to the Knowledgebase section of our site. A quick search for "RTMP" will pull up dozens of related articles for you to browse. 
For additional tips for live streaming, exclusive offers, and other community support, please join our LinkedIn group.
Subscribe
Stay up to date with our latest features and product releases