Live Streaming Church Services: Everything You Need to Know
Are you interested in bringing your church services to a larger audience? Wondering if you have the right setup to stream your church service online? If so, you're not alone!
In recent years, many congregations and other houses of worship have begun live streaming church services online through live streaming solutions.
If you are interested in leveraging cutting-edge technology at an affordable price, read on to learn how to stream your church services online. From the basics of live video streaming technology to necessary equipment and tech support, we've got you covered.
Now, let's start with a look at the basics of live streaming.
Table of Contents
How Live Streaming Works

Why Stream Your Church Service Online?

How to Live Stream Your Church Service Online

Other Considerations: Encoders and Online Video Platforms
How Live Streaming Works
In general, live streaming involves a camera, an internet-connected computer, a live streaming platform, and a few other pieces of equipment. It's similar to how television works.
So, instead of watching your broadcast on a TV, viewers with internet access anywhere around the world can watch your broadcast on a computer, tablet, smartphone, or another internet-connected device.
In the past, broadcast technology was highly expensive and technical. In fact, it required a huge budget and a large staff to handle.
However, those days are behind us now. Thanks to ubiquitous high-speed internet connections and the rapid advance of computer technology, the power of live broadcasting is now available to much broader and more global audiences.
With that in mind, we'll cover more details about what's needed to live-stream your church service online. Let's turn now to discuss some of the benefits of broadcasting church services live.
Why Stream Your Church Service Online?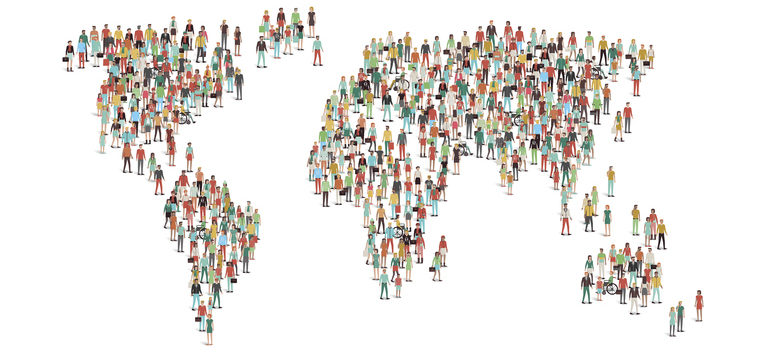 Here are some benefits you stand to gain by video streaming your church services live.
1. Reach a Larger Congregation Globally
In particular, video live streaming is a good option for any church that doesn't deal with a strictly local community. For example, you may have a widely dispersed congregation or do missionary work in other countries.
Perhaps you'd like to reach soldiers on deployment, business-people who are traveling, people who are elderly or ill, or even just the snowed-in family outside of town. In all of these cases, live streaming offers an ideal, customizable solution.
Simply put, the prime benefit of live streaming is that–with the proper equipment and technical setup–you don't have to change a thing about your service.
In fact, you can simply go ahead with your normal programming and stream your church service online. When you broadcast live, churches can feel secure in the knowledge that you're reaching a much larger audience than would otherwise be possible.
2. Have All Your Video Recordings Stored
Another benefit of live-streaming church services is that it'll provide recordings of all your services. You'll have these recordings in your archives and as a result, you can rebroadcast them on-demand in the future.
For example, you can put the service on DVD or make it available online at no cost to your congregants.
3. Generate Income for Your Church
If your church needs more income to stay active, live streaming your services is a great way to generate revenue. The three common monetization approaches include pay-per-view, subscriptions, and ad-based.
For churches and houses of worship, the subscription model is likely the best fit. After you stream your church service online, you can make your content available to "subscribers" who pay a set fee to access your video content.
Alternatively, you can simply request online donations on the same page that hosts your video. Services like PayPal make the latter option easy and accessible. The PayPal online payment service even has a guide for how to do this.
4. Find New Ways to Engage Your Audience
Besides coming for your services on Sunday, your congregation can join in for other activities virtually. 
For instance, doing live video streams for activities such as Bible Study helps you reach out and engage with your congregation outside of your usual services. You can also explore live audio streams for your busy congregation to listen in on the go.
5. Connect with Young People
Finally, church live streaming also allows you to reach young people who use the internet much more often and fluently than older viewers. Today, a wide variety of congregations use this approach to reach younger audiences around the world.
How to Live Stream Your Church Service Online
Next up, let's review a few basic pieces of equipment that you'll need to broadcast live.
Camera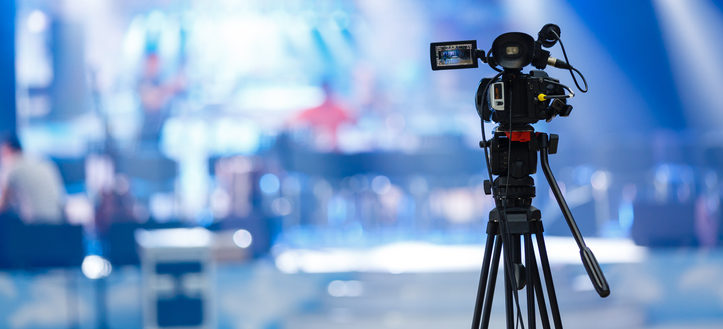 First, the camera is most important. This can be as simple as a "webcam" built into a laptop computer.
However, these cameras aren't very high-quality. They also vastly restrict movement. For example, it's hard to picture someone at a pulpit with an open laptop in front of them. Consequently, you'll probably want something a bit more functional than a webcam.
Unless you're operating on a very tight budget, it's best to look at dedicated video cameras. These can provide good quality video recordings for as low as $200-$300. You'll also need a tripod to hold your camera steady, along with other accessories like batteries. Please note that professional cameras likely need a capture card as well.
If your church is on a tight, fixed budget, an external webcam might be your best bet. A webcam negates the need for a capture card, as the camera connects right to a laptop. With some creativity, you can even hide the open laptop in the pulpit and run a wire with the camera outside.
Webcams are notably small, so it's unlikely to detract from those in physical attendance. However, keep in mind that if something goes awry–like a laptop crash–it may be difficult to access the laptop while speaking live in front of a congregation.
Internet Connection
The next piece of gear you need to stream live video is an internet connection. Note that not just any internet connection will do–you need one that's fast enough.
You can test your internet speed at testmy.net. That website will give you two numbers, one for your upload speed (how fast you can send data) and another for your download speed (how fast you can receive it).
To stream your church service online, you want an upload speed of at least 1 Mbps (Megabits per second. If possible, speeds of 2-5 Mbps or more are ideal and more reliable for live broadcasts.
In more specific terms, your video quality dictates the upload speed you need. Remember, aim for roughly double your upload speed versus your quality.
More concretely, if you stream at a video quality of 1 Mbps, you want an upload speed of at least 2 Mbps. Other factors come into play here–a wired connection is better than a wireless one, for example–but the double method is a good rule of thumb.
Microphone
For simple productions and low-budget operations, the microphone built into your video camera may be sufficient. That said, if the church is large and the camera doesn't pick up voices very well, you may need to look into a microphone that can improve your audio quality.
For medium-sized spaces, you could consider a "shotgun" mic. These mount on top of your camera and record great audio quality. If your space is large, you may even need individual handheld microphones or clip-on lapel microphones.
Once you have your equipment in place, connect it together, and hook it up to your computer with encoding software. Alternatively, you can use an external hardware encoder, if you have the budget, space, and technical capacity.
With these steps in place, you're very close to streaming live! Let's review a few other technical needs to help make sure your first live-streaming endeavor is a success.
Switchers
A live streaming switcher is an electronic device used to switch between your video and audio sources, other production items, and graphics. Therefore, you'll need a switcher if you're using two or more cameras for live streaming or if graphics or presentations are to be shown in between your live stream.
Other Considerations: Encoders and Online Video Platforms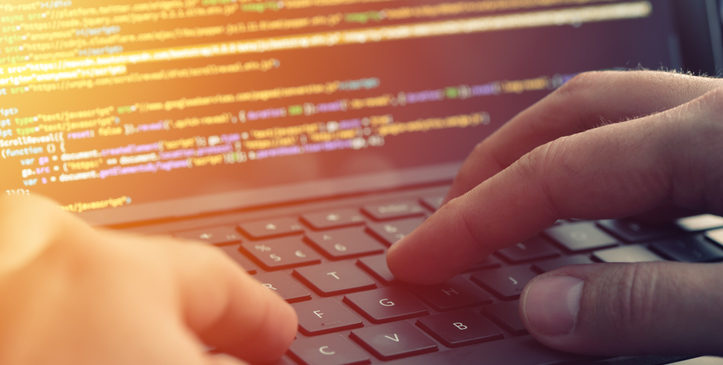 Beyond the basic recording equipment, you'll need a few pieces of gear that are specific to broadcasting live video.
For example, as mentioned above, you'll need some sort of encoder — either a special software program that runs on your computer or a dedicated hardware device. This technology converts your video into a format suitable for live streaming over the internet.
Though encoders can be confusing to stream newcomers, they're fairly easy to set up with the right information. The type of encoder you use depends on your specific needs and your budget.
Hardware encoders often cost more but send the highest-quality video. Software encoders are less expensive, and there are even a few free options available online (e.g. OBS Studio). However, they aren't quite as fast or smooth in operation, generally speaking.
For more information on encoders, you can check out our detailed post on the best encoding software settings.
Next up, you'll need a video hosting platform.
Whichever encoding method you choose, you need to connect your encoder to your video streaming host (e.g. Dacast). A video streaming host, or online video platform (OVP), is a professional service that makes your video stream accessible to your audience, wherever they are.
Essentially, you send the OVP the video, you decide where and how you want your audience to access it. Most churches choose to stream their services on their websites. The streaming platform then does the rest.
For more on how live-streaming solutions like Dacast work, you can check out this post on live-streaming CDNs (content delivery networks).
Frequently Asked Questions
1. What is the best live-streaming service for a church?
The best live-streaming service for your church will depend on what your streaming needs are and your budget. Some common features to look for include:
The ability to support both live streams and on-demand content

The ability to record live streams so your audience can watch them later

White label service features to brand your content your way

Reliable customer support
Some top live streaming services to consider include Dacast, Boxcastand, and Streamingchurch.TV.
2. What equipment do I need to live stream a church service?
Here is the equipment you need to set up before you start streaming church services online.
Camera/webcam and other accessories like capture card, batteries, and a tripod stand

Microphone

Switcher 

Stable internet connection and a computer, smartphone, or tablet

Encoder software/hardware

Video streaming platform
3. What is video streaming on a phone?
Video streaming refers to the process through which video media (pre-recorded or live) are continuously sent from a server to a client. Users can then watch these videos online from their phones or other devices without having to download them beforehand.
4. How do I set up a live stream for my church?
Here's a simple guide to setting up your video streaming for church services.
Connect your streaming device (i.e, smartphone or laptop) to the audio and video capture sources.

Set up the encoder—the software/hardware that converts your content into web-friendly formats.

Your video streaming service will supply you with a stream key and a URL to use to link your encoder to your streaming service.

Check your upload speed and internet connection.

Start streaming your video content.
5. How can I stream church for free?
If you're on a budget and are looking for free ways to stream your church services, you can try social media live streaming platforms. YouTube Live, Instagram Live, and Facebook Live are amongst the most popular options out there.
Alternatively, you could try affordable paid professional video streaming services like Dacast, for additional features like ad-free streaming, better quality, and unlimited streaming. 
Conclusion
Interested in live streaming but want more information about equipment needs and church-specific broadcasts? The Dacast streaming platform is here to help! We are happy to offer a free consultation with our technical support experts.
Dacast offers full-service and customizable video stream hosting services, and we work with a wide range of churches already! Also, we highly recommend testing out your chosen OVP to make sure it fits your needs.
To sign up for our 14-day free trial (no credit card required), just click the button below. We'll have you streaming live in a matter of minutes, and you can test all our great features for yourself.