Video Broadcast Software for Live Streaming Sports
Sports broadcasting has always been one of the most popular types of media on the planet. Millions of people regularly tune into live sports broadcasts. As media increasingly moves online, live sports streaming have become increasingly popular as well. This blog will look at video broadcast software for live streaming sports.
Specifically, this post is aimed at professional broadcasters and businesses streaming live sporting events.
We will begin by looking at the business of live streaming sports. Then, we'll look at the essential video broadcast software features for sports. Next, we'll examine three of the top video broadcast software apps for sports: Wirecast, vMix, and VidBlasterX. Plus, we'll look at hardware alternatives.
More than 30 percent of fans now stream sports to their phones or tablets. That's a massive audience, and it's growing rapidly—one of the few segments of sports broadcasting that is doing so. Here's how to take advantage of the live streaming revolution and get involved in broadcasting sports.
The business of live streaming sports
The sports industry brought in a total of more than $90 billion USD in 2017. This is a massive industry. With the increasing move online, more and more businesses are live streaming sports.
In 2017, eighty-one percent of sports fans subscribed to pay-TV services, but the vast majority would cut the cord if they could access content OTT. Watching subscription-based OTT video services is a daily habit for 60 percent of adults in the US.
So the question is, how can you meet the needs of these fans and build a valuable business? There are various monetization models that you can follow. Subscription-based services are extremely popular for streaming video today (for example, Netflix). One-time events like streaming pay per view sports are also perfect for transactional (TVOD) video on demand monetization.
Essential features for sports live streaming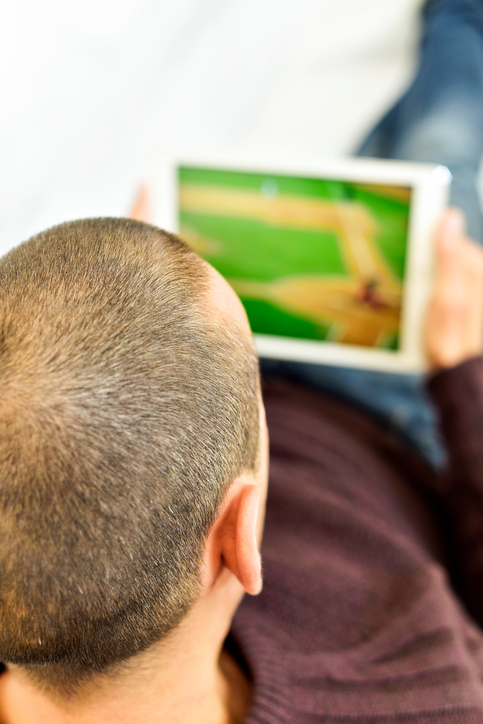 Video broadcast software usually includes a variety of features for the production and mixing of successful live sports streams. This software typically includes a variety of features, some of which are essential for sports. Those features include:
Multi-bitrate streaming
Multi-bitrate streaming (MBR) is all about making your video stream available in multiple bitrates. This allows the viewer to select (or automatically be delivered) the best possible video quality at any given time. MBR can be configured via multiple streaming output settings in your live broadcasting software.
Live recording
Live recording is the ability to automatically record your video stream. Generally, this comes in two different versions. Some apps include the ability to record your program feed—the live stream itself. This can also be done via your live streaming solution. Others also offer the ability to "iso" record each individual source (camera, mic, etc.) in addition. This will use more storage but may be essential to some users.
Multi-camera broadcasting
For sports, broadcasting from multiple cameras is essential. Professional video broadcast software will allow you to connect to many different cameras at once, and switch between them in real-time.
Instant replay
Instant replay has become an essential feature for sports. Enough said!
Social media tools
With social media, watching a game at home is no longer a solitary experience. Eighty percent of sports fans use a "multi-screen" approach while watching sports, looking up stats or chatting with friends while watching. This points to the importance of integrating social media tools—something that certain video broadcast software allows you to do natively.
Top 3 video broadcast software for sports
Now let's shift our attention and begin looking at our top three recommended video broadcast software applications for live streaming sports.
Wirecast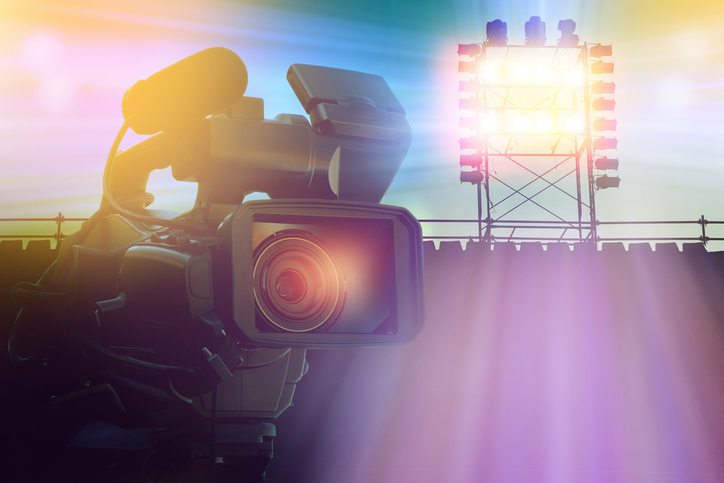 First, we'll examine Wirecast.
Wirecast is an encoder and live production mixer with a wide range of features. This includes support for multi-bitrate streaming, which is easy to configure. Wirecast also supports program recordings as well as "iso" recordings of each source (Wirecast Pro version only).
As far as multi-camera broadcasting, Wirecast can support an unlimited number of sources. Usually, setting up the right capture hardware will represent more of a challenge. However, using capture cards will allow you to use many cameras with Wirecast successfully.
Wirecast also has native support for instant replay, including a replay of the program feed or of a particular camera. The software also includes a titling tool that allows you to bring in individual social media posts, comments, and feeds, and to animate this content for a dynamic presentation.
The Wirecast app is available for macOS and Windows operating systems in two different versions. Wirecast Pro includes all basic features for $695. Wirecast Studio supports ISO recording, live scoreboards, instant replay, and a number of other features for $995.
vMix
Next, let's take a look at vMix.
vMix is another capable video broadcast software that supports a range of valuable live streaming features for sports. Like Wirecast, vMix also supports multi-bitrate streaming at three total quality levels.
As far as recording, vMix matches Wirecast. It supports the recording of both the program feed and of individual sources via the "MultiCorder" feature. This feature is supported on the 4K and PRO editions of vMix.
vMix supports many different sources, including multiple cameras. Different versions of the software support different numbers of sources, up to a total of 1000 (more than anyone should ever need). Like Wirecast, using multiple sources will require the right capture hardware.
Slow-motion and instant replay is supported with vMix Pro. Playback can be configured via mouse and keyboard, or via a physical controller like the Contour Design ShuttlePRO v2. Social integration is also supported on vMix. This includes the ability to pull in content from Facebook, Twitter, Instagram, and YouTube. Templates are included to ensure content looks good.
vMix is available in six different editions. Sports broadcasters who need instant replay functionality, MultiCorder, and other advanced features will likely prefer the 4K version ($700) or Pro version ($1200).
VidBlasterX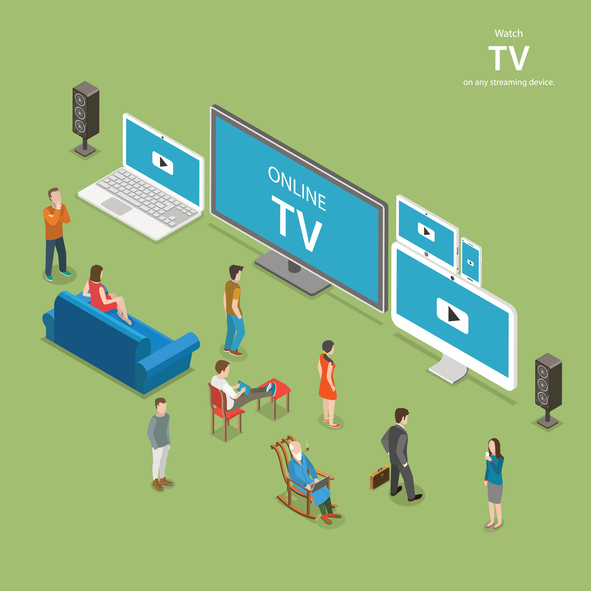 Finally, let's examine VidBlasterX.
Like vMix and Wirecast, VidBlasterX is a powerful live broadcast software that can be used for sports and other industries.
VidBlaster is built around a modular user interface that effects how many of these features are used. For example, you can configure as many bitrates as you want using VidBlasterX, it simply requires a streaming module for each one. Similarly, the recording is set up using the Recorder module. You can have as many of these are you like.
Sources are also set up using modules. You can configure as many sources as you like. On their website, VidBlasterX promotes a sailing event they streamed using 10 cameras. More can be used as well.
VidBlasterX supports instantly replay via the Replay Module. Please note this feature uses quite a bit of RAM. A scoreboard module is also available. However, VidBlaster doesn't have an integrated tool for social media. Instead, screen capture allows for direct content integration.
VidBlasterX is available for Windows in three versions: Home ($9 per month), which supports 7 modules; Studio ($99/month), which supports 25 modules; and Broadcast ($999/month) which supports 50 modules.
The hardware alternative
Sometimes, setting up a studio with a desktop computer running one of our software picks isn't feasible. When you need a simple, fast, and mobile sports streaming solution, we recommend looking at hardware encoders.
TeraDek, for example, produces a line of hardware encoders that can broadcast via cellular bonding for true mobile streaming. This is ideal for some sports broadcasters. To learn more, check out our previous blog on remote live streaming.
Hardware encoders are also generally preferable in a studio setting where budgets are larger. In these situations, a dedicated rack-mount hardware encoder will provide durability and stability for 24/7 streaming in broadcast quality.
Conclusion
With the right software solution, live streaming sports is easier than ever. Plus, these tools offer a range of features that make streaming more powerful, too.
Of course, the software is only one piece of the puzzle. Do you already have a video streaming solution ready for live sports? If not, you should check out Dacast. It's a powerful, versatile live streaming and video-on-demand hosting platform with tools like analytics, video monetization, security, and privacy settings, and more!
Why not take advantage of our free 14-day trial (no credit card required)? You can test all the Dacast features for yourself to see if it's a good fit for you!
For exclusive offers and regular live streaming tips, join our LinkedIn group. Do you have questions or feedback on this article? We'd love to hear from you in the comments below!