Making your live streaming experience better and easier is our goal at Dacast. This is why we have developed a custom version of the free live streaming software OBS Studio. The latest version we released in October 2018 is in beta.
This new Dacast beta version of OBS Studio is available for free for all our customers. This encoding software supports:
RTMP direct ingest : available at no extra cost for all our customers, tutorial available here
HLS direct ingest – low latency streaming : available at the Premium plan and above, tutorial available below
Customers who do not have access to our current low latency streaming options but are interested in testing HLS stream ingest will be added to our waiting list.
Dacast Beta version of OBS Studio for low latency streaming – HLS ingest
Streaming using a HLS stream ingest will provide you with a latency around 10s in average.
Setting up your low latency Dacast channel using Dacast version of OBS Studio is easier than even thanks to the direct integration with Dacast and pre-defined encoding profiles.
How to access the HLS ingest low latency streaming capability with Dacast OBS Studio
1/ Technical Requirements
To download the new beta version of Dacast OBS Studio, please make sure you have the following:
– Windows 10 (64 bit) with at least 8GB RAM
– or Mac 10.13 running an i5 or better CPU
– and at least 5GB of space left on the hard drive of your device
2/ Dacast Requirements
Can you create a low latency channel in your Dacast account? If you are running on a Premium plan or above you should automatically get access to it.
If YES, then please send us your IP address (via the live chat support or support@dacast.com). We will get back to you within 2 business days with a URL that you will need for the step 5 of this tutorial. This URL will look like this :
http://post.dctranslive01-i.akamaihd.net/266000/live-1234556-482401_1_1/
How to know what your IP address is?
Go to https://www.whatismyip.com/
If you do not have access to low latency channels, you will be added to our waiting list and we will get back to you.
Is Dacast low latency streaming solution compatible with Dacast OBS Studio only?
No, you can set up your Dacast low latency stream with any other software or hardware encoder which is compatible with HLS direct ingest.
More information here.
How to set up a direct HLS ingest stream with Dacast OBS Studio
1/ Download the software
You may see a warning sign telling you the source of the program couldn't be verified. No worries, this program is secure. Just click on "more info" and then on "run anyway ". On Mac, click on Ctrl while double-clicking on the icon to install the software.
2/ Open Dacast OBS Studio:
3/ Start by adding your video source. To do so, please click on the + button in the sources widget :
You can add as many video sources as you want, re-order them and play with them using the eye icon if you want to show multiple sources during your stream or even alternate video sources.
4/ Click on Settings :

5/

5.1. On the left side menu, please select OUTPUT.
5.2. For Output Mode, select "SIMPLE"
5.3. For Stream Type, select "HLS"
5.4. For Stream Quality, you can select up to 5 qualities that we have predefined to maximize the performance of your stream:
Ultra-low
Low
SD, Standard Definition
HD, High Definition
Full HD
Select the quality based on your upload speed. For this tutorial, we have selected SD.
Please refer to the end of this tutorial to get the specs of each video quality.
5.5 For the Ingest URL, please enter the link provided by your account executive that looks like this:
https://post.dctranslive01-i.akamaihd.net/266000/live-1234556-482401_1_1/
Make sure to not enter an extra space when copy-pasting it.
6/ If you prefer to set up your own video quality, please select "ADVANCED" as the Output Mode. You will see the following: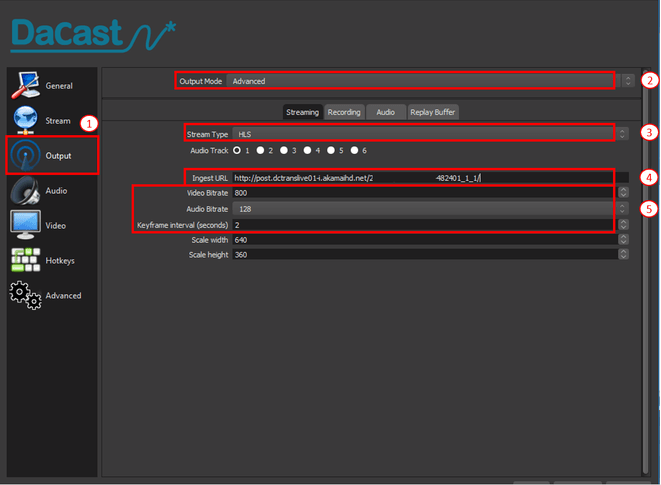 The process is the same as for the previous step except that you can enter the video bitrate, audio bitrate and keyframe interval (step 5 in the screenshot). We recommend that you keep the keyframe interval at 2s in any case.
7/ Once you are happy with your stream settings, click "OK".
8/ Back in the main menu, click on "START STREAMING"
You know that you're streaming when you see the green square at the bottom of the window and a running counter next to "LIVE" as shown below":

9/ To see your live stream, go back in your Dacast account and select the channel called "HLS direct ingest".  Go into the publish settings section of this live channel and then you can use one of the following to check your live stream :
The "Preview" button
The "Share Code" is an URL allowing you to share your live event on your social media platform.
The JS or iframe embed code, previously embedded on your website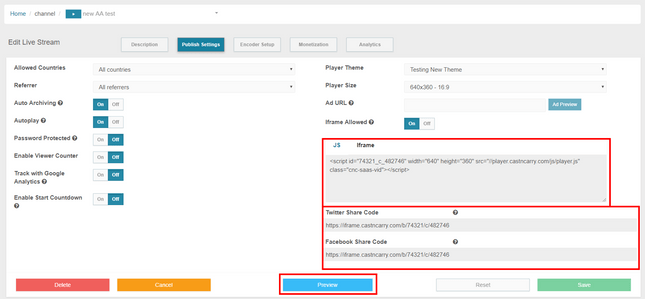 What if you cannot get your stream to work?
Then please go to HELP > LOG FILES > SHOW LOG FILES
A file with all your log files will open itself
Please zip it and send it to support@dacast.com saying that you are using the OBS private beta HLS direct ingest software and you cannot get it to work
Our engineering team will look at your logs to see what's wrong
Reference – Specs of Dacast pre-defined video qualities
Dacast
 
Ultra-Low
240p
Low
360p
SD
576p
HD
720p
Full HD
1080p
bitrate encoding
CBR
CBR
CBR
CBR
CBR
video bitrate
350
800
1,200
1,900
4,500
audio bitrate
128
128
128
160
160
audio_sample_rate
48
48
48
48
48
gop_size/keyframe int
2
2
2
2
2
resolution width
426
640
1024
1280
1920
resolution height
240
360
576
720
1080
What if I am using my own HLS encoder? 
The answer is here.