Top 10 Video Hosting Sites in 2023
Online video content has a whopping 92% audience reach around the globe. That includes everything from music videos to tutorials to marketing content.
Part of the reason we're so attracted to video content is because of its story-telling element. Historically, storytelling has been our preferred means of communication. It's always been a binding force for us, whether we're gathered around the campfire or digitally through video content. And to tap into this medium, you need to know where to host videos online.
Today, the ability to share your narrative is the main driving force behind the growing momentum behind videos or all genres. Live streaming, music videos, or even reviews are just stories at the end of the day. And you can leverage that in your favor by creating video content that inspires and moves audiences from around the world. That inspiration can lead people to join your cause or purchase your products.
As a video content creator, your potential distribution channels as your content. Understanding the available options can be overwhelming.
This blog will compare running your own video streaming site versus using a video hosting website, and show you how to select video hosting sites that best deliver your narrative and vision to your audience.
Table of Contents:
Why Do You Need Video Hosting Sites?
What Features to Look For in Video Hosting Sites?
Top 10 Video Hosting Sites In 2023

1. Dacast
2. YouTube
3. Vimeo
4. Facebook
5. Wistia
6. Dailymotion
7. Uscreen
8. Brightcove
9. Vidyard
10. JW Player

Conclusion
Why Do You Need Sites to Host Videos Online?
As a video content creator or marketer, you're a brand. It might make more sense on paper to build your own website and host videos online on it. Why pay third-party video hosting sites when you already have your own domain name?
In most cases, it's better to use video hosting sites specifically designed for this purpose. Let's break down the logic behind enlisting the help of video host sites for all your video content:
Video content is one of the most storage-heavy forms of data you can keep on your website's server. It can be around 3GB for just a couple hours of 1080p video if you upload good or even ok-ish video quality content.
Just a few viewers watching videos simultaneously can bring your servers crashing down. If you choose to store videos on your servers exclusively, you'll constantly be putting out digital fires. Using a video hosting website can leverage these advantages for you:
Facilitates scalability; larger audiences can watch your videos or live streams simultaneously.
Ensures minimal buffering and smoother continuity of your content
Makes your content accessible from websites other than your own
Frees you up to focus on the creative side of video and live streaming.
Handles the technical side of things; no need to worry about glitches or server speed
Search engines prefer faster-loading content. By using video hosting sites, you rank better on Google
What Features to Look For in Video Hosting Sites?
The international online video platforms market was worth $8.46 billion in 2022 and is expected to grow to $30.05 billion by 2030. Competition is tough, and so is the selection of the best live-streaming and video-hosting websites for you. Private video hosting sites allow you to share your uploaded media with your viewers. Each one has different features, price ranges, and specific niches they cater to.
The perfect site to host videos online for you will depend on the type of audience you're looking to magnetize, what features you prefer in your digital toolbox, and your budget. Take monetization options, for example.
If you're creating marketing videos, a free video hosting platform gives you the most exposure, making it easier for your client base to find your content. On the other hand, if your aim is monetization, you would require a paid video hosting website where each viewer can buy a membership or pay-per-view.
Top 10 Sites to Host Videos Online in 2023
On average, each of us spends about 17 hours weekly watching video content. You can use video hosting sites to support your content without server lag or dropping quality.
Below, we've tallied the features of the ten best live streaming and video hosting sites to make it easier to select the right one. Check out our list of sites to host videos online, both free and paid, that can stream high-quality content all around the globe.
1. Dacast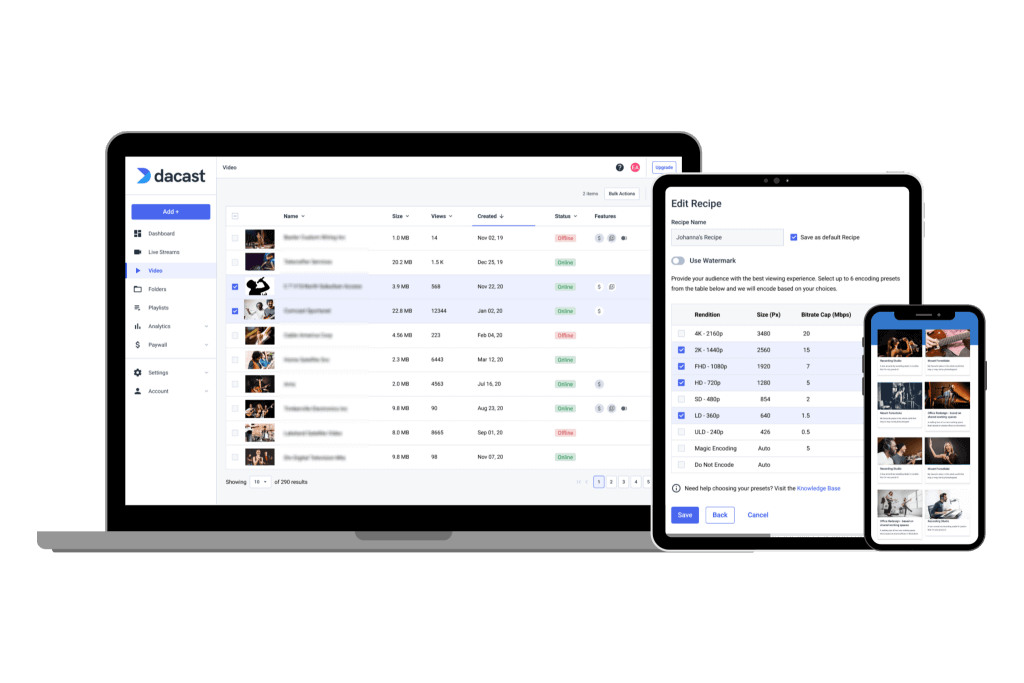 Some video hosting features are more valuable than others, depending on your unique streaming goals.
Need a video hosting site that is equally efficient in live-streaming and video on demand? Dacast offers smooth streaming across a wide multitude of devices and systems.
Boasting almost all of the advanced features that modern-day broadcasters require, Dacast offers many plans at multiple price points for its users. These features are also included in the starter pack if your budget is tight. This video hosting site ranks first in delivering value for money, actively supporting video creators, and top-notch security features, including CDN video security.
Dacast's robust video hosting website prioritizes the ease of its broadcasters and viewers. It has a user-friendly interface and a custom white-label streaming solution.
Unlike other video hosting sites, Dacast's network isn't limited to just one part of the world. Its top-notch China delivery system means greater exposure to your video content. It offers 24/7 live support via chat and email to further help broadcasters. No matter where you and your audience are in the world, you can rest assured that your content can be viewed around the globe in real-time.
Furthermore, Dacast's in-depth analytics offer useful insight regarding the content you work so hard on. That helps guide broadcasters on what's trending and what's not. The platform offers easy scalability options, so there's no stopping your content from reaching its full potential.
Let's take a quick look at Dacast's top features and the advantages it offers over other sites that enable you to host videos online.
Top Features:
2. YouTube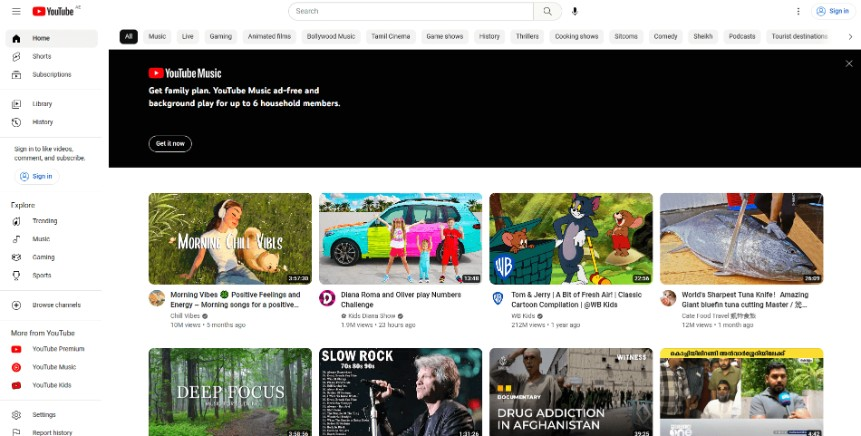 For most content creators using video as their preferred medium in 2023, the first name that comes to mind when video hosting sites are discussed is YouTube. The platform deserves its reputation as the largest mainstream video host site, second only to Google.
YouTube has much to offer its broadcasters, with the biggest advantage being mostly free of cost. But as they say, you pay with your time when something is free. That's certainly true in the case of YouTube's viewers. Only 26 million are willing to invest in a premium account, small fish compared to its total user population. Constant and reparative ads might discourage many broadcasters from using the forum, as they can spoil the rhythm of your videos and live streams.
Nevertheless, YouTube offers a large audience and impressive monetization options for those willing to put in the work and effort.
Top Features:
Editing tools
Live streaming
Social sharing options
Easy to upload videos.
Simple to embed videos.
Endless scalability capacity
Comprehensive video analytics
Bottomless bandwidth and file size
Advertising-based monetization of content.
A short learning curve, easy-to-manage content
Unlimited, unrestricted, and free 4K video hosting.
Boasts the largest number of registered video viewers in the world
3. Vimeo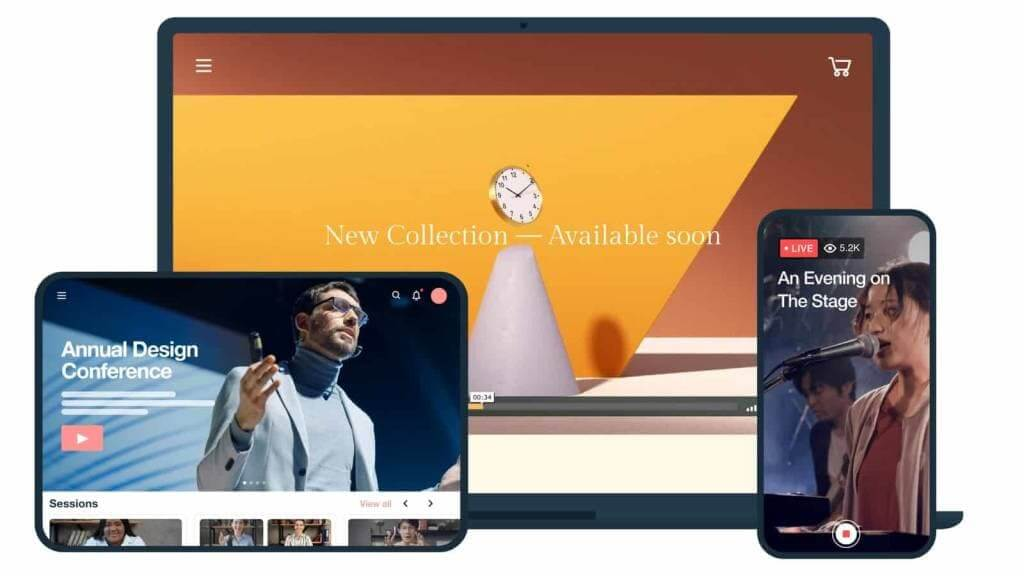 Vimeo was once simply a video on demand company, but when they acquired Livestream in 2017, they were able to expand into the live streaming space and video hosting. Source: Vimeo.com
One of the oldest video hosting sites, Vimeo is a good option among paid video hosting sites. This video hosting website mostly has professional content and maintains a certain standard and reputation. So even though the audience is smaller, it's still an excellent option to consider for broadcasters in the creative genres.
Its free basic account might be too restricted for broadcasters looking to cater to larger audiences. Plans range from economical to high-end with an impressive load of features such as
Top Features:
OTT support
Free from ads
Multi-device compatible
Excellent privacy settings
Video editing templates.
Detailed content analytics.
Video sharing to social media.
Customizable HTML5 player
Customizable video embed
Custom calls to action (CTAs).
Video hosting in up to 8K quality.
Customer relationship management (CRM) integrations.
Great for the advertisement of creative SAAS model businesses
4. Facebook

Although relatively newer to the video scene, this social media giant is gaining ground every day on its competitors thanks to free video hosting. Facebook is free and, like YouTube, has a huge audience you can gain views from and advertise to.
Getting traction on Facebook organically has been getting increasingly difficult of late. Make sure you have the budget to spend on the platform's targeting to get views. On the plus side, monetizing your media content is pretty straightforward on Facebook.
We highly recommend this platform to video marketers, re-sellers, and those looking to magnetize mainstream audiences. For professionals, the starter package of Dacst or any other paid video hosting website might offer better value.
Top Features:
Large audience
Free video hosting
Live streaming
Easy to embed
Unrestrained uploads
Large bandwidth
90-minute video length
Limitless storage
Free-of-cost hosting
90-minute video length restriction
Simply sharing, multi-platform integration
Supported by MP4, MOV, MPEG4, AVI, 3GPP, WMV, FLV, MKV video formats
5. Wistia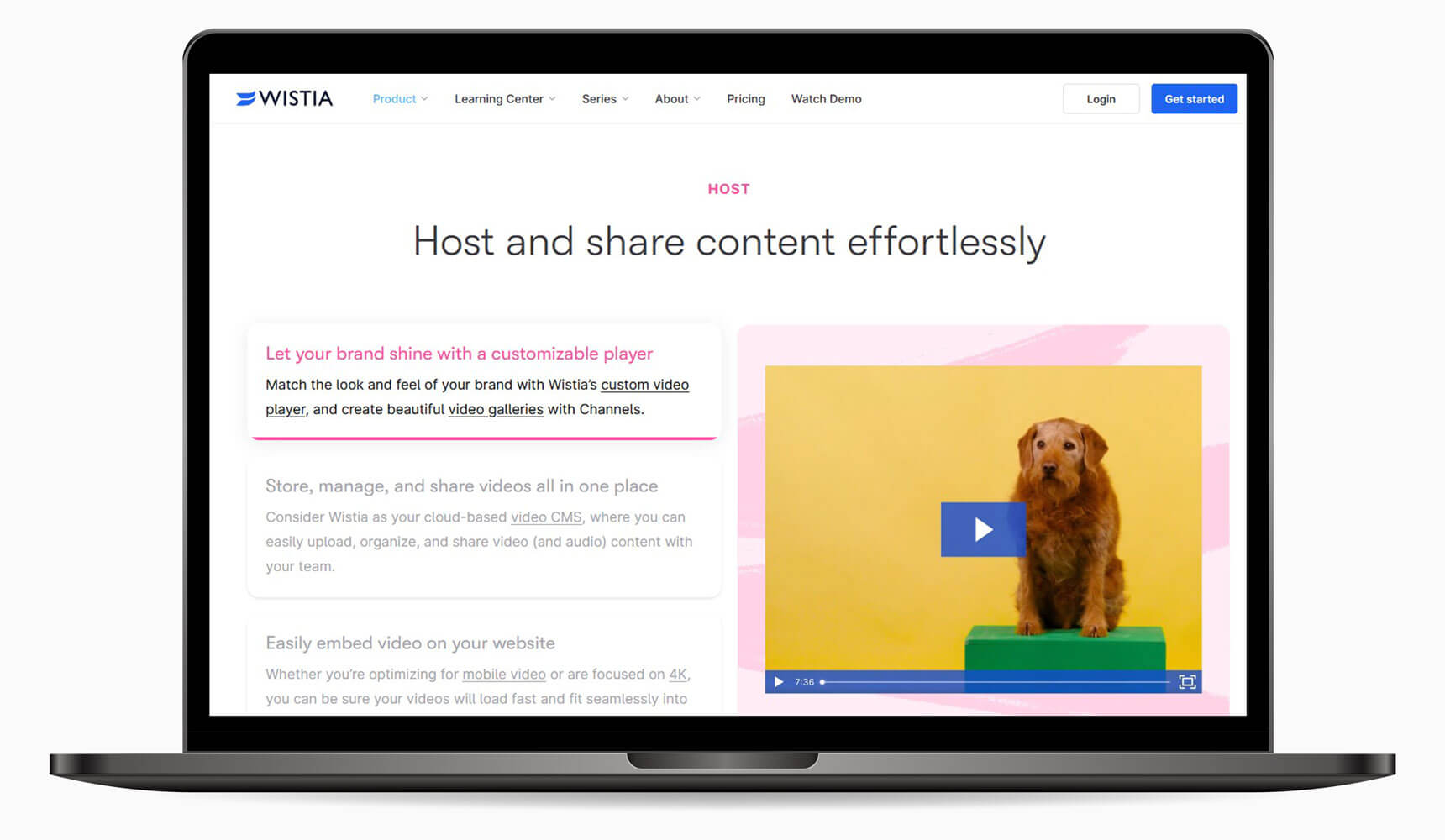 Wistia uses several top-tier, global video CDNs (content delivery networks) to deliver content around the world.
Wistia is one of the more high-end video hosting sites, especially if you exceed the bandwidth allowance. That's a good option for companies looking for an ad-free hosting solution, as this platform mainly focuses on businesses. The platform doesn't support live streaming.
Top Features:
Top-notch security
Offers a free basic plan
Offers CTAs on videos
Simplified social sharing possibilities
Easy to embed videos on other websites
Excellent analytic options such as heat mapping
Videos don't come with watermarking in the paid plan
Most tools and integrations offered are aimed at businesses such as CRM and detailed analytics
6. Dailymotion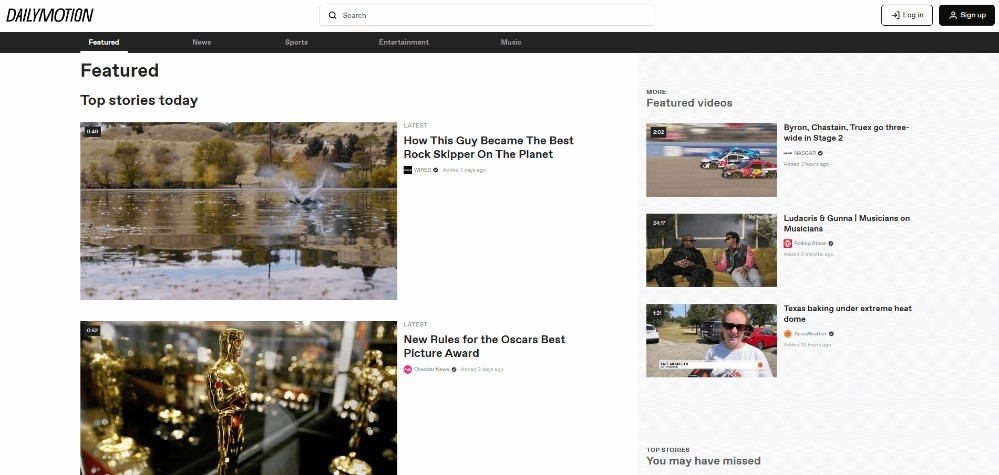 Think of Dailymotion as a slightly downsized vision of YouTube. Like other free video hosting sites, it runs ads on videos, and the genre is quite mainstream. Videos are easy to monetize, but the duration is limited to 60 mins.
Like YouTube, Dailymotion is also free to use, meaning you can easily host videos online without having to worry about burning a hole in your pocket. That said, if you want to upload longer or more videos, you'd have to opt for its paid plans that start at €6,000/year ($6547/year).
Top Features:
Unlimited file storage
Brands can customize videos
Fewer restrictions on content
Monetization options are limited
Passport protection available for videos
Videos can be made private or limited to specific audiences
The upload limit is ten videos a day not exceeding 160 minutes in total
Supported video formats include MOV, MPEG4 MP4, AVI, WMV, MKV, FLV
7. Uscreen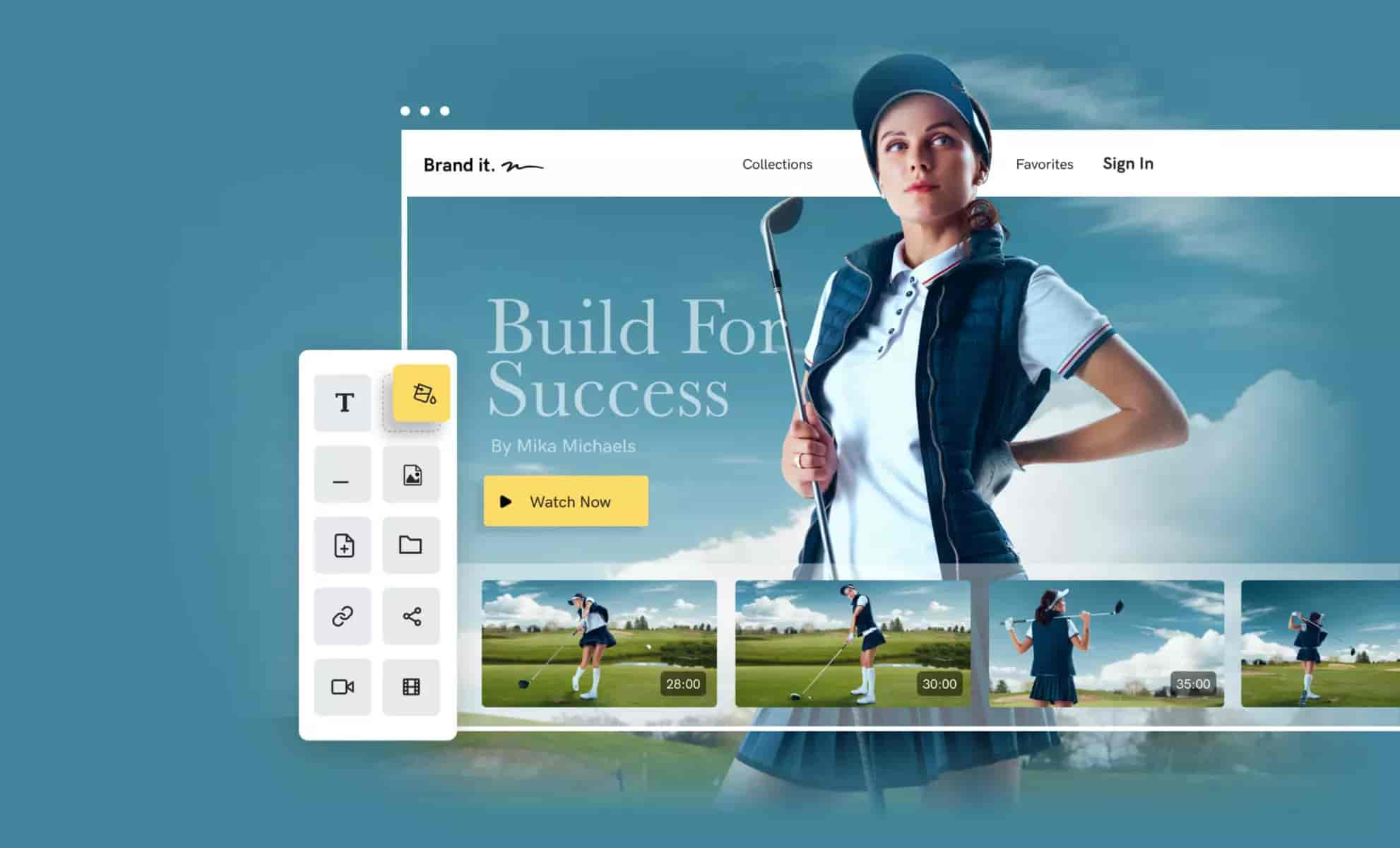 Uscreen is an all-in-one video monetization platform for content creators.
Among private video hosting sites, Uscreen is a solid competitor. The platform offers multiple plans to suit all budgets. Boasting top-notch security features and easy integration with third-party websites. Our recommendation for this platform is for video marketers and those making video content for businesses. These include the likes of VOD and OTT platforms.
The best part about this platform is that it's got apps for both smartphones and smart TVs. This way, your video content can gain a higher reach, especially given the growing number of cord-cutters out there. The powerful video CMS also enables you to host videos online, manage them at scale, enabling you to create huge video libraries.
Top Features:
User support
Easy payment options
A full-featured video player.
Offline viewing capability
Multiple monetization options
Impressive range of OTT building tools
Multiple tools to maximize marketing and retention
Video storage capacity for150 plus hours
8. Brightcove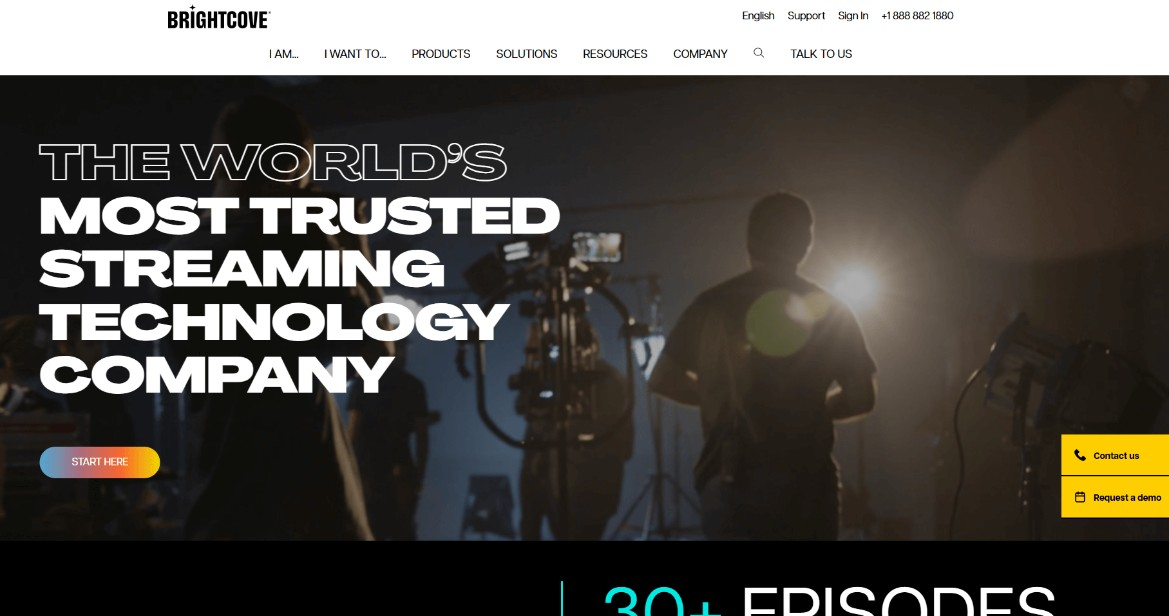 Brightcove can be defined in two words: professional and exclusive. The video hosting website boats many impressive clients from the list of fortune 500 companies as well as many prestigious awards and nominations. Brightcove is a front-runner among top premium video hosting sites and is recommended for larger organizations looking for a high-end solution.
It's a streaming-first platform to host videos online, which makes it a great option for enterprises that are looking to go full-throttle into video streaming. The platform also offers support for livestreaming, making it a great option for OTT platforms.
Top Features:
Detailed analytics
Best HTML5 in the industry
Limited monetization options
Offers OTT-focused features
Fast and High-quality streaming
An extensive array of marketing tools
Supportive of e-commerce video content
Excellent security integration for video content
Supports both videos on demand as well as live-streaming
9. Vidyard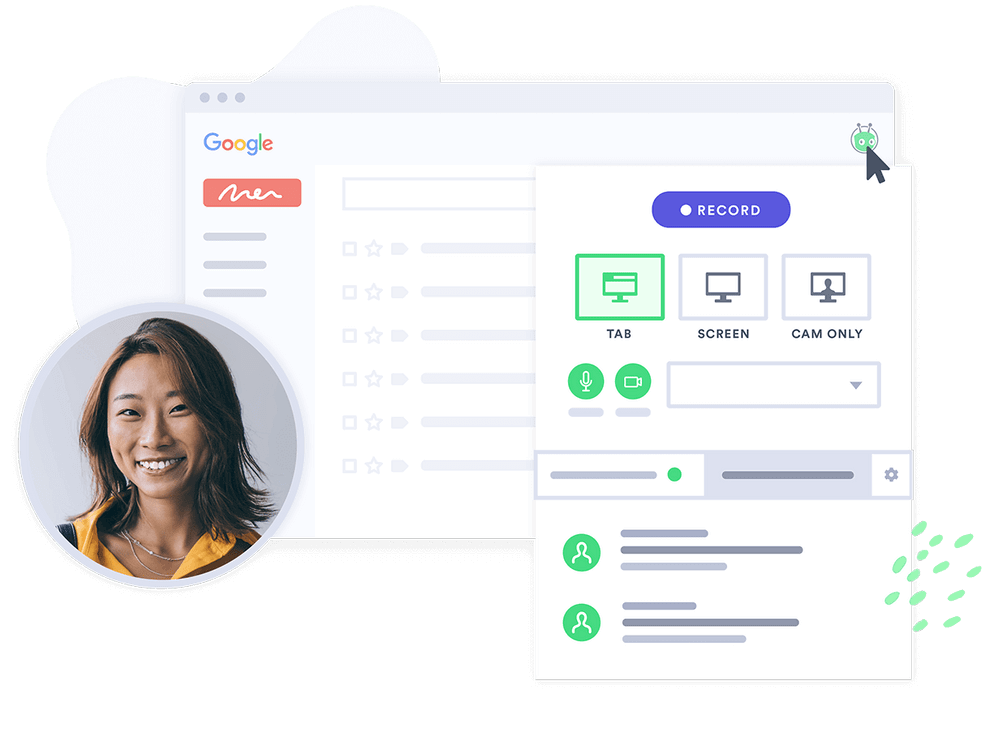 Vidyard's hosting solution is changing the way businesses connect through video. Source: Vidyard.com
Vidyard offers both paid and free plans to its broadcasters. Depending on which features and digital tools you need, these plans can be further customized. Even though Vidyard is on the pricier side among the best video hosting sites in class, you only pay for the exact features you know you'll use. Vidyard is another prominent name among paid video hosting sites with premium price tags. Let's look at some of the features that justify the hefty price to host videos online.
Top Features:
Ad-free videos
Easy-to-use interface
Extensive analytic tools
Not supportive of monetization
Social media sharing enabled
Great for generating marketing-based engagement
Easy third-party integration such as Hootsuite, Marketo, and Salesforce
10. JW Player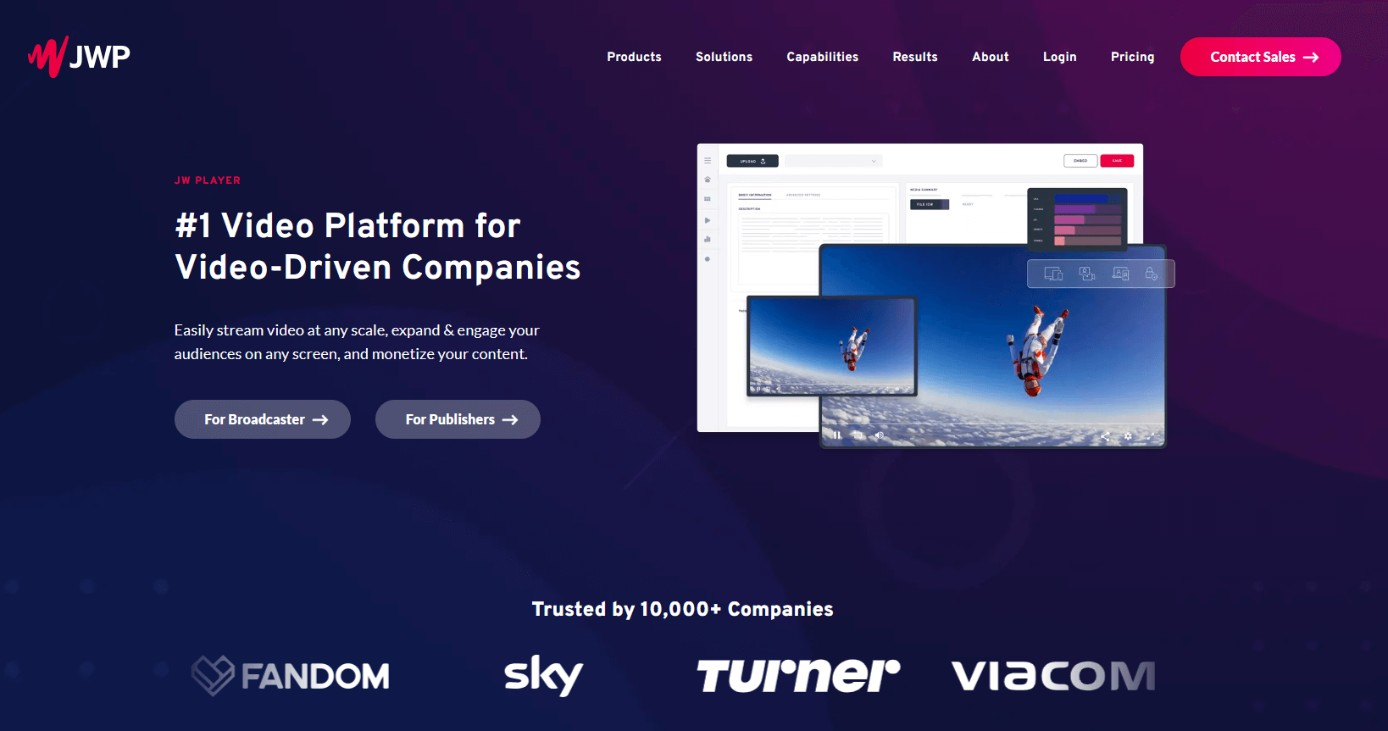 Last but certainly not least on the list is JW Player. Offering great scalability options, some of the fastest video loading speeds among other video hosting sites, and smooth streaming across multiple devices. JW Player offers plans starting from just $5 monthly.
The platform offers end-to-end video management for all your videos, including live and VOD (video on demand) streaming. It also has a web video player, which enables you to easily monetize your content and also understand your viewers better.
Top Features:
Highly customizable
Email user support
HTML5 video player
Impressive engagement analytics
Live streaming [only for premium plans]
Broadcasters can choose to passport protect their video content
FAQ
1. Where can I host videos for free?
You can host videos online for free on these platforms:
YouTube
Vimeo
Facebook
Dailymotion
2. Is Vimeo free to host videos?
Yes, Vimeo allows free video hosting for individuals or if you don't upload a huge volume of videos regularly, which makes it suitable for small businesses. But if you're looking to upload loads of videos regularly, you would need to opt for Vimeo's paid plans.
3. Is there another video site besides YouTube?
Yes, there are numerous other video sites besides YouTube that you can use for video hosting. These include:
Dacast
Vimeo
Facebook
Wistia
Dailymotion
Uscreen
Brightcove
Vidyard
JW Player
4. Where can I host a video website?
While you can host your video website on a reputable web hosting service, you'd need a dedicated service to host your videos. These services include:
Dacast
Wistia
Uscreen
Brightcove
Vidyard
JW Player
5. How can I host a video online for free?
For free video hosting, all you've got to do is select a platform that lets you host free videos, such as YouTube, Vimeo, Facebook, and Dailymotion. Next, create your account on the platform and upload your video to it. You can then embed that video onto your website or email, or share it on other platforms.
Conclusion
Hopefully, you're now better equipped to select the right platform to host videos online. As you can see, the best live streaming and free video hosting site is one that offers features you can fully make use of to grow yourself as a video content creator. Sometimes, that means using more than just one video hosting website.
Dacast believes in empowering broadcasters through powerful features, excellent support, and smooth streaming. Want to give our platform a test drive? We offer a free 14-day trial period so that you sign on with us after being completely satisfied (and impressed!). To book a demo or read more helpful blogs like this one, check out  Dacast.com today.
For regular tips on live streaming and exclusive offers, you can also join the Dacast LinkedIn group.