Top 7 Live Video Streaming Trends for 2016
March 7, 2016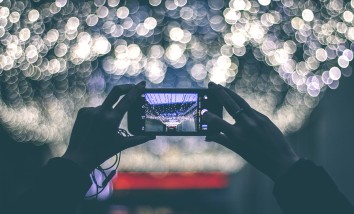 The past year was a big one for streaming video on the web, and the field continues to rapidly evolve. The ways that people are watching video, the technologies and platforms involved, and the video production trends are all changing. Today, we're going to predict 7 live video streaming trends for 2016. If you plan to stream live video for your business, sports league, church, non-profit, or organization, you should consider these changes when planning your strategies.
1. Live Video Streaming Trends
Continuing the trend from last year, we expect 2016 to be characterized by a huge expansion of live streaming on both social media and traditional media platforms. The ease with which people can stream (evidenced by phenomenon like Periscope) has taken down almost all barriers to adoption. Even Facebook is getting into the game, ranking live video higher in user's News Feeds than saved video content.
We expect the cutting-edge feeling and interactive nature of live streaming will continue to drive strong growth in the market as more publishers and more viewers get involved.
2. Internet Video Viewing Will Accelerate
The rate at which people watch videos on the internet has continued to grow over the past decade, and we expect this trend to continue for both live streaming content and video-on-demand. At the same time, TV subscriptions have been declining significantly, giving companies like Comcast and DirecTV concerns about a declining user-base.
In the U.S., major events related to the presidential election are expected to bring record viewers to various live streamed campaign events.
Internet video is surely on the rise. The average U.S. internet user watches about 229 videos per year. Globally, about 25% of internet users watch an online video every day. We expect both these numbers to rise in 2016 as internet access increases overseas and more users have access to high-speed 4G cell networks.
3. Online Video Ads Will Boom in 2016
Advertising attached to online videos has the highest click-through-rate of any form of online advertising at about 1.84 percent. We expect that this trend will drive an increase in video advertising in 2016 as more businesses take advantage of video conversion rates and the ability to target customers based on subject matter.
In 2015, online ad revenue for videos was approximately $7.7 billion. This may rise more than 20% in 2016 as additional viewers, faster bandwidth, and increases in smartphone ownership continue to drive up view counts and purchases.
We are also seeing an increase in user engagement as more people are watching videos for longer periods of time. This will be a big factor in expanding mid-stream video advertising this year. iMedia Connection, commenting on this trend, writes that:
"Even simple executions such as 'Buy It Now' buttons, product recommendations, or store locators can quickly transform a once-passive medium into an in-the-moment e-commerce experience."
4. Mobile Viewing Will Dominate
More people are doing away with home internet connections and making-do with their smartphones and tablet as primary internet devices. Between 2013 and 2014, the percentage of internet traffic that came from mobile devices increased from 40 to 60 percent.
With the falling cost and increasing speed and battery life of mobile devices, we expect this trend to continue. By the end of 2016, we expect that more than 70% of internet traffic and a similar proportion of video viewing will through mobile devices.
This represents a huge (and mostly untapped) opportunity for advertisers focused on mobile video. We expect mobile ad spending to rise as much as 40% this year compared to 2015.
5. More Live Streams on Social Media
Live streaming embedded in social media platforms is a relatively new phenomenon, but this technology is finding more and more support. Better implementation of video protocols, better compression, and faster internet speeds are all making streaming on social media more common. For these reasons, we expect to see more live streaming taking place on social media in 2016.
DaCast was one of the first live streaming hosts to offer embedding on social platforms, and was the first to do so on Facebook. DaCast is also fully mobile-compatible and offers ad integration through our APIs to help with monetization.
6. Expect Live Streaming to Be Big and Branded — and Small and Social
At the last CES (Consumer Electronics Show) in Las Vegas, one takeaway was that video streaming is going to be big in 2016.
Like most video content on the web, live streaming is moving towards and split market. On the high end, big budgets and production teams will continue to produce top-tier content that's hard to compete with — but fantastic for the viewer.
On the lower end, small-scale producers with limited budgets now have access to broadcast-quality equipment, and are producing better content than ever before. Small-scale live streamers also have the advantage of finding a niche market and focusing their efforts.
7. The 4K Future Begins to Emerge
In 2016, we will see the world of 4K video begin to take over more of the market and we'll see the first widespread streaming in 4K. With a pixel resolution of 3840 x 2160 or more (depending on the format), 4K captures an incredible amount of detail.
For now, HD content is still dominating the web. Most users simply don't have the screen quality or the bandwidth to watch 4K video. But that's beginning to change. By the end of this year, we expect to see 4K video making serious inroads, especially as new video codecs emerge to provide higher quality with lower file sizes.
HEVC (High Efficiency Video Coding) and rivals like the Thor codec from Cisco are expected to gain ground this year. These codecs will be able to deliver 4K video at a data rate of between 20 and 30 Mbps, which many home internet connections can handle.
With the growing adoption of fiber optic internet, many cities are experiencing significant boosts in average internet speeds that should allow lag-free 4K video streaming.
2016: a Big Year
We expect major changes in the live video streaming trends this year as the full-scale adoption of these technologies continues.
At the same time that enterprises are doubling down on streaming, small organizations also have the chance to make their mark in a crowded field; they have content that no one else can produce and a level of brand trust that can't be beat.
All signs point to online video and especially live streaming being a winning media platform for the future.
Any other live video streaming trends in mind? Let us know!