Encoding, multi-bitrate streaming, and adaptive streaming are all very important elements for maintaining an excellent user experience and improving the quality of your live stream.
In this post, we're going to discuss how these features look in action with the Wirecast live encoding software. We will cover how to set up this software encoder with a specific focus on Wirecast bitrate settings.
What is an Encoder?
Encoding is a process used to convert the RAW video files captured by a camera into digital files suitable for live streaming over the internet.
Wirecast is an example of a software encoder that is used for live streaming. This means that the encoder feeds digital video files to the streaming platform in real time.
Setting Up Your Wirecast Encoder 
To use multi-bitrate streaming with Wirecast, you must configure your encoder with the required encoder settings from Dacast. 
You will need to access your Dacast dashboard to retrieve some information, and from there, our adaptive player will automatically detect Wirecast's multi-bitrate settings.
To ensure your system is compatible, check out our post on the minimum Wirecast system requirements. When properly configured, the adaptive bitrate tool allows you to provide the best quality stream to your viewers based upon their individual connections.
Setup Live Streaming Step-by-Step
Step 1:
Click on your stream under "Live Streams" on the left-hand menu. You can either click the title of your stream or use the pencil icon (if you have already created one).
If you haven't created a stream yet, you must click the "Create Live Stream" button towards the far right side:
Step 2:
Once you're in the "General" tab of the specific video, click "Encoder Setup." There, you will find the credentials you'll need to connect the two platforms:
Step 3:
You will see the window in the screenshot below that provides the following information:
Username

Password

Stream URL

Stream Key
Wirecast Encoder Setting Configuration
Log into Wirecast. Click on "Output" in the top menu, and open the "Output Settings" window. If you have not streamed yet, please click on the black "Stream" icon to make the Output Settings visible. 
Alternatively, press (CTRL + Y) or click "Output" then "Output Settings," as shown below: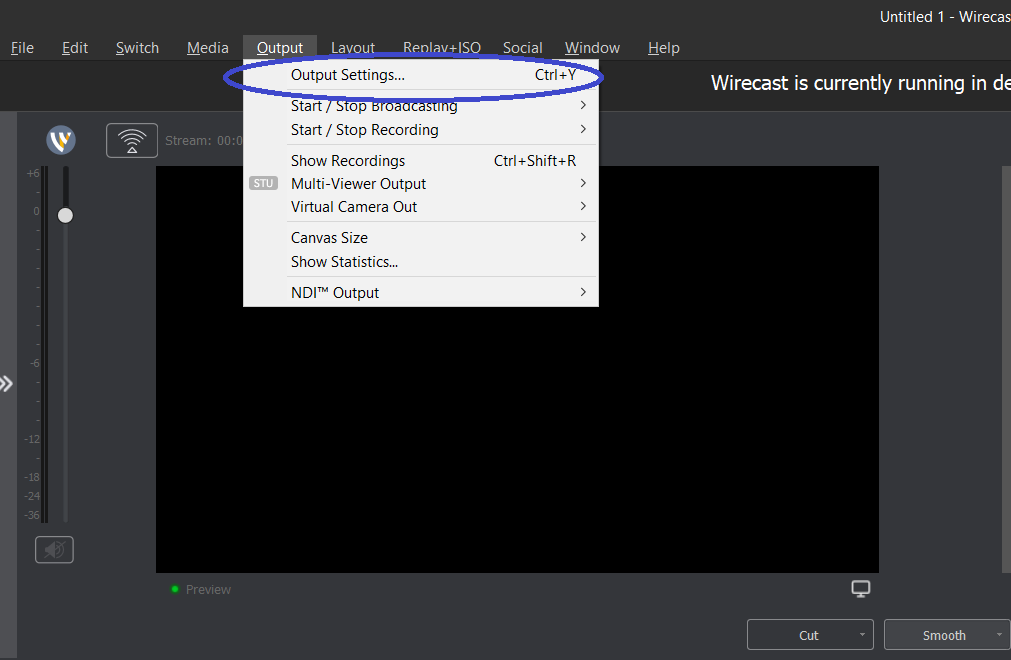 When the window opens, you will be asked to "Select an Output Destination." The destination should be "RTMP Server." Click "OK":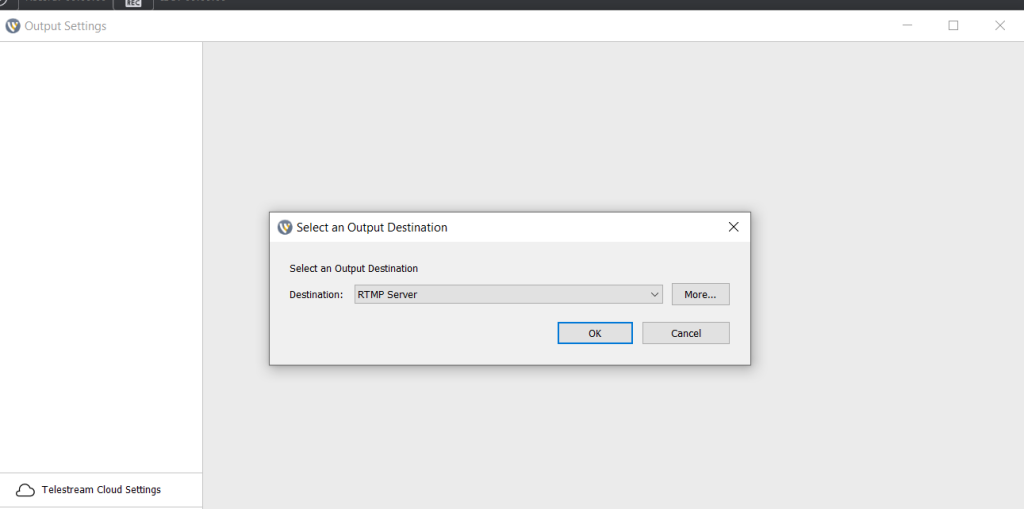 Adding The First Stream
Input the Server URL in the "Address" bar and the Stream Key in the "Stream" bar.
Next, click the "Set Credentials" button. Put the username and password on the corresponding tabs: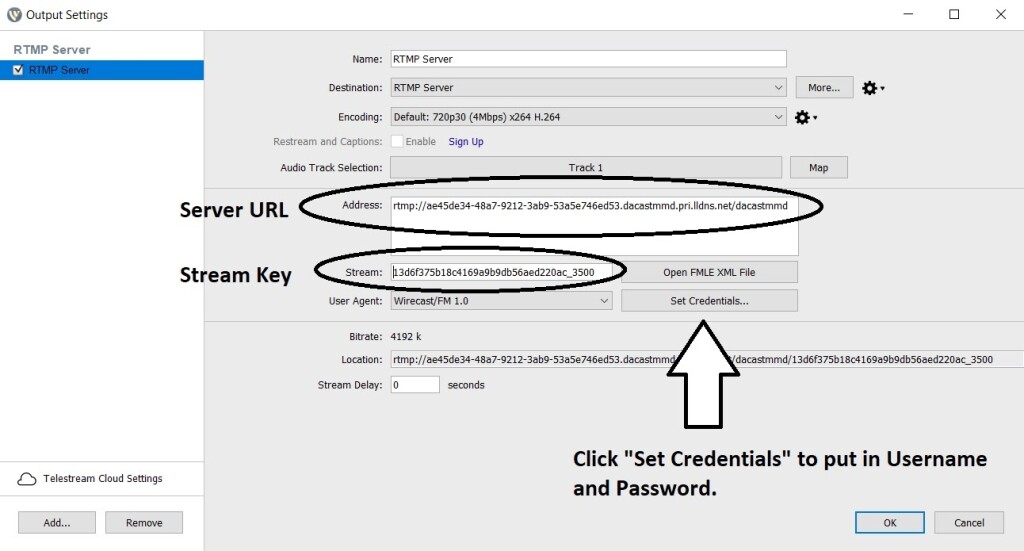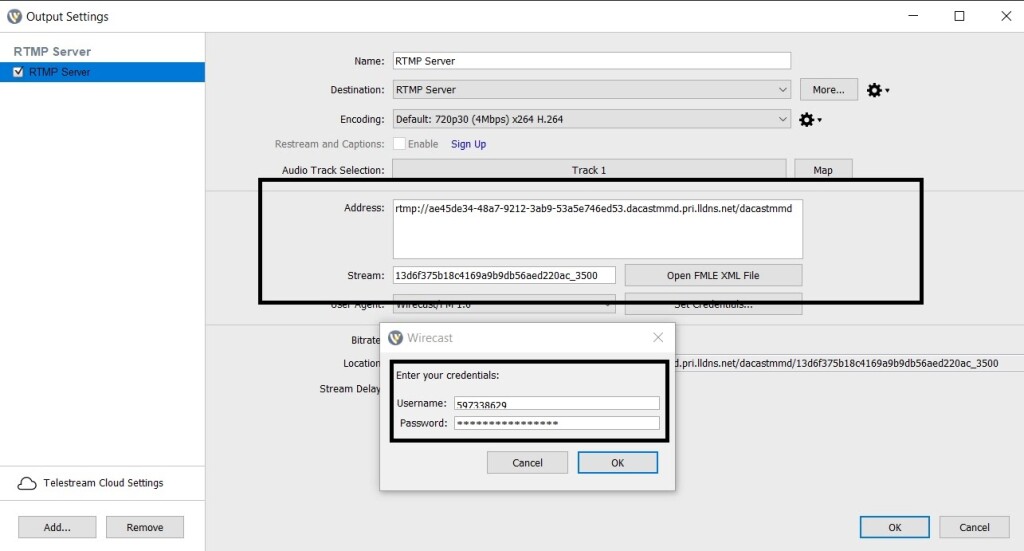 Step 4:
Click "OK" to save your changes.
Internet Speed and Bitrate
From here, you'll want to ensure that you're using the appropriate settings for smooth delivery of the stream in terms of playback and functionality.
To get started, do an upload speed test via testmy.net. The purpose of this is that you will need to adjust the video bitrates accordingly to the appropriate resolution (FHD, HD, SD, etc.) based on your upload speed test. 
There is no mandatory minimum upload speed for live streaming on Dacast, so how you set this up depends on the quality of the video you want to stream at. 
The upload speed on your internet should be around double what you plan to use to live stream. You can push this to up to 80% of your internet connection speed if need be.
For example, a 1,000 kbps connection would let you stream from 500 kbps to 800kbps. 
If you are streaming at more than half your connection speed, do not try to watch your own feed at the same time as that will exceed your internet's capabilities.
Also, please keep in mind that other variables, such as being on a wireless or shared network, will reduce the bitrate you can stream at. That said, using a hardwired internet connection is the best way to go for live streaming.
Encoder Presets on Wirecast
Now, we need to make sure that the stream is correctly set up for HTML5.
To do so, click on the clockwork icon near the "Encoding" drop-down, and choose "View Details" or "New Preset":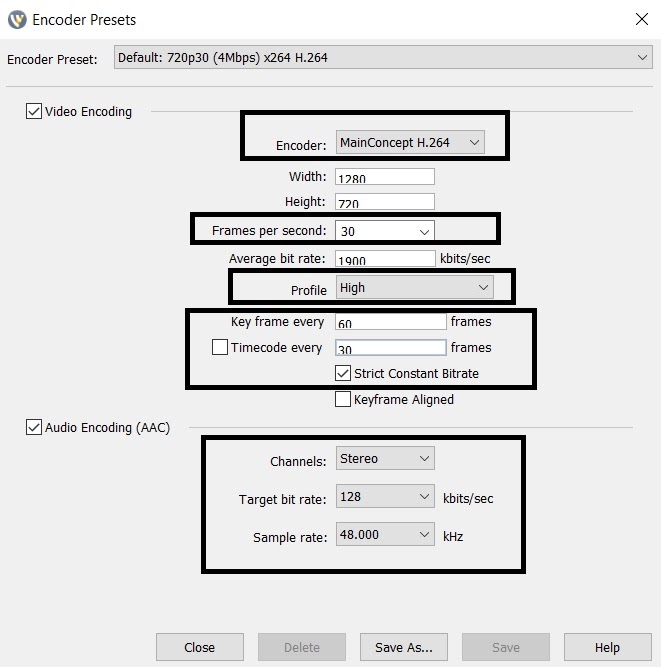 The settings for HTML5 streaming should be as follows:
Encoder

: H.264 (x.264 may also work)

Width, Height, FPS, Average bitrate

: your choice (depending on your upload speed)

Profile

: High

Keyframe every

: 60 seconds (double the size of the FPS)

Channels

: Stereo

Target bitrate

: 128

Sample rate

: 48 Khz
All of these settings and more are indicated on our Dacast Encoder settings guide. 
Click "Save" or "Save As" to save your changes.
You are now ready to stream. Click on the "Stream" icon. Once it begins, a timer should appear, this means you are now connected to the Dacast server and your live stream has begun: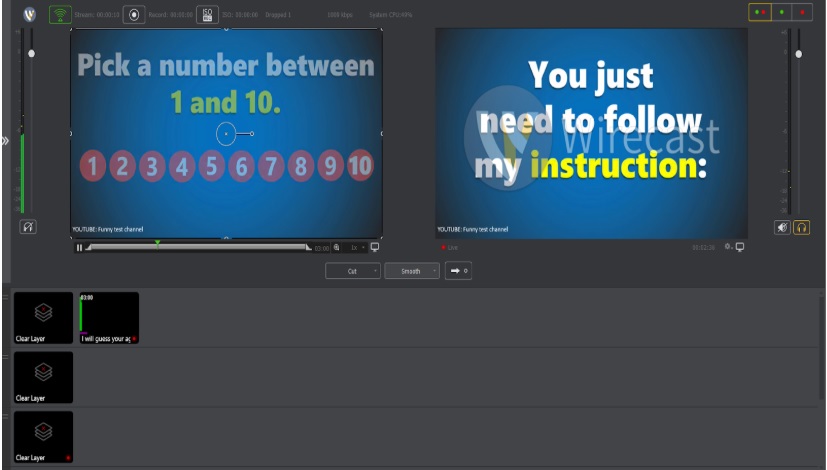 To preview your live stream, go back to your Dacast account in the "General" tab of your stream. Click on "Preview" or copy the "Share Link" and paste it into a new browser window:
Adding Wirecast Multi-Bitrates 
The default settings in Wirecast 7 are HD settings, so make sure to customize your settings in order to offer a low, standard, and high definition without running out of bandwidth too quickly.  The settings for each quality are as follows:
Standard Definition is 480p: 854×480, 500 Kbps – 2 Mbps for video, 128kbps (stereo) for audio

Low Definition is 360p: 640 x 360, 400 Kbps – 1000 Kbps for video, 64kbps(mono) for audio

High Definition is 720p HD 1280 x 720, 1.5 – 4 Mbps for video, 128kbps (stereo) for audio
Setting up multi-bitrate streaming only takes a small tweak of the Wirecast Bitrate settings.
The "Multi-Bitrate Encoding" feature is easily accessible on the new Dacast platform. Please contact us if you cannot find this feature on your account, because you may not yet have access.
If you already have this on your Dacast plan, proceed by creating a live stream via the "Live Streams" tab on the left menu of the dashboard. Click on the blue "Create Live Stream" button.
When creating a new live stream, you can select the number of renditions (different bitrates) that you want:
You have the option to select 1, 2, or even 5 different bitrates.
When editing the live stream, you can click "Encoder Setup." You will see one "Stream Key" for each rendition that you chose initially on the "Create Live Stream" window:
In this example above, you can see the number of renditions that were initially chosen, thus giving you the appropriate number of Stream Keys.
Now, let's turn back to Wirecast.
To add more bitrates and input the necessary "Stream Keys," you will click "Output" on the top menu, then "Output Settings." Select "Add" at the bottom left part of the "Output Settings" page: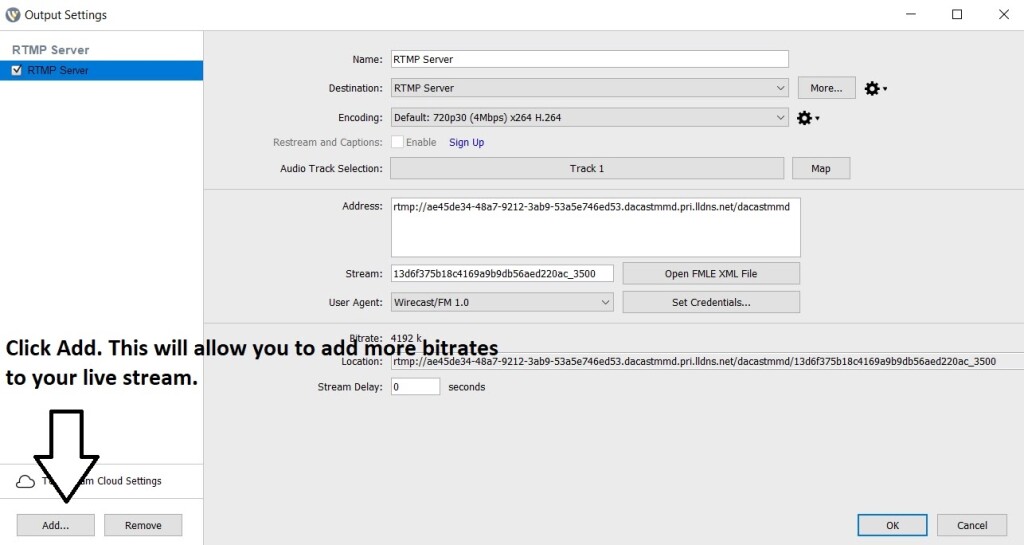 From here, repeat the steps we outlined in the first part of the tutorial and enter the RTMP server address, the stream credentials on their respective fields.
As a reminder, the Server URL, Username, and Password can be found in the "Encoder Setup" window of your Dacast account. However, as opposed to our previous example, instead of pasting one stream key into Wirecast, you will paste one stream key per rendition: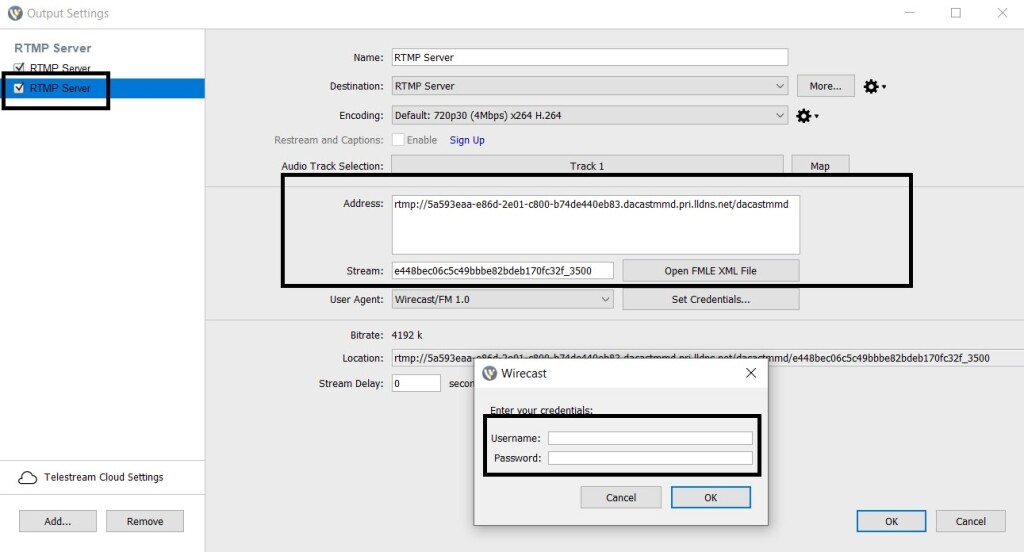 Important Notes on Wirecast Bitrate Settings
By now, you have set up the necessary renditions using the appropriate stream credentials on Wirecast. You can now configure the appropriate presets accordingly for each rendition.
Presets need to be created so that you can specify the appropriate bitrate per rendition.
The bitrate in the preset needs to be higher than the maximum bitrate of the Dacast rendition you are setting for.
For example, a rendition of 4500 Mbps will end up being 4628 (4500 video bitrate + 128 audio bitrate) so the total bitrate in Wirecast should be higher than 4628. As a rule of thumb, you can add 200 to the video bitrate, so here, it would be 4700.
To do this click on the settings icon for the first rendition you have done on Wirecast. For this example, there are three different renditions on Wirecast. 
Click on "New Preset," then name it accordingly: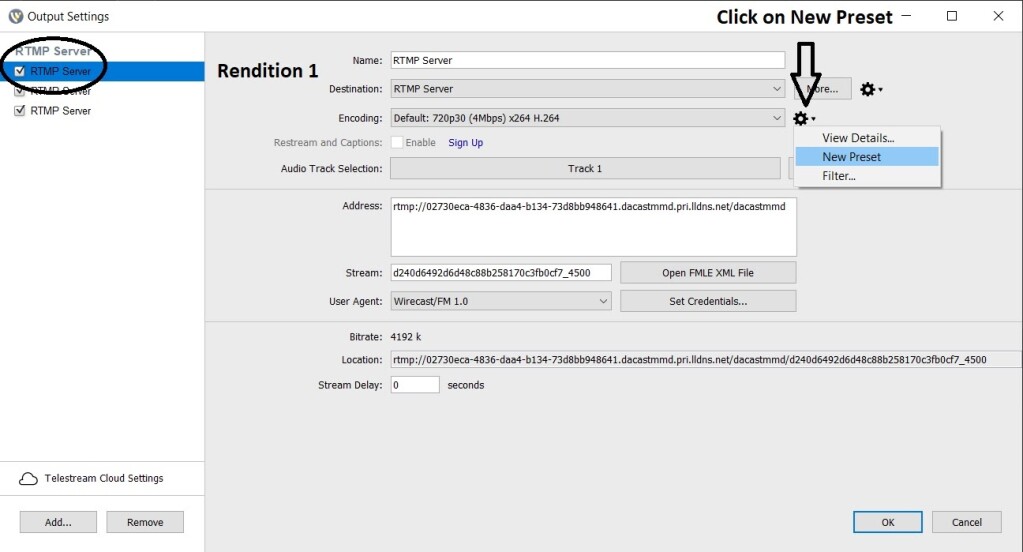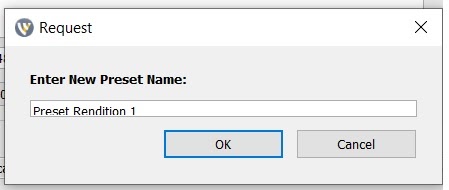 In this example, Rendition 1 on Wirecast is set with a 4700 video bitrate and a 128 audio bitrate. Based on our recommended encoder settings for FHD resolution, 4500 video bitrate would be the maximum you can set it to (please also take into consideration your upload speed).
Click "Save" to apply your selections: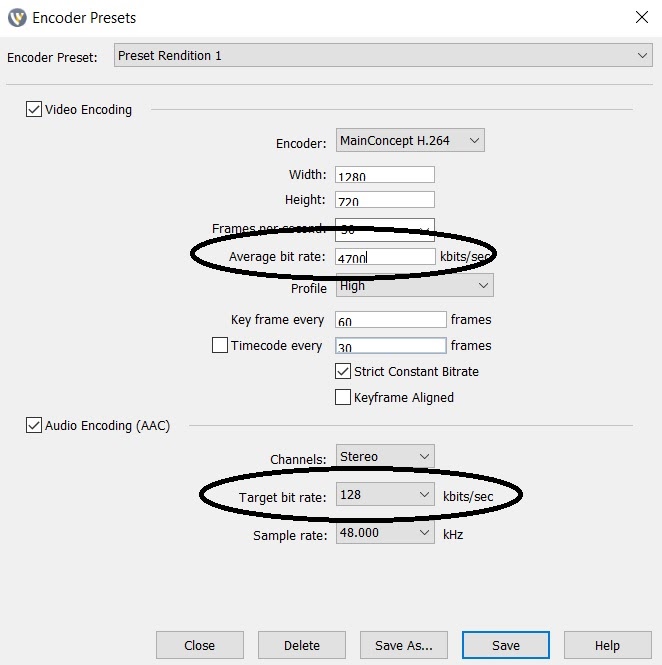 For the remaining renditions, repeat the following steps and look at our encoder settings guide so you can appropriately set the video bitrate accordingly per resolution: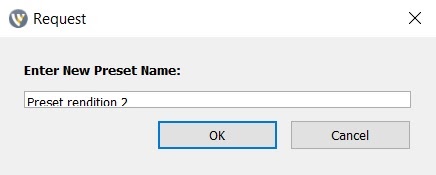 For our section example, Rendition 2 on Wirecast is set with a 2100 video bitrate and a 128 audio bitrate. Based on our recommended encoder settings for HD resolution, 1900 video bitrate would be the maximum you can set it to (please consider upload speed). 
Click on "Save" to preserve your selections: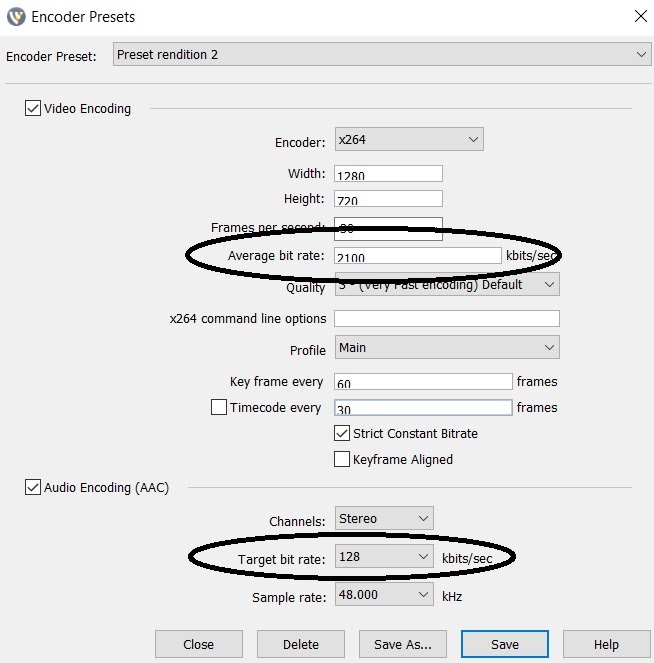 For any additional presets on your renditions on Wirecast, the same steps would apply.
Live Encoder Settings FAQ
Here are a few frequently asked questions about configuring encoder settings with Wirecast and Dacast.
1. Which customers can use this feature?
All customers, including free trials, have access to this feature. The additional cost would be entirely on the Dacast customer, not us, who is doing the additional encoding.
2. Which Stream Key should I use?
It doesn't really matter which Stream Key you use for each rendition, just as long as you copy and paste a different stream key each time you add a rendition on Wirecast.
3. What are the limitations?
While each Stream Key ends in what looks like a bitrate (e.g. "_4500") this is actually just an advisory and not a technical limitation.
The only real limitation is that the sum of all renditions remains below 16 Mbps. This should not be a problem because it is a relatively high limit.
4. What if you need to change the number of renditions?
The number of renditions is fixed for each live stream and cannot be changed because it requires complex interaction with our CDN, Limelight.
Therefore, the only way to change the number of renditions is to create a new live stream on your Dacast account and select the required number.
Required Encoder Settings
Since we just went over the topic of Wirecast Bitrate Settings and Multi-bitrate Live Streaming Configuration, we wanted to include a bit more information on the required encoder settings for live streaming on the Dacast streaming platform. The following settings are required for live streaming with Dacast, regardless of your selected resolution and bitrate:
| | |
| --- | --- |
| VIDEO CODEC | H.264 (x264 may work) |
| FRAME RATE | 25 or 30 |
| KEYFRAME INTERVAL | 3 secs (or 3x frame rate) |
| SCANNING | Progressive |
| ENCODING BITRATE | Constant (CBR) |
| AUDIO CODEC | AAC |
| AUDIO BITRATE | 128 kbps |
| AUDIO CHANNELS | 2 (Stereo) |
| AUDIO SAMPLE RATE | 48 kHz (48,000 Hz) |
Any questions or need help/access to this feature? Please contact us. Not yet a Dacast user, and interested in trying Dacast risk-free for 14 days? Sign up today to get started.