Akamai vs. AWS CloudFront: Which CDN is Best for Live Video Streaming? [2022 Update]
By 2022, online video will comprise over 82% of all consumer internet traffic. Live video streaming, in particular, is exploding in popularity. Cisco predicts that live video will grow fifteen-fold by 2020, making up 17% of total video traffic.
Today, content delivery networks (CDNs) exist to facilitate smooth content delivery by moving data across large geographical regions to reach viewers from around the globe. This technology is absolutely essential in the world of online video streaming. Video files are notoriously bulky, so a reliable system for delivery is a must.
There are many professional CDN providers on the market, but some are better for live streaming than others. As you've researched you've likely come across the names "Akamai" and "AWS CloudFront" as two of the top options.
Both are powerful platforms, but many are left wondering which of these platforms is better for live video streaming. In this post, we're going to compare the two to determine which one is most fitting for video content delivery.
We will help you figure out in Akami vs Cloudfront debate, what is the best CDN for your needs. 
Table of Contents
What is Akamai?

What is AWS CloudFront?

Akamai vs. AWS Cloudfront: A Comparison

Which CDN is Better for Live Streaming?

Conclusion
What is Akamai?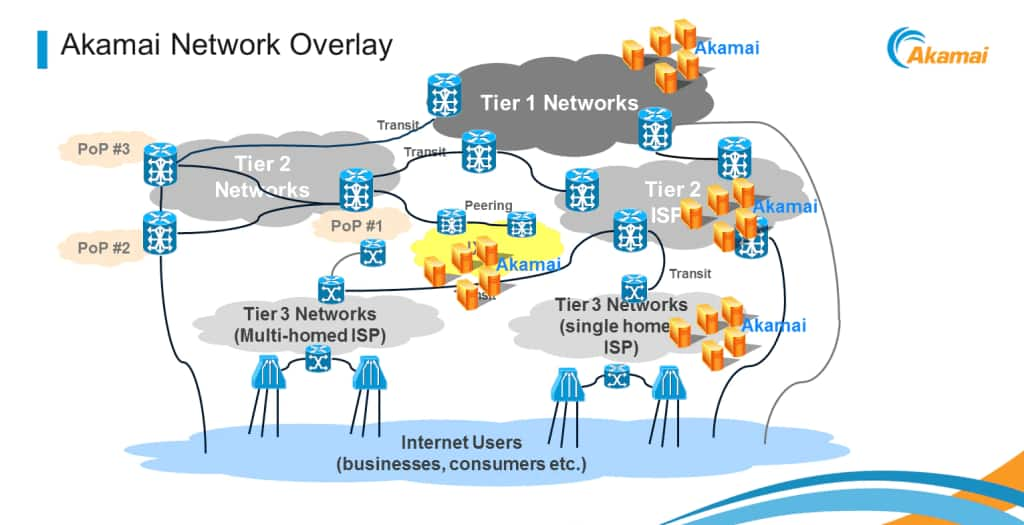 What is Akami? Akamai is based in Massachusetts, and it is one of the most powerful CDNs in the world. In fact, Akamai was one of the first CDNs on the market and has been a leader in content delivery ever since.
Each server runs the Akamai Intelligent Platform. This software package uses algorithms to analyze traffic and congestion, and intelligently process and route data requests. All of this allows the Akamai CDN to deliver data where it needs to go, fast.
Akamai serves as much as 30% of all internet traffic at any given time, which amounts to more than 3 trillion interactions. Major customers include Apple, BBC, the Olympics, Microsoft, ESPN, Hulu, Adobe, IBM, Sony, and Yahoo.
Akamai is also the leader in live content, delivering massive quantities of live streaming video each day.
Key Features:
Akamai CLI

Case Management

Certificate Provisioning System

Content Control Interfaces

CP Codes and Reporting Groups Tool

Diagnostic Tools

Firewall Rules Notification

Identity and Access Management

Log Delivery

Property Manager API

Sandbox Environment
Pricing:
Akamai pricing is customized for each user based on the features they need, the size of their business, bandwidth requirements, and other factors.
Interested users can request a quote and demo from Akamai to learn more.
What is AWS CloudFront?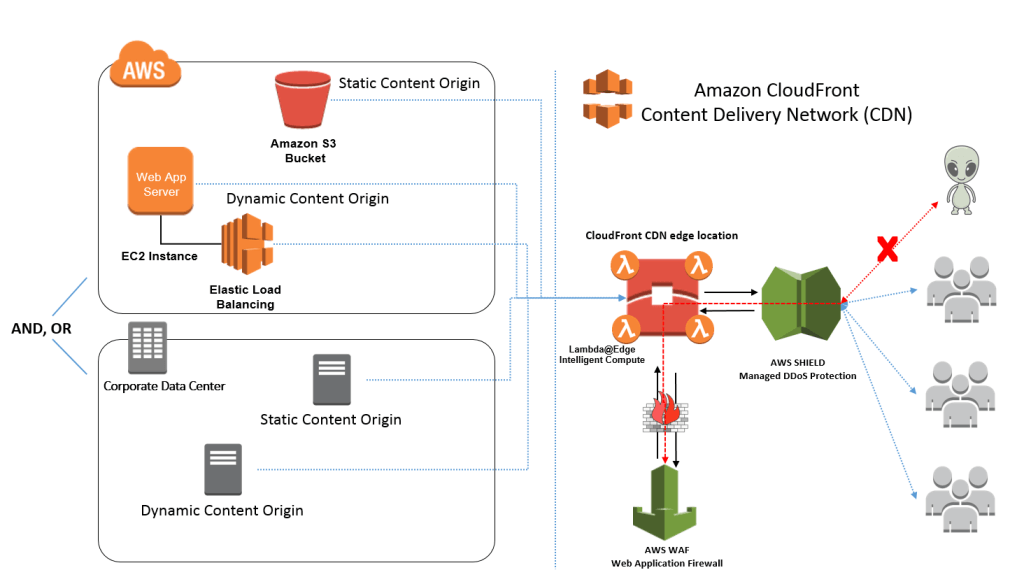 What is AWS CloudFront? Seattle-based Amazon provides a wide range of cloud services via its Amazon Web Services (AWS) platform. ASW is the largest public cloud in the world. It offers a range of hosting, storage, and other services, as well as a CDN service.
In this post, we're talking about AWS CloudFront CDN. However, CloudFront is not AWS's main offering. It is simply one service among many others for Amazon. It is important to understand that Cloudfront is more than a CDN. 
CloudFront has been growing very rapidly over recent years. Just a few years ago, it was a small CDN mostly used in the SMB market. However, it has grown significantly. Today, larger businesses are using CloudFront, as well.
While AWS CloudFront is capable of delivering video content, it does not have a dedicated streaming CDN. The service is best suited for hosting and delivering website media.
Some of CloudFront's top customers include ZenDesk, NASA, PBS, and IMDb.
Key Features:
Global edge network

Security protection against network and application layer attacks

Edge computing

Real-time metrics and logging

DevOps friendly 

Full-featured APIS and DevOps tools

Cost-effective

Free data transfer between AWS Cloud Services and Amazon Cloudfront for origin fetches
Pricing:
CloudFront pricing is on-demand and based on geographic region, bandwidth usage, and the features you need. CloudFront offers three tiers of pricing plans:
Free trial:

12 months, which allows 50 GB of transfer-out data and 2,000,000 HTTP(s) requests per month

On-demand pricing:

on data transfer out (internet/origin) and HTTP/HTTPS requests

Discounted pricing:

minimum traffic commits (typically 10 TB/month or higher)
Akamai vs. AWS Cloudfront: A Comparison
As you can see, Akamai and AWS CloudFront are both powerful content delivery networks that offer a wide range of professional features for delivering data over the internet. While they are equally powerful, these platforms have different strengths that make each better suited for a different use case. In Akamai vs Cloudfront, a lot of it has to do with what you need from a CDN service. 
When it comes to live streaming content delivery, in particular, there are four main things to consider: scalability, performance, reliability, and pricing. Let's see how AWS CloudFront and Akamai compare based on these criteria.
1. Scalability
One of the most important metrics for a video streaming CDN is simply the size of the network. The larger the network you have, the more endpoints to which you can direct users. This means that you are closer to any given internet user, which decreases congestion and dramatically improves the user experience.
Additionally, a large network allows you to have servers in many different geographic zones, including China, SE Asia, the Middle East, Africa, Europe, South America, Australia, and North America.
Akamai has servers in more than 130 countries that are connected to more than 1,700 networks. CloudFront, on the other hand, has more than 225 PoPs.
Since video files are large, having more servers that are strategically spread is a major advantage in online streaming delivery. The difference between Akamai and AWS Cloudfront is significant in this arena. In AWS CDN vs Akamai, AWS CDN has more scalability.
2. Performance
Frankly, CDN performance is hard to measure. It's a little like the gas mileage of a car. It depends on so many factors, including weight, weather, road surfaces, hills, speed, and the number of stops. Even considering those criteria, you can only get a ballpark measure.
Similarly, CDN speed cannot be simply measured using one definitive number. Performance depends on who is testing, where they are located, network congestion at that time, the user's home internet speed, other applications that are running, concurrent cyber attacks, and so on.
However, we can see from existing comparisons that Akamai seems to have a definite lead over CloudFront when it comes to performance.
A CDN's throughput rate is a good metric for looking at live video streaming performance. In one analysis of CDN throughput, Akamai was roughly 14% faster than CloudFront. International tests also tend to show a 15-20% speed advantage for Akamai as a result of its larger global distribution.
This is particularly important for live streaming as it leads to fewer viewing problems such as buffering issues. Currently, Akamai wins in the Akami vs Cloudfront comparison in regard to performance. 
3. Reliability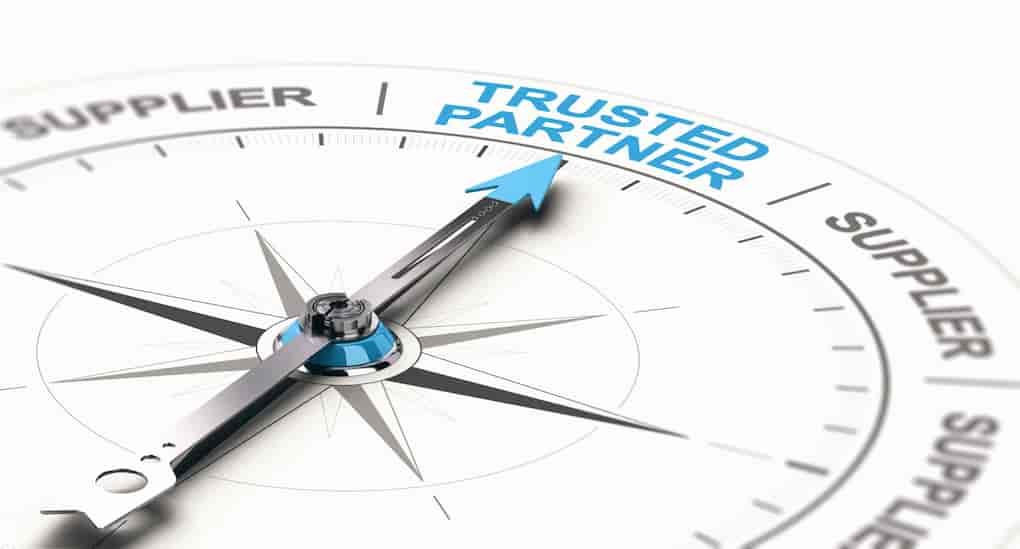 There are two main components to consider when it comes to determining reliability: availability and security.
As far as availability, Akamai's network sits at 99.77% according to CDN Finder. Cloudfront is rated for 99.74% in terms of availability. The difference between the two is very insignificant.
AWS has been known to lag behind most CDNs when it comes to security. However, AWS CloudFront has further developed its security offerings to include SSL/TLS encryptions and access control. It is compliant with major media security standards.
Akamai, on the other hand, has been a market leader in secure content delivery since the beginning.
Akamai was the first CDN to offer DDoS and WAF protection. There "Kona Site Defender" service protects against a wide range of threats. Typically, Akamai security offers are managed by experienced in-house professionals, requiring little setup and interaction from users.
With reliability, both networks have strong availability although Akamai comes to the forefront when it comes to security when comparing Akami vs Cloudfront. 
4. Pricing
Amazon's CloudFront pricing is relatively aggressive. They have a simple, pay-as-you-go structure although there are a lot of extra charges, for things like ingesting and signaling, that need to be taken into consideration.
Akamai has a more complex pricing system, which is based on negotiated contracts. It's not transparent. Pricing will depend on bandwidth, geographic region, types of traffic, contract length, and so on.
However, there's a trick to accessing Akamai at a more reasonable rate. By using a video streaming solution, such as Dacast, you can gain access to the Akamai network with low, predictable monthly pricing.
Dacast provides a range of tools for uploading videos and live video streaming. All content is delivered via Akamai and other top CDNs, which gives you all the benefits of the Akamai platform without the difficulties of custom contract negotiation.
Check out our live streaming CDN pricing comparison for more information.
Which CDN is Better for Live Streaming?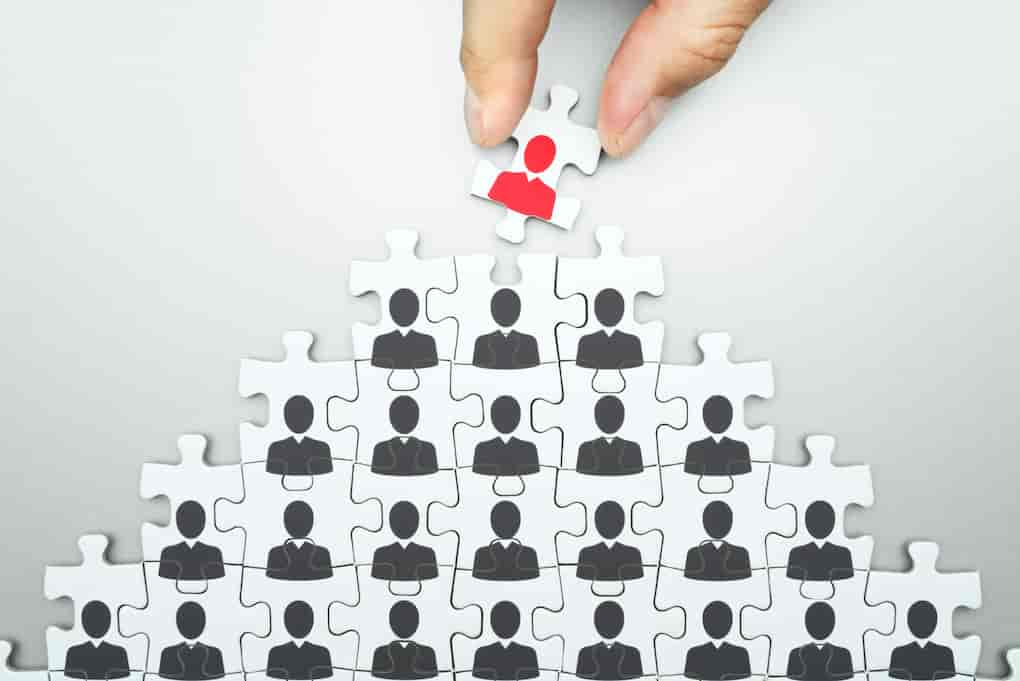 There are several different reasons why Akamai is better than AWS CloudFront for professional live streaming platforms. Akamai outperforms CloudFront in terms of live streaming suitability when analyzed based on scalability, performance, reliability, and pricing.
The WordPress Code blog calls Akamai the "absolute leader in the CDN market." It also notes that Akamai is the best platform for adaptive media delivery and advanced security features.
The CDN community agrees, showing Akamai with a wide range of advantages over CloudFront when it comes to live stream delivery. Akamai is the market leader with a 35% market share based on annual revenue globally and serves the majority of fortune 500 companies.
We would like to point out that even though Akamai is better suited for live streaming, AWS Cloudfront has very powerful offers that are suitable for professional website hosting and content delivery. In fact, Dacast partners with AWS CloudFront to deliver our own website media.
The bottom line is that each of these platforms has its own strengths, but if you're looking for a CDN to deliver your live streaming content, Akamai is the way to go.
Conclusion
When it comes to choosing a CDN for live streaming, it is important to choose an option that has a specific solution for online video distribution. While Akamai and AWS Cloudfront are equally powerful services, broadcasters are better off going with Akamai since it has specialized support for video content delivery.
The best way to gain access to the Akamai CDN service for live video streaming is to work with an online video platform like Dacast. All Dacast live streams and VODs reach viewers via Akamai and other top-tier video CDNs. This ensures maximum speed and reduces buffering and lag, no matter where your audience is located or how big it is.
Wondering if Dacast could be the solution for you? Test out our live streaming solution risk-free for 14 days. All you have to do to get started is create a Dacast account, and we'll have you streaming in no time. No credit card or binding contracts required.
Any questions, comments, or ideas? Let us know in the comments section! We love to hear from our readers and we do our best to respond. For regular live streaming tips, as well as exclusive offers, you're invited to join our LinkedIn group. Thanks for reading, and good luck with your live streams!