Comparing the Top 5 Chroma Key Software For Live Streaming [2021 Update]
Chroma key compositing is the process that professional broadcasters use to incorporate two separate videos or media files into one final stream. Typically, this is used with a green screen or something similar. It can be useful for all kinds of broadcasts, including when you want to stream live video on your website directly via an  online video platform.
In this post, we are going to discuss what chroma keying is before we dive into the 5 best live chroma key software on the market. We will take a look at the features, pros and cons, and pricing of each software and provide a quick tutorial for using chroma key compositing with each.
Table of Contents:
What is Chroma Keying?

Top Chroma Key Software for Live Streaming 

Chroma Key Tips and Tricks

Final Thoughts
What is Chroma Keying?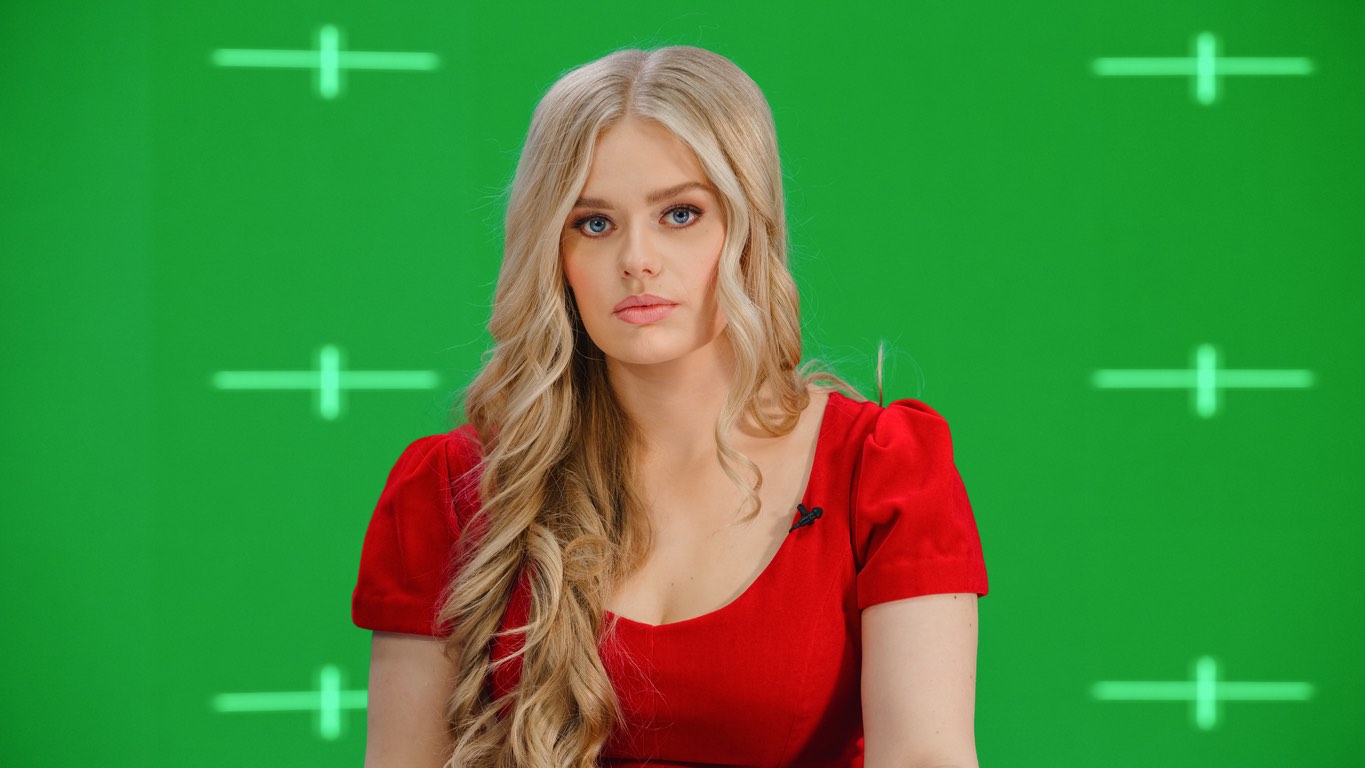 Chroma keying, which is also referred to as "chroma key compositing," is a cinematic technique that is used to blend two different media files together by picking up on color hues. For example, the producer could use a green screen in the background of the recording setup to seamlessly add a different background of a design or a different location.
This is used a lot in shows and movies, but it has become more important since people have had to quickly pivot and record in less than ideal spaces.
For example, early COVID-19 related lockdowns required that large-scale events be recorded from home and other unusual locations. A presenter could easily throw up a green screen and let their production teams work their magic to "transport" them to a more suitable "location" simply by chroma keying the background.
Although the technique was developed initially for canned video in the days of analog film photography, modern live broadcast software allows you to use chroma key with live streaming as well.
Top Chroma Key Software for Live Streaming
Broadcasters can use live streaming software to access chroma key support. Five popular RTMP software encoders that support chroma keying include Wirecast, vMix, VidBlaster, Open Broadcaster Software (OBS) Studio, and Xsplit. All of these have controls and options that let you use the chroma key, and all of them are very easy to use.
Let's take a close look at each of these options.
1. Wirecast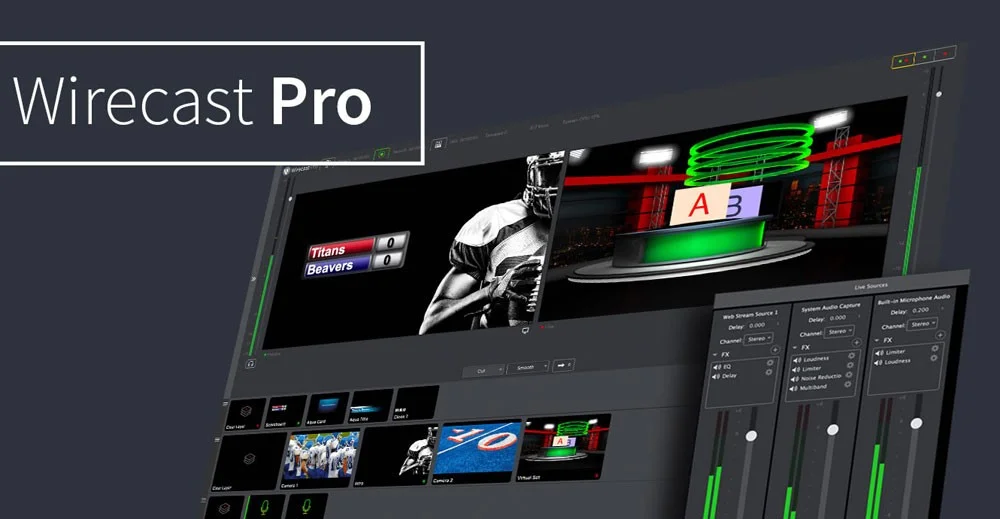 Wirecast is a live broadcasting software from Telestream that enables live streaming to any RTMP destination. In addition to chroma keying with green screens, this software includes live switching, picture-in-picture composition, titles, audio delay, and other similar features.
Wirecast software is compatible with a wide range of capture cards, devices, and camera inputs. If you need to use pre-recorded video within your live broadcast, Wirecast makes this aspect easy, as well.
Features:
Chroma key support

Compatible with macOS and Windows

Support for multiple simultaneous inputs

GPU-accelerated encoding

Pro Audio FX Built In

RTMP, RTP multi+unicast

Multi-channel audio ingest

Live stream auto-archiving

Instant replay
Pros
:
Easy-to-use platform

Highly compatible

Fully loaded with valuable features
Cons:
High price point 

Many features unavailable in the "Studio" version

Consumes a lot of computer memory
How to Use Wirecast:
With Wirecast, chroma key processing is done in the shot editor and can be done in the course of a live broadcast. 
To access the editor, right-click the camera source and go to "Edit Shot." From the editor menu, click on the chroma key attributes button, which is the icon that looks like a person. This opens a submenu that allows you to add either a still photo or a live video stream as a replacement for the chroma key screen.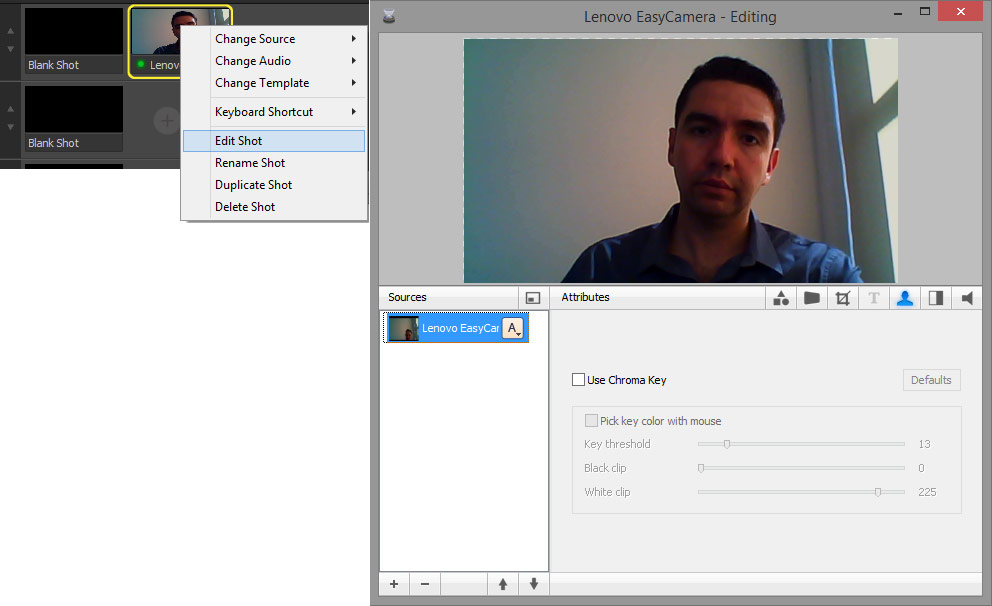 To make things a little more interesting, Wirecast offers a set of virtual templates that let you incorporate your background stream into a predesigned setup for common streaming purposes. These templates add a closer foreground in some cases so that the person in your video looks as if he's seated behind a desk or podium. Each template has several layers to it, adding complexity to the simple chroma key process.
After setting up the shot the way you want, click "Go" and your broadcast will be live. These features are available with Wirecast 4 and later editions.
Pricing:
The software comes in two versions:
Wirecast Studio

for enhanced live production & streaming: pricing is $599 with a free trial

Wirecast Pro

for advanced live production and streaming: pricing is $799 which also comes with a free trial
The latest version of Wirecast is 14.2. It is the newest full version and was released on April 28, 2021. It features several enhancements and fixes, including FBLive polling, re-written WebStream plugin, and Virtual Camera improvements. 
2. vMix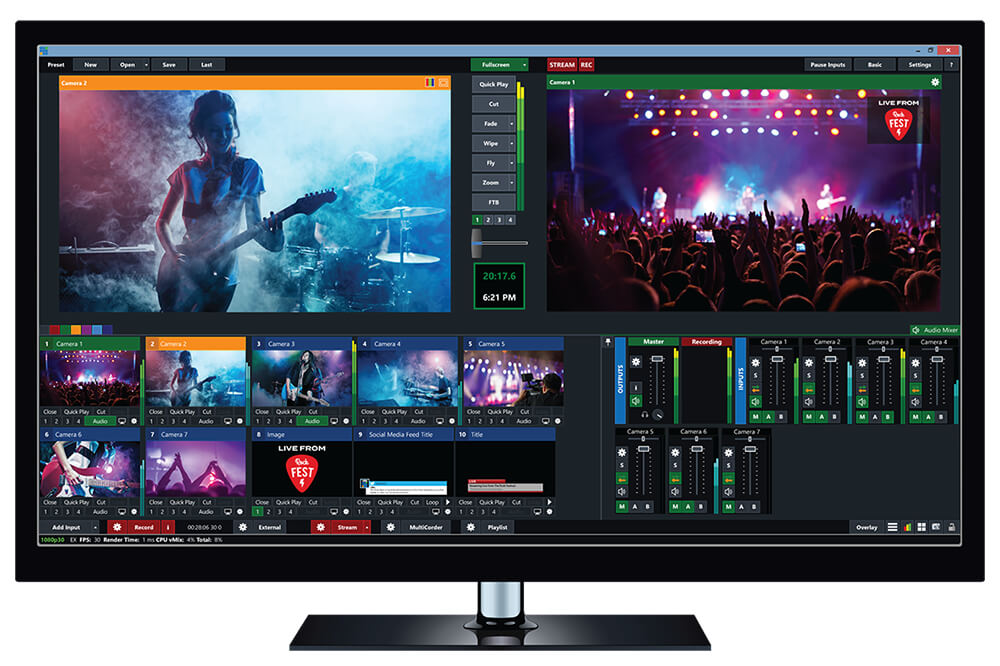 vMix supports chroma keying with a green or blue screen. In addition to chroma key support, this platform includes native support for multi-bitrate streaming which is very useful for professional broadcasters who want to stream high-quality content.
Additionally, this software supports the Network Device Interface (NDI). NDI sends your secure video upload over gigabit ethernet networks and green screens.
vMix also includes a built-in titling tool that includes animation support. Additionally, it offers an instant-replay and slow-motion feature.
Features:
Chroma key support

Compatible with Windows

Supports a wide variety of inputs
Pros
:
Some limitations on compatibility 

Plans for every budget

60-day risk-free trial

Reliable witcher functions
Cons:
Streams in relatively low bitrate

Some "bugginess" (which users suggest could be fixed with software update)
How to Use vMix:
vMix requires a little more hands-on work than Wirecast does, but it still isn't difficult to use. 
To get started, select "Add Input" for the left-hand window of the main screen and add your foreground video stream. This should include the green or blue screen background, which now appears in that window.
Double-click the image to bring up a set of options, and choose "Colour Key." Click the eye-dropper icon and then click on the pop-up version of the image to select the exact color from somewhere on the screen (which should all be the same color if you've set up your screen photography correctly).
Clicking the "Auto Chroma Key" button automatically removes the screen, replacing it with a black background. Fine-tuning controls are available if the program's automatic functions don't give an optimum result.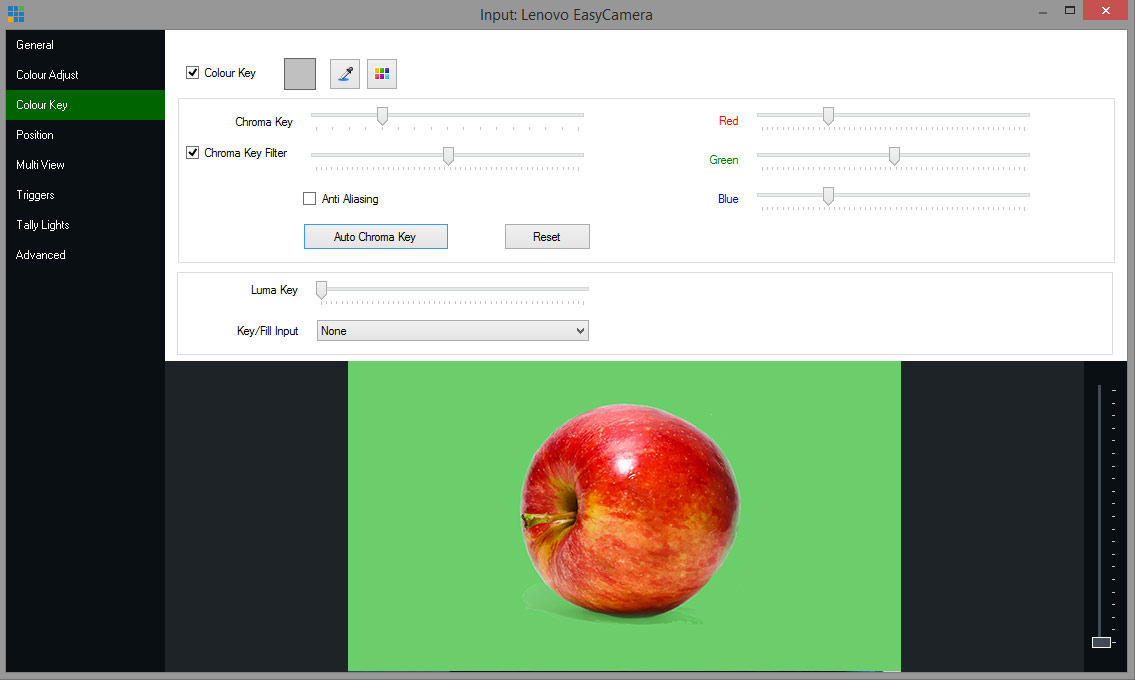 Click the add input button again and select a background image or stream, or one of the built-in virtual sets vMix provides. These work much like the templates in Wirecast that we discussed above.
Once the background is configured, click the "Set Up" button and choose what goes into each layer of the combined video stream. Your foreground video goes into the "Talent" layer. You can then choose camera angles, zoom, and other features.
Pricing:
vMix is available in four different versions, ranging from Basic HD to Pro, and the software comes with a free 60-day trial. Each version supports a different number of inputs, your purchase never expires, and includes the following versions:
Basic HD ($60), which supports 4 inputs (up to 3 camera/NDI) and video up to Full HD 1920×1080 resolution

HD ($350), which supports 1,000 inputs, adds vMix call functionality, 4 overlay channels, and supports full HD video in 1920×1080 resolution

4K ($700), which supports 1,000 inputs, 4K resolution video (4096 x 2160), PTZ control, 2 recorders, instant replay, 4 SRT outputs, and much more

Pro ($1200), which also supports 1,000 inputs, includes all 4K features and 2 records, plus up to 8 callers, up to 4 cameras for instant replay, and 4 SRT outputs
vMix also offers a 60-day free trial and has all the features of vMix Pro including the ability to use resolutions greater than HD such as 4K, particularly to ensure vMix supports your computer hardware works with it before purchasing.
3. VidBlasterX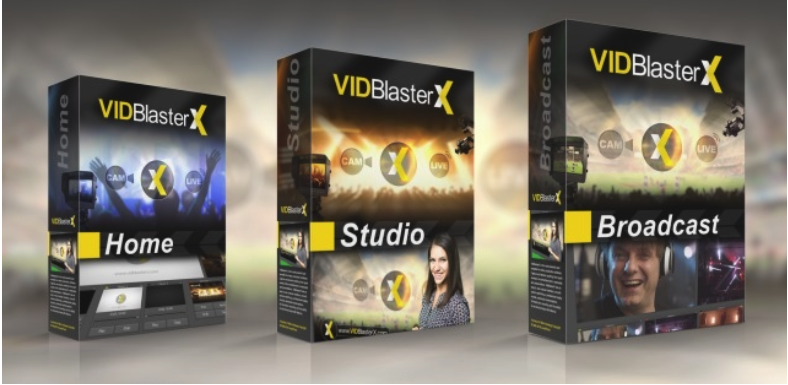 VidBlasterX is an RTMP-enabled live video production software. VidBlasterX enables streaming to most streaming platforms, and it fully supports chroma keying.
A unique aspect of this platform is that it also supports chroma blurring. That pretty much means that it can be used to blur out the background of a stream. This is valuable in situations where the presenter doesn't have a great background to record in front of.
VidBlasterX utilizes a unique modular design. For example, broadcasters can add each feature via a "module." You can then add, rearrange and remove these at your discretion.
Features:
Chroma key support

Chroma blurring

Compatible with Windows

Video routing

Recording streams to local disks

Displaying outputs on a monitor of your choice

Outputting to a Blackmagic DeckLink video card
Pros
:
Has plans for a wide range of budgets

Feature-rich

Easily customizable
Cons:
Not compatible with macOS

Not well-suited for inexperienced live streamers

Slightly complex
How to Use VidBlaster:
With VidBlasterX, the chroma key is handled by adding an effect module. Click the "Module" pull-down menu and select "Add," then choose "Effect" from the pop-up menu.
This opens the effect module box with several drop-down menus of its own. From the top one, select "Chroma key," which should be the first option. The left menu box allows you to select the foreground camera source, and the right box lets you select the background source. This can be another camera, a still photo, a program, a blank white screen, and several other options.
In the more advanced versions of VidBlasterX, right-clicking the background image brings up an advanced setting menu.
Check out our tutorial to learn how to set up VidBlasterX with Dacast.
Pricing:
VidBlasterX is available in three versions. Each of the following options is priced with an annual subscription model.
The Home version ($9/year) supports 7 modules.

The Studio version ($99/year) supports 25 modules.

The Broadcast version ($999/year) supports 100 simultaneous modules. This version also supports multiple recorder & streamer modules in a single profile.
4. OBS Studio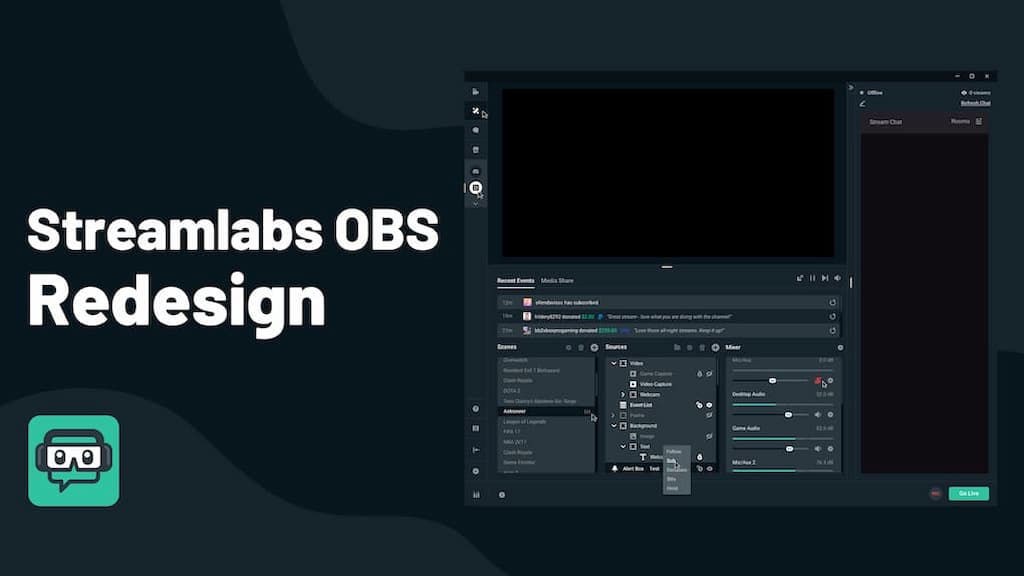 OBS Studio is a free chroma key software for live streaming. This software option is an open-source live stream broadcasting software package. In addition to chroma-keying, OBS Studio supports RTMP broadcasting, switching between multiple sources, and more.
Though it's light on features, it's quite easy to use, even for those new to live broadcasting. OBS Studio does not natively support any plugins. However, community members have developed a wide range of plugins that broadcasters can use to add features to the more basic OBS Studio.
Check out our post on the best OBS Studio settings for plugins to learn how to use NDI, a feature formerly only found on high-end encoders. Another interesting thing about OBS Studio is that it supports a plugin for pulling Tweets into your streams in real-time.
Please note that OBS does not support multi-bitrate streaming.
Features:
Chroma key support

A free, open-source platform

Compatible with Mac, Windows, and Linux
Pros
:
It's free

Easy to use 

Frequent updates to the software

Able to function on lower-quality internet
Cons: 
Some limitations on features

Room for improvement for plugins

No multi-bitrate streaming
How to Use OBS Studio:
OBS Studio offers less in the way of pre-designed bells and whistles than the programs above, but OBS Studio is very simple to use.
To start with, go to camera properties in your source that contains your screen video. Chroma key is disabled by default, so you'll want to enable it by clicking the checkbox labeled "Use Chroma Key."
Next, double click the color box to bring up a color palette, and select the color of your screen background to be keyed out. Then set the "similarity" to tell the program the range of colors from that selection, and do the same with "blend" and "spill reduction."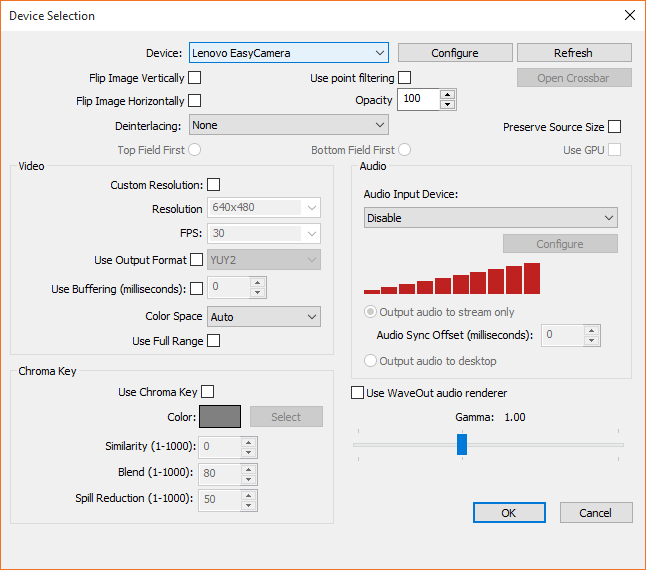 Most users of this program will advise setting the similarity quite high (at least 800), but we've seen contrary advice saying that if you handle your physical screen and video shooting well, you shouldn't need to go much above 100.
Once you have the chroma key working as desired, set up your background as a second source and preview to make sure it looks the way you want.
Pricing:
OBS Studio is free to use.
5. XSplit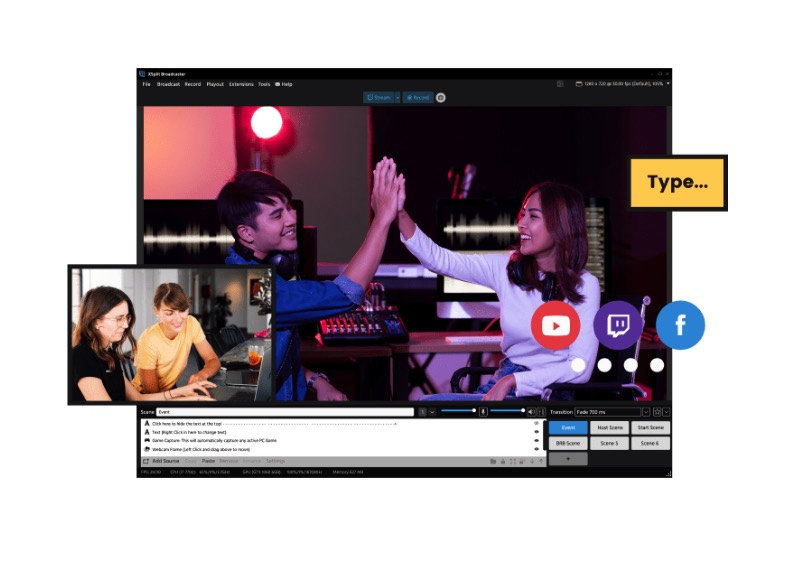 XSplit offers five different broadcasting products: Broadcaster, Vcam, Connect Webcam, Presenter, and Capture. The XSplit Broadcaster product is the one that supports chroma keying.
XSplit Broadcaster is well-suited for broadcasters that need production support.
Features:
Chroma key support

Compatible with Windows

Screen recording

Projector mode

Streaming to multiple destinations

Split mode for production
Pros
:
Highly professional platform

Production tools

Streaming and recording tools

Suitable for business needs

24/7 support
Cons:
A little bit complex and confusing

Requires a bit of a learning curve

Can be straining on some processors
How to Use XSplit: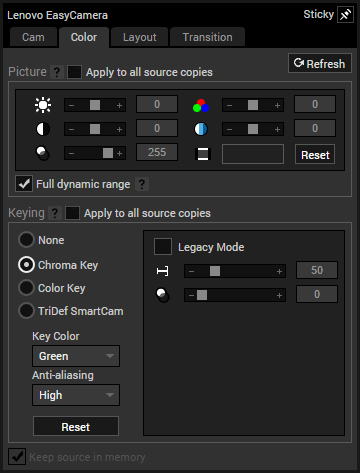 Xsplit was originally designed with video game streaming in mind, so its chroma key elements are well suited to placing an image into game footage. However, this software is also adaptable for other uses of chroma key.
Set up your layers so that your foreground stream is a higher layer than your background stream. In Xsplit, you can use the source list in the lower-left corner of the screen.
With your two sources positioned and assigned layer priority, right-click on the foreground stream to bring up a menu, and click the "Color" tab. Click the radio button to activate the chroma key. This brings up a submenu that lets you set the key color, the "threshold" (identical to "similarity" in OBS Studio), and several other tweaks.
Pricing:
The pricing plans for XSplit Broadcaster Premium are as follows:
1 Month License: $15.00

3 Month License: $30.00

12 Month License: $60.00

Lifetime License: $200.00
XSplit bundle plans are a little more expensive, but the Broadcaster Premium plan is all you need for using chroma keys.
Chroma Key Tips and Tricks
Let's take a moment to discuss how to make the most out of chroma keying. This information can be applied to each of the platforms we mentioned above.
When it comes to choosing the color of your screen, typically people choose Green. This is because it is a color that people rarely wear. Also, unlike red and blue, it is far less likely for Chroma Key to see these colors in your skin or hair. We recommend checking out our guide to finding the right green screen for more on this.
You can buy a Green Screen online for $20-$100 or more depending on what you want to get, but even green cardboard or paper will do the job if you have a wall to tape it to.
What important is that your Green Screen doesn't have tears or creases. Keep it as smooth and clean as possible. You can use multiple sheets if your screen doesn't fill the whole space of the shot, but make sure you have some overlap to avoid the background coming through. You can use a clear sellotape to keep the overlapping pieces flat.
Finally, light is very important when using Chroma Key. If your screen has shadows on it, it will be much harder for your chroma key software encoder to recognize the color it is supposed to be removing.
Get as much light onto your green screen as possible to remove as much shadow as you can. Having two lights on either side of your camera is a great start.
If you have lots of outside light, you can use that, but that depends on where your windows are. If you decide to use electric lights, close the curtains and blinds. You don't want the light of two different intensities and colors (indoor and outdoor) in the same shot. Some of the best green screen results are when the sun has gone down, and there is no external interference.
Final Thoughts
Chroma key isn't hard to set up. Typically, it only requires a few clicks and option selections. Each program has its own terminology and specific way of getting there, but all of them are fairly easy to use. The tricky part of using chroma key stems primarily from the physical setup and video captures itself.
We encourage you to take advantage of free trials of the different software to see which one works best for your streaming setup. It is important to make sure that the chroma key software works seamlessly with your professional video hosting platform.
To start streaming live with Dacast today, you can take advantage of our 14-day free trial. Sign up today to get started. No credit card or binding contracts required.
For regular tips on live streaming, as well as exclusive offers, you can join our LinkedIn group.