At this point, one third of all online time is spent watching video. That's a stunning number, and many businesses and broadcasters are asking how they can capture as much of that attention as possible. Because one of the best ways to make a live stream more exciting is by including multiple sources, this blog will cover the best live stream software for Multicam webcasting.
Specifically, this blog will first look at why streaming live video with multiple cameras is exciting. Next, we'll discuss some of the challenges of multi-camera streaming. Then, we'll dive into the best live stream software. We'll look at three different options in particular: VidBlasterX, Wirecast, and OBS Studio.
Towards the end of this article, we'll provide a list of equipment necessary for multi-camera streaming. We'll then go over a very basic example workflow to help you understand how to get started.
Why stream with multiple cameras?
Streaming with multiple cameras makes video more exciting. Just look at any professional broadcast on TV or any film. The scene tends to cut between multiple different sources. News shows, for example, often use three cameras:
A wide shot that shows the entire studio
A medium shot that shows both hosts and their desk
A tight shot that shows the head-and-shoulders of each host individually
This allows the broadcaster to switch in real-time between different views. The wide shot can be used to "establish" a setting and help the viewer orient themselves. The medium shots are ideal for interactions between multiple people. And the tight shots capture the emotion and allow for one person to take center stage.
This is basic cinematography. Multi-camera filming has been a staple of video production for more than 100 years, for good reason. It's simply more interesting, more engaging, and a better way to communicate a story.
And modern live streaming is no different. Streaming with split screens or switching between multiple angles is engaging. It can even be done with a single operator using fixed cameras or PTZ cameras.
Challenges of multi-camera streaming
Of course, there are challenges that come with this method of storytelling. More cameras equal more complexity. Live streaming with multiple sources requires linking all the different cameras to one central hub.
Then, someone has to decide which shot to switch to at any given moment. This person has to be fast and decisive. In generally, multi-camera streaming requires:
Increased staff-power
More equipment
More data
However, the advantages are worth it and this type of broadcast is getting easier than ever. In the past, multi-camera streaming required a major crew and a television studio. Today, with the use of the best live stream software, you can make high quality, multi-camera live streams within a reasonable budget.
Best live stream software for multi-camera webcasting
Let's take a look at three of the best live stream software options on the market. We'll review how they work for multi-camera streaming, whether you're small-scale community broadcasts to China video hosting for business. These software packages are VidBlasterX, Wirecast, and OBS Studio.
VidBlasterX
VidBlasterX is the first of the live stream software we'll look at today. This is a Windows only software. Basic features of the platform include:
Live mixing tools to switch between multiple sources in real-time
Low latency design using proprietary "SyncLok" feature
Modular audio mixer
Video effects and green screen support
Custom scripting language
Unique modular design makes VidBlasterX highly expandable and customizable
VidBlasterX supports multiple cameras via the camera module. More than one camera module can be added to monitor and switch between different cameras.
VidBlasterX is available in three different editions. The Home edition costs $9 per year, and it allows the use of up to seven modules at once. The Studio version costs $99 per year and increases that limit to 25 modules. The Broadcast version costs $999 per year and supports up to 50 modules simultaneously.
Wirecast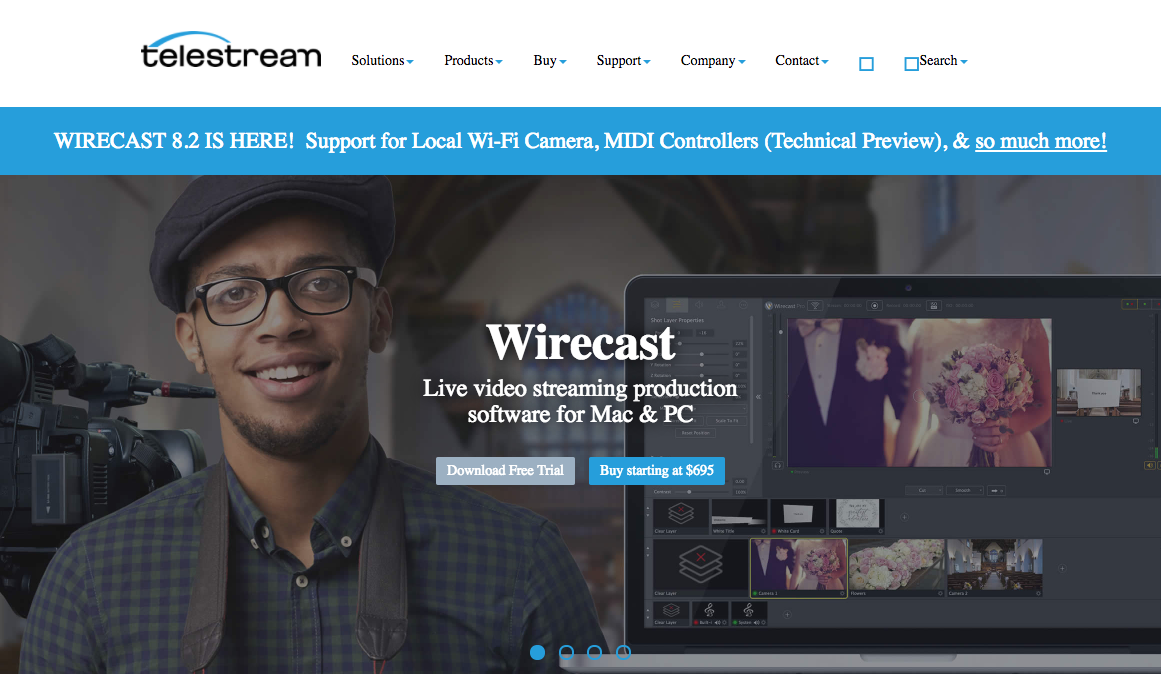 Wirecast is a powerful live streaming software that's available for Mac and Windows. Basic Wirecast features include:
Support for multiple sources including cameras, webcams, IP cameras, and NDI sources
Screen share and videoconferencing built-in
Stream and record streams locally
Tool for animating titles and graphics
Wirecast has built-in support for multiple camera sources. There are two different versions available. Wirecast Studio costs $695 and supports two guests via video chat.  The Pro version costs $995 and adds supports for up to 7 guests via video chat, supports a wider range of capture devices, scoreboards, 3D virtual sets, and more.
Check out this document for some recommendations for using Wirecast with multiple cameras, or click here for a real-life example.
OBS Studio
The last of the best live stream software applications we'll examine here is OBS Studio. OBS Studio is an open-source software application available for Windows, macOS, and Linux.
Support for a wide range of sources including cameras, audio devices, screen capture, webcams, etc.
"Scenes" feature allows you to preconfigure complex arrangements of graphics, video, overlays, etc.
Audio mixing capability
Video transitions and effects including green screen
Support for a wide range of plugins to add features such as NDI support
Modular user interface
OBS supports multiple camera sources natively. These sources (up to 8 of them) can easily be monitored via the Multiview feature. Multiview also makes it easy to transition to any of them with a single click.
OBS Studio is free to use and can be modified or extended by anyone via an API, plugins, and scripts. To learn how to live stream using OBS Studio, click here.
To learn how to live stream using OBS Studio, click here or check out this video on how to live stream with OBS using a PC.

Equipment for multi-camera live streaming
In this section, I'll begin by outlining three routes you can go for multi-camera live streaming.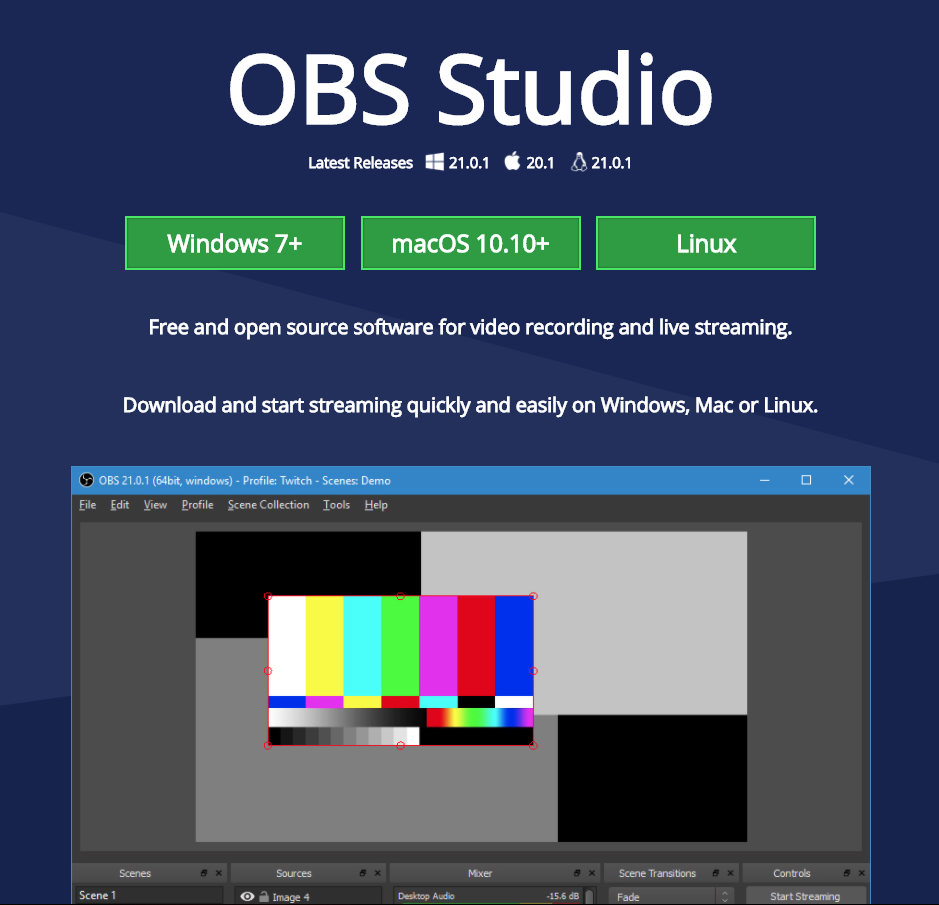 The first option is to use a powerful laptop, external capture devices, and cameras/audio devices.
The second option is to use a desktop computer with capture cards.
The third option is to use dedicated switching hardware such as Blackmagic. This option still requires computers but offloads much of the load of "switching" to dedicated hardware.
We'll focus here on the first two options since we have limited space. Multi-camera streaming in this scenario would require the following equipment:
Laptop computer (a modern, powerful computer is best)
Capture devices such as Blackmagic Intensity (HDMI), Magewell USB Capture (for SDI), or something similar
Cameras
Microphones (if using external mics, you can use a USB mixing board to capture these sources and connect to your computer)
Cables for connecting cameras to capture devices
The second options is very similar. However, you'll usually use internal "capture cards" in this scenario rather than external devices.
Example workflow
Here's a short description of how to set up a live streaming workflow using this equipment.
Select a central location for your primary computer running the best live stream software. Setup the computer and the capture devices here.
Set up cameras on tripods in the positions they will film from.
Run cables (HDMI or SDI, if available) from these cameras to the capture devices.
Turn everything on, and make sure your cameras are outputting live video via their settings.
Open up your best live stream software. Select the correct input to activate the feeds from your cameras.
Use the information provided by your streaming solution to set up your encoding software
Test everything to make sure your cameras are outputting video and audio correctly.
Conclusion
Multi-camera streaming can be a little complicated the first time you set it up. In all cases, you want to ensure secure video upload of your valuable content so that it can successfully reach your viewers, and that's where Dacast comes in! With clear instructions like those provided above, it's easy enough to get started. As always, we recommend testing thoroughly before you start streaming. We hope that this article provides enough information to inspire you and help you get started.
Thanks for reading! For regular tips on live streaming, you may want to join our LinkedIn group.
You'll also need an online video platform for streaming. Have you tried the Dacast platform yet? If not, we invite you to check it out and see all of our great features for yourself! Sign up today to try free streaming with all the Dacast features for 30 days (no credit card required).
If you have any questions or comments, feel free to leave them in the comment section below! We love to hear from our readers and will get back to you as soon as we can.
By Max Wilbert.