How to Choose Online Video Hosting for Professional Broadcasting
In the past few years, video streaming has completely upended the world of broadcasting. Many industries are finding ways to use professional broadcasting and online video hosting to support their goals.
Businesses are using live video streaming for everything from simple product demos and to large-scale live events. 
Today, we'll take a look at what a video streaming host is in the first place and questions to ask to assess your business' streaming needs. We'll also provide a case study on how to choose the best video streaming host for you.
Table of Contents
Who is Using Live Streaming?

What is a Live Video Streaming Host?

What Can Live Streaming Do for Your Brand?

Assessing Your Business-Specific Streaming Needs

Limitations of Many Free Video Streaming Services

How to Choose the Right B2B Online Video Hosting

Choosing a Streaming Video Service: A Hypothetical Case Study

Why is Dacast an Ideal Host?

Conclusion
Who is Using Live Streaming?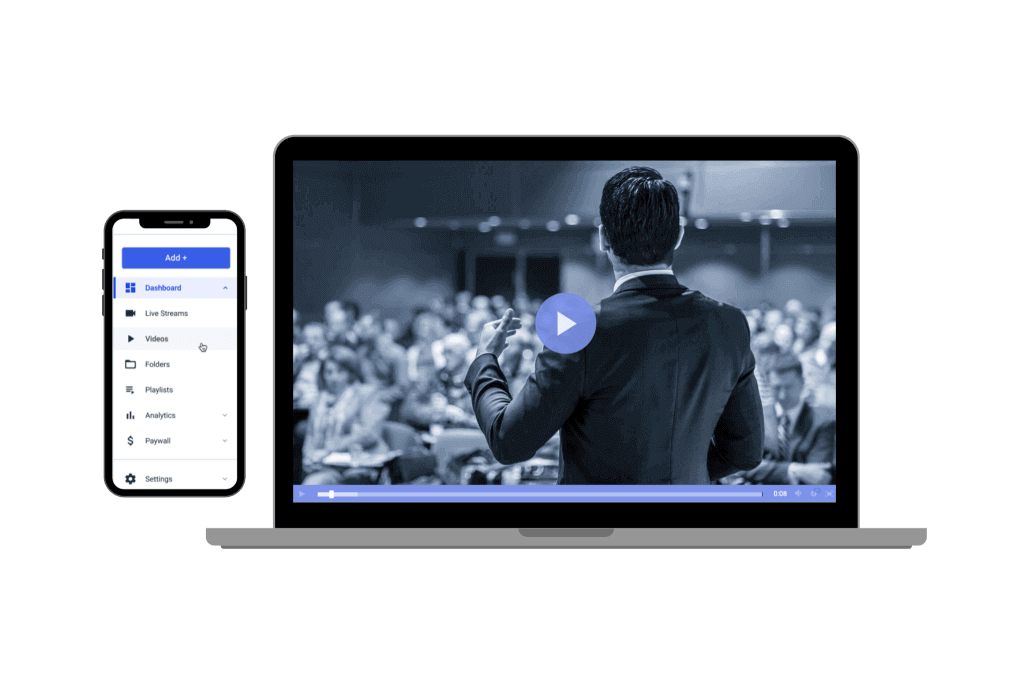 Before we dive into the ins and outs of live stream hosting, let's take a look at how different types of businesses use this media tool. As we mentioned, live streaming has found its place in many, many industries.
Nonprofits are using live streaming to bring major events to a larger audience. Media organizations are self-hosting live news streams. Sporting leagues are using live streaming to bring matches to their fans all over the world. 
Governments are using live broadcasting to comply with open-meeting laws. Religious groups are using streaming media to grow their congregations.
Sometimes, live streams are meant to be profitable, and sometimes, they are simply designed to connect with a business's target audience.
What is a Live Video Streaming Host?
Streaming live video requires a variety of tools and equipment. The most important tool on this list is a professional video streaming host.
Live streaming hosts offer a range of features that enhance the live streaming experience for both you as the broadcaster and for your audience.
One of the most useful things that most professional video hosts bring to the table is a content delivery server (or network of servers) that can distribute your video to viewers around the world.
A video streaming host, like Dacast, generally links to a global network of servers. This kind of network is called a live streaming CDN (Content Delivery Network).
In addition to linking you to a video CDN, a streaming host provides a software backend from which to stream your content. Rather than you installing and configuring the server-side software, the video streaming host provides all of that. 
All you have to do to start streaming is:
Prepare sources (like video cameras and microphones)

Connect them to an encoder to convert the video into a streaming-friendly format

Connect your encoder to the video streaming host
With a few simple steps, you can be online and streaming in no time. Even users with little knowledge of streaming can navigate most platforms with ease. 
Most live streaming service providers also provide video-on-demand hosting. This means that previously recorded footage can be hosted there, as well. This content can be delivered alongside live streams using the same account.
What Can Live Streaming Do For Your Brand?
Live video is valuable in many different ways. When it comes to strengthening your brand, this is especially true. This is because streaming video excels at a variety of non-advertising uses. 
Without having to focus on sales, brand promotion becomes easier and more effective, particularly in conjunction with a white-label video streaming host.
A wide variety of brands are using streaming effectively. These vary from small businesses and community groups to major corporations like General Electric.
The main benefits that brands find in broadcasting live include:
Generates high levels of

excitement and engagement

Drives traffic

, site visits and social sharing

Is an opportunity to share your brand voice

Allows valuable face-to-face communication

It is a visual medium that facilitates showing, not telling
The ultimate goal is to make genuine connections with your audience.
Assessing Your Business-Specific Streaming Needs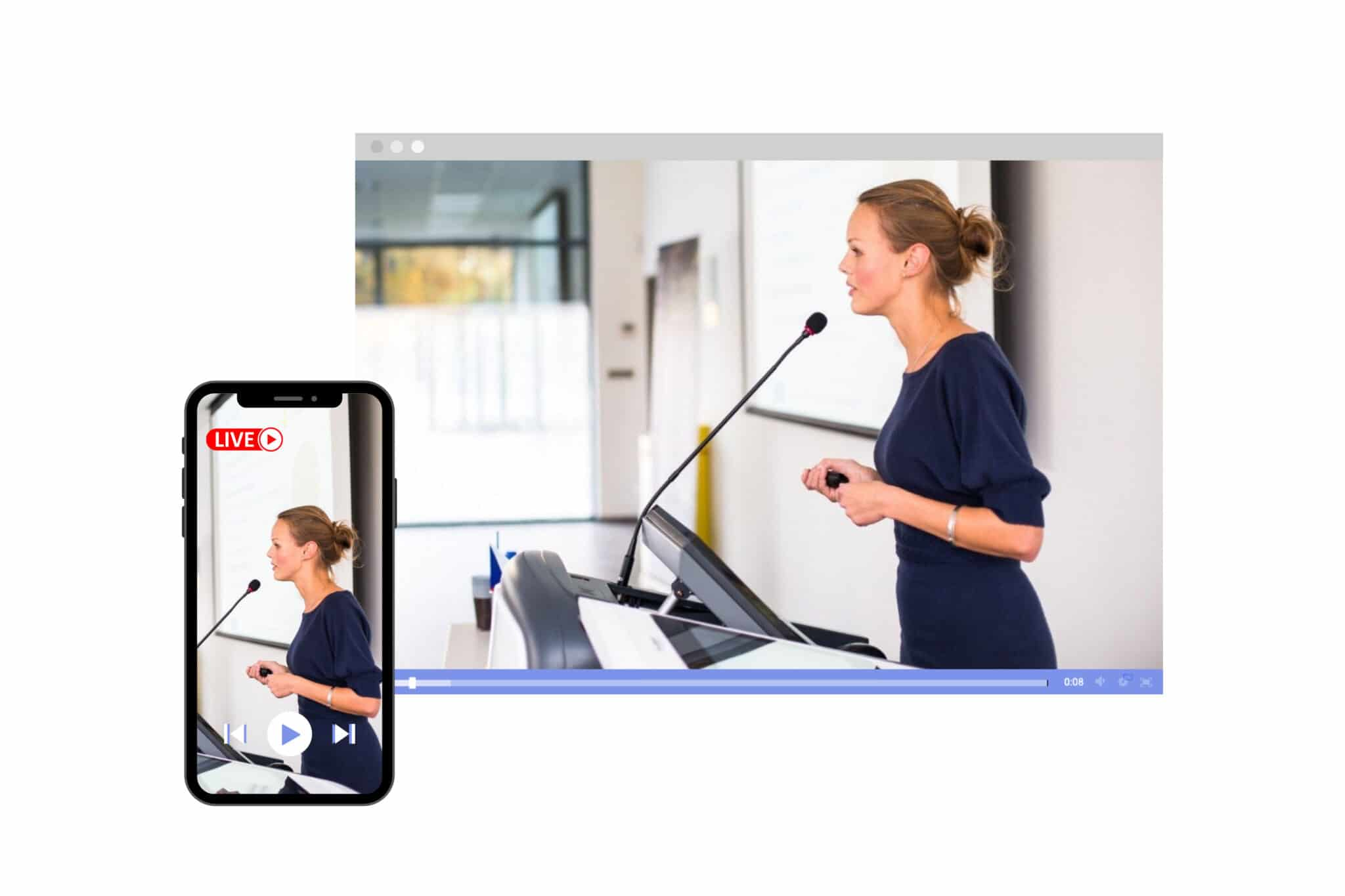 Since there are so many great live streaming solutions on the market, it can feel like a daunting task to choose a video streaming host. 
Luckily for you, it doesn't have to be. A simple assessment can help you to determine which factors are most important for your needs.
Let's look through a few simple questions you can ask yourself to get started. We recommend writing down your responses to these questions as you go. The answers will help guide you in choosing the right video streaming host for you.
1. What is Your Goal?
Your streaming goal determines your parameters and necessary features. If you're streaming sports, for example, you need a full-featured platform to integrate multiple cameras. You may need to consider monetization, as well.
On the other hand, different issues apply if you're in the media industry. Geographic restrictions may be critical for advertising and licensing reasons. 
Another consideration is website blocking. Many free video streaming hosts, like YouTube and Facebook Live, are commonly blocked. These sites are especially hard to access at schools and workplaces.
2. How Large is Your Audience?
The size of your audience may help you to determine which platform is right for you. A top-tier CDN can reach millions of concurrent viewers. 
Some live streaming hosts have restrictions on the number of viewers that can tune in at once, so please be mindful of this when comparing solutions.
3. Are You Streaming Internally or to the Public?
Whether streams are private or public-facing is important. This question determines whether certain features, like password-protected video hosting, are important. It also colors the importance of a white-label service that you can custom-brand.
This point will also help you determine whether or not monetization options are necessary. 
4. Where Will you Share your Videos?
Do you expect to primarily embed video on your own website? Will you be sharing on social media? 
Will you be streaming to TV and OTT internet broadcast? If so, you may need to consider a service with social sharing options. 
A full-featured video content management API enables integration with existing servers.
5. Who Will be Operating Your Live Streams?
Do you have technical staff? If so, how well trained is it? A platform that's confusing won't help streams run smoothly. What if you run into issues with your broadcasts? Do you have a plan for how to identify issues and troubleshoot your live streams?
If you have dedicated personnel, a technically-difficult platform may be suitable. However, simplicity is always valuable.
6. What Features are Important to You?
Are you focused on making money from your live streams? Do you require geographic restrictions? If so, you should research which video streaming hosts include this feature. 
How about the ability to broadcast many simultaneous live streams at once? Many providers limit the number of simultaneous streams, so this is something to consider.
What about monetization options? If you're interested in making money off your streams, there are a few methods. Look for a video streaming host that supports pay-per-view, subscriptions, or ads. 
7. What is Your Budget?
Lastly, money is generally important to consider. Live streaming is more affordable than ever, but a professional video streaming host may still charge a premium.
"Most expensive" does not always equate to "best," but in most cases, you'll get what you pay for. We do not recommend going with a free streaming platform because they come with a whole slew of limitations.
Limitations of Many Free Video Streaming Services
There are a number of streaming providers on the market. Each one caters to a different audience. A few of the top free platforms are based on social networks. Facebook Live and Periscope, for example, are two of the top free live streaming options.
These apps have gone mainstream and have driven the rising popularity of streaming. They can be effective platforms if your needs are simple, but they are not geared towards professional broadcasters. 
Today we'll take a closer look at those issues for one platform in particular: YouTube Live. YouTube launched it's free video streaming host in 2013, instantly bringing the technology to more than a billion users. However, streaming with YouTube has some major disadvantages.
1. You Lose Ownership
The YouTube content license to which every user agrees includes a provision that YouTube can use anything you upload to its site. YouTube gains "worldwide, non-exclusive, royalty-free, sub-licensable, and transferable" rights to your content. It's not an ideal situation for many video producers.
2. Content May Be Blocked
According to Time Magazine, YouTube is the third most blocked website in the world. Nearly 15% of all employers block the site on their wifi networks. Facebook and Twitter, which both offer live streaming platforms, as well, are blocked even more frequently than YouTube.
3. No Technical Support
YouTube doesn't provide any tech support to users. It only offers a massive support forum where questions often go unanswered. Sometimes this causes problems. You don't want the service to fail right before an essential broadcast. 
Notably, many popular professional live streaming platforms–IBM Cloud Video, Vimeo and Wowza–don't offer 24/7 tech support either. The Dacast video streaming host, however, offers 24/7 support for all broadcasters.
4. Advertising Concerns
Monetization options on YouTube live streams are mostly limited to advertising. 
Unfortunately, you don't control what sort of advertising is shown. You may end up with advertising that promotes products and services of competitors, or with content you (or your viewers) find offensive.
5. Video Player Contains Youtube's Branding
On YouTube, all content features the YouTube logo. This conveys a non-professional appearance. It's not a clean look and it means all of your content serves as advertising for YouTube itself. Combine that with the recommended videos sidebar, and viewer attention is detracted from your content.
How to Choose the Right B2B Online Video Hosting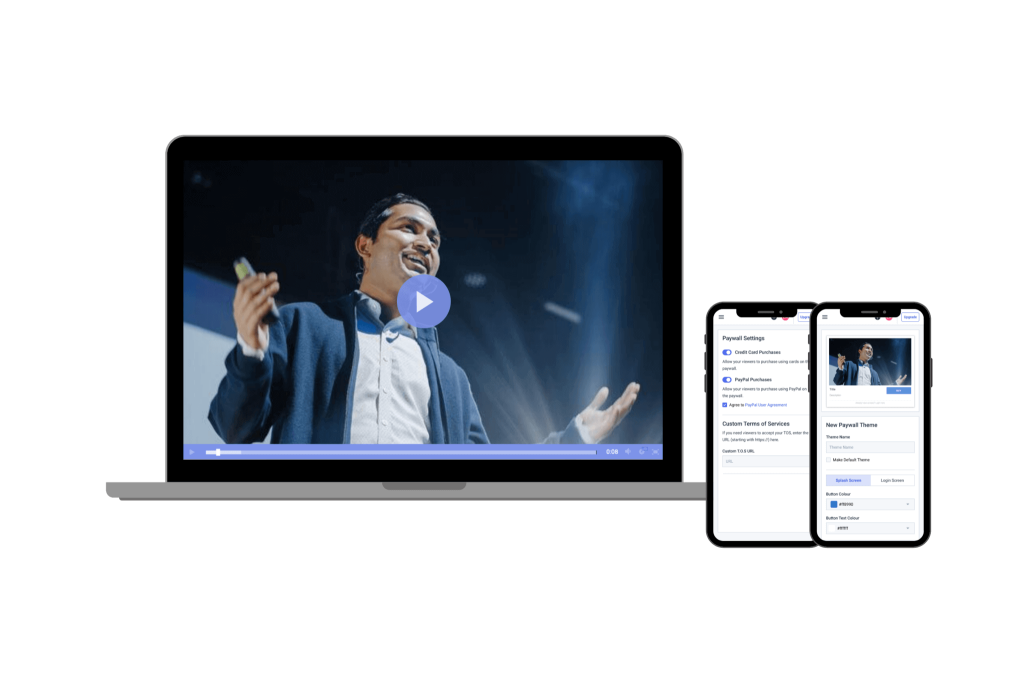 As you've likely gathered, there's a lot to think about when choosing a video streaming host. However, our goal here is to help you narrow down those options to the most essential features.
Here at Dacast, we see great value sharing case studies and examples. In fact, we have a whole library of video streaming case studies. 
One salient example of the success of a video streaming host comes from Wildlife Windows in the UK. This unique business works with private landowners and government agencies to monitor wildlife. They install weatherproof cameras in all sorts of outdoor locations. From there, they connect these cameras to the internet.
Some of their more amazing installations have been on the side of cliffs and underwater. That setup involves some complex rigging and cable management. 
Once connected, Wildlife Windows sells its live streaming service to its clients. They host the live stream with Dacast. It's an easy and cost-effective way to generate revenue. It allows them to capitalize on the ever-growing fad of watching wildlife live online.
Choosing a Streaming Video Service: A Hypothetical Case Study
Let's examine one more example, this time a hypothetical one. Let's say you're in charge of a small semi-professional sports league. Your teams compete across the whole country. However, your staff is small. Generally, you only have one staff member present at each game.
In this case, your answers to the questions we posed above might look something like this:
Goal

: to partner with teams to live stream games to fans who cannot be present. Also, to generate revenue for both the team and the league.

Audience size

: we expect between 30 and 100 viewers for most games, perhaps 500-1000 viewers for the championship game.

Public or private

: streaming will be public.

Sharing location

: we want to stream on our website and on the team's social media pages.

Staff

: there will be no dedicated technical staff, so streaming has to be easy.

Important features

: monetization and geographic restrictions are key for us. We'd also like to be able to insert our own branding.

Budget

: Our budget is in the ballpark of $100 to $200 per month. We hope to recoup costs and then some by monetizing the stream.
By answering the list of questions, we now have enough information to make our choice. This client needs an affordable platform that's simple to use and offers monetization and geographic restrictions.
Dacast is a great choice in a situation like this. All required features are present, and the cost is affordable. Perhaps most importantly, the Dacast SaaS (Software as a Service) model and simple setup mean that getting started is easy and quick.
This hypothetical league could set up each live stream from HQ prior to the event. Then, the on-location streamer would simply need to connect a camera to an encoder or laptop with a good internet connection. A few simple button presses later, and the stream can go online and begin generating revenue. The company could train staff members to execute this in an hour or less.
Why is Dacast an Ideal Video Streaming Host?
Dacast's video streaming host is a great choice for professional broadcasters. Dacast offers streaming for live events and on-demand video content. 
Chris Awad, a digital marketing executive, describes the difference between Dacast and other options very clearly: "We were paying $500 a month [with our previous platform] for the same services Dacast offers…at a fraction of the cost."
Conclusion
Selecting a live streaming service provider can be confusing. The array of features from platform to platform is so broad and prices are so different, that it's nearly impossible to compare apples to apples.
After answering the questions posed above, we hope that the right choice becomes a bit easier for you. 
Does a particular video streaming host provide the features and ease of use you need, all at a price you can afford? If so, you've probably found your match.
We strive to provide the most accurate and up-to-date information about all of the streaming solutions out there. That said, we'd love for you to consider the Dacast platform.
If you're interested in trying Dacast risk-free, sign up for our 30-day trial. You'll be glad you did.
Let us know your thoughts, feedback, and other insights in the comment section below. We love hearing from our readers. For regular live streaming tips, as well as exclusive offers, we invite you to join our LinkedIn group.
Subscribe Now
Stay up-to-date with the latest features and product releases. Cool tips, expert advice and more.