How To Stream Live From an Apple iPhone in 6 Easy Steps
Between the release of the first iPhone in 2007 and early 2018, 2.2 billion iPhones have been sold. This smartphone has revolutionized the way that people communicate and access information.
The iPhone has evolved into more than a personal device. Its wide range of applications, ease of use, and high-quality camera on the most recent models have made it a business tool.
In this post, we're going to talk about how the iPhone can be used for one specific function that business owners have turned to in recent years: mobile live streaming. We will review how to stream from iPhone via an iOS application and via the RTMP (real-time messaging protocol) ingestion from your Dacast account. 
Additionally, we will cover a few of the top choices of live streaming apps for iPhone that you can download in a couple of clicks.
This post has been updated to reflect the most recent and accurate information available as of October 2021.
Table of Contents
The Simultaneous Rise in iPhone Usage and Live Streaming

How to Stream Live From iPhone

Choose a Live Streaming App

Locate Your Live Streaming URL on Dacast

Link Dacast and Your Live Streaming App

Connect to a Secure Network

Start Recording from Your iPhone

Start Your Broadcast

Additional Tips for Streaming from Your iPhone

Conclusion
The Simultaneous Rise in iPhone Usage and Live Streaming
iPhones have become such an important tool for personal and business use alike. Emails, calendars, to-do lists, marketing tasks, sales calls, internal communication, and other business processes are all carried out by iPhones, so why not use them for live video streaming, too?  
Today, many apps support iOS live streaming from iPhone which comes in handy any time when you need to broadcast live and on the go. 
You might be on location at a live event for a product launch, fundraiser, or sporting event, but lugging a camcorder around can be difficult if a full broadcasting crew isn't present.
The iPhone camera is a suitable alternative to use for your live streaming in situations like these. Many professional broadcasting platforms make it easy to stream live from the iPhone from anywhere in the world. With the release of the iPhone 13 Pro and its redesigned lens and powerful autofocus system, the new Ultra-Wide camera in the latest generation of the iPhone is said to be the best camera ever put into a mobile device. This is great news for live streaming with a device you can store in your pocket!
How to Stream Live from iPhone:
Mobile broadcasting is easy with the right knowledge. For the sake of consistency, we're going to explain each step as if you are a Dacast user. Follow these six easy steps on how to use Dacast to stream live video from your iPhone:
1. Download An App for Live Streaming from the App Store.
The most important step in this process is choosing a live streaming app that works with your iPhone and live streaming platform of choice.
It is also important to choose an app that is easy to use and has all of the tools you need to reach your broadcasting goals.
To help you choose an app to stream live from your iPhone, we're going to give you a quick rundown of the top apps available: Larix Broadcaster, Wirecast Go, Air Solo, and NanoStream.
Larix Broadcaster
If you use Dacast, the Larix Broadcaster is the best app to stream on your iPhone. This app is free to download in the App Store.
What makes it such a great option is that it supports RTMP ingest streaming, the AAC audio codec, and the H.246 video codec. These are three non-negotiables for all-device streaming for Dacast and other online video platforms.
Check out our dedicated guide to mobile live streaming with Larix for additional information on streaming with this app. 
Wirecast Go
Wirecast Go is an app from Telestream which is a video streaming software and encoder. This platform is highly reputable and is compatible with streaming with Dacast.
This app is also free in the App Store, but it does have in-app purchases. You can stream for free to YouTube with Wirecast Go, but you must upgrade to support RTMP ingest for streaming with platforms like Dacast.
Solo Airmix
Solo Airmix, previously know as LIVE:Air Solo is a mobile streaming app from Teradek, a company that is primarily known for its trusty hardware encoders.
This app boasts the ability to give inexperienced broadcasters a professional broadcasting experience. It has tools that allow you to add transitions, add color filters, and more, all in real-time.
Dacast does not currently support Solo Airmix, but we are working on reinstating that compatibility.
nanoStream 
nanoStream is a live video encoding software that can be used for mobile streaming, and it is powered by nanocosmos.
The nanoStream app is free in the App Store, but you need to have a subscription to the software to use it. There are no prices published on the nanocosmos website, so you'll have to contact their sales team for additional information.
Dacast does support nanoStream but in a limited capacity. However, this is a great option if you are using a different online video platform.
For iOS, we recommend Wirecast Go iOS for maximum compatibility. It costs $5.99 and you use their iOS RTMP streaming app to live broadcast to any destination. You can also use the BroadcastMe app which is what we used for this demo.
2. Open Your Dacast Account and Find your Stream URL.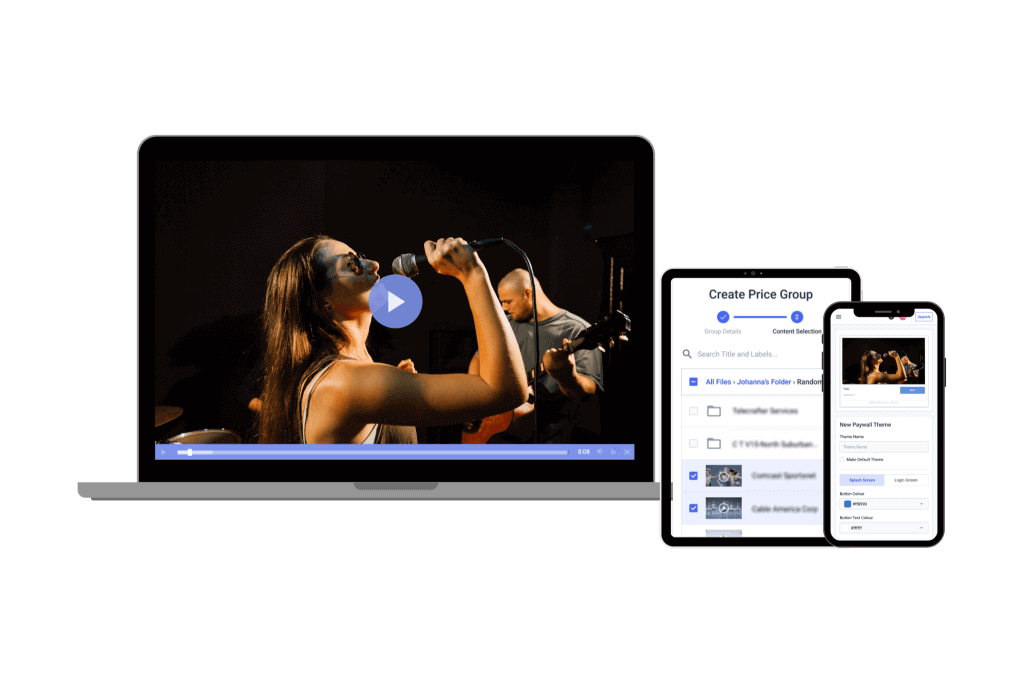 To connect Dacast and your mobile lives streaming app, you'll need to locate your live streaming URL and other credentials.
In order to locate this information, go to your Dacast account and click "Encoder Setup." Select the "Other RTMP Encoder" tab. Here is a link to our guide for setting up your RTMP encoder.
You will need the "Stream URL" and "Stream Name," so keep these credentials handy. Take note of your login and password details, too. You may need this information later on.
3. Open Your Chosen iPhone Live Streaming App.
Depending on the iPhone streaming app you've chosen, you'll need to enter either the "Stream URL" and "Stream Name" or only the "Stream URL." Some apps will also require the username and password that we mentioned in the previous step.
Let's use Larix Broadcaster as an example.
Go straight to the Connections section so that you can manually configure your stream based on the Dacast live channel you will stream at: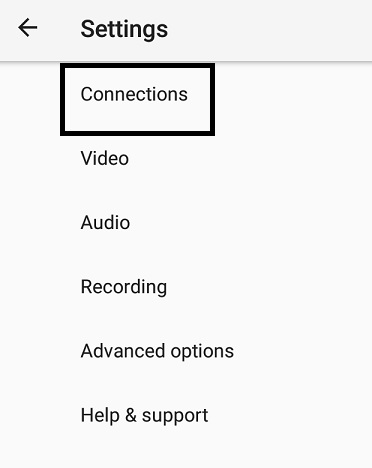 Either clicking on New connections (to establish a one-time connection) or Manage connections (to save the given stream details moving forward) will work. Upon clicking you will be redirected to the stream settings part, this is called Outgoing connections: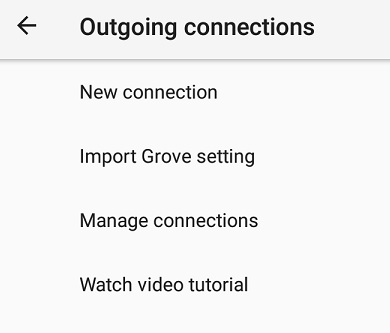 In this example we chose a new connection: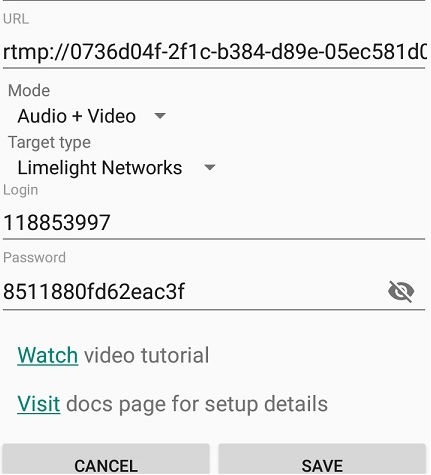 These are based on the Dacast live channel encoder setup.
Please note that the Stream URL for HTML5 streaming will be different for everyone and you need to put it manually. To do this, follow these steps:
STEP 1: Copy your unique "Stream URL" from Dacast (Example: rtmp://0736d04f-2f1c-b384-d89e-05ec581d0c52.dacastmmd.pri.lldns.net/dacastmmd)
STEP 2: Open the "Connection" tab on the Larix Broadcaster App
STEP 3: Paste the "Stream URL" from Dacast as prompted
STEP 4: Copy your unique Stream Name from Dacast (Example: dclive_1_150@XXXXXX) 
STEP 5: Add it after the Stream URL
(The final result will look something like this: rtmp://0736d04f-2f1c-b384-d89e-05ec581d0c52.dacastmmd.pri.lldns.net/dacastmmd/dclive_1_150@XXXXXX)
STEP 6: Fill in the "Username" and "Password" fields with the credentials from the Encoder Setup" page on Dacast
STEP 7: Choose "Limelight Networks" as your target type.
STEP 8: Click "Save" to finalize the connection
To ensure optimal quality when streaming live from iPhone and similar devices, make sure that your audio and video settings are configured to use the H.264 video codec and AAC audio codec. For a complete list of encoder settings, please check out our guide to encoder configurations.
4. Secure a Stable Internet Connection.
Connection speed is important when you stream live from the iPhone. A wired internet connection is not an option so you'll have to use either mobile data or WiFi.
Unfortunately, your mobile data on 4G or LTE is generally not sufficient for this use, since you need to have a strong and constant internet connection to deliver high-quality streams. 
You'll want to connect to a wireless internet network and be as close as possible to the router. If WiFi isn't available in the area, then you may want to use a hotspot.
In the live streaming industry, it is commonly accepted that you should maintain a connection speed of at least 750 KBPS at the absolute minimum. Professionals recommend a minimum of 2 MBPS for high-quality streaming. It is also generally recommended that your upload speed is twice as fast as the bitrate at which you want to stream. You can test your internet speed for secure video upload at testmy.net to gauge your connection at your present location.
5. Start Recording From Your Camera and Microphone.
If you followed the above steps correctly, your live stream should be working at this point. Within 30 to 60 seconds, the live stream should appear from your iPhone camera. 
This means you're now ready to stream live from iPhone to your viewers.
6. Broadcast Live!
Once the iPhone camera has started recording and your event or report is about to start, it is time to start your broadcast.
To ensure optimal quality to stream live from your iPhone, make sure that your audio and video settings are as follows:
H.264 video codec
AAC audio codec
These settings will guarantee that your video has high quality in your Dacast channel, even if you choose to stream live from the iPhone.
We recommend testing this out before your event so that you know what to expect for this step since things will probably move pretty quickly. You don't want any avoidable hiccups in front of your live audience.
Additional Tips for Streaming from Your iPhone
The quality of your video is really important since your users' experience so greatly depends on it.
By leveraging the right mobile live streaming equipment, here are a few practices that you can implement on your iPhone stream to level up its quality:
Use a tripod for stability if possible

Hold the phone sideways to stream in

landscape mode

rather than portrait mode

Use lapel mics if you'll have a reporter on screen

Set up an audio mixer if you'll be relatively stationery 
The commonality between these tips is that they are all attempting to create a professional-grade stream with a consumer-grade device.
Conclusion
Streaming live from your iPhone can be an exciting experience as you share everything you see in real-time. The next time you think you're limited by a heavy video camera, think again. Your iPhone is a worthy replacement as you broadcast live to the world. 
For example, you can use your iPhone to stream live video to your website easily via your chosen iOS live streaming app and video hosting platform, like Dacast.
We hope this guide makes it easier for you to set up your live broadcast. As we've highlighted above, all you need is a reliable app, a good internet connection, your unique Stream URL (RTMP link above), and an iPhone. 
With this streaming setup, you can stream live from iPhone and other iOS devices from wherever you are.
Looking to broadcast on the go to cover a live event? Check out our live video streaming platform with our 30-day free trial. Access all of our professional broadcasting features by signing up today. No credit card is required.
For regular tips on live streaming, feel free to join our LinkedIn group.
Subscribe
Stay up to date with our latest features and product releases