How to Live Stream Conferences and Virtual Meetings [2021 Update]
The COVID-19 pandemic has forced conference organizers across the globe to postpone their events, sometimes indefinitely. And with the predicted resurgence in infections during the winter months, businesses are faced with the decision of whether to wait until they can host conferences in person again or to change tactics completely.
With live streaming software, organizers don't have to wait for the pandemic to subside before once again planning their conferences. Instead, they can plan and execute their conferences on time — and often for less cost — with the potential to reach an even larger audience.
Let's take a look at what live streaming and VOD software can do for conferences, as well as some key features to look for in the technology used to execute a live streaming conference.
Please note that conference live streaming features and virtual event technology are always changing. We have updated this post to reflect the most up to date trends as well as the top conference streaming platforms as of March 2021.
Table of Contents
What is Live Streaming?

What is VOD?

Live Streaming vs. VOD

Benefits of Streaming Virtual Events

Why You Should Live Stream Your Conferences

Features to Look for in a Conference Streaming Platform

Conclusion
What is Live Streaming?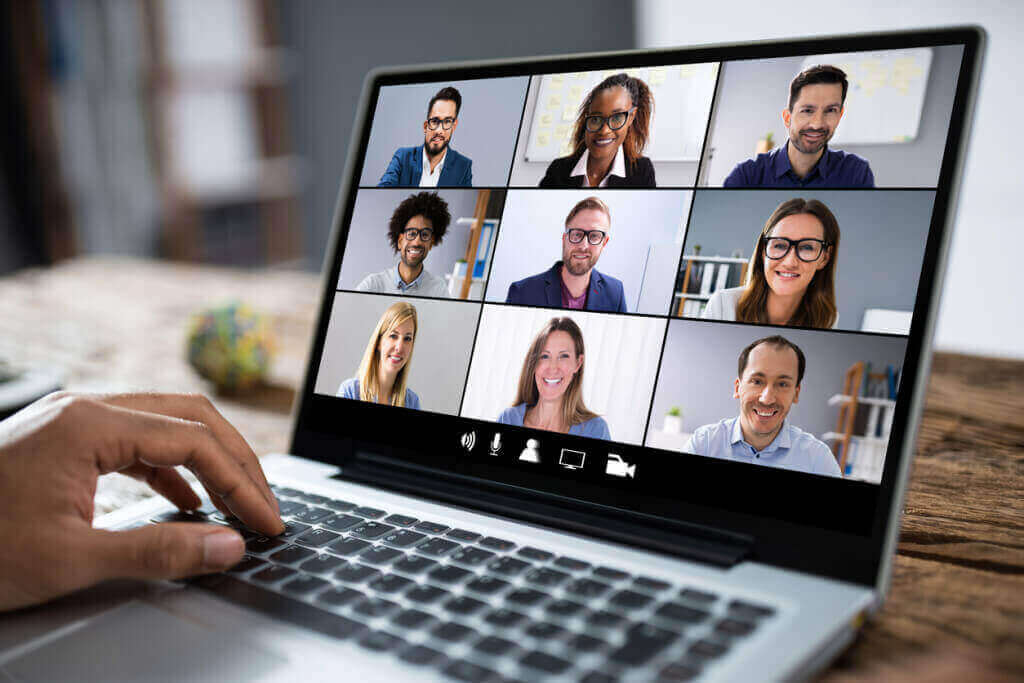 Live streaming is the internet equivalent of watching live television; a conference or event is sent over the internet and watched by people across the globe as it is happening.
One solution to turn those missed opportunities into extra revenue is to stream the events live to others. This creates added value for presenters and capitalizes on people unable to attend.
Streaming a live event online not only allows people who would have attended an in-person event to participate from afar, but it also opens up the opportunity for people who wouldn't otherwise be able to participate in an in-person event to attend. This broadens your conference's audience, increasing your reach and boosting profits.
In addition, you can also stream a Zoom meeting make it available as Video on Demand after the event, as well.
What is VOD?
Video on Demand, or VOD, allows viewers to access pre-recorded video and play it back at their leisure. 
If you stream a conference that is recorded and published for VOD access, for example, your conference attendance can easily be magnified by allowing access to people who couldn't physically attend in-person events or whose schedules didn't allow for attendance on the live stream.
Live Streaming vs. VOD
Caption: Give users access to your content by live streaming and recording for later use on demand.
Many users view live streaming and VOD as very different entities serving different purposes. However, they're more akin to two sides of the same coin; two different methods for getting your content out to the audience who will most benefit from seeing it.
Both methods involve streaming content over the internet, but one is streamed as it's created, while the other is recorded and can be streamed for later viewing. 
Content that has been broadcast live can, with the right equipment and streaming platform, be streamed VOD. 
Some platforms, especially the free live streaming platforms such as Facebook Live, only allow for live streamed content. While using a free platform has its advantages for some businesses, those that wish to be able to capture their conference content for use on-demand need a platform that allows for both live streaming and VOD capture.
Benefits of Streaming Virtual Events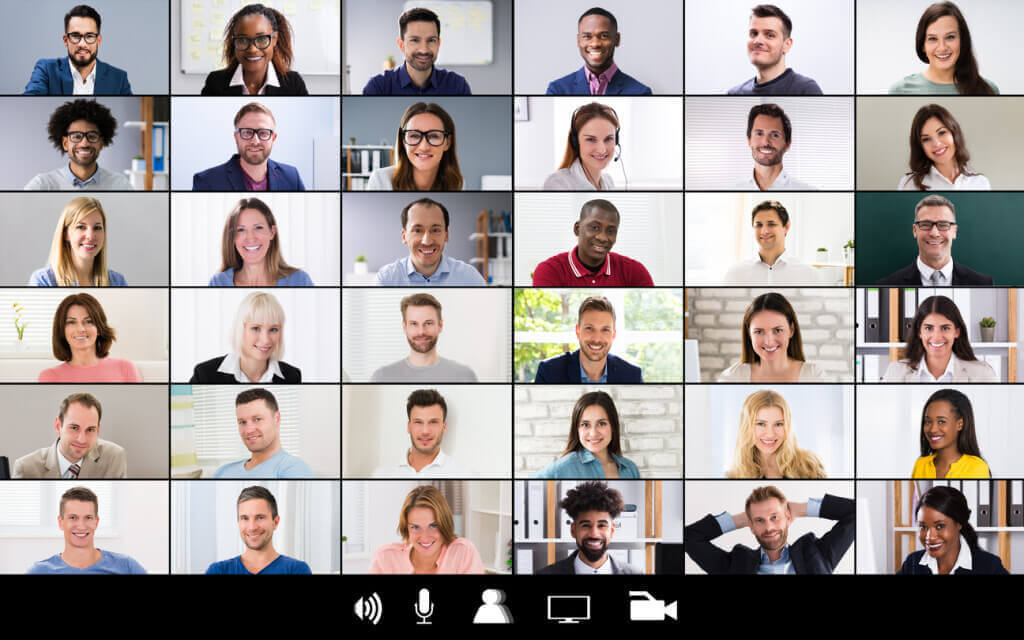 Here at Dacast, we've witnessed first-hand the impact of using a live streaming platform to maximize the reach of a wide variety of professional events. Some of the applications and benefits of live streaming conferences and virtual streaming events include the ability to:
Stream key parts of sold-out venues to extra viewers
Provide a more comprehensive and value-rich service to companies and presenters
Offer access to past events and presentations for on-demand viewing to supplement live broadcasting
Increase event relevance and reach through broadening and globalizing audience
Broadcast pre-show material to help heighten community interest
Create sample videos to generate interest and lead to premium content spending; and
Highlight sponsors' products in videos or interview exhibitors' executives.
Now let's take a look at some of the factors you'll want to consider before deciding how to best live stream your event.
Why You Should Live Stream Your Conferences
Live streaming your conference may take some extra equipment, planning, and know-how, but it comes with a variety of advantages for your business. Here are our top reasons to live stream a business conference.
Get People Excited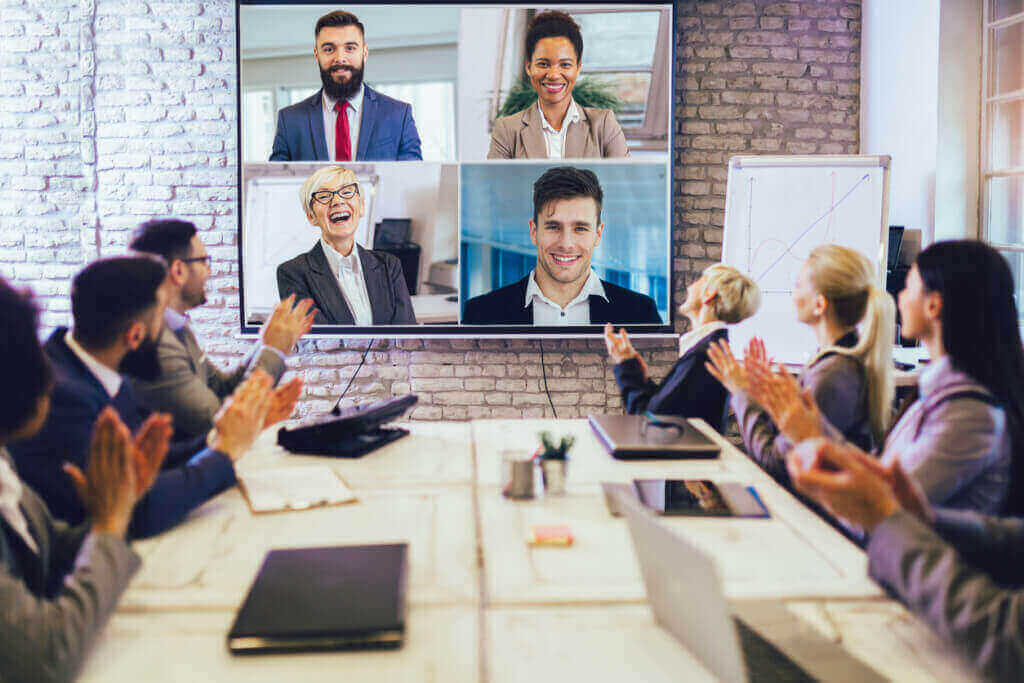 Part of getting good attendance at your conference is to get people excited to be part of the event. 
By creating a live stream of your event, you give yourself a built-in promotional opportunity. You can advertise the live stream of your conference to your mailing list and social media followers, regardless of where they are located, allowing more people to attend.
Showcase Your Tech Knowledge
Putting on a live streaming conference takes a certain measure of technological knowledge.
Knowing how to operate the equipment to capture the stream, the software to stream the content and the ability to promote the conference digitally are all crucial skills that set your conference apart from others. 
Leveraging the technology that's necessary to host a conference live stream demonstrates that you and your team possess the capability to adapt to changing technology, showing your ability to evolve as your industry changes.
Greater Income Potential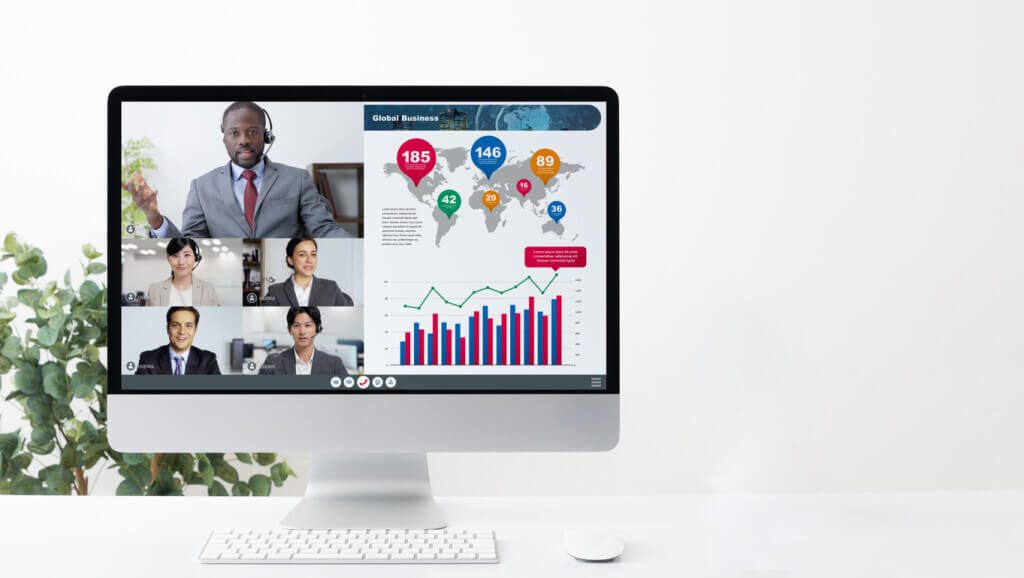 When you host an in-person conference, your profits are limited to what you can make on the tickets you charge for people who are physically present. And, that profit is only calculated after you subtract all the other costs of hosting, including facility and equipment rental, food for attendees, and travel costs for your presenters.
But with the right conference monetization strategies, viewers can attend from all over the world, broadening your reach. Having lower overhead costs also helps you attract and host more paying attendees, as you can keep ticket prices lower.
Feature More Big Names
Making the time to present at a conference is a big ask for many people, especially people who are more prominent in your field or who are famous in their own right.
If you're able to live stream a conference, allowing speakers to participate across the globe, you may be able to attract more high-profile, even expensive, speakers than you otherwise could. This can, in turn, improve your conference's visibility and attendance, and boost profits.
Features to Look for in a Conference Streaming Platform
There are many streaming solutions for adding an online connection for your meeting or conference. As you explore your options, your checklist should include areas such as compatibility and performance. The ability to target both desktops and mobile devices is key in today's market.
The performance and overall reliability of your streaming service and internet connection are also crucial. These factors apply to any live venue. Trade shows, which can see dramatic increases in viewership via live streaming, especially want to consider these technical aspects.
In order to capably stream a conference, you need a platform that helps you record your footage, promote it, distribute it and, if you choose, record it for later use. 
To get the most out of your live streaming conference content, there are six important features to look for in your chosen platform:
Video Encoding and Transcoding

Live Stream Recording

Video Security and Privacy

HTML5 Video Player

Live Streaming CDNs
Unlimited Concurrent Viewers

Live Event Video Monetization

Video CMS
Using these tools and features allows you to present a professional live broadcast video to your viewers, making all the time, money, and effort you spent preparing for your conference worthwhile.
1. Video Encoding & Transcoding
You can host the best conference live stream ever, but if your attendees can't view your content, all your work will be fruitless.
When your content is streamed online, it's crucial to utilize encoding software that can show the images from your camera in a format playable by viewers at home. This process, called transcoding, is done automatically by a professional live conference streaming solution. Transcoding takes the RAW files directly from your camera and turns them into something that can be viewed in a browser or mobile app.
And when you record that live broadcast content for VOD playback later, you need to be able to provide your viewers with video in the format that plays best for the browser they're using and their internet speed. 
To do this, automatic video encoding takes the files you upload and presents them to each viewer individually. This helps viewers receive a smooth, enjoyable playback experience without having to worry about adjusting their settings manually.
2. Live Stream Recording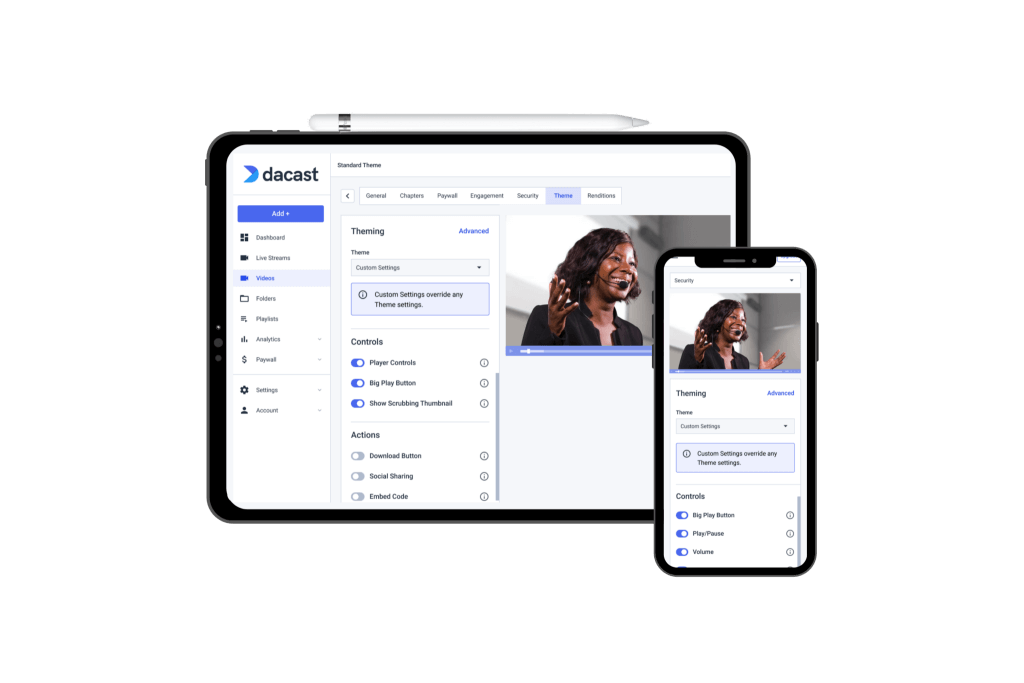 Presenting a conference via live stream takes a great deal of work and time investment. Multiply your impact by recording your live streaming content for later release on demand.
The right platform allows you to simultaneously record and live stream your content, allowing you to release the video to a wider audience and maximize your profits. Without a tool that integrates live streaming and recording, you have to set up multiple programs in order to live stream and record, complicating the whole operation.
3. Video Security & Privacy
You spent a lot of time and money putting together a great conference, and you want to ensure that you're only giving access to the people who have paid to attend.
Advanced security and privacy features allow you to protect your content from thieves and restrict access to those who don't deserve it. Tools such as domain control, encrypted streaming, password protection and watermarking allow you to protect your property from unauthorized eyes.
4. HTML5 Video Player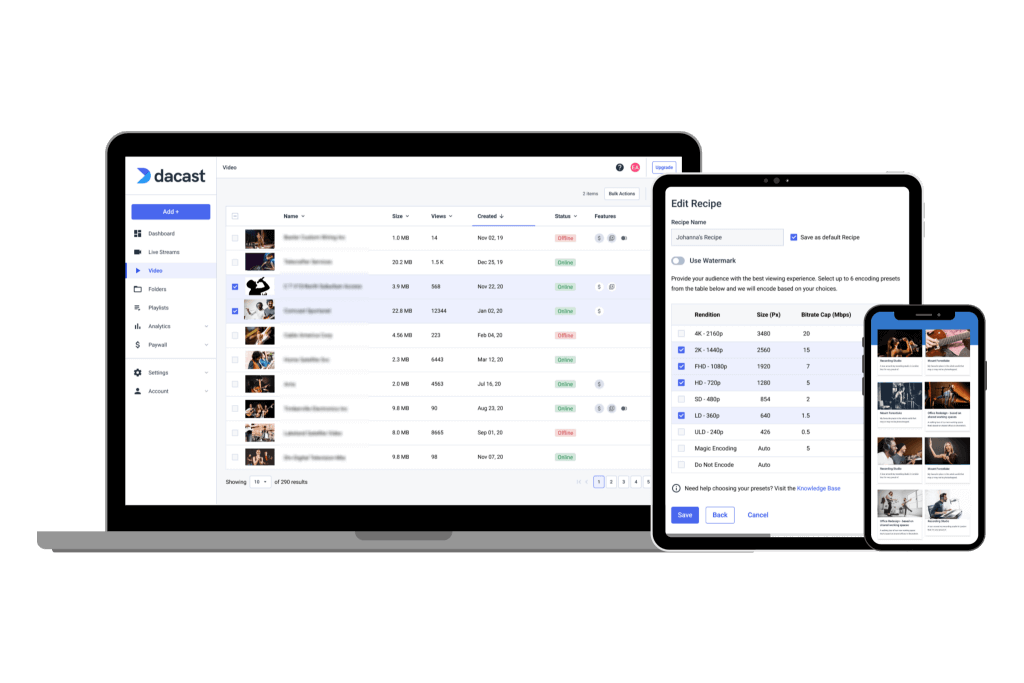 More and more, people are watching video content — including entire live streaming conferences — on mobile devices.
And because mobile technology changes so rapidly, it can be difficult for individual developers to keep up with all the new specs and requirements to play content seamlessly. By using an HTML5 video player, however, your content can play on any device or browser automatically without requiring your users to download new technology in order to participate in your conference.
The right live conference streaming platform already has HTML5 video player capability built right in, so you don't even have to give it a second thought on whether or not your content can be played by all viewers.
5. Live Streaming CDNs
Beyond considering compatibility, you also want to take reliability into account. First, you want to look for a service that offers a video CDN (Content Delivery Network) connection. A CDN is a fast, often worldwide network of servers. A CDN exists to deliver content via the internet. This includes all types of content: text, images, video, and more.
CDNs enable global delivery of content, which is a big advantage. They are most often used to distribute large files, for example, video content. You should expect a good-quality CDN to access a server in close proximity to your viewers. This helps to avoid large delays from servers that could otherwise be far away from the viewer, thus disrupting their streaming experience.
Using a live streaming CDN also allows broadcasters to reach broader audiences. Without a server network, you run the risk of congestion. Congestion occurs when too many people try to watch content at the same time via the same server. This is a common issue when broadcasting from a small network of servers, and especially if you are using a single server to broadcast. For this reason, you want to be able to guarantee your viewers a powerful and global CDN.
6. Unlimited Concurrent Viewers
A conference platform that is used for broadcasting virtual events should have the ability to support unlimited viewership for its live streams. The Dacast platform has no viewer limit for videos on any pricing plans or accounts. We have facilitated broadcasts with hundreds of thousands of concurrent viewers.
Dacast uses a global Content Delivery Network (CDN) that allows users to stream to vast audiences without the concern of hitting a "limit" that would overwork a smaller server network. The platform also supports full 1080p HD broadcasting,  mobile device support, secure video delivery, content scheduling, player customization, and more.
7. Live Event Video Monetization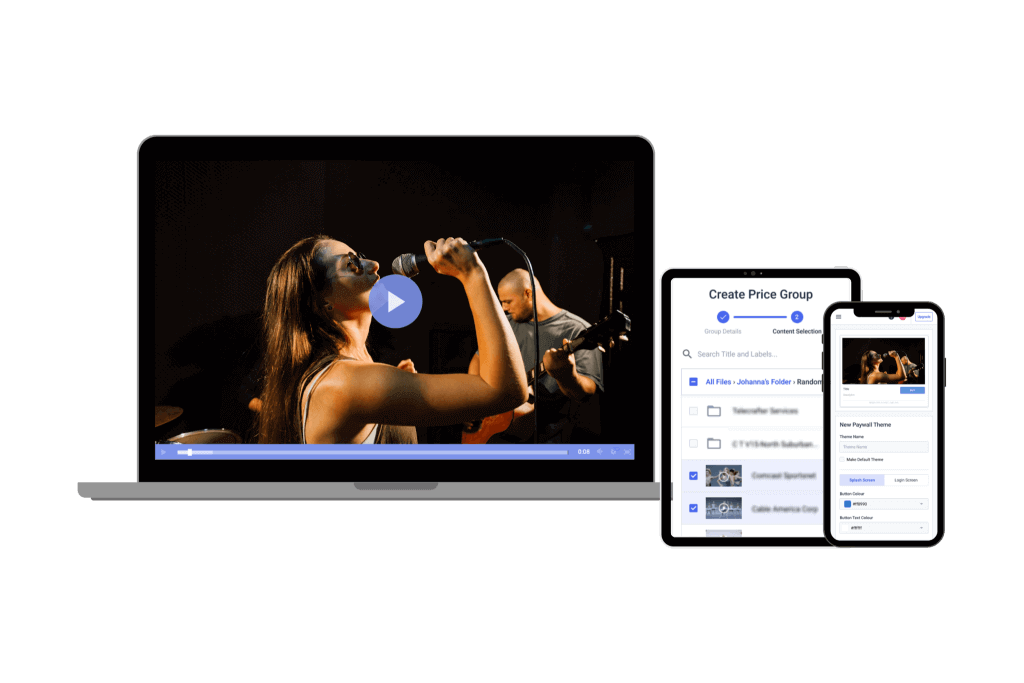 Being able to monetize your live conferences is essential to the health of your business. And it's important that you be able to monetize your content in a way that works best for you and your viewers rather than trying to make a platform's chosen monetization method work for you.
With many live stream platforms, especially free ones, you are pigeon-holed into either not being able to make money directly off your live streams (such as with Facebook Live) or only making money in the way the platform allows (such as with Twitch).
A professional live streaming platform, on the other hand, provides options for content monetization so you can select what works best for your business model.
Do you want your users to pay monthly or annually for access to your content? Subscription-based monetization (SVOD) will work for you.
If your conference revenue will work best by selling individual ticketed access, then Transactional Video on Demand (TVOD), or pay-per-view streaming is the model you want to utilize.
And if your conference will be supported by revenue from advertisements you play during the live stream, then a platform that allows for Advertising Video on Demand (AVOD) is a necessity.
Whatever monetization method you choose, it's important that you have options to suit your needs so your conference proves a success and helps you reach your goals.
8. Video CMS
Part of being able to easily share your video content with new viewers is being able to easily store and find your content.
While it may be easy to live stream the conference you're working on right this moment, you likely have a whole wealth of prior recordings that you can use to draw revenue and gain new viewers. A platform that allows you to easily upload, transcode, organize, monetize, analyze and share your past video content means you can make money off that new live streaming conference as well as last year's instructional video.
The right video CMS not only makes it easier for you to find and share your content, but it also makes it easier for your viewers to find the content that may interest them.
If, for example, a viewer attends your conference live stream, your video CMS can suggest related videos from your library for them to view later. This keeps users engaging with your content — and potentially giving you their business — for longer.
Top Conference Streaming Platforms for 2021
Now that we have outlined the top features to Look for in a conference streaming platform, we wanted to compare 5 of the top services to stream virtual events. We'll go into the key features, pros, and cons, as well as the live streaming costs associated with events in 2021.
Let's get started!
1. Dacast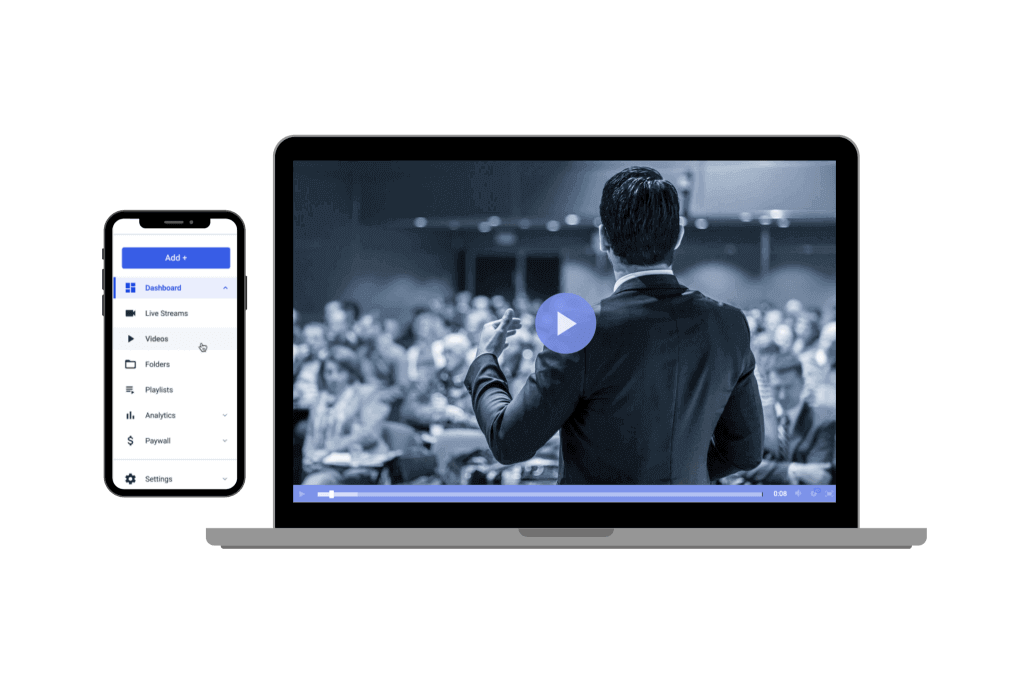 Platform Overview:
Dacast is a unified streaming solution that offers a wide variety of professional features. We offer both live streaming and video on demand platforms. 
This platform is designed for broadcasters from enterprises, schools, and other professional organizations 
Basic Functionality:
Dacast provides comprehensive live streaming and online video hosting services. Users can embed videos on their own websites while maintaining 100% control of their content. Among other features, Dacast offers an integrated paywall, password protection, referrer restriction, and an analytics dashboard.
Key Features:
Pros:
Cons:
Takes a little bit of time to learn all of the features
Pricing:
Streaming solution plans with Dacast come at three levels. The video streaming pricing plans include:
Starter plan: ideal for newcomers with 1,000 TB of bandwidth and 50 GB of storage per month, at just $39 per month billed annually.
Scale plan:

includes 24 TB of bandwidth per year, with 1 TB of storage for

$188 per month billed annually

. These Scale pricing plans add phone support, monetization paywall, an

M3U8 online player

for live channels, ad insertion, white-label Cnames, and

video API

access. 

 Event plan:

for organizations who

'd rather not sign a contract, and want to purchase bandwidth separately to

live stream an event

. It offers 6 TB of bandwidth upfront, 50 GB of storage, and costs just

$63 per month (or $750/year)

. Additional data and storage can be added as needed.

Custom plan: if your enterprise business has high volume streaming needs, you can contact Dacast for a custom plan tailored to your needs.
2. IBM Cloud Video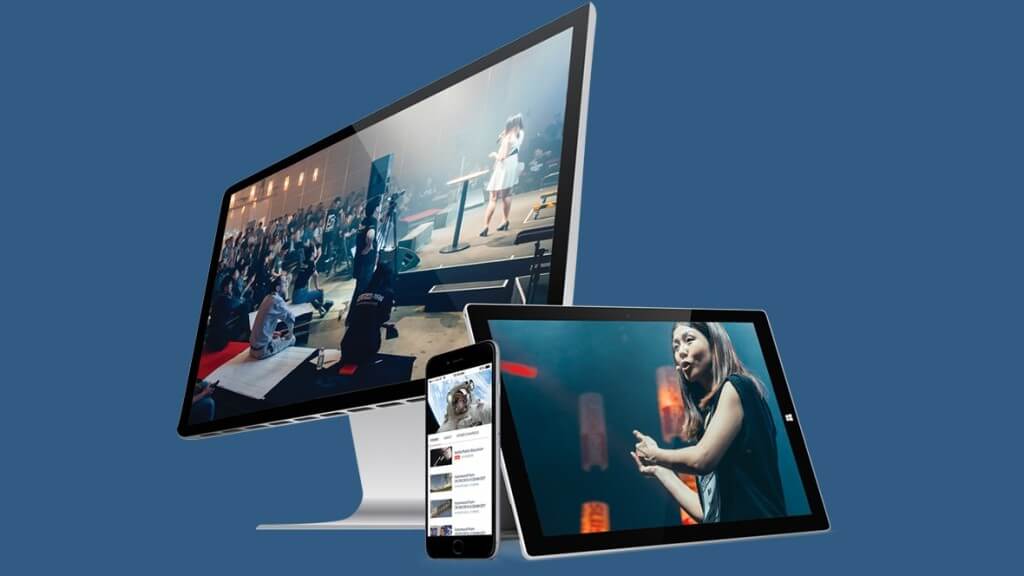 Platform Overview:
Once known as UStream, IBM Cloud Video is a reliable streaming video service, capable of streaming and hosting virtual conferences. IBM Cloud Video is pretty expensive, making it best suited for enterprises and organizations with a large budget.
Basic Functionality:
IBM Cloud Video is a hosting solution for both live streaming and video on demand. 
Key Features:
Reliable platform

Stellar customer support.

An internal content delivery server

Built for enterprises and large organizations
Pros:
Professional platform

Great for professional broadcasters

Reliable technical support

Equipped with powerful features for broadcasters

Hong Kong (China) video hosting
Cons:
Only ad-based monetization 

Some limitations with internal content delivery server

Some important features only available with high-ticket plans
Pricing:
IBM pricing plans range from $99 to $999 per month and include the following:
3. Kaltura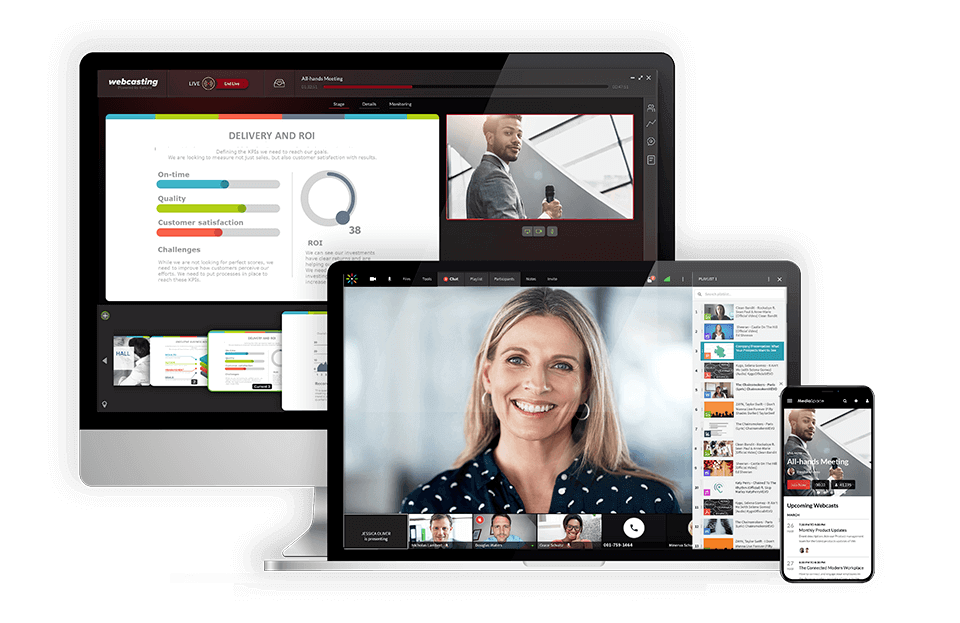 Platform Overview:
The Kaltura online video platform targets large institutions. In particular, Kaltura focuses on four markets: enterprise video services for communication and collaboration, virtual community events, media and telecommunications, and educational institutions.
Basic Functionality:
This video streaming solution is an alternative to the self-hosted model. The software for Kaltura is free, however, it requires an infrastructure of servers for hosting and distributing content. Kaltura offers cloud-based video hosting and content management services for both VOD and live streams.
Key Features:
The Kaltura Management Console (KMC) offers tools to create, upload, edit, manage, publish, and deliver live and on-demand video to viewers. Key features of the KMC include:
Live streaming and VOD hosting
Secure content delivery via Akamai, Limelight, and eCDNs
Live transcoding, live production software, and video marketing tools
Video APIs, SDKs, developer tools, and code recipes
A highly customizable, and therefore highly complex streaming platform

Multi-bitrate and adaptive streaming

Video API access

Global content delivery via a combined CDN approach

Ability to bring your own CDN

Security features including a range of authentication and encryption options

Monetization including all major models – subscription, advertising,

PPV streaming
Pros:
Many available features

Totally customizable streaming experience

Great monetization options

Robust security
Cons:
Ticket-based system for support

Highly complex

Not suited for new broadcasters

No China video delivery
Pricing:
Kaltura doesn't publish pricing information on their website, but it is n the higher end in terms of cost. This live streaming solution offers custom-priced and pay-as-you-go plans to broadcasters. Interested broadcasters must contact their sales department directly to design a custom package. Given the degree of customization of plans with Kaltura, this option is best suited for large-scale enterprises with larger budgets.
4. Wowza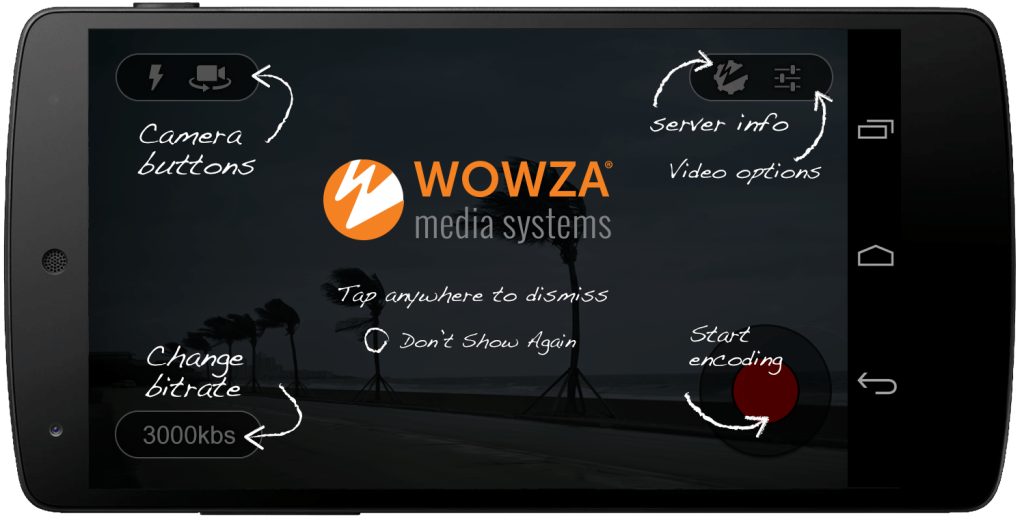 Platform Overview:
Wowza is one of the oldest online video platforms today. This platform hosts both live streams and video on demand with a focus on streaming live events.
The top feature from Wowza is its amazing security features.
Basic Functionality:
Wowza is a video hosting platform for broadcasters with a wide range of budgets.
Detailed Features:
Video content management

Supports high-definition streaming

Robust security features

Video API

Simulcasting capabilities 
Pros
Powerful security

Supports streaming on most devices

Live streaming and video on demand 

Connects with Google Analytics

China video delivery
Cons:
Monetization through integrations only
Pricing:
Wowza Streaming Cloud offers 3 distinct pricing plans and services. Within Live Event Pricing, monthly plans include:
Basic

: $99/month and includes 20 hours of live streaming and 1,000 viewing hours based on a video resolution of 720p

One Month Event

: $149 one-time purchase and includes 20 hours of live streaming and 1,000 viewing hours also at 720p

Plus

: $499/month and includes 150 hours of live streaming and 7,000 viewing hours based on a video resolution of 720p
All of these Live Event plans include full brand control, multi-bitrate streaming, and HD and UHD streaming.
The Wowza Streaming Engine has its own pricing plan packages. These professional-grade streaming plans are billed annually and include:
Basic

: $125/month + $145/month for each additional instance and $125/month for each additional prepaid instance

One Month Event

: $245/month + $155/month for each additional instance and $95/month for each additional prepaid instance

Enterprise: Please contact Wowza directly for access to their custom-tailored high volume enterprise solutions
Check out Wowza's pricing page for alternative plans and packages.
5. Vimeo Livestream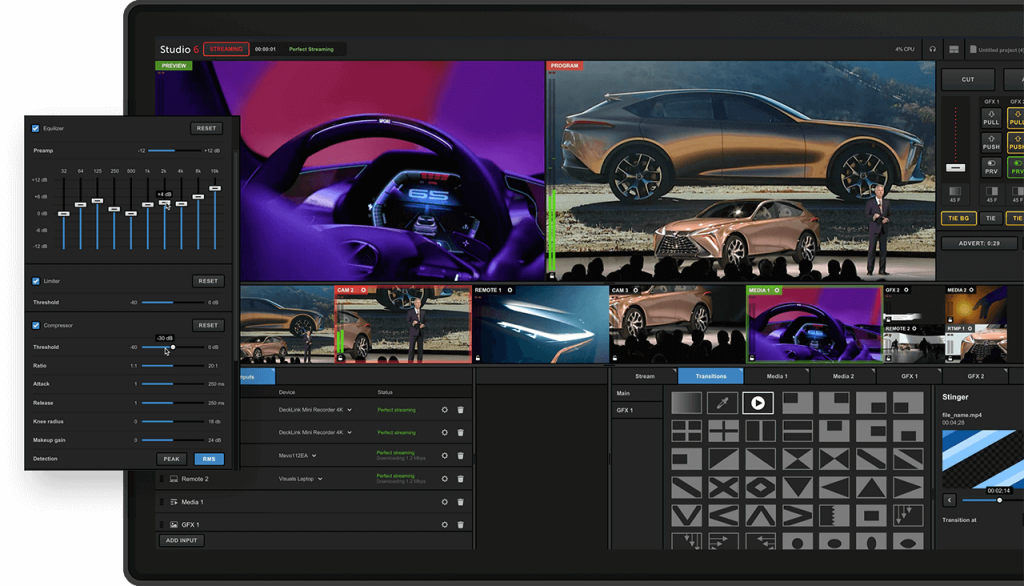 Platform Overview:
Although Vimeo Live now serves a professional clientele, the B2B side of their business began life as Livestream.com. Vimeo acquired Livestream and repackaged the platform's tools for its live broadcasting software. 
Since the acquisition, the two companies have been merging their services. Like IBM Cloud Video, Livestream is on the higher end of the live streaming pricing market.
Vimeo offers a variety of features that supports conference live streaming solutions and VOD hosting.
Basic Functionality:
Vimeo Livestream is a video streaming and hosting platform built for everybody from beginners to professionals.
Key Features:
Pay for what you use

Editing tools included

Ad-free streaming

Pay-per-view and subscriptions

Professional looking platform

Easy-to-use API

Analytics 
Pros:
User friendly

Monetization options 

Built-in transcoding

Customizable video players

VOD and live streaming
Cons:
Monetization costs up to 10% of revenue 

Gets expensive as you purchase add-ons

No China video delivery
Pricing:
Vimeo Livestream offers three main pricing plans, including:
Vimeo Premium:
Premium pricing:

 $75/month

Their Premium plan includes both live streaming and VOD services. This plan is the way to go for professional broadcasting.
Vimeo Enterprise:
Enterprise Pricing:

 

Please contact Vimeo for custom pricing information

The Enterprise plan includes white-label service, monetization, and video APIs. It also includes branding control and added security features.
Vimeo OTT:
Starter Pricing:

 $1/subscriber per month

Growth Pricing:

 starting at $500/month

The OTT-specific pricing packages come with the Vimeo.com relationship. These plans include all the basics for starting your web-based OTT channel, as well as growing your OTT business online.
For more details, check out our comprehensive guide to Vimeo Livestream pricing.
Conclusion
In this article, we took a look at some of the potential benefits of incorporating live streams into your events. We also touched on some of the key factors to consider when deciding on a live streaming platform that's right for you.
As the world has had to adjust to new ways of living, conference organizers have been forced to find new ways to host their events in a world that's quickly shifted online. Thanks to the internet and modern live streaming platforms, conference hosts haven't had to completely put their plans on hold until the world reopens; they've simply had to come up with a new way of doing things.
With professional-grade features, ease of use, and top-notch customer service, Dacast is the clear choice for anyone looking to start — or elevate — their live content streaming strategy.
Ready to try the platform named Best Small/Medium Business Platform by the 2019 Streaming Media Readers' Choice Awards? Try Dacast free for 14 days. There are no long-term contracts to sign, no hefty start-up fees to pay and you won't have to give us your credit card number to get started.
For exclusive offers and regular live streaming tips, you're welcome to join our LinkedIn group. Have further questions, thoughts, or feedback about this article? We'd love to hear from you in the comments below. Thanks for reading, and good luck with your events.