Please note: HTML5 streams require version 5.0.3 of Wirecast.
(CREATED FROM WIRECAST 5.0.1)
Wirecast 5 Setup
IN YOUR DACAST ACCOUNT:

Click on your channel and go to the ENCODER SETUP. Once there, you can choose the bitrate, the resolution and aspect ratio you prefer (click on the + sign to add more bitrate).
Once you have set the bitrate(s) and aspect ratio(s), click SAVE and then NEXT STEP.
Click on OTHER RTMP ENCODER and retrieve:
– Your login and password (a series of numbers; not your email and password to access your DaCast account)
– Your stream URL
– Your stream name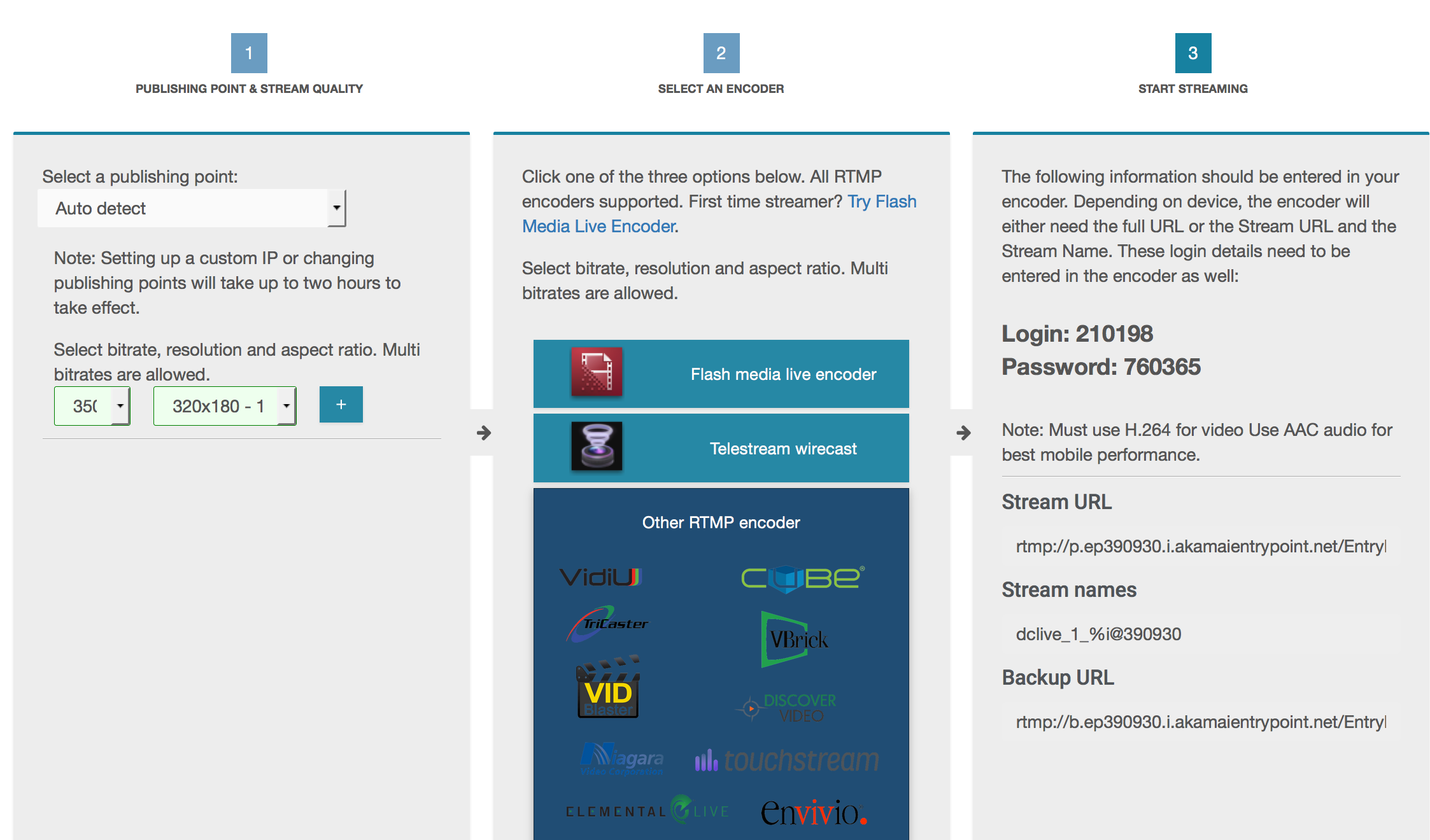 IN WIRECAST 5:

Open Wirecast and then open the OUTPUT SETTINGS window. To do so:
– Click on STREAM, if you have not streamed before
– Press the keys CONTROL + Y, on PC or press the keys COMMAND + Y, on Mac.
When the window opens, you will be asked to "Select an Output Destination". The destination should be "RTMP Server." Click OK.
Enter the stream URL under ADDRESS, and the stream name under STREAM.
Enter the 6-digit login and password in SET CREDENTIALS.
ADJUSTING THE SETTINGS
At this point, make sure that the stream is correctly set up for HTML5. To do so, click on the clockwork icon near the ENCODING dropdown and choose EDIT or NEW PRESET.
Remember, the settings necessary for HTML5 include the following:
– Output Format: FLASH
– Encoder: H.264
– Width, Height, Frames per second, Average bit rate: your choice
– Profile: Baseline
– Key frame every: make your choice
– Channels: Stereo
– Target bit rate: make your choice
– Sample rate: 48 Khz
Click SAVE or SAVE AS.
Back in the OUTPUT SETTINGS window, click OK.
STREAMING:
You are now ready to stream! Click STREAM to get started.