How to Use Church Live Streaming Software to Broadcast Virtual Services
As the world becomes more digital, many organizations are live streaming their events to open attendance to guests who cannot be there in person.
Churches have jumped on this trend to make masses, worship services, special ceremonies, and other religious events available to members of their church community.
In order to stream with the highest quality and most security, it is important that churches invest in a live streaming software that is equipped with the appropriate broadcasting tools.
Today, we're going to discuss why churches are going online, what a church live streaming software is, and how to live stream your church services. We'll also explain some features to pay attention to when choosing a video streaming software for your church and list a couple of the best live streaming software options.
To wrap things up, we'll leave you with some tips for a successful virtual streaming church service. Let's get started.
Table of Contents:
Why Churches Are Going Online

What is Church Live Streaming Software?

How to Live Stream Your Church Services

Features to Look for in a Live Streaming Church Software

7 Best Live Streaming Software for Church

Tips for a Successful Virtual Church Service

Conclusion
Why Churches Are Going Online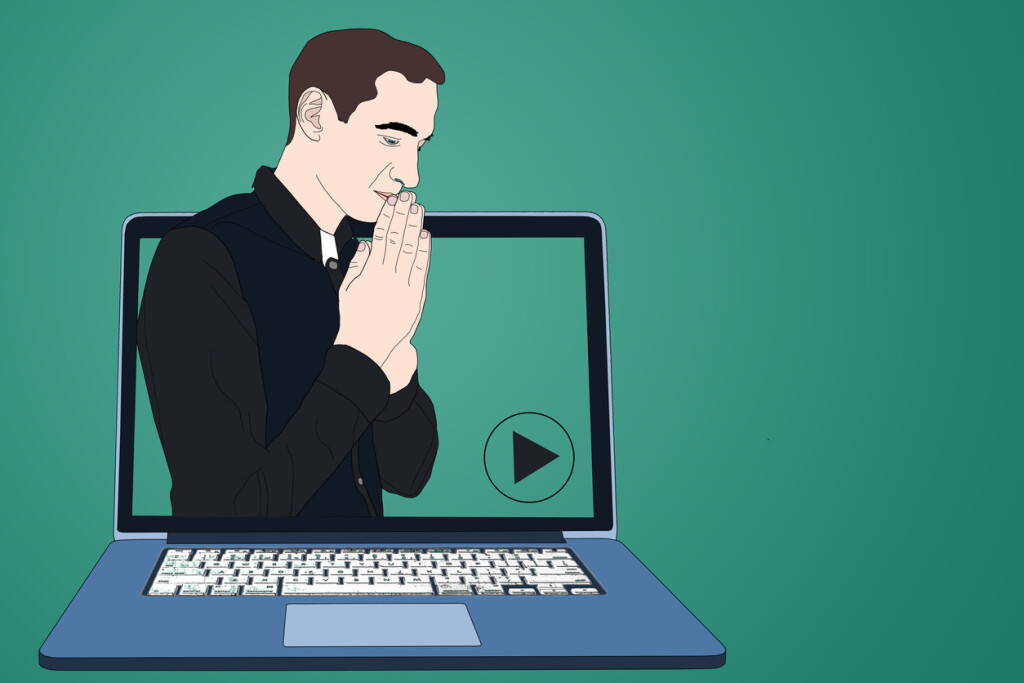 In the past several months, the world has changed at a rapid rate. The need for social distancing has closed the doors of churches for several months.
Since so many people value their Sunday services, many churches have chosen to live stream their spiritual celebrations and holy services. Even in a time when social distancing is not required, access to live broadcasted or on demand church services opens many doors. 
For example, if a person is sick, they can watch the service and listen to the sermon from the comfort of their home. This allows them to "attend" the service without risking the health of others.
Additionally, if a family has an important event or commitment that conflicts with their regular church-going time, they can tune in at a different time.
On a different note, some people simply prefer learning the Word and praying from the comfort of their home. No matter what the motivation is, it is great to give members of the community the option to access guided services on their own time.
In addition to making services more accessible, increasing your online presence with video content can help extend your church's reach. About 30% of people report that they've found their current churches via a live stream over the internet.
What is Church Live Streaming Software?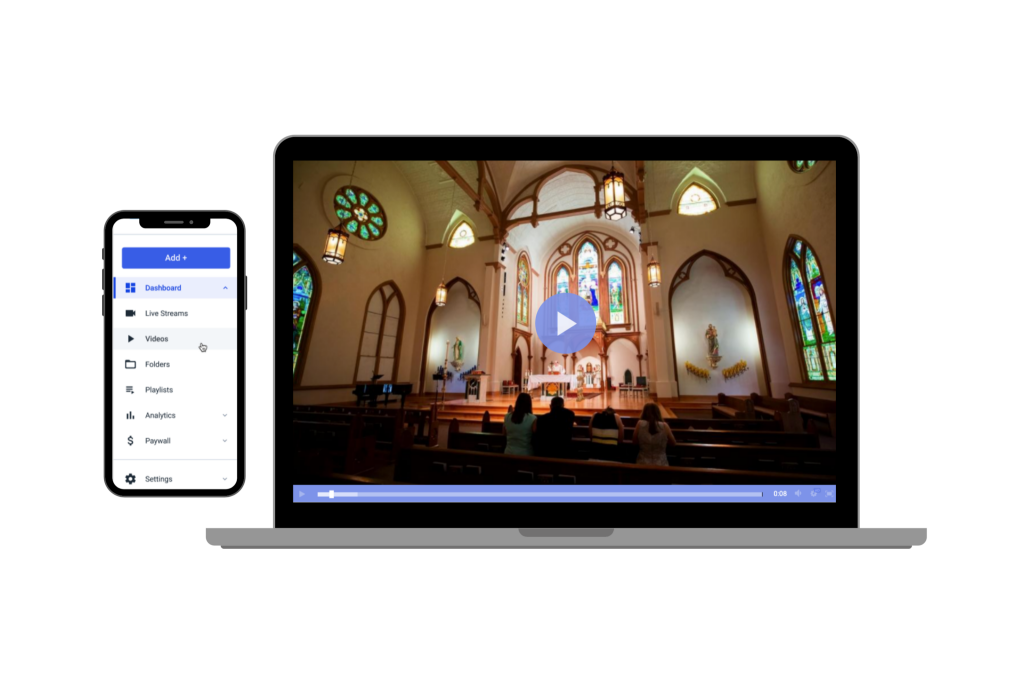 Before we dive into the ins and outs of how to live stream your church services, we're going to cover what exactly a church live streaming software is. We will dive further into specific features to look for and some of the top live streaming software for churches, but for now, we're going to focus on the basics.
In order to live stream your church services and events, you're going to need a professional live streaming solution. Live streaming solutions give you a place to host and manage your video content.
You're likely familiar with YouTube. This is a very basic, consumer-grade live streaming platform that many businesses are tempted to use since it is free. However, this platform and others like it are relatively limited in terms of functionality.
Professional broadcasting software has the same general structure of YouTube, but it comes with advanced features that create an all-around more professional experience.
For example, if you stream on YouTube, your video is subject to third-party ads and logos. You cannot control what pops up on the screen, which can be extremely detrimental if your viewers are coming for a wholesome, spiritual experience. 
With professional streaming solutions, you can completely customize your video player and add your own branding. This video player can be added directly to your website to avoid any off-brand distractions.
Additionally, when you stream with a professional solution, you own all of the rights to your content. When you post something on Youtube, they automatically have equal ownership to your content so they can use it however they want.
Other features that good live broadcast software offers include advanced security, monetization options, live streaming with fewer limitations, live video recording, and advanced video analytics.
How to Live Stream Your Church Services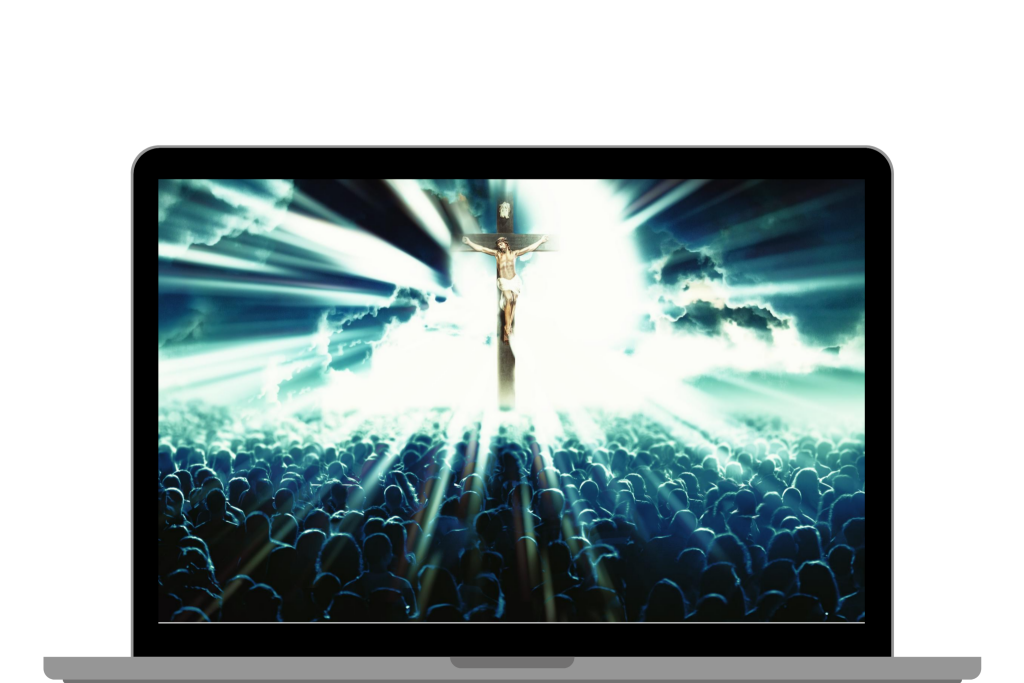 With the right live streaming software, broadcasting church services is a piece of cake.
We've broken down the church live streaming process into six easy steps. Please keep in mind that Dacast and other streaming platforms make it possible for people who are new to broadcasting to create highly professional streams in no time.
That being said, let's dive into the nitty-gritty of live streaming.
1. Plan Ahead
While it's possible to start a live stream in a matter of minutes, we recommend giving yourself ample time to plan.
The first thing to consider is what you plan to achieve with your live streams. Your main goal is likely to reach a remote audience, but what are your goals beyond that?
Ask yourself these questions:
How many viewers do you want to reach? 

Where are your viewers located? 

Do you want to monetize your streams? 

Do you want to make your videos available both live and on demand?

How will viewers know to tune in?
Answering questions like these will help you identify what you are trying to achieve so that you have a better idea of the features to look for in your live streaming software.
At this stage, you will also want to figure out how long you want your live streams to be and what sort of preparation you'll need directly before your live stream. It is also a good idea to decide how many people you'll need for camera operation and setup so you're appropriately staffed at the time of your service.
2. Choose a Live Streaming Software
Now that you know what you hope to accomplish, translate those goals into features you need to make the goals happen.
With those features in mind, compare different church live streaming software options and choose the one that fits best for your organization.
Aside from the features, you want to consider the budget. Determine how much you are willing and able to spend on video hosting each month, and find a solution that falls within that range.
3. Prepare Your Equipment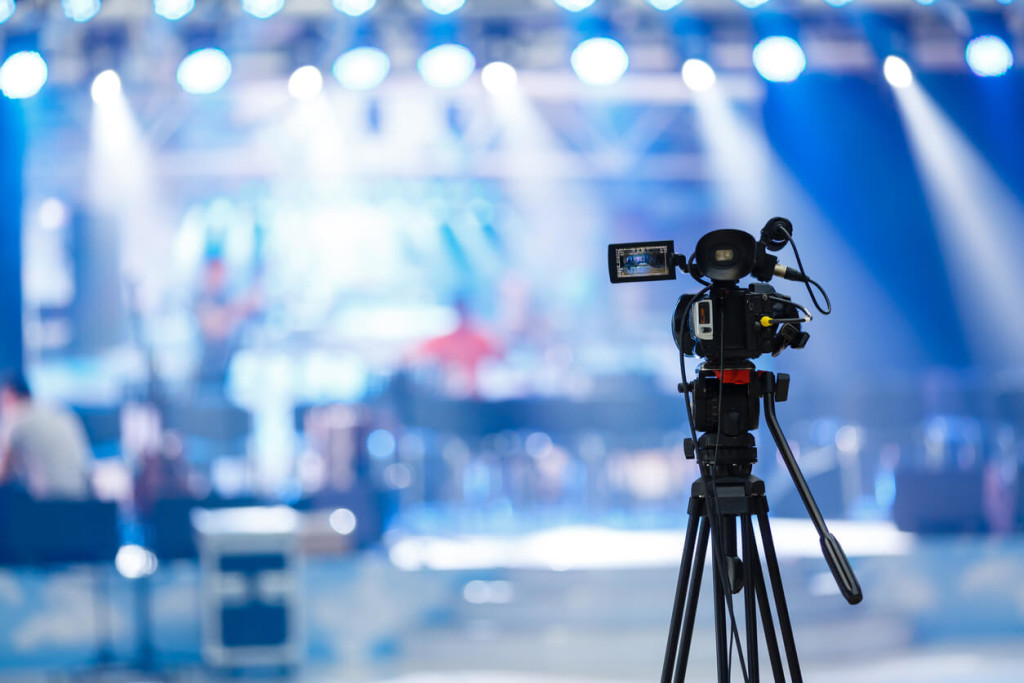 There are a few different types of professional live streaming equipment required for broadcasting. You'll need a laptop or computer, a camera, microphones, and an internet connection.
If your church's tech team is totally new to live streaming, a single camera on a tripod should do the trick. We suggest checking out our list of recommended live streaming cameras to identify which one would best fit your needs.
Your camera may or may not have an effective built-in mic. A simple microphone that clips to the speaker's lapel will do the trick.
You can live stream over either wifi or wired internet as long as your connection is fast enough. However, wired internet is often the better option since it is typically more reliable. The last thing you want is for your internet to crash midstream.
Another tool that you will need is an encoder. You can use either hardware or software encoder. We recommend starting out with OBS Studio which is a free, open-source software encoder that is simple to use and great for beginners.
4. Conduct a Test Run
Set up your equipment and conduct a test run. Test your video quality, lighting, camera angles, sound, and internet. Make sure everything looks right on your video player.
This gives you an opportunity to get to know the platform you've chosen, and it helps to avoid hiccups during your actual stream.
5. Promote Your Stream
Promote your stream to increase your viewership. Make announcements on your social media pages, in your bulletins, and during in-person services to let your congregation know that they have the option to attend a service online.
If your goal is to extend your outreach, you may want to run paid ads on social media to build up some traction in the beginning.
6. Start Your Stream
If you are streaming with Dacast, all you have to do to start your stream is click "Start Stream."
As long as your video and audio inputs are set up and you've properly configured your channels, it's really as simple as clicking the button.
Features to Look for in a Live Streaming Church Software
Online video platforms come with a wide variety of features, but some of them are more important to church live streaming than others.
Here are a few features that you should look for in your live streaming church software.
VOD and Live Streaming Support
Having the ability to support video on demand and live streams is very valuable because it allows you to broadcast services in real-time and then make them available for playback at your viewers' leisure.
Live stream recording is another valuable tool that is related to VOD and live streaming. This is when your live streams are recorded as you broadcast and automatically made available on-demand after the service ends.
Privacy and Security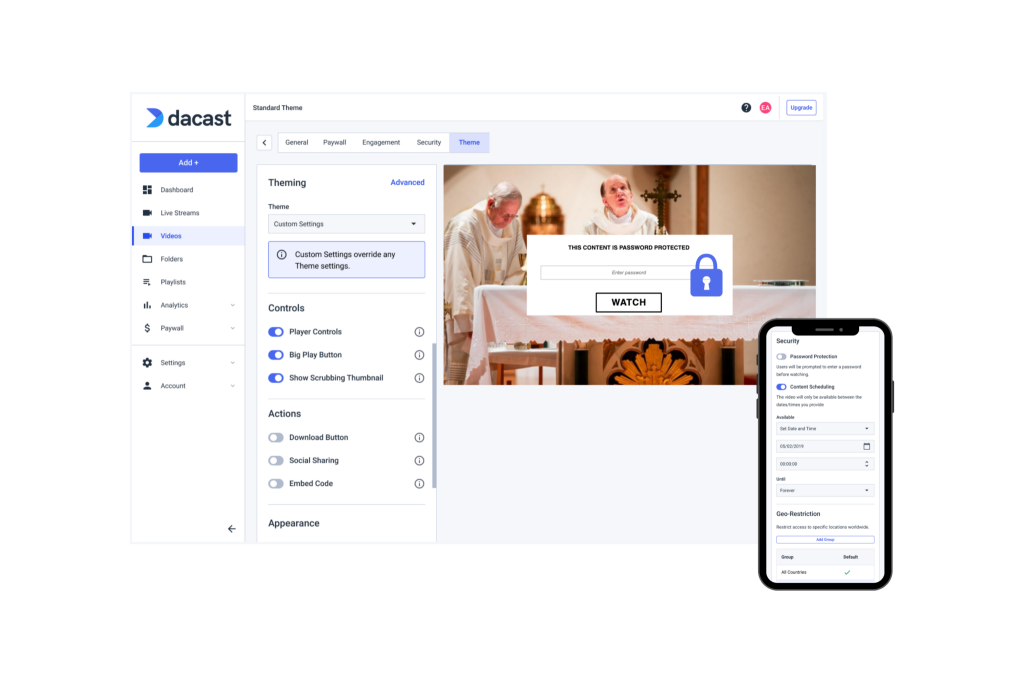 There is a fine line between available and vulnerable. You want your sermons to be available to a wide group of people, but you don't want any intervention from people with ill intentions.
Look for a secure streaming solution that offers security features like referrer restrictions, geo-restrictions, password protection, AES encryption, and tokenized security.
White-Label Video Player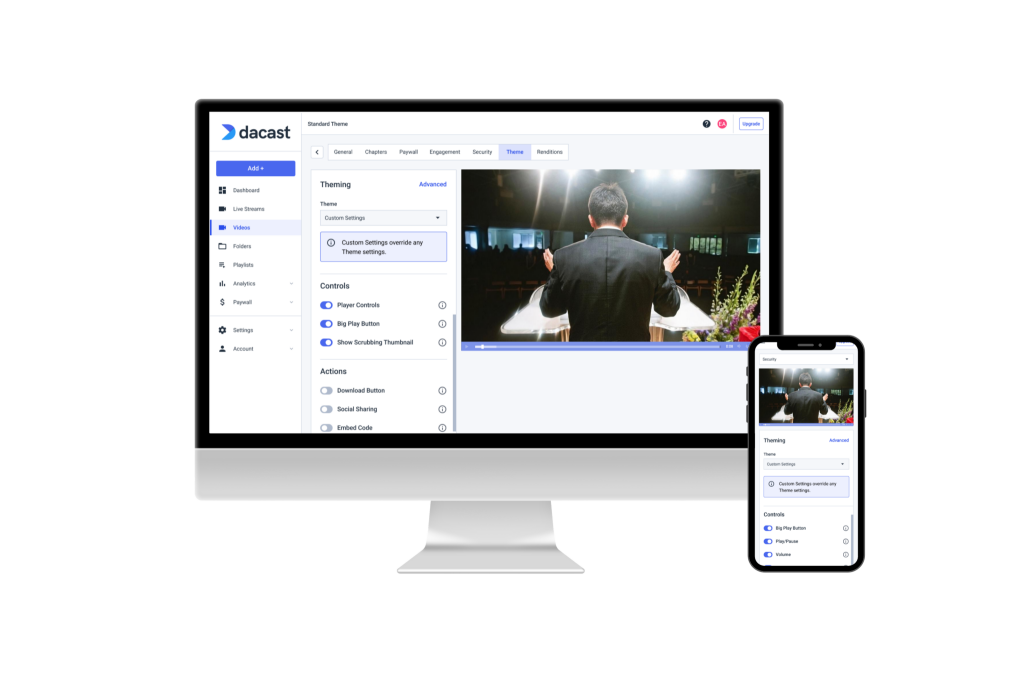 We briefly mentioned before that third-party ads and logos are not great when you're trying to create a focused, distraction-free viewing experience. 
Choose a solution with a video player with white-label features that allows you to customize with your own branding, logos, and colors.
Mobile Streaming with HTML5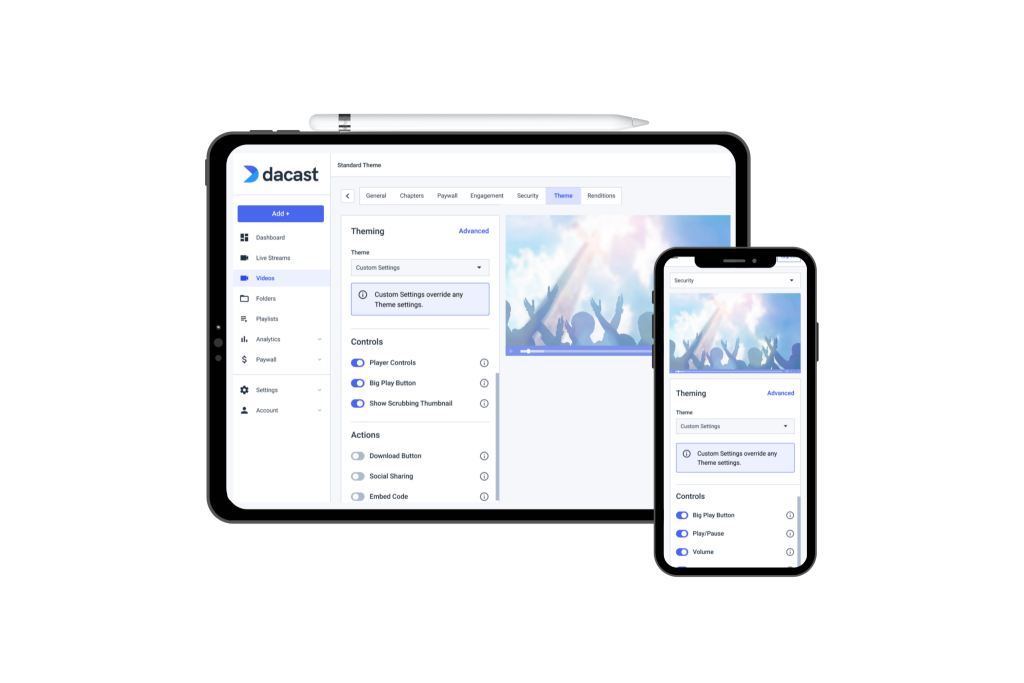 In addition to your video player being customizable, you're going to want to aim for maximum compatibility. The best type of video player for all-device streaming is HTML5. 
HTML5 video players work on computers, tablets, laptops, smart TVs, and more. Streaming everywhere (in terms of devices) allows you to reach a wider audience.
To take this a step further, you may want to choose a streaming solution that offers support for mobile SDKs. These are tools that are designed to help you build your own mobile app around your video player.
Video Monetization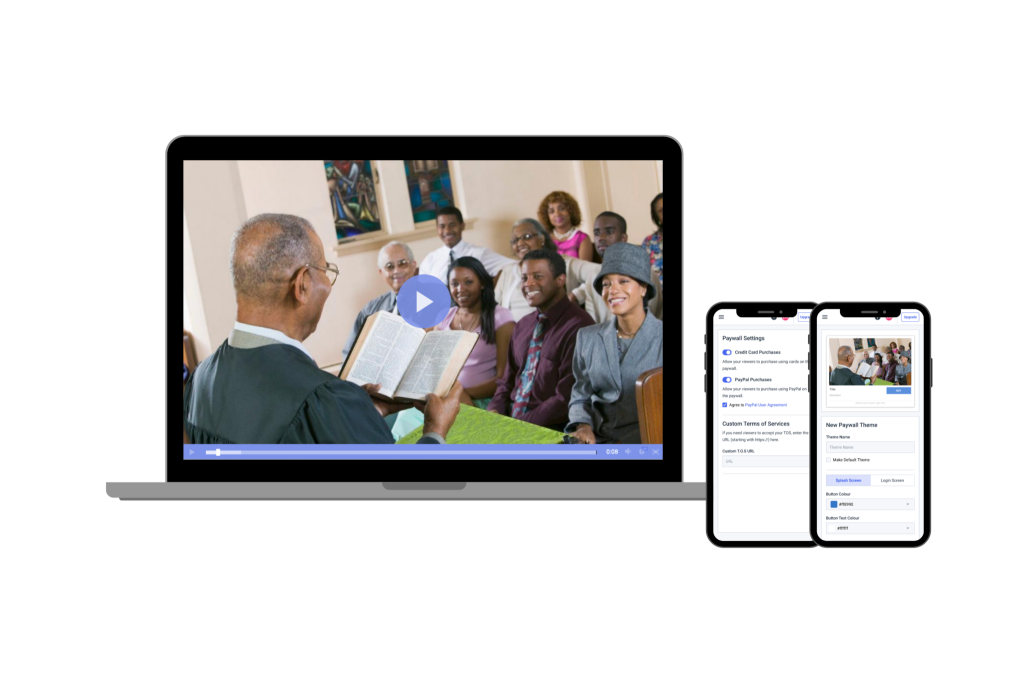 Some churches choose to monetize their video content as a way to collect donations online. This could be done in the form of pay-per-view or subscriptions.
With pay-per-view, viewers would likely pay for access to one virtual service at a time, but with subscriptions, they'd pay for unlimited access for a month or year at a time.
7 Best Live Streaming Software for Church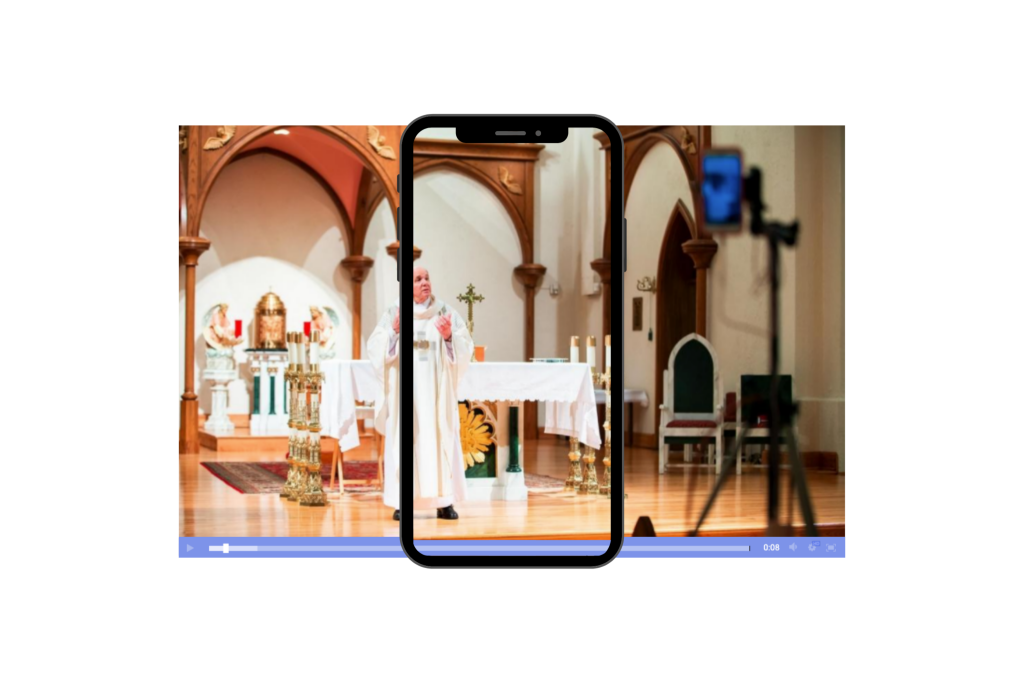 As we mentioned, you're going to need to choose a church live streaming software in order to host your live services and on-demand video files.
We've put together a quick rundown to help you choose the best services for your church.
These are just a few of the many amazing live streaming software options that you can use to host your virtual mass or service. 
We recommend taking a look at our church live streaming platform comparison for a more detailed breakdown of these leading video streaming solutions.
Tips for a Successful Virtual Church Service
Now that you are ready to live stream, we'd like to share a few tips that will help take your virtual church services to the next level.
Use your video player share code to

simulcast

to your social media platforms and reach your existing following. 

Test your internet connection with

testmy.net

to make sure your connection is strong.

Use referrer restrictions to avoid video players being embedded on unauthorized sites that may not share your values or mission.

Have a backup plan so you can quickly bounce back if anything goes wrong.

Have a plan to live stream your church's Christmas programs virtually, giving the congregation the opportunity to attend from home with the upcoming 2020 holiday season.
Check out additional tips in our blog post dedicated to tips for successful live streams.
Conclusion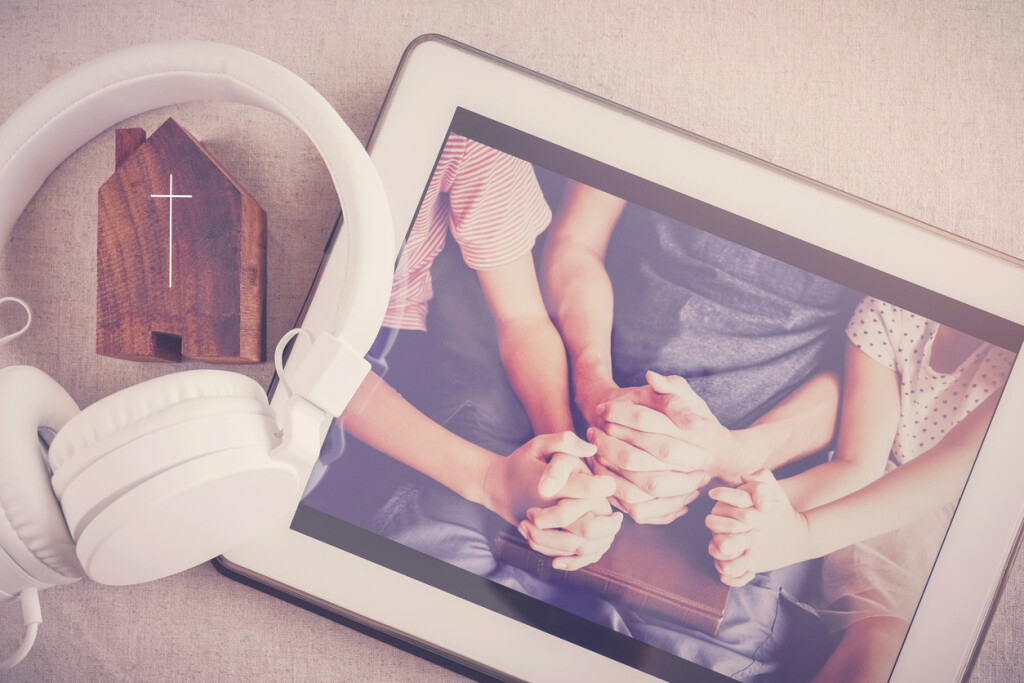 Although this may seem like a lot to digest, when you take it one step at a time, live streaming your virtual church services really is quite easy. This simple process is made possible with the help of a professional church live streaming solution.
Now that you know what this process looks like and what steps you should take for choosing a church live streaming software, we're confident that you're ready to prepare for your first live stream.
If you are interested in testing out a streaming platform free of charge, we invite you to take advantage of our 30-day, risk-free trial. This trial gives you access to all of Dacast's powerful features, including a white-label video player, top-notch privacy and security tools, video monetization, live streaming, and more.
All you have to do to start your 14-day risk-free trial is sign up today. No credit card required.
For exclusive offers and regular live streaming tips for houses of worship, you're also welcome to join our LinkedIn group. We'd love to connect with you! And feel free to contact our team with specific questions; we're here to help!
Lastly, do you have further questions, thoughts, or feedback about this article? If you do, we'd love to hear from you in the comments below, and we will get back to you!