Church Live Streaming Statistics – Trends in Streaming Virtual Services for 2021
In the past decade, the internet has become more and more accessible. This has contributed to the popularization of online video content, specifically, live streams.
Many businesses, schools, and other organizations have jumped on the trend to reach their audiences in this new way. Churches are one of these types of organizations that are taking advantage of live streaming.
In this post, we're going to cover 2021's top church live streaming statistics that you need to know to live stream virtual church services. We will discuss how these trends look in terms of church attendance, OTT streaming, mobile broadcasting, online tithing, and more.
Let's take a look at why churches are opting to live stream virtual services.
Table of Contents
Why Are Churches Live Streaming?

Church Attendance: In-Person vs. Virtual

OTT Streaming: Congregating Over the Internet

Mobile Broadcasting: Praise and Worship from Anywhere

Monetization: How Online Tithing Works

Streaming Church Services with Dacast

Church Live Streaming Stats to Remember

Conclusion
Why Are Churches Live Streaming?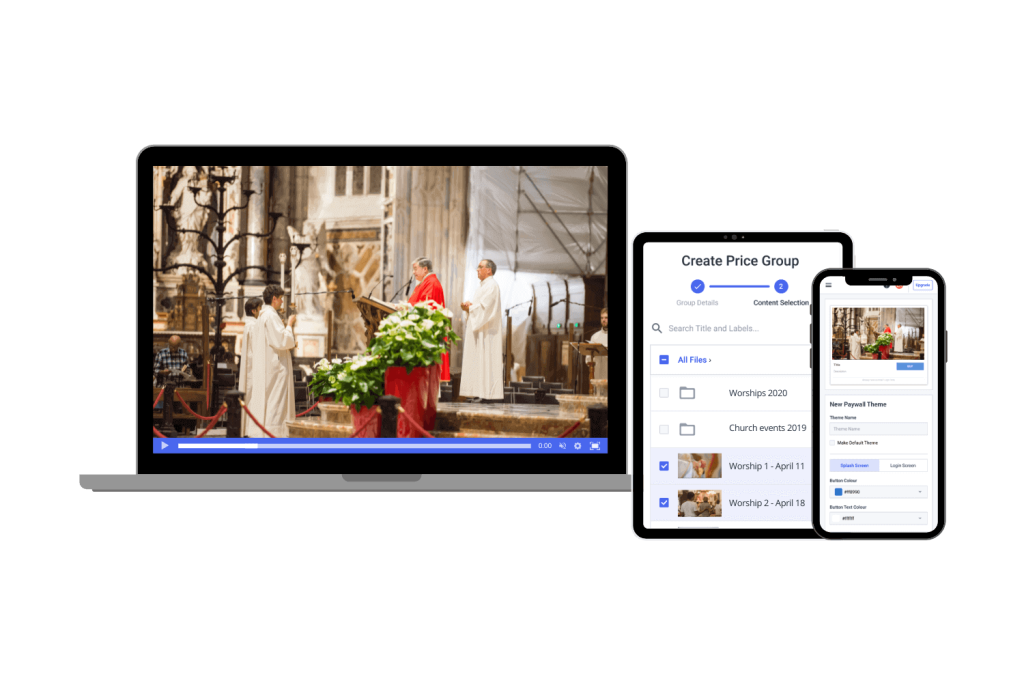 Churches have been present on television for years. However church services are rarely available on mainstream channels, so it hasn't always been easy to tune in.
In the past few years, churches and other places of worship have been turning to over-the-top (OTT) live streaming technology to make services and events available over the internet.
There are several motivations for churches to broadcast services in real-time. Here are a few of the main reasons behind it:
Practice

social distancing

because of COVID-19

Increase the churches outreach

Make services available to the sick and homebound

Provide easy access to services

Collect online donations

Connect with members of the community that have moved away

Live stream your church's Christmas programs virtually, giving your congregation the opportunity to attend from home

Reach deployed soldiers 
Churches can live stream more than just the standard service or mass. They could use live streaming tools to host webinars, weekday praise and worship sessions, bible studies, and more.
Church Attendance: In-Person vs. Virtual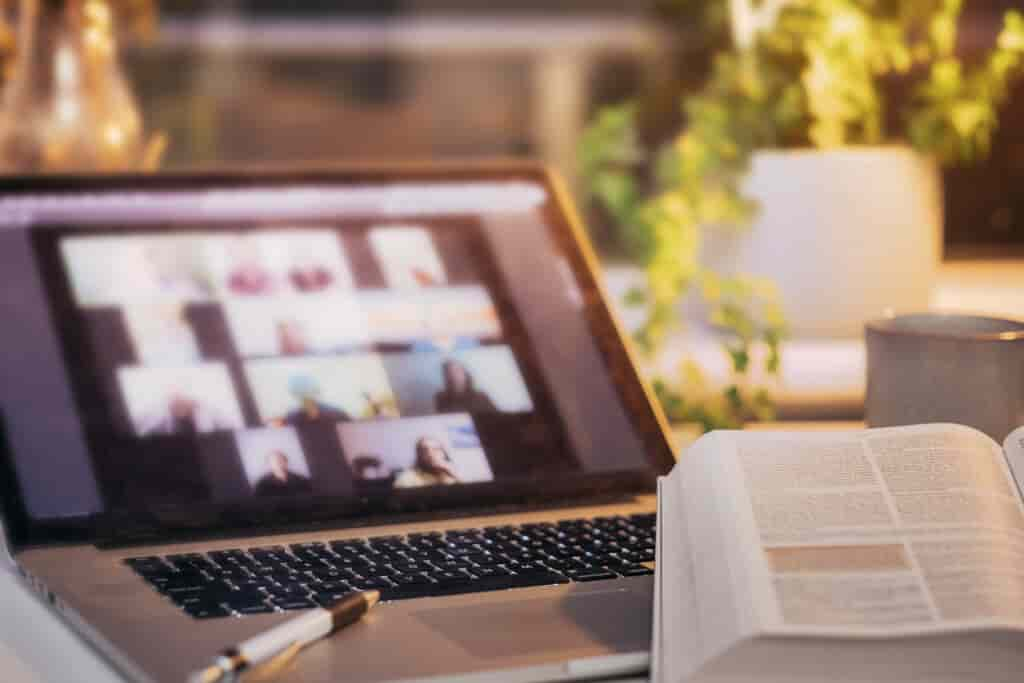 As you can tell, many of the reasons that churches live stream services revolve around reaching people who cannot be there in person. Even though many people still prefer to attend sermons in person, the current state of the world has made it difficult to do so.
For 8 weeks, starting in the spring of 2020, churches were forced to close doors because of COVID-19. Obviously, this decreased attendance to 0%. Many people have chosen not to return to church yet as they are still avoiding the crowds.
Aside from the need for social distancing because of the pandemic, churches are pretty split when it comes to their choice to live stream services. This has largely to do with the fact that some pastors and church administrators are worried that if they make virtual services available, their in-person attendance will drop.
Many churches are building online communities that could very well transition into in-person attendance when it is safe to gather again. It's reported that 33% of churchgoers have found their current churches online.
By expanding your online reach with live streams and other media, you have the opportunity to connect with new parishioners.
However, there is little information to support concerns that making services available online dissuades parishioners from attending in-person services.
Nearly half of the members of a Protestant sample group report that they have not opted to watch a service online as an alternative to attending in person within the past year. 
About 20% report that they have opted to view the service online rather than in-person, but they've only done this one or two times. Furthermore, 16% of these people say that they've opted for the online service three to five times, and about 14% have done it six or more times.
One interesting thing to note is that one larger church has reported unexpected trends among its viewers. While they believed that most people would tune in around the scheduled time of their Sunday morning service, they found that a decent amount of viewers watched replays of the services throughout the week.
For more tips and tools for increasing viewership on your church live streams, we recommend checking out our blog post on the subject.
OTT Streaming: Congregating Over the Internet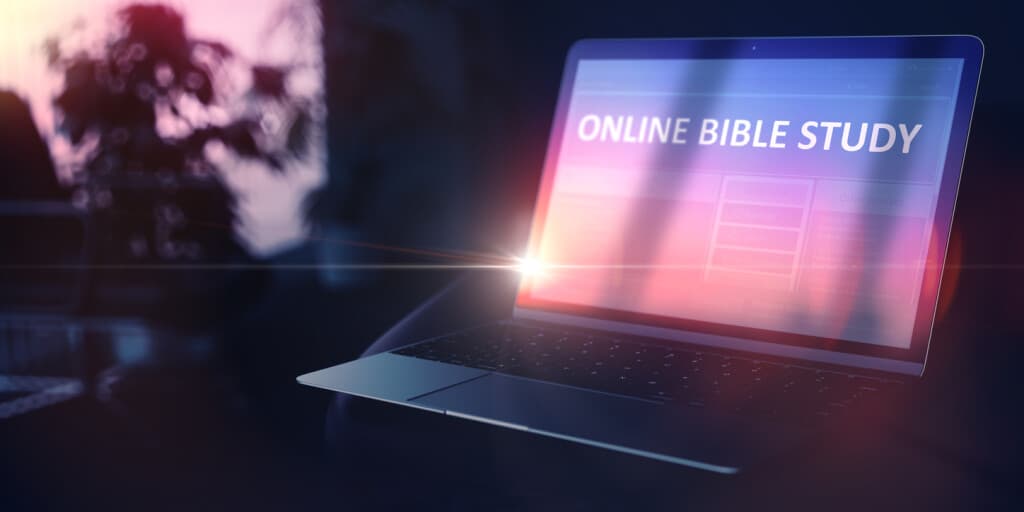 OTT technology has provided a way to make live church broadcasts more accessible than traditional television broadcasts. OTT streaming technology makes it possible to stream live video directly from your website, as well as hold online bible study via the internet.
Since it's so easy to tune into a virtual service, many people feel that live streaming helps maintain a sense of community even when you cannot physically be together. 
Videos on the internet can be shared with just a few clicks, so OTT live streaming can spread your sermons far beyond the community that would typically gather within the four walls of your church. 
All numbers aside, you could reach more people with the Word and have a greater impact on the human race. You have the potential to extend your reach around the globe.
Mobile Broadcasting: Praise and Worship from Anywhere
Of course, the internet expands your reach exponentially, but broadcasts that are suitable for mobile streaming are so incredibly valuable for reaching a wider range of people.
What sets mobile broadcasting apart from OTT streaming, in general, is that it uses a video player that can be accessed from a mobile device equipped with a live streaming app.
HTML5 video players are considered ultra-compatible, all-device video players, so it is wise for churches to choose church live streaming software with this sort of capability. 
Since 44% of people prefer to be alone while they pray and worship, as opposed to in the traditional church setting, the ability to turn on service on their phone is extremely valuable. It allows them to experience the structure of religious service from wherever they're most comfortable.
Monetization: How Online Tithing Works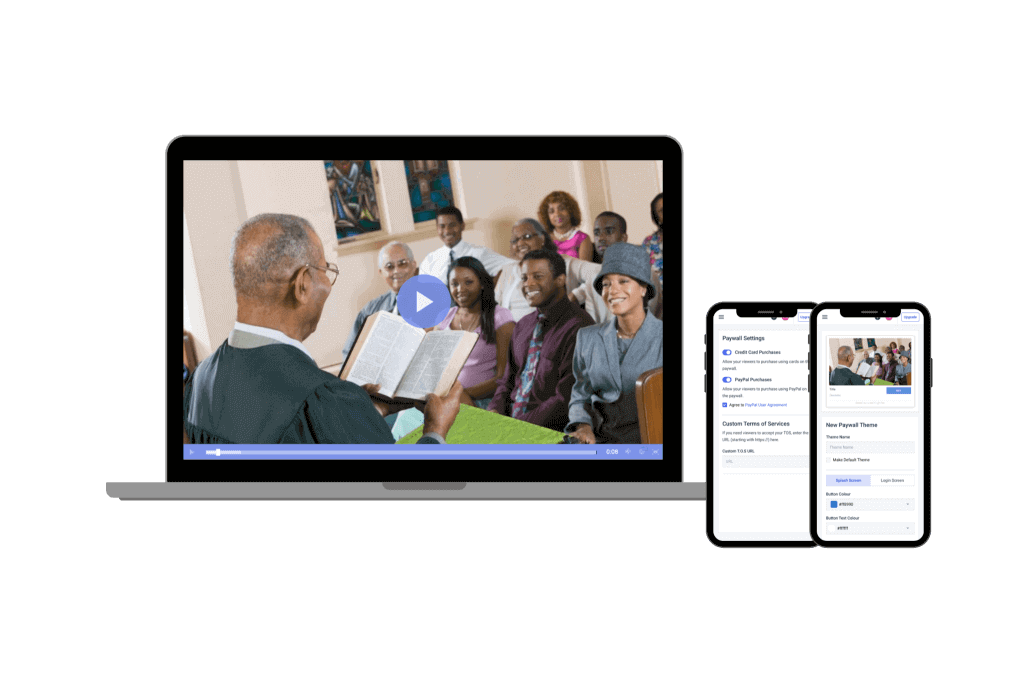 During normal church services, attendees are prompted to offer a donation in a box at the back of the church or when a basket is passed around for the collection. 
Obviously, online viewers don't have the option to drop their donations during this collection, but many still want to tithe.
Reports from recent years show that over $2.2 billion worth of donations have been made in a single year's time. Now that more online paywalls are trustworthy and secure, people feel more comfortable making payments online.
One church reports that their online donation increased by 70% when they started streaming with a professional streaming solution.
Some churches are opting to use video monetization tools to generate donations at their virtual services. The two most popular monetization options are pay-per-view and subscriptions.
With pay-per-view, viewers would pay for access to individual videos. This is best suited if you are hosting a special event outside of your regular Sunday service.
Subscriptions would give your viewers unlimited access to sermons for a specified amount of time.
You also have the option to monetize with sponsored ads, but many churches prefer to keep their streams ad-free in order to avoid distractions. However, the advantage of this monetization method is that your viewers don't have to pay out of pocket for you to generate revenue.
Streaming Church Services with Dacast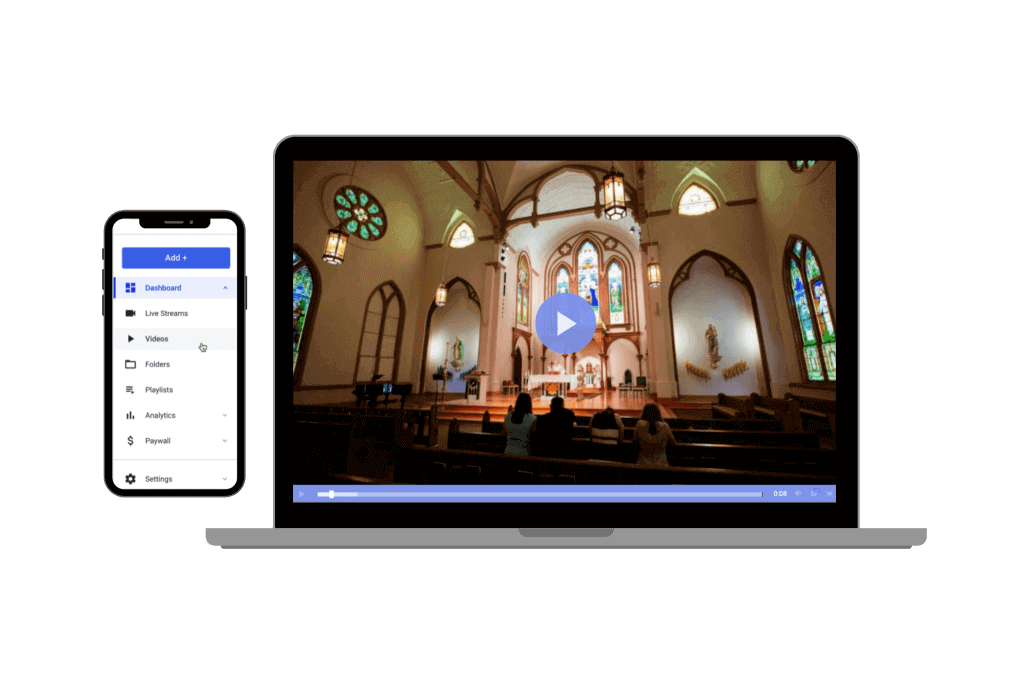 Dacast makes it possible for many churches to bring their services to members of their congregation both near and far.
Today, we're going to run through a case study that pulls some of the highlights shared by St. Mary and St. Antonios (SMSA) Coptic Orthodox Church about their experience of streaming with Dacast.
In their case study, SMSA stated that two of their goals were to make mobile streaming available to the members of their community and set up multiple channels for live streaming. They had a hard time finding a platform that offered those two things yet allowed ad-free streaming, quality streaming, and stability.
Dacast offered solutions to reaching these goals while overcoming their roadblocks. Dacast's platform is both reliable and consistent, which is very important when you're live streaming.
Additionally, Dacast allows broadcasters to use ads for monetization purposes if they choose, but it also gives the option to stream completely ad-free. This flexibility is valuable to a broadcaster.
One of the main remarks that SMSA had about Dacast was that the platform saved them a significant amount of money. Dacast is not necessarily a budget streaming solution, but its plans are very reasonably priced. It has the tools churches need at a price that makes sense.
Church Live Streaming Stats to Remember
Now that you've gotten a glimpse at the bigger picture of trends in church live streaming, we're going to leave you with a quick snapshot of major church live streaming statistics.
As you can see, live streaming church services fills a void for people who cannot or do not wish to attend in-person services, but it doesn't necessarily lower in-person attendance.
Conclusion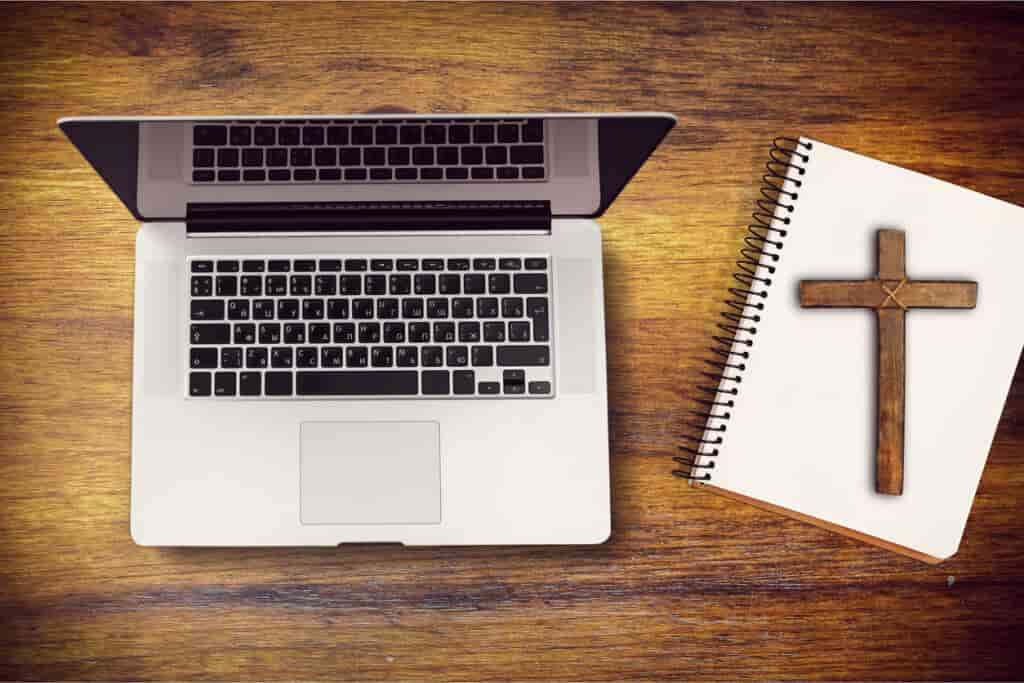 Live streaming your church services will bring an abundance of benefits. The option to tune in online allows the sick and homebound to take part in services that they'd normally miss. Virtual services also give people the ability to praise together when social distancing is a must.
We are by no means indicating that virtual services should totally replace your in-person gatherings, but we truly believe that this technology is a blessing for churches that want to reach remote audiences.
If you are on the fence about getting started with live streaming for your church, we recommended going for it.
Want to test out Dacast's live streaming tools for yourself? Try Dacast risk-free for 14 days with our free trial account. 
All you have to do to start your 14-day risk-free trial is sign up today. No credit card is required.
Do you have further questions, thoughts, or feedback about this article? We'd love to connect with you! And feel free to contact our team with specific questions; we're here to help!