What is a Hybrid Event? The Ultimate Guide for Broadcasters
Since the start of the pandemic, there has been a significant shift in how people attend events. In the beginning, many in-person events were either canceled or quickly shifted online.
Nearly two years later, event organizers are beginning to shift back to in-person events. Although some in-person participation is doable, there are still some limitations and restrictions that are keeping people at home. Luckily, hybrid events are an option.
In this post, we're going to discuss the ins and outs of hosting hybrid events as a broadcaster.
We will discuss what hybrid events are and how they differ from live events. We'll also cover how to host a hybrid event and how to choose the best hybrid event platform as a broadcaster.
Table of Contents
What is a Hybrid Event?
The Difference Between Virtual and Hybrid Events
How to Host a Hybrid Event
Choosing the Best Hybrid Event Platform

Benefits of Hybrid Events

Dacast for Hybrid Event Streaming

FAQs

Final Thoughts
What is a Hybrid Event?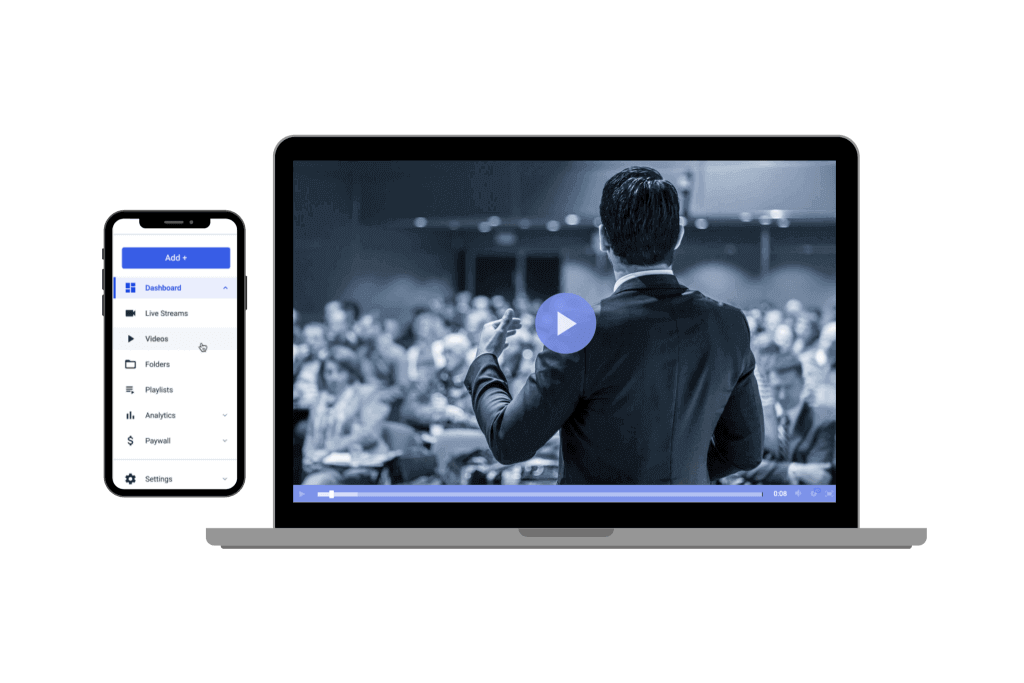 A hybrid event is an event that is open to both in-person and remote participation. Remote participation in hybrid events is typically facilitated via live streaming technology.
There are two types of hybrid events:
Internal hybrid events: These are events held within the company and connect employees worldwide, i.e., not meant for the general public.

External hybrid events: These are meant for the general public or companies other than your own.
Some types of hybrid events could include conferences, concerts, tradeshows, and town hall meetings.
The Difference Between Virtual and Hybrid Events
There is a lot of overlap between virtual and hybrid events that broadcasters must know, however, there is one major difference between the two. Virtual events are typically entirely digital whereas hybrid events include both in-person and remote attendance.
Virtual events are typically less expensive than hybrid events since they don't require a special venue or extra vendors that the in-person portion of a hybrid event would.
However, broadcasters looking to host an event that is a little more hands-on and engaging, a hybrid event with at least some face-to-face interaction would be a better option.
How to Host a Hybrid Event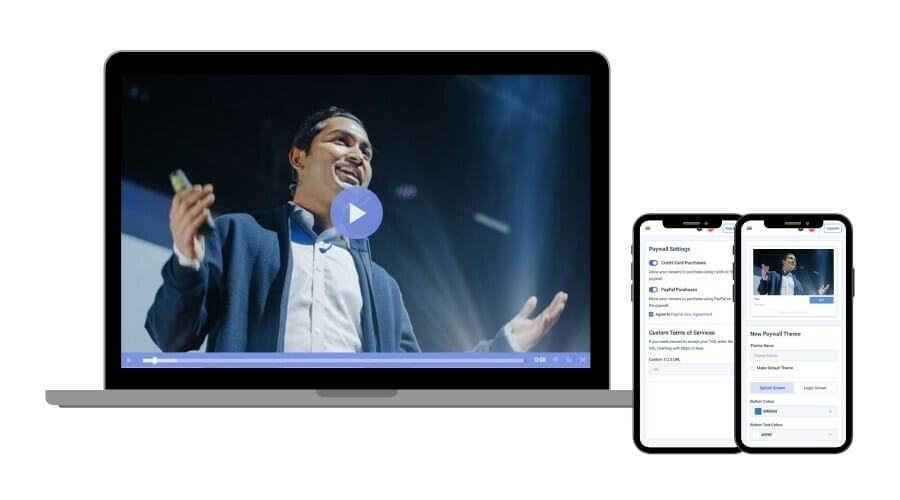 Hosting a hybrid event stream requires quite a bit of planning and preparation.
Hosting a hybrid event as a broadcaster takes a bit more planning and preparation than an event that is only in-person or only online. Even with a few extra steps involved, hosting a hybrid event is pretty straightforward.
Let's run through the steps you need to follow to bring your hybrid event to life.
1. Plan the In-Person Part
Before you begin to think about streaming your hybrid event, it is important to plan the in-person portion. If you're an event coordinator, you already know how this works. If you're new to event planning, there are a few main things to note.
First, figure out when the event will be and where it will be. If you're renting a venue, make sure to reserve the space far enough in advance. Next, lock in all of your participants, whether it be entertainers, panelists, or speakers.
Hire all of the necessary vendors, and be sure to pull any required permits. Determine the capacity of your venue and figure out how much you need to charge for tickets to achieve your desired profit. You'll also need to choose a ticket sales platform.
As you navigate this process, document everything. Keep track of who is in charge of what, how much things cost, and how every essential person can be contacted. Make sure to have backup options for every moving part.
2. Plan the Virtual Part
Once you've planned the in-person portion of your hybrid event, it is time to plan the virtual part as a broadcaster. This is pretty easy since you already have the major details figured out.
Determine how many virtual participants you plan to host and how much you'll charge them for "admission." Also, figure out how you'll distribute information about the stream, such as stream links and sign-in credentials, with participants.
Plan the layout of your streaming setup. Think about how many cameras you need and where you will place them in your venue. As a broadcaster, consider lighting and audio setups too.
3. Invest in Equipment and Tools
Broadcasting a hybrid event requires the support of capture equipment, such as cameras and microphones. Depending on the scale of your event, your camera needs could range anywhere from a basic webcam to a professional camcorder.
When it comes to audio equipment needs, this will depend on the nature of your event. Handheld microphones may suffice, or lapel mics could be a better option. Other audio capture setups that capture sound from a group of people might be more appropriate, and this setup could potentially be built into your venue.
In addition to capture equipment, you'll need an encoder. This is a tool that converts your video files from RAW to digital. You can choose from either hardware or software encoders.
You can find more information on the necessary equipment for live streaming in our dedicated guide.
4. Choose an Online Video Platform
A professional-grade online video platform is essential to broadcast the virtual portion of your hybrid event. This is the video streaming software that you'll use to host, manage, and deliver your streams as a broadcaster.
We'll discuss in more detail which features to look for when choosing the best virtual video platform for hosting your hybrid event later in this post.
There are plenty of great platforms for hosting your hybrid event. Check out our live streaming platforms comparison post to explore some of the top options.
5. Configure Your Streaming Setup
Now is time to get everything set up for your stream. You'll need to set up your equipment in your venue and connect all of your sources to your online video platform.
In addition to setting up your streaming software and equipment, you will need to appoint someone to operate the stream. If you don't have people on your team who can help with this, you may have to hire people to operate your cameras, produce the stream, and monitor the stream.
Check out our ultimate guide to streaming setup for more information on this step.
6. Do a Test Run
Make sure you set aside some time to conduct a test run before you start your stream so that you can catch any snags in your setup before you go live. Run through your entire stream at least once.
If there is a particularly weak link, such as a battery that dies fast or a cable that could be easily displaced, address it. Have backup batteries or equipment on hand that can easily be deployed if the "starting lineup" fails.
It's also a good idea to test your internet connection. A good upload speed for streaming is double the bandwidth that you intend to use. Typically, an upload speed from 672 kbps to 61.5 Mbps is sufficient.
You can test your internet by Googling "internet speed test" and clicking the "RUN SPEED TEST" button in the first result.
7. Start Streaming
Once you've confirmed that your setup is working as planned, it is time to start streaming. On most platforms, this is as easy as clicking the "Start Streaming" button.
Depending on the nature of your event, you might want to start your stream a little before the event starts so that you can ensure that all participants are settled and ready to go as soon as you start presenting or performing. Some online video platforms allow you to add a "waiting room" or display a count down.
Choosing the Best Hybrid Event Platform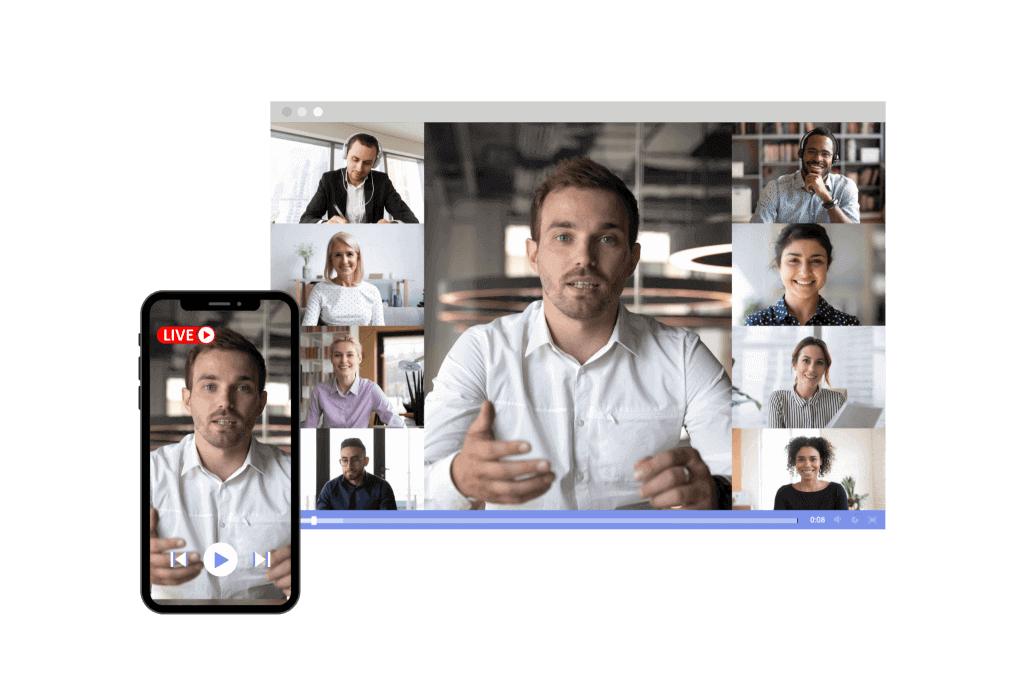 As we discussed, choosing the right online video platform to host your hybrid event is very important. You need to choose one that meets your unique needs and helps you reach your streaming goals.
Although some features are more important to certain broadcasters than others, there are some streaming features that most hybrid event streamers will find useful. That said, here are a few features that you should consider when choosing the best hybrid event platform for your stream.
Monetization
Many event coordinators sell tickets to their events, and hybrid events are no different. If you are planning to charge for admission to your hybrid event, video monetization tools are absolutely key.
The top three types of video monetization are ads, subscriptions, and pay-per-view. When it monetizing your hybrid event stream, pay-per-view, which is sometimes called "transactional video on demand" or "TVOD," is the best way to go.
Not all online video platforms are equipped with support for every monetization method, so make sure you look for dedicated pay-per-view support.
White-Label Streaming
White-label streaming and brand customization are very important for streaming at the professional level. Choosing a streaming solution with these features allows you to eliminate ads and third-party branding which helps to create a distraction-free viewing experience.
Also, make sure that your chosen streaming solution supports brand customization. You want to be able to customize your video player to suit your audience and reflect your brand.
Privacy and Security
Secure streaming is essential for professional broadcasts, especially when you're hosting an important event. It is important to choose a platform that is capable of secure streaming.
Some privacy and security tools to look out for include password protection, DRM encryption, geographic restrictions, and domain restrictions.
24/7 Customer Support
Live streaming is a highly technical process, and sometimes, things go wrong. That is why it is important to choose a streaming solution that includes 24/7 customer support.
Look for a platform that offers round-the-clock support from a live representative. Thorough documentation that is easily accessible is also a plus.
Cost-Effective
The cost of hosting a hybrid event can add up fast if you're not careful. This is because bandwidth can be pricy and access to the features you need might come at an additional cost.
Opt for a video streaming platform that is transparent about pricing and fees so you know exactly how much it is going to cost before you start streaming.
Benefits of Hybrid Events
Here are some of the benefits you'll gain from hosting hybrid events.
Higher Attendance and Increased Reach
By giving your audience the flexibility to attend either in person or virtually, you attract a wider audience and get higher attendance. A hybrid event lowers the entry barrier for different demographics.
Increased Engagement
Hybrid events provide more ways for your audience to engage with your event. The virtual component increases your engagement rates. This is because your audience can like, comment, share, take part in polls, and much more.
Better Sponsor Opportunities
Because of the increased reach and engagement rates, sponsors are more likely to be interested in hybrid events than any other. There are also more items they can sponsor, for instance, livestreams and event applications.
Valuable Insights
With a hybrid event, you can track more metrics and gain useful insights. For instance, in addition to knowing how many people attended your event, you can also track their engagement, when they dropped off the event, etc.
More Flexibility
The flexibility gives your audience and you a chance to adjust to unforeseeable circumstances, such as travel disruptions, etc.
Dacast for Hybrid Event Streaming
Dacast offers all of the features that event coordinators need to host their hybrid event, all at a competitive price point. When you stream with Dacast, you can enjoy access to a wide variety of powerful broadcasting tools and world-class streaming support.
Mas Imagen, which is a Mexico-based audiovisual production company, uses Dacast to host hybrid events throughout Latin America. This company has tried several other live streaming solutions to host and deliver their hybrid event streams, but Dacast has been the most helpful that they've encountered.
What Mas Imagen liked about Dacast was that we provided the level of support they needed to host both hybrid and virtual events with confidence. Dacast provides live support via a team that is local to their region. This means that broadcasters have access to a representative that is both knowledgable on the local streaming landscape and speaks the local language.
FAQs
1. What is the difference between virtual and hybrid events?
Virtual events are those that happen entirely online and are hosted on broadcasting platforms. They're suitable for distant audiences scattered across locations. Conversely, a hybrid event format has both an in-person and virtual aspect, and local audiences can attend them. As a broadcaster, you can host both.
2. What is the purpose of a hybrid event?
The purpose of a hybrid event is to give everyone a chance to attend the event at their own convenience. Those who prefer to do so in-person can get to the venue while those who can't attend the event for whatever reason also get the flexibility to participate virtually.
3. What should I consider in a hybrid event?
Here are a few items to note before organizing your hybrid event as a broadcaster if you want it to be successful:
Treat both your live and virtual attendees equally.

Choose a virtual event platform that allows your virtual audience full engagement. 

Align your online and onsite material, such as graphics, to be consistent.

Choose an event platform that's easy to use for both your team and virtual audience. 

Have both technical and live support ready before the event.
4. What are the elements of hybrid events?
Here are a few core elements that will make for a successful hybrid event:
A good video streaming platform

Engaging content

Seamless registration process

A meeting scheduling tool

Marketing
5. How do you make a hybrid event?
Here are the steps to follow when hosting a hybrid event as a broadcaster:
Plan the in-person part

Plan the virtual part

Invest in equipment and tools

Choose an online video streaming platform

Configure your streaming setup

Do a test run

Start streaming
Final Thoughts
Hosting hybrid events is a great way to expand your reach. This sort of event allows you to cater to the needs of a local and remote audience. Understanding the ins and outs of hybrid events is quite valuable since they can be used for many use cases across a variety of industries.
While hosting a hybrid event requires a bit more planning and preparation than an event that is solely virtual or solely in-person, the results can definitely be worth the extra effort.
If you are looking for a platform to host your hybrid events, look no further. Dacast's live event streaming solution is the tool you need to reach an audience beyond your venue. 
Want to learn more about how Dacast can support you in hosting hybrid events? Take advantage of our 14-day risk-free trials to test out our powerful streaming features and see how Dacast can fit into your streaming setup.
Sign up today to start your free trial. No credit card is required.
For regular live streaming tips and exclusive offers, we invite you to join the Dacast LinkedIn group.