How to Create a Video on Demand (VOD) Platform for Business
Online video is exploding. If you're new to the game, the numbers are staggering.  In 2020, video streaming through apps was a $24.1 billion industry in the United States alone. That same market is projected to reach a staggering $42 billion by 2025.
Many businesses are monetizing their libraries of on-demand video content, whether it be a series of courses, fitness training videos, or entertainment. However, some businesses are using this structure to store a series of internal training videos and resources, as well.
In this post, we are going to cover the necessities for creating a video website before diving into the process of how to build a video on demand platform of your own. We will wrap things up by discussing the value of using a professional video platform to create your VOD solution.
Let's get started.
Table of Contents
What is Video on Demand?

5 Key Features of a Video on Demand (VOD) Platform for Business

White-Label Video Player

Simple Embed Process

API and SDKs for Easy Development

Cloud Video Transcoding Services

Video CMS

How to Create a Video on Demand Website in 6 Steps

Online Video Platform for Building a VOD Website

Conclusion
What is a Video on Demand Website?
Video on demand, or VOD for short, is a very valuable media distribution method for businesses and other professional organizations.
For businesses, the most common uses of online video are:
Internal updates or announcements

Training

Conferences and events

Marketing and sales

Streaming service (like Hulu or Netflix)
But exactly what is VOD and what is a VOD service? Video on demand is a system where viewers can access your library on content whenever they want, or demand, it.  It can be used to share information, attract new clients, monetize your creative projects, and more. Many broadcasters use video on demand websites to organize and showcase their on-demand content.
A VOD service is the platform that organizes and stores your video content. It's where your clients will go to see your content. 
If you want to create a video on demand website calls you will need for unique tools and features that can be found in most professional online video platforms (OVP). Of course, these needs ultimately depend on your video platform goals and usage.
Impact of VOD on Business in 2022
Much has been written about the effects of video on demand on the entertainment industry. There's a direct correlation because, like it or not, streaming giants like Netflix, Hulu, and Disney+, are all players in a market projected to reach $257 billion globally by 2029. 
But entertainment companies are not the only ones impacted by video on demand. Video is becoming an important tool for corporate teams as well. 
When virtual solutions became critical for so many people during 2020, companies were forced to consider new ways to use VOD to become more efficient. These might have represented temporary solutions once upon a time, but the world has adapted in the last two years. Many companies are finding that some virtual solutions simply work better. 
Let's take a business conference for example. Sure, there are tons of reasons that a virtual business conference will never have the same impact as two people meeting in the same room to exchange ideas. But live streaming the conference or building a video on demand website opens up the possibility for a limitless number of attendees from all over the country. 
Suddenly, an exponentially greater number of people have the time, resources, and physical ability to attend the business conference. That means even more ideas being exchanged, even more networking opportunities, and more money for event organizers. 
But it's not just business conferences that will be effected by the rise of VOD. Efficient CEOs will be looking for ways to use VOD to help disseminate information thorough out the workforce, which could replace training sessions, internal communications, and more. 
5 Key Features of a Video on Demand (VOD) Platform for Business
There are many VOD platforms on the market. They each have different sets of tools at different price points.
Here are five of the most important features to look for when choosing an online video platform for building a VOD website.
1. White-Label Video Player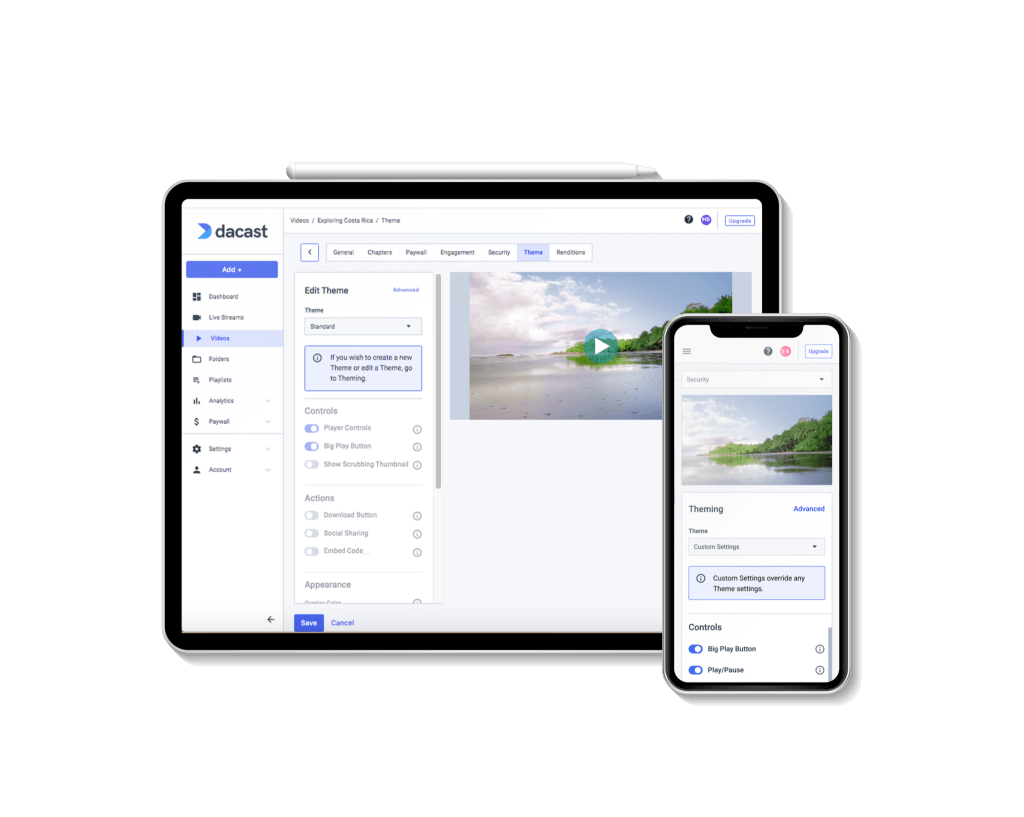 One of the most important features for creating a video on demand website is a white-label service. Simply put, a white-label video player does not include any third-party branding. The only logos and branding present on white-label video content are whatever you choose to include.
An all-device HTML5 video player typically has white-label capabilities and provides an on-brand appearance.
This is a much more professional approach compared to a consumer-grade video hosting platform, like YouTube, that has ads and YouTube's branding. Consumer-grade platforms are free because they run advertisements, and brand each video with their logo. In contrast, a white-label service ensures that your brand is front and center.
2. Simple Embed Process
Embedding a video on your website is a key part of building a VOD platform. Some platforms make this easy, while others have more complex embedding processes.
Embedding videos should be as simple as copying an embed code from your video host and pasting it into your website's backend. This process works with all major CMS providers, such as WordPress, Squarespace, and beyond.
Embedding your video to social media platforms is a possibility, as well. You can also simulcast your videos, which means streaming to multiple platforms simultaneously.
3. API and SDKs for Easy Development
As of 2020, most businesses are migrating to API-based workflows for online video. Video APIs, or Application Programming Interfaces, make custom development and integration possible. 
With video API, you can customize the video hosting experience. Another type of API, player API, gives you the power to further customize your video player.
APIs are essential in the modern workflow for video projects that are more complex than simple uploading and embedding.
According to Streaming Media, "The video workflow and distribution environment are incredibly complex, and the way to build a best-of-breed system or even just gain finer control over tasks—especially when delivering video at scale—is by API."
Software Development Kits are similarly important. SDKs simplify the process of developing mobile apps and services for different platforms. Building a mobile app opens the potential to grow your subscriber base substantially. Video platforms for businesses should ideally include both APIs and mobile player SDKs to make your custom development easier.
4. Cloud Video Transcoding Services
Most modern video cameras record in different sizes and formats. Additionally, those who view your videos also need to watch in different video sizes due to varying internet speeds and device capabilities. Some of your viewers are likely using cell phones with slow internet connections, while others are on fast connections and large, high-resolution screens.
Meeting the needs of viewers and standardizing viewing formats presents some technical challenges. Cloud video transcoding solves this problem, by creating multiple "renditions" at different bitrates for viewers with different internet speeds.  
When combined with an adaptive video player, this will allow you to upload any video, click one button to transcode to multiple renditions, and serve it to your viewers in the appropriate adaptive bitrate automatically.
5. Video CMS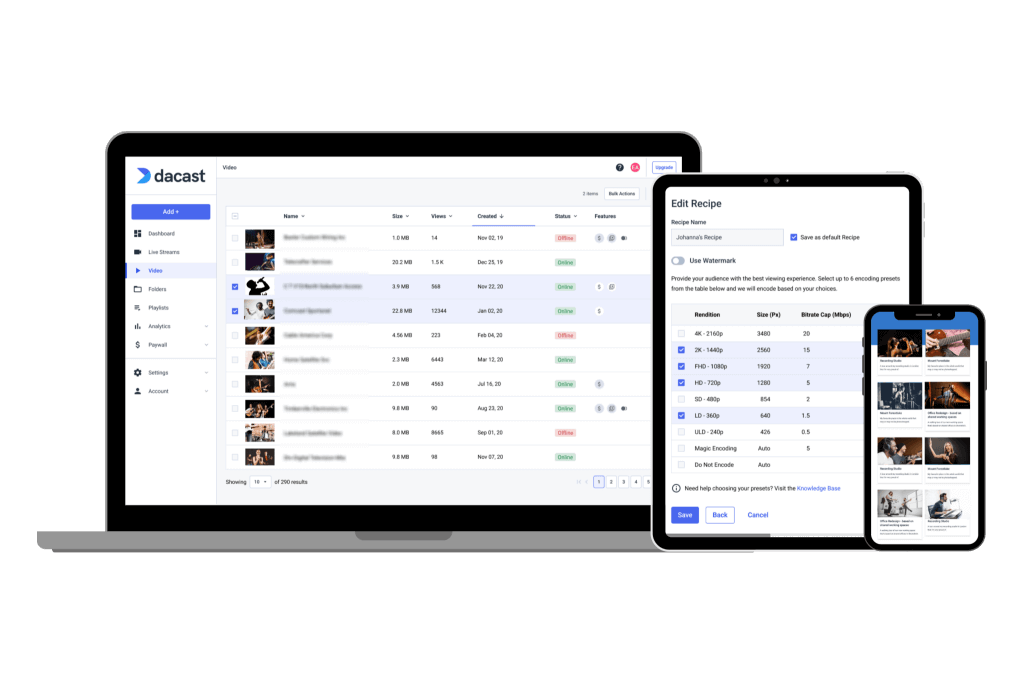 A broadcaster needs a centralized interface to host and manage content. The best tool for organizing and managing your content is a video content management system (CMS). 
Your video CMS will allow you to sort videos into different categories or tags or folders. It also makes your content searchable, making it easy to perform bulk actions on multiple videos. It is particularly valuable if your VOD platform allows you to provision multiple users with different permissions for managing, uploading, and publishing content to your account.
How to Create a Video on Demand Website in 6 Steps
Now that you're familiar with five of the top features for creating a VOD website, let's discuss how to create one for your business or organization with the support of an online video platform. 
1. Plan and Strategize
Before you built a VOD website, you need to develop a solid strategy. Identify what you're trying to achieve. Who are you creating content for? It's important to have a clear answer to that question.  It is very important to get very clear on who you're creating content for.
Plan out your content with your target audience in mind. Map out your video series, write scripts, and figuring out what sort of equipment you need. You need to have a decent idea of what you're going to do before you get started.
At this stage you should also work out who you'll need to hire for filming, acting, editing, directing, and web development.
2. Produce Your Content
Once you've got everything planned out, it is time to produce the content for your VOD website. Depending on your goals, you may want to release a large number of videos at one time, so this step could take several weeks or months.
You may be planning a full scale theatrical production with a cast of actors, complicated set and costume design, and multiple camera angles. Or, you might be planning a simple information series where one person talks to a camera casually. 
Generally, content production starts with scriptwriting. You might have professionals from your brand or organization "star" in your content, or you could hire paid actors. The way you approach this will depend on the type of content you create.
Some companies start generating content by recording virtual events and live streams. Uploading previously live content as a VOD file is a great way to repurpose your content.
3. Develop Your Website
Your VOD content needs a place to live, so you'll need to develop a website. You can either build a section on your existing business website, or you can build an entirely new website.
Building a new website is a good idea to keep things better organized. This could also elevate the viewers' experience.
If you decide to build a new website, you can either hire a contractor to develop it or leave the responsibility to a skilled and experienced member of your team. You will want your site to be professional, on-brand, and easy to navigate. It is a good idea to have an experienced developer build your site, rather than take a DIY approach, to ensure the best results.
4. Upload Your Content
Once your content is ready to go, you'll want to upload your content to your video hosting platform. You'll want to choose an online video platform that offers secure upload.
If you're uploading batches of large video files at once, you'll want to check if your OVP offers FTP upload.
Many OVPs allow users to upload content to playlists to create series. This is great for streaming different series of content and keeping your content well-organized.
5. Embed Your Video Player
After you've uploaded your content to your OVP, it's time to embed your video player on the website you developed in step 3.
Most online video platforms give broadcasters the option to manually embed a video player in a website using embed codes. There are two types of embed codes available: JS (Javascript) and iframe.
JS embed code is more universally compatible with the full-screen feature. The JS embed code is also a requirement in order for the URL referral restriction feature to work. That said, the iframe embed code is more compatible with some website hosts, including WordPress and Wix.
Copy your chosen embed code and insert it into your website. Find the place on your site that you'd like to embed the video player. Open the HTML editor, and paste the embed code that you copied from your OVP.
Preview the changes to make sure the code is working properly.
By either using domain restriction or signed embed codes, you can also share videos privately to ensure that your videos are only accessible on websites you own.
Test all of your embedded video players on your new VOD platform to make sure everything is ready to go when your viewers access the content.
6. Promote Your VOD Website
If everything runs smoothly during your test runs, it is time to promote your VOD website. Your promotion methods will depend on the purpose of your content.
For internal content, your "promotion" will be more of sharing the link to your website with the members of your team that need to see it.
However, if you're monetizing your on-demand website and making it a VOD streaming service, you're going to want to put more time and energy into marketing and advertising your site.
Online Video Platform for Building a VOD Website
When you're building a VOD website, using a feature-rich online video platform (OVP) will help streamline the process. 
Bottom line, free consumer-grade streaming platforms won't suffice due to a plethora of drawbacks. The branding doesn't center your business, recommended videos distract users, and SEO benefits won't accrue to your site. Social video platforms are simply not designed for professionals. They can be useful as part of an integrated strategy that includes a professional video platform.
Choose a platform that includes API access to customize your experience and a global content delivery network (CDN) to deliver content rapidly and reliably.
Today, there are tons of online video platforms on the market to choose from. Take a look at our online video platform comparison post to review the top options available. 
Conclusion
Video streaming is a powerful tool for modern businesses. At the same time, knowing how and where to start can be intimidating. That's why we've covered some of the necessary features in a video on demand platform and how to use those tools to build a video on demand website of your own.
Dacast has been named the best SMB video platform for two years running. In addition to the features discussed in this article, Dacast includes a variety of powerful tools for monetization, analytics, and more.
We also offer a range of professional services to help you get your business VOD platform up and running. You can check out our live streaming pricing plans to learn more.
With that in mind, are you ready to give the Dacast streaming solutions a try? If so, just click the link below to get free streaming for 14 days. You can be ready to stream live video in a matter of minutes. No credit card is required.
Finally, if you have further questions or thoughts, please contact us via the chat feature below. Are you looking for more live streaming tips, industry networking opportunities, and exclusive offers? If so, you can also join our LinkedIn group.
Thanks for reading, and happy broadcasting!
Subscribe
Stay up to date with our latest features and product releases