Comparing the Top 5 Restream Alternatives for Simulcasting in 2021
Broadcasters call on the help streaming software to help them enhance their online broadcasting experience. They might use this type of tool to edit their videos, stream to multiple platforms, or improve audience engagement.
Restream is a popular streaming software that broadcasters use for all three of these functions. This tool is definitely useful in the online video space, but it is simply one of many.
In this post, we're going to share everything broadcasters need to know about Restream. After we provide an overview of the company, we'll talk about how Restream compares to professional video hosting platforms, like Dacast. We will also discuss whether or not users can use Restream alone or if it works best alongside a professional platform.
To wrap things up, we will provide a list of Restream alternatives for simulcasting and similar broadcasting functions.
Table of Contents
What is Restream?

Restream vs. Dacast: A Comparison

Shared Features Between Restream and Dacast

How is Dacast Different?

How is Restream Different?

Can Restream Be Used on Its Own?

Comparison of the Top 5 Restream Alternatives

Final Thoughts
What is Restream?
Restream is a video streaming software that is used primarily for simulcasting. As a refresher, simulcasting is broadcasting one live video to multiple platforms at once. This is used to reach larger audiences and tap into existing followings on popular social media platforms.
These simulcasting functions are made possible thanks to native integrations with other popular streaming software, including OBS Studio, XSplit, and more.
In addition to simulcasting, Restream offers tools for tracking viewership, editing streams, and adding a chatroom to your stream. 
Restream has pricing plans for both individual creators and larger organizations, starting with a free option and ranging to an advanced plan that costs $249/month. Plans at that rate are billed annually, but broadcasters can opt for a month-to-month contract with a slightly higher rate. There are also custom plans available for enterprise use.
Restream vs. Dacast: A Comparison
Restream and Dacast are two valuable tools for broadcasters. As we mentioned, Restream is a video streaming software. Dacast, on the other hand, is a video hosting software. 
These platforms have a bit of overlap in features, but they each have a different function in the live streaming process. That said, Dacast is not a Restream alternative but more of a Restream complement. 
Shared Features Between Restream and Dacast
As we mentioned, Restream and Dacast have several features in common. Let's take a look at the offerings that both platforms share.
Simulcasting
Simulcasting, which is also called "multistreaming," is a very valuable tool for broadcasters. It is what allows them to maximize their viewership by reaching a larger audience. 
Since Restream is a simulcasting tool, its simulcasting feature is its strength. Broadcasters can share their streams on dozens of streaming platforms at a time, including Facebook, YouTube, Twitch, Twitter, LinkedIn, and more. Dacast supports some simulcasting natively, but the full potential can be unlocked by integrating a dedicated tool, like Restream.
Stream Scheduling
Broadcasters can schedule streams ahead of time with both Restream and Dacast. On Restream, you can upload a video to be played at a certain time. On Dacast, you can do that, or you can schedule your streams.
Video Analytics
Both Dacast and Restream offer powerful video analytics tools. This comes in handy for businesses and creators that want to track their audience's behavior and assess the performance of their videos. Analytics is especially useful for sales and marketing.
On Dacast, analytics reports provide information on concurrent viewers by time, plays by time, playtime per time, and plays by location. On Restream, you can see which platform is bringing the most traffic to your stream and a chart of viewership trends throughout a stream. Restream also produces analytics on audience trends and preferences.
White-Label Streaming
White-label streaming is important for broadcasting at the professional level because it allows broadcasters to remove distracting third-party branding. Fortunately, both Dacast and Restream support white-label streaming through an HTML5 video player.
Please note that Dacast offers white-label streaming on all plans, but Restream does not.
HD Streaming
Both platforms support HD streaming, which means that they are both good options for delivering high-quality broadcasts to your customers. The ability to stream in HD can help maintain a great user experience.
Low Latency Streaming
Latency is the delay between the time a video is captured and the time it reaches the viewers. Both platforms are capable of low latency streaming, but Restream may add as much as 2 seconds of extra latency. 
Live Chat
The live chat tool on Restream is one of the most notable features of the platform. Dacast also recently rolled out a live chat tool with the help of a new partnership with RumbleTalk.
Streaming Protocols
Several protocols make live streaming possible. RTMP is a protocol that is important for both Restream and Dacast. Both of these platforms use RTMP ingest as a primary ingestion method, which means that they work with RTMP encoders and other RTMP-compatible sources.
WebRTC is a protocol that is relevant to both platforms because it is the protocol that makes webinar-style streaming and web conferencing possible. Dacast integrates with Zoom to bring web conferencing functionality to users, and Restream allows up to 10 broadcasters to present at once with a similar format. 
SRT is another important protocol for broadcasting. It is what makes streaming from the browser possible. Restream currently supports in-browser streaming, and it is a feature that Dacast plans to roll out down the road.
How is Dacast Different?
Dacast is an end-to-end professional video hosting platform, so its offerings are a bit more advanced than Restream. This is not to say that it is better than Restream, it just has some different functionalities.
Since Dacast is a video hosting platform and video content management system (CMS), it is fully equipped with the tools that broadcasters need to store, manage, organize, and deliver video content. 
With Dacast, broadcasters can monetize their video content with subscriptions, advertisements, or pay-per-view with the help of a secure paywall. Video players are customizable with easy-to-use standard settings and player API. 
Dacast users also have access to advanced video security features, including password protection, DRM, tokenized access, IP/geographic restrictions, and domain/referrer restrictions.
Dacast's customizable HTML5 video player is easy to embed on any website or app and many social media platforms. If you want to launch your video business, that is possible, too. Dacast Expos allow you to set up a viewer-facing video gallery in just a few clicks.
How is Restream Different?
Restream is designed to complement platforms like Dacast, so naturally, there are a few differences to note. 
First, the main purpose of Restream is simulcasting support. While Dacast has simulcast streaming capabilities, Restream makes it possible to stream to over 60 platforms at the same time. Without the support of an external tool, Dacast can stream to a small handful.
Something else that Restream offers that Dacast does not is video editing. Restream has an online studio that helps broadcasters add backgrounds, overlays, and more. Again, Dacast has some limited support for overlays and such, but Restream has access to more creative tools.
Last but not least, Restream offers a chat tool. This allows broadcasters to add a chat room to their live streams. This is great for getting viewers involved and promoting engagement. Dacast 
Can Restream Be Used on Its Own?
By now, you've likely gathered that it doesn't have to be an "either/or" situation when it comes to Restream and Dacast. The two platforms can be used together.
In fact, Restream does not support video hosting, so you need to use it alongside professional hosting software. We recommend storing and managing your videos on a platform like Dacast and using Restream to tap into those additional features. 
Comparison of the Top 5 Restream Alternatives
Restream is regarded as an impressive simulcasting and chat tool, but like any similar software, there are other worthy alternatives on the market. 
Let's take a look at a few Restream alternatives.
1. Wirecast
Wirecast is a streaming software from Telestream that supports live stream capture, editing, and streaming to an unlimited number of destinations. 
The advantage of this platform over Restream is that it comes with several extra features, including auto-archiving, remote production, playlists and organization, access to a stock media library, and social media integrations.
This platform is a bit advanced and its price reflects that. Wirecast comes in two tiers: Wirecast Studio for $599 and Wirecast Pro for $799. This is a one-time payment, so you don't have to worry about paying monthly or annual subscription fees.
For more information on how to simulcast on Dacast through Wirecast, please check out our dedicated tutorial.  
2. Switchboard Live
Switchboard Live is another reliable simulcasting platform. It supports streaming to several destinations. It also has tools for video player embedding. 
This platform is not equipped with a studio for editing, and it does not support live chat. It is much more basic than Restream and other alternatives.
Switchboard Live has three different pricing plans. Their Indie plan is $35/month and it supports streaming to 3+ destinations. The Pro plan is $99/month and it supports streaming to 5+ destinations. The most inclusive plan is the Business plan and it supports streaming to 10+ destinations. 
For more information on how to simulcast on Dacast through Switchboard Live, please check out our dedicated tutorial.  
3. Castr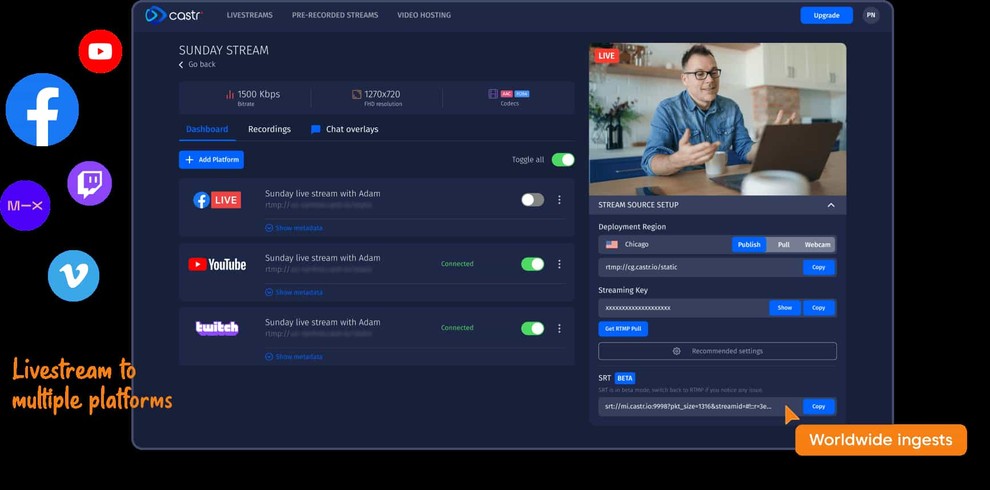 Castr offers two products for broadcasters. One is a simulcasting tool and the other is live streaming and video hosting platform. There are separate fees for each of these products.
The Castr product that would be considered a Restream alternative is their simulcasting tool. What makes Castr different from Restream is that it offers multiple kinds of ingesting, rather than just RTMP ingest. The other types of ingesting that Castr supports are RTSP, HLS, and MPEG-TS.
Another unique thing about this platform is that it allows streaming to multiple Facebook pages, groups, and profiles at the same time.
One of Castr's most valuable features is 24/7 support. Additionally, all plans are totally white-label, so you don't have to worry about any third-party branding causing distractions to your content.
Castr has five multistreaming plans:
Basic: $9.99/month

Plus: $14.99/month

Premium: $39.99/month

Business: $109.99/month

Enterprise: Enterprise plans are totally customized, so prices vary.
4. Splitstream
Splitstream is another simulcasting tool that is a worthy Restream alternative. This tool is pretty bare-bones, so it is best suited for broadcasters that need simulcasting tools, and only simulcasting tools.
They offer basic free accounts plus three paid plans. Their Standard plan is $9.99/month and it supports streaming to up to 15 platforms at once. The Pro plan is $29.99/month and it streams to 30 platforms at once. The most inclusive plan, the Pro+, costs $59.99/month and streams to 50 platforms at once.
5. Prism Live Studio
Prism Live Studio is a Restream alternative that focuses primarily on video editing and production as opposed to simulcasting. This platform does support simulcasting, but it is not the main function.
This platform is a bit more limited than the others because it only offers multicasting to YouTube, Twitch, Periscope, Facebook, afreecaTV, V LIVE, and NAVER TV.
Broadcasters can access Prism Live Studio on both mobile and desktop apps. No pricing is published on the site, but the app can be downloaded for free on the App Store and Google Play Store.
Final Thoughts
Although there is some overlap between Dacast and Restream, the two platforms work very well together. Many Dacast users opt to simulcast on Restream and the Restream alternatives that we've mentioned because they open up greater simulcasting capabilities.
Do you have more questions about simulcasting? You can research out to our knowledgeable support team for more information.
In the meantime, feel free to check out the Knowledgebase section of our website. A quick search for "simulcast" will pull up several articles to get you started.
You can also try out our platform and test all of our professional broadcasting tools risk-free for 30 days. No sign-up fees or credit cards are required.
Also, we invite you to join our LinkedIn group to connect with industry experts and to open a dialogue about simulcasting and other broadcasting techniques.
Subscribe
Stay up to date with our latest features and product releases