Virtual Graduation Live Streaming: What You Need to Know [2023 Update]
Schools use live video broadcasting for many things, including remote learning for students, and live streaming sporting events and theater productions. 
Since the coronavirus outbreak, students, high schools, and universities have been forced to step into a "new normal". That meant most teaching happened over a zoom call, and students maintained social distance over the past academic year. Still, schools tried to give graduating seniors and their family members the commencement ceremonies they've worked hard for. One way institutions can do that is with virtual celebrations such as a virtual commencement ceremony, online graduation ceremony, or even a hybrid graduation.
Dacast and other professional streaming platforms provide the tools schools need to produce high-quality virtual graduation ceremonies live streams. Virtual events hold just as much importance now that we're in 2023, helping remote students join in and contribute to the diversity of any institute.
Today, we're going to discuss the ins and outs of how to host a live stream graduation ceremony virtually. We'll introduce you to the basics of streaming live video online, including the broadcasting platform and equipment you'll need, technical requirements, and how to promote your live stream graduation.
We will wrap things up by discussing the role of professional streaming software in hosting a top-notch virtual graduation ceremony. We will also cover 10 top streaming solutions for hosting your online ceremony.
Table of Contents
What is

Graduation Live Stream

ing?

How Do Virtual Graduations Work?

How to Live Stream a Graduation: The Basics

Filming a Graduation Ceremony: Equipment Considerations

Keep Your Setup Simple

How to Promote Your

Graduation Live Stream

Choosing a Virtual Graduation Platform for Your Graduation

Top Streaming Software for Online Broadcasting

Conclusion
What is Graduation Live Streaming?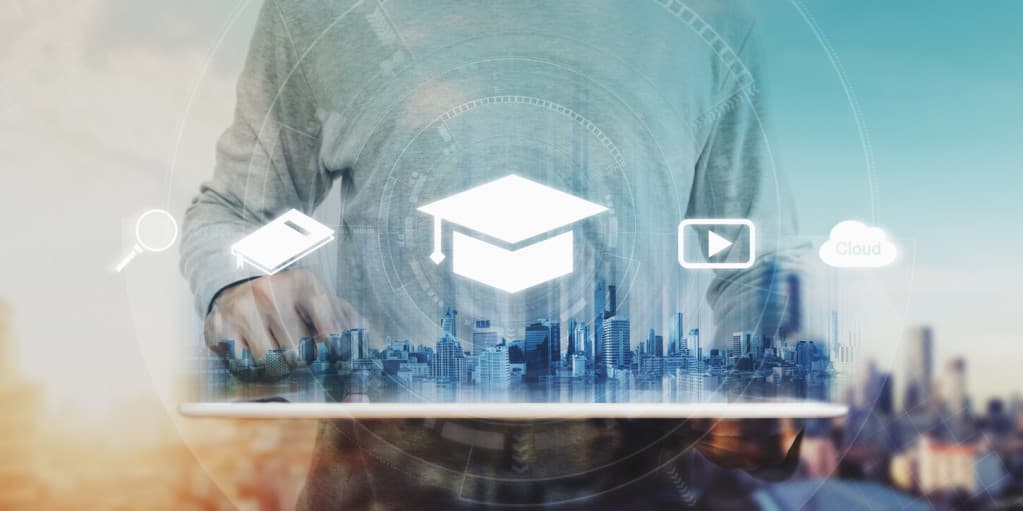 Students work hard for several years to earn their degrees, and a graduation ceremony is used to commemorate this magnificent accomplishment.
Unfortunately, many 2023 graduating students cannot walk across the stage to receive their diplomas because of travel restrictions or long distances. High schools and universities are making significant efforts to transition from entirely in-person graduation ceremonies to blended and virtual graduation ceremonies for students.
A virtual graduation ceremony comes in a few forms, but it's simply a graduation live stream broadcast over the internet. This form of a hybrid graduation ceremony is an alternative or supplement to an in-person event when students can't attend. The real-time component makes live streaming the graduation ceremony feel more "real" than simply recording the ceremony for the students later viewing.
A major perk of live streaming graduation ceremonies is that it allows students, family members, or friends of the graduating class who wouldn't have been able to attend the ceremony in person to see it on the screen in real-time. This stands true even when social distancing is not required like it was in 2020 and 2021. 
Be it a graduation parade, commencement ceremony, or hybrid graduation. Hosting virtual and hybrid events means loved ones of international students also get to become part of the online event and favorite memories.
How Do Virtual Graduations Work?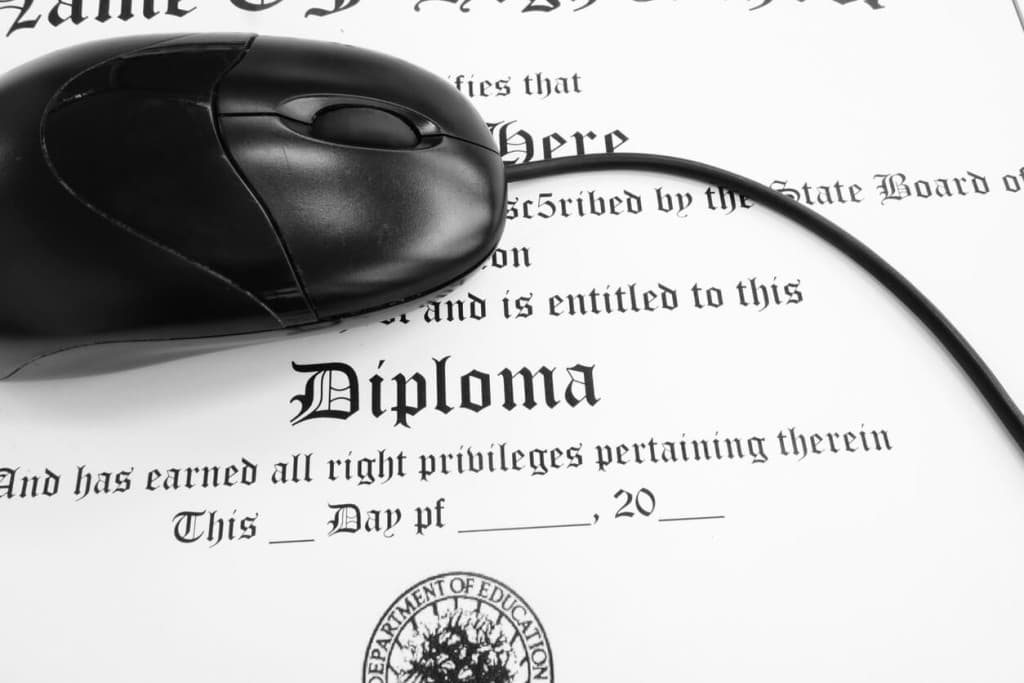 As we mentioned, virtual graduations work by recording the different parts of the graduation and live streaming them to students and their loved ones.
Some schools opt to have graduates' names projected in a fashion similar to the ending credits of a movie. Others announce each name individually with photos of the students. A handful of schools invite students to submit a slide or short videos to be played after their names have been announced. Regardless, tossing that graduation cap after finishing senior year is a moment all students look forward to, even if all classes happened over a zoom call over the past year.  
In addition to the announcement of the graduating students and honor graduates, there are typical addresses given by students, deans, presidents, trustees, and other guest speakers. With the proper planning and setup, all these elements that make up successful graduation ceremonies and commencement ceremonies can be carried into the making of a virtual ceremony or hybrid graduation. 
The official social media page is a great tool to hype students up for graduation day. Get creative students to design a special landing page for the website with messages from former students, alma mater, or students doing well in their respective fields. 
Social media pages can be used in addition to the institution's official website to invite attendees. Senior photos or pictures from the photo booth from graduation day and clips from the talks delivered by the guest speakers make great content for social media channels. 
Blended events allow some students and guests to attend while still making it available online as a live stream. It's becoming more popular as COVID restrictions loosen up in some places. It allows attendees to choose in-person or remote attendance.
How to Live Stream a Graduation: The Basics
Planning graduation is a major feat in and of itself, but making it virtual is not overly demanding.
You can easily broadcast your virtual graduation or commencement ceremony as long as you have the right equipment and software for professional live streaming. 
You can set the stream to pre-record and view the graduation video at a later date. Or, high school graduates can choose to share clips or group photos on their social media wall or Instagram stories. 
Just like an in-person ceremony, there is a lot of preparation involved. You'll want to plan the sequence of the important event and organize your speakers. For simplicity's sake, some parts of your video may be pre-recorded, especially if you have speakers or students conferenced in from different locations.
The streaming solution you choose will depend on how you plan to set up your virtual graduation in terms of the number of cameras you will use, whether or not you'll use pre-recorded content, etc. It will also depend on how many viewers you anticipate.
Filming a Graduation Ceremony: Equipment Considerations
You can't host a successful graduation ceremony over a Zoom call. But with professional streaming equipment and the right setup, even low-tech users can learn how to stream commencement ceremonies online over the internet.
The ability to stream live video has greatly changed in recent years. That's partly due to ever-faster internet speeds and the availability of high-definition cameras for mainstream users. Today, live online video streaming is not only feasible but also affordable.
Let's take a minute to discuss some of the video capture equipment that will help you broadcast a high-quality virtual graduation ceremony or commencement ceremony.
Camera
Video cameras for live streaming are essential, ranging from simple webcams to expensive professional video cameras.
For streaming a graduation ceremony, webcams will get the job done. However, you may want to look into the specifics of what you want to do in the way of multiple viewpoints and zoom focus. A more advanced camera would be necessary if you are looking for a more professional-looking live broadcast.
Audio Recording
The audio streaming component is one of the main challenges when recording events like a commencement ceremony or graduation ceremony.
For live streaming purposes, lapel microphones capture higher-quality audio than a camera's built-in microphone and are quite affordable.
When planning your audio setup for an in-person ceremony, you may have to experiment with other audio recording options to avoid picking up any crowd noise. The same applies to a virtual event.
Equipment Staging
To successfully stream graduation ceremonies, you'll also need a location to stage your equipment while you film. That includes video cameras, tripods, a computer or encoding device for live streaming, cables, storage cases, and other gear.
Encoder
An encoder is an important tool for live streaming. It converts the camera captures into a format to broadcast over the internet.
You can choose between a hardware or software encoder. We suggest exploring the different options between the two. Encoding software, such as Wirecast or vMix, also lets you do many things to control your broadcast's appearance. For example, you can switch from one video feed to another, add lower thirds, and insert other graphic embellishments.
For more information on encoders, please check out our hardware encoder vs. software encoder comparison.
Keep Your Setup Simple
If this is your first venture into graduation streaming, it makes sense not to try to get too fancy.
You need to be able to show wide views of the whole graduation ceremony and close-ups of the speaker and of the graduating students in addition to adding text to the video. 
The more complicated the video, the more things can go wrong. So keep it as simple as possible.
Testing the video streaming setup and process lets you identify holes in your arrangement and correct them before the event itself.
How to Promote Your Graduation Live Stream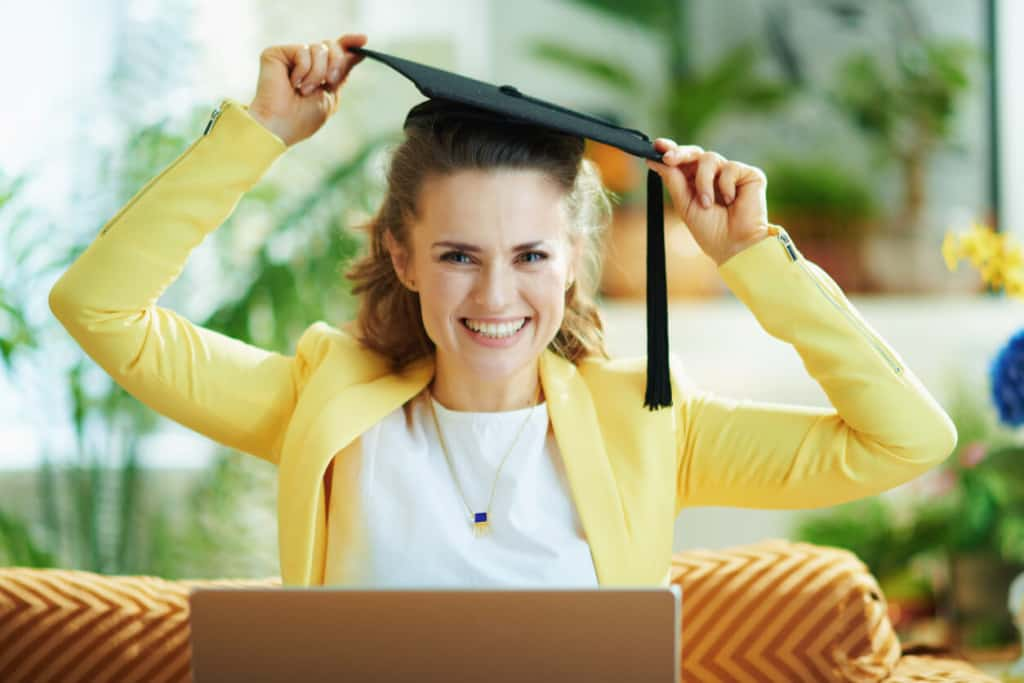 Since virtual graduation is a special event with a limited audience, you'll use unique promotion methods.
You'll want to notify teachers, students, and their families. A great approach to this is to let the graduating students name and provide email addresses for a set number of people they'd like to invite.
The email you send to invite viewers to the virtual graduation ceremony should include a link to the website where the video will stream.
The invitation should be sent out at least a week before the graduation, with a final reminder the day before. A countdown timer on the website itself is also a good idea.
Choosing a Virtual Graduation Platform for Your Ceremony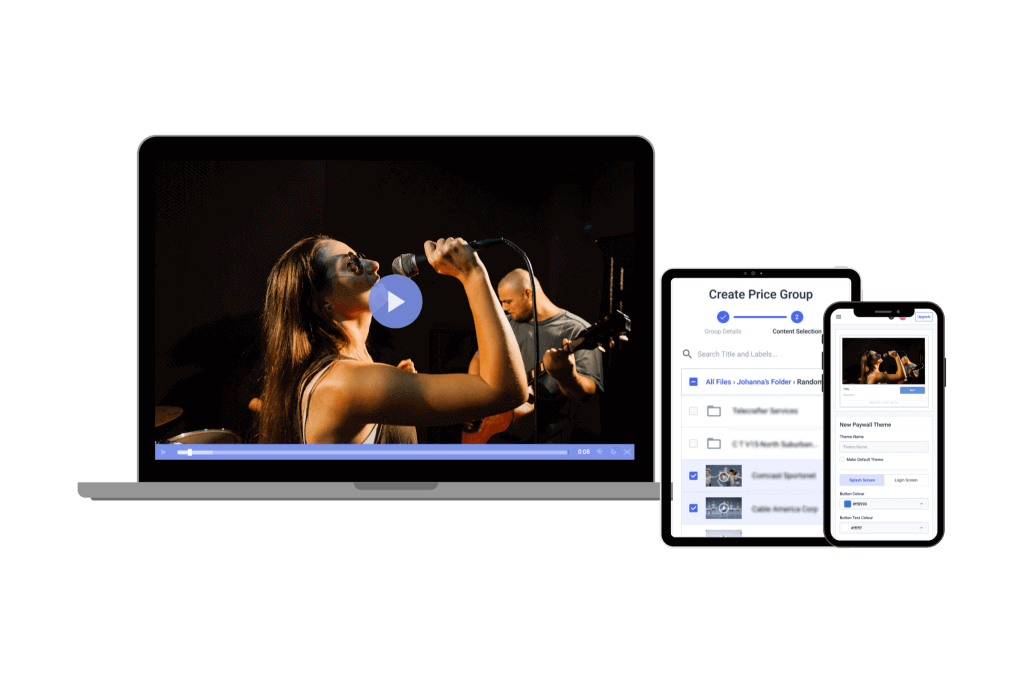 Finally, you'll want to consider a live streaming video hosting service for your commencement ceremony or graduation ceremony live stream. Your online video hosting platform can make or break the quality of your virtual graduation.
There are many different streaming platforms out there, and it pays off to research features, cost, and technical support.  
Several white-label hosting platforms (including Dacast, Brightcove, and JW Player) specialize in hosting live streaming video. These services offer codes for embedding the video in other sites, which is handy if you want to live stream your virtual graduation from your website.
Broadcasters can access advanced customization, including integrating comment and chat sections or restricting the content from appearing on a public portal.
Top Streaming Software for Online Broadcasting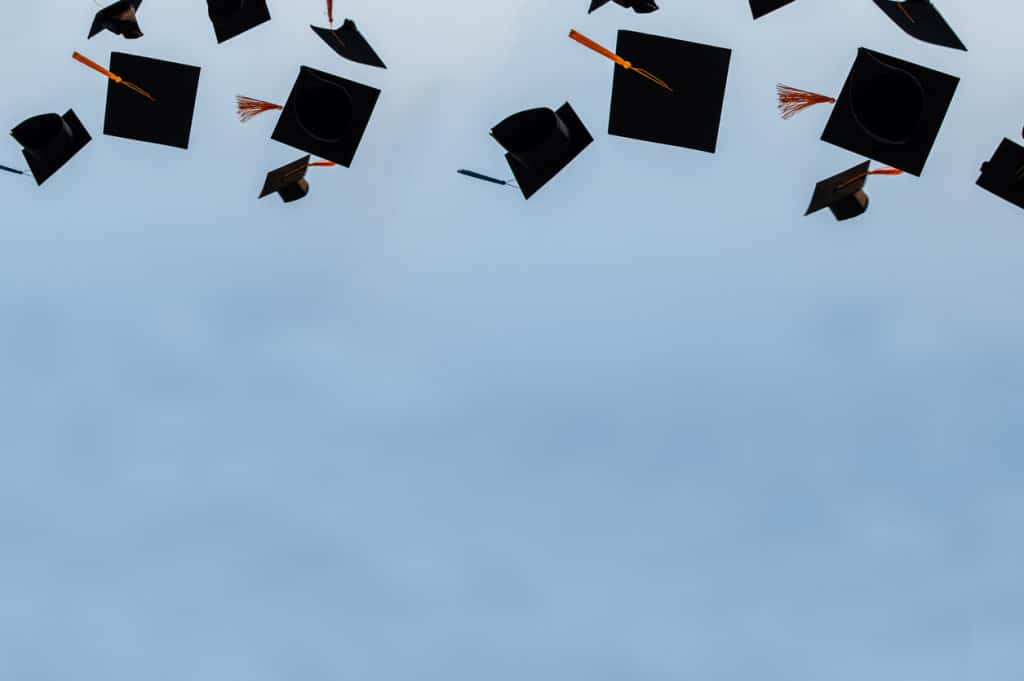 While there are many video streaming software solutions on the market, you want one that offers the tools you need to host a virtual graduation event online.
Although graduation is hosted by a school and is related to students' education, a streaming solution with an emphasis on virtual events is more valuable than one with an emphasis on education. Education-focused streaming solutions are designed to aid in the classroom or for remote learning.
With that in mind, let's dive into a few top virtual graduation software solutions for live streaming graduations.
1. Dacast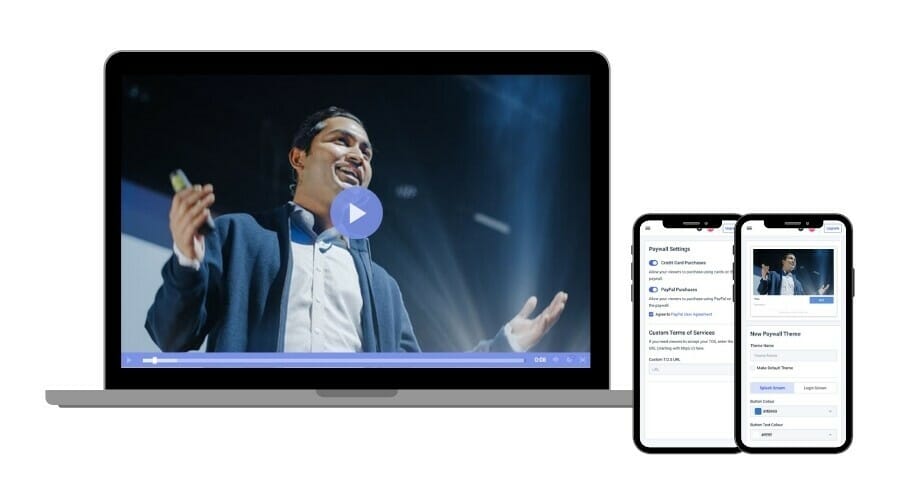 Dacast is a powerful live streaming platform that offers grade-A security features, top-tier content delivery, white-label video players, customization with video and player APIs, and more.
It is the perfect solution for broadcasters who want to create a memorable virtual graduation experience for their soon-to-be alums and students.
Dacast offers advanced features that require little to no know-how. 
Basic Functionality:
Dacast offers both live streaming and professional video hosting. You can purchase monthly plans for regular streaming, but we also offer special pricing for one-time events.
Key Features:
New!
Pros:
Cons:
The large range of features can be overwhelming at first 
Pricing:
Although we have several set-priced plans, starting from $39/month. Pricing plans include:
Starter plan

: ideal for newcomers with 1,000 TB of bandwidth and 50 GB of storage per month, at just $39 per month billed annually.

Scale plan

: includes 24 TB of bandwidth per year, with 1 TB of storage for $188 per month billed annually. These Scale pricing plans add phone support, a monetization paywall, an M3U8 online player for live channels, ad insertion, a white-label video player, and video API access.

Event plan

: for organizations who'd rather not sign a contract and want to purchase bandwidth separately to

live stream an event

. It offers 6 TB of bandwidth upfront, 50 GB of storage, and costs just $63 per month (or $750/year). Additional data and storage can be added as needed.

Custom plan

: if your enterprise business has high-volume streaming needs, you can contact Dacast for a custom plan tailored to your needs.
We also offer custom event pricing for one-time events or short series of events. Please contact us to learn more.
2. JW Player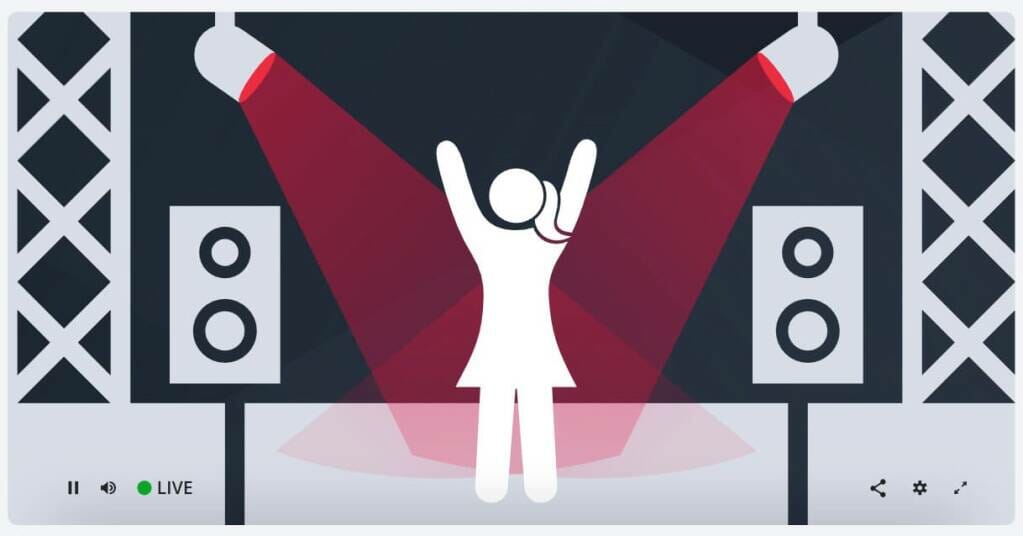 JW Player is a video-on-demand and live streaming hosting solution launched in 2005. This solution is unique as it was part of the open-source code that contributed to the first video player on YouTube.
This video hosting platform offers custom pricing for plans with live streaming features, so you can build the package you need to host your virtual graduation.
Basic Functionality:
JW Player is primarily a VOD hosting solution, but it has begun offering live streaming services in recent years.
Key Features:
Multi-bitrate streaming

CSS skinning

Adaptive video player

Powerful content delivery

Video API access

DRM with Enterprise Plans
Pros:
HTML5 video player

Easy-to-use platform

Advanced customizations for developers
Cons:
No content delivery to China 

Best for institutions with a larger budget

Limited privacy and security features

Support only available with most inclusive plans
Pricing:
JW Player has several plans, including a Free plan and a Starter plan. However, to access live streaming features, you will need a custom Enterprise plan. Their three pricing plan tiers include:
14-day free trial

: Full API and SDK access with a non-commercial license, 25 GB hosting bandwidth, and 75 GB streaming.

Starter plan

: HTML5 video player and video gallery, plus 150 GB hosting bandwidth and 50 GB streaming (50,000 plays) per month. $10/month, billed annually

Enterprise plan

:

Custom-priced

and designed for businesses requiring high-volume storage and streaming. Enterprise plans support live streaming, while the lower pricing plans only support on-demand video.
Contact JW Player for a quote.
3. Wowza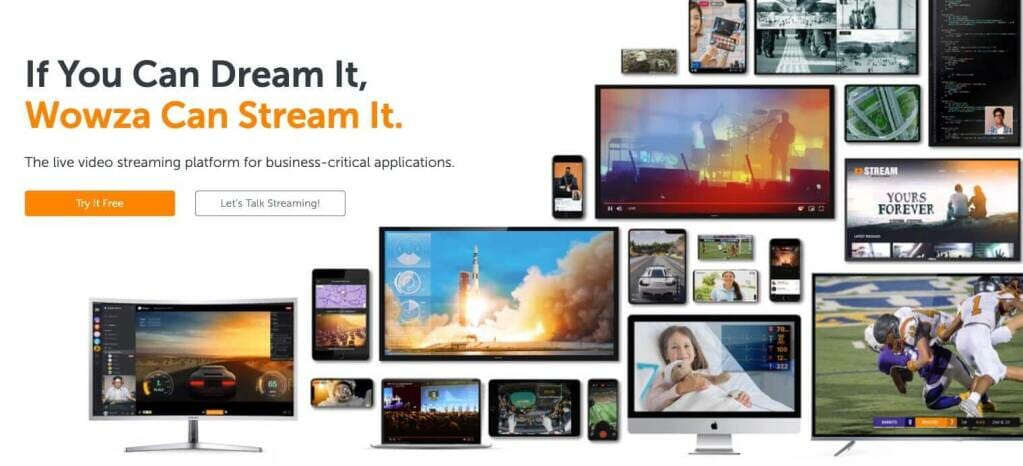 Wowza is a video hosting platform dating back to 2005. This platform offers hosting for both live and on-demand video content. 
This solution is great for smaller schools, high schools, and institutions because they have budget-friendly event plans.
Basic Functionality:
Wowza offers solutions for live streaming and VOD hosting.
Key Features:
High-definition streaming

Customization with APIs

Live streaming and video on demand
Pros:
Top-notch privacy

Nearly universally supported on different devices

Event live streaming
Cons:
No multicasting (unable to stream to multiple places at once)

Single-camera feeds

No analytics tools
Pricing:
Wowza Streaming Cloud offers three distinct pricing plans and services. Within Live Event Pricing, monthly plans include:
Basic

: $99/month and includes 20 hours of live streaming and 1,000 viewing hours based on a video resolution of 720p

One Month Event

: $149 one-time purchase and includes 20 hours of live streaming and 1,000 viewing hours also at 720p

Plus

: $499/month and includes 150 hours of live streaming and 7,000 viewing hours based on a video resolution of 720p
All of these Live Event plans include full brand control, multi-bitrate streaming, and HD and UHD streaming.
The Wowza Streaming Engine has its own pricing plan packages. These professional-grade streaming plans are billed annually and include:
Basic

: $125/month + $145/month for each additional instance and $125/month for each additional prepaid instance

One Month Event

: $245/month + $155/month for each additional instance and $95/month for each additional prepaid instance

Enterprise

: Please contact Wowza directly for access to their custom-tailored high-volume

enterprise solutions
The One-Month Event Plan is the best way to broadcast virtual graduation.
4. IBM Cloud Video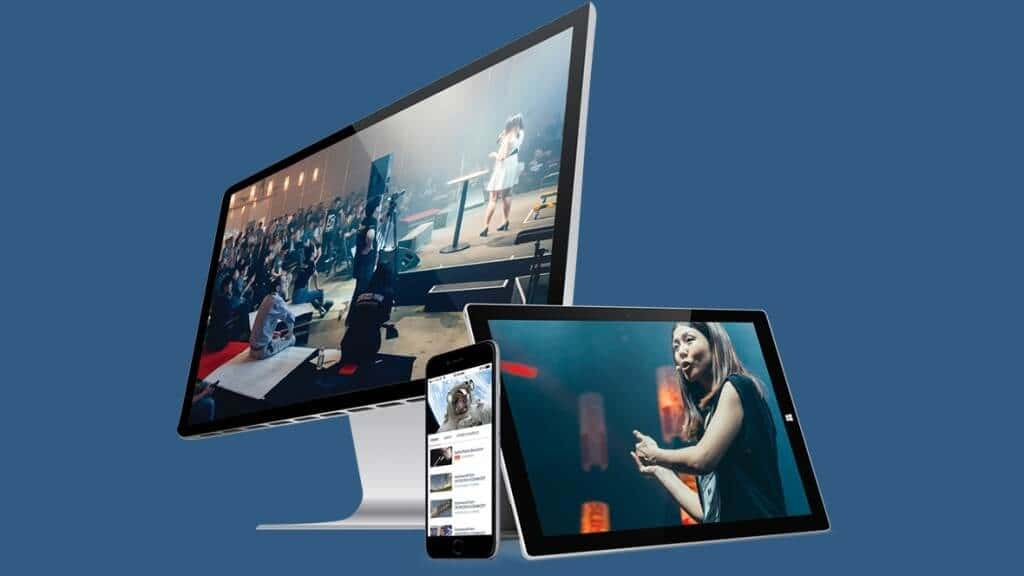 IBM Cloud Video, built upon the technology formerly known as UStream, is a unified streaming solution. The platform offers many powerful features for virtual event streaming.
Native features include webcasting, content management, password protection, worldwide delivery, cloud transcoding, and HD streaming. 
Basic Functionality:
IBM Cloud Video provides a wide range of live and on-demand video streaming tools.
Key Features:
A highly comprehensive streaming platform

Reliable customer support

Content delivery via internal server

Suited for larger organizations and large-scale streaming

Wide range of powerful features
Pros:
Reliable platform

Perfect for large event streaming (like virtual graduations)

Great customer support

Fully equipped with the features that broadcasters need

Hong Kong (China) video hosting
Cons:
Some important features are only accessible at the top-tier plans

Additional fees required to stream above 720p resolution

Poor closed captioning support

Pricier than other platforms
Pricing:
IBM pricing plans range from $99 to $999 per month and include the following:
Silver

: $99/month

Gold

: $499/month

Platinum

: $999/month

Custom

: Please

contact IBM Cloud video

for custom plan pricing.
5. Kaltura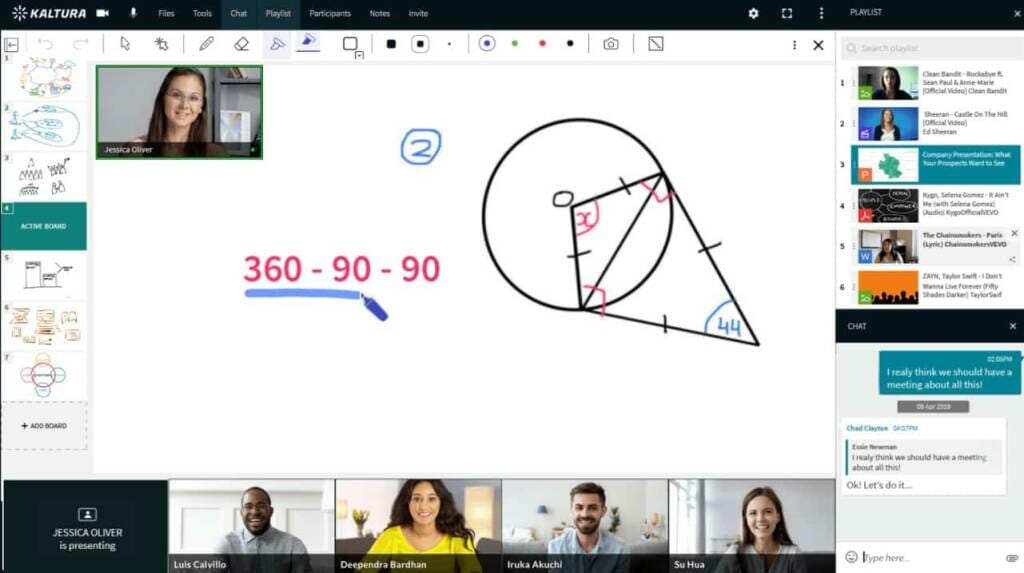 Kaltura is a powerful streaming platform geared toward large educational institutions. Kaltura's virtual streaming platform powers live and on-demand video streaming through its cloud-based hosting technology. 
This platform uses an open-source structure, which means you can integrate several different programs to customize your virtual event hosting experience.
Since Kaltura is an open-source platform, the feature offerings are endless. Kaltura's security features include DRM, encryption, and access control tools. They also offer a wide variety of monetization tools. The service is also fully white-label, and an API is available for programmatic interactions.
Basic Functionality:
Kaltura is an open-source video streaming solution capable of hosting large-scale virtual graduations and other events.
Key Features:
API access

Highly customizable

Video privacy and security (password protection, encryption, and watermarking)

Cloud video streaming

Closed captioning tools

Video monetization 
Pros:
Access to many features

Customizable streaming experience

Scalable streaming

Robust security
Cons:
Slow tech support

Highly complex platform

Not very easy to use

Does not support  China video delivery
Pricing:
Pricing for Kaltura is not available on their website. Contracts are priced case-by-case through a credit-based system that allows them to pay only for the features and bandwidth they use.
6. Livestream
Livestream is a premium video streaming platform offered by Vimeo that is geared toward large organizations with great streaming needs.
This video solution includes powerful content management features for live streams and on-demand video hosting.
Basic Functionality:
Livestream offers support for large-scale VOD and live stream hosting. 
Key Features:
Reliable security features

Audience interaction tools (perfect for virtual event hosting)

Detailed video analytics

Works with YouTube for multi-destination streaming

Easy-to-use platform 
Pros:
Unlimited events and viewers

Ad-free streaming

Insightful viewer analytics

Easy to use interface

Supports PPV monetization
Cons:
Does not support China video delivery
Pricing:
Vimeo Livestream offers three main pricing plans, including:
1) Vimeo Premium:
Premium pricing: $75/month

Their Premium plan includes both live streaming and VOD support. This plan is the best option for professional broadcasting on this platform.
2) Vimeo Enterprise:
Enterprise Pricing: Please contact Vimeo for custom pricing information

The Enterprise plan includes white-label service, monetization, and video API access. It also includes branding control and added security features.
3) Vimeo OTT:
Starter Pricing: $1/subscriber per month

Growth Pricing: starting at $500/month

This OTT-specific pricing package comes with the Vimeo.com

relationship. These plans include all the basics for starting your web-based OTT channel and growing your OTT business online.
7. Muvi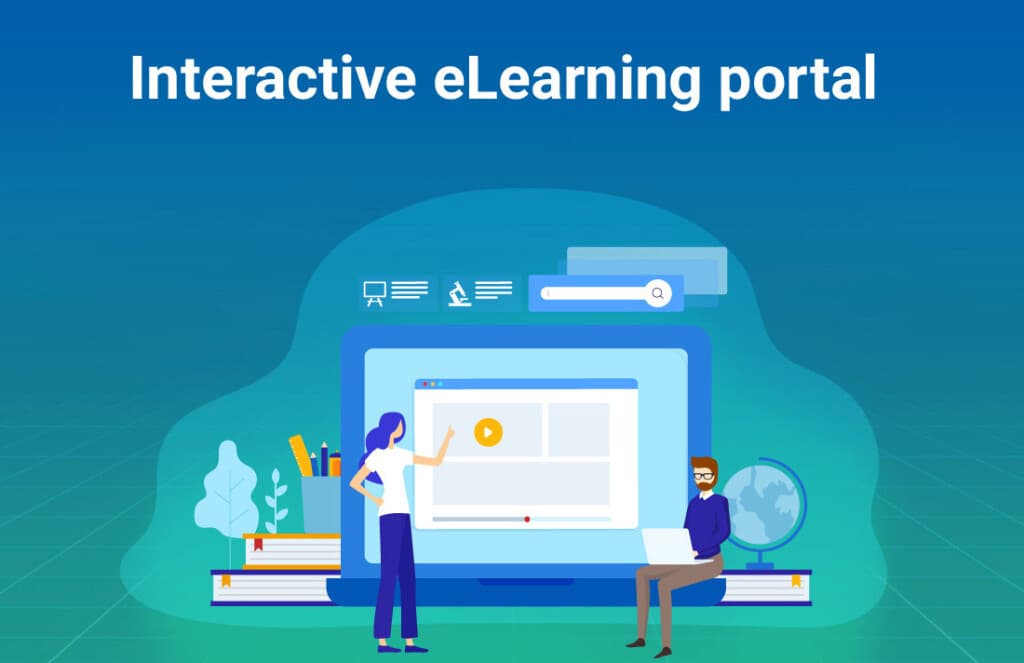 Muvi is an OTT video hosting platform that supports live streaming and VOD. Muvi includes access to API and white-label video players. These two features are ideal for broadcasting at a highly professional level because they give you more control over the appearance of your stream.
Basic Functionality:
Muvi supports live and on-demand video streaming. The education-focused platform is also well-suited for audio streaming.
Key Features:
Live and VOD streaming

White-label streaming 

Branding customization

HTML5 video player

Video analytics

Video CMS
Pros:
Powerful content delivery 

No coding required

Powerful video CMS

Transcoding for high-quality streaming

DRM and other security options

Mobile and smart TV streaming
Cons:
A bit tricky to use

Hard to integrate or connect

CMS user interface is complex

Does not support China video delivery
Pricing:
Muvi prices its plans at the following five levels:
Standard

: $399/month (+ $299/month per app +

infra fees

), allows 2000 concurrent viewers, 1TB each of bandwidth and storage, and API support.

Professional

: at $1,499 per month (+ $499/month per app +

infra fees

), increases limits further and adds premium support.

Enterprise

: $3,900 per month (+ $499/month per app +

infra fees

) adds a dedicated server with auto-scaling.

Ultimate

: $8,900/month (+ $499/month per app +

infra fees

) doubles the bandwidth and storage of the enterprise plan and adds your own CDN and unlimited API calls.

Black

: This custom solution includes everything in the Ultimate plan plus premium services and project management.
8. VPlayed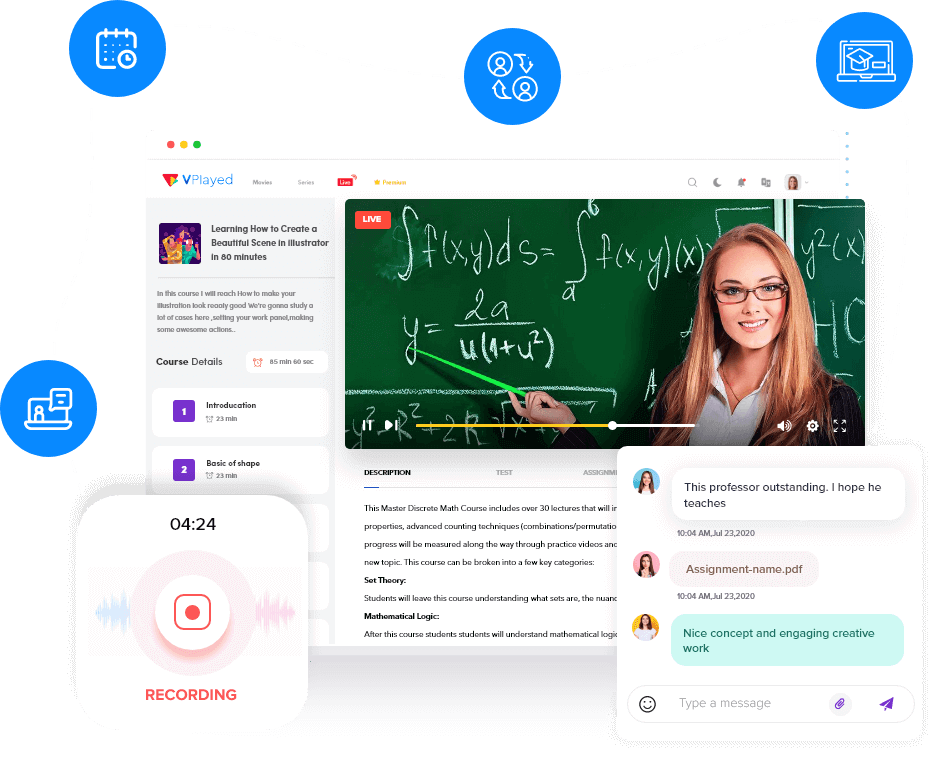 VPlayed is a unified streaming solution that is powered by Contus. The education streaming platform supports live and on-demand content hosting and management. This platform is well-liked because it is easy to use and customize.
Basic Functionality:
VPlayed is a streaming solution that supports live streaming and VOD.
Key Features:
HTML5 all-device video player

Live streaming and VOD

Video monetization

Video security

Tools for security

100% customizable experience
Pros:
Safe streaming platform thanks to reliable security

Tools for engagement and interaction

Highly customizable

Easy to use

Puts power in broadcasters' hands
Cons:
Some complaints about lack of pricing transparency 

No demo version

Limited analytics
Pricing:
VPlayed does not publish pricing on its site. Contact their sales team for more information.
9. Zype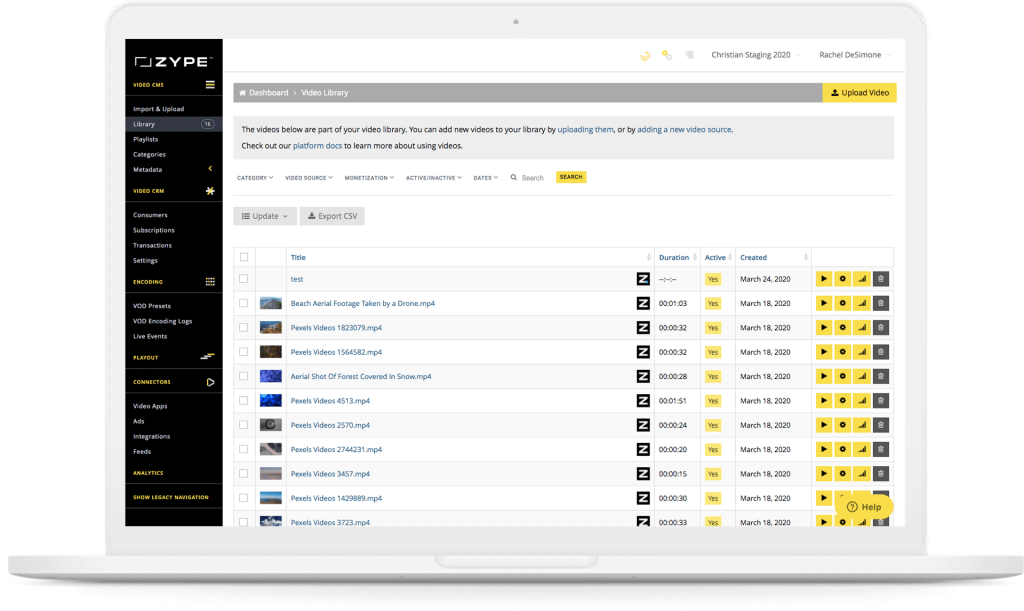 Zype is a high ticket live streaming solution for institutions with massive streaming needs. It is well-equipped to host a virtual graduation ceremony for thousands of participants.
Basic Functionality:
Zype is a platform for managing, hosting, and delivering high-quality live streams.
Key Features:
Scalable platform

Live and on

App building support

Bulk importing tools

Powerful CDN

API access
Pros:
Comprehensive video organization 

Highly customizable

No coding required
Cons:
Mixed reviews about support

Very expensive 

Limited simulcasting support

Limited analytics
Pricing:
Zype offers four pricing plans, including:
Zype X: $500/month
Network: $2500/month
Premium: $3500/month
Enterprise: $5000/month
Zype X offers a free trial. For more information on what sets these plans apart, please refer to the Zype pricing page.
10. Brightcove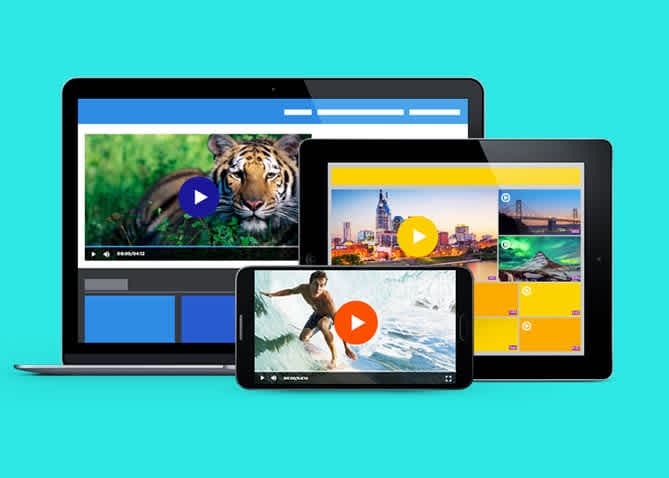 Brightcove is one of the oldest online video platforms that offer live streaming and video-on-demand (VOD) hosting. It is a competent solution that supports streaming on a large scale.
Basic Functionality:
Brightcove's basic functionality includes video cloud hosting, the lift video player, server-side ad insertion, live streaming video, OTT flow for internet TV, an encoder for cloud transcoding, and tools for monetization.
Key Features:
Live and VOD hosting

Access to video analytics

Server-side ad insertion

High-quality streaming via cloud transcoding and adaptive bitrate streaming

Video monetization
Pros:
Insightful analytics

Customizable video portals

CRM integration
Cons:
Very expensive

Monetization limited to custom-priced plans

No China video delivery
Pricing:
Brightcove offers three pricing plan levels that target higher-end clients. Brightcove's pricing is no longer posted, but plans include basic video marketing tools and analytics with SD streaming quality for unlimited viewers.
However, larger users will prefer the Enterprise communications plan, which is custom-priced. Those plans add advanced security tools, HD-quality streaming, and phone support (30-min response time).
The three pricing tiers include:
Starter

: includes 50 to 200 videos, up to 100,000 plays, and 2-5 users

Professional

: unlimited videos, 100,000+ plays, and no overages plays, with +10 users

Enterprise

: unlimited videos, 100,000+ plays, and no overages plays, with 10+ users, unlimited upload, and analytics-only users
Conclusion
If you're learning how to broadcast virtual graduation, this may be your first venture into live streaming video. Our best advice is to keep it simple, as things can get overwhelming once you complicate things.
In addition to preparing the tools we discussed before, we recommend running through your virtual ceremony time or two to identify any missing pieces.
While a successful graduation ceremony live stream takes a little equipment and know-how, it's neither tremendously expensive nor difficult. A bit of practice and experimenting with live streaming basics should help you compose a professional-quality production for students and their loved ones. 
Of course, this entire process is easier with a professional streaming platform. We at Dacast offer a full-featured online video platform with customizable features. 
Sign up for our 14-day risk-free trial to explore our graduation live stream platform and learn about the possibilities for live streaming your virtual graduation ceremony.