People love concerts, but sometimes it's difficult to attend the shows they want to. Sometimes the location is an issue or tickets are too expensive Some concerts simply sell out really fast.
One way that many promoters, bands, and event companies are getting around these roadblocks is by live streaming concerts over the internet. This approach is effective for both generating additional revenue and making the show available to more fans since 38% of young music fans are interested in watching concerts online. 
Lots of musicians and music festivals are getting in on this trend. One example is the huge music festival Coachella, which streamed live on YouTube for the first time in 2017. The Detroit Jazz Festival also streams live every year, as do countless other events. 
Sites like StageIt bring together hundreds of shows and allow popular musicians to earn tens of thousands from a single concert. To bring these online convert platforms to life, a video streaming solution with a specific set of tools and features is a must.
In this post, we're going to cover why live streaming a concert is a little bit different from streaming other live events. From there, we will discuss 7 features to look for in an online concert streaming platform so that you're equipped with the information you need to choose one for your own broadcasting.
Table of Contents
Live Streaming a Concert vs. Other Events

7 Features for Hosting Concert Live Streams

High-Quality Streaming

No Viewer Limits

White-Label Video Player

Auto-Archiving

Secure Paywall and Monetization Options

Privacy and Security

Analytics Dashboard

Final Thoughts
Live Streaming a Concert vs. Other Events
Live streaming concerts is different from live streaming other events since the goals, audience, and expectations are different. Therefore, organizers need to take a unique approach to ensure that their live streams are successful. 
Concert broadcasting requires access to professional tools in order to prioritize viewer-experience, which is important to keep in mind when choosing a platform for online concert streaming.
In addition to the software for hosting, you're going to want to invest in professional-grade equipment for concert broadcasting. High-quality cameras and sound equipment are a must. For some types of virtual events, you can get away with an iPhone or tablet, but you can't really get away with that when you're streaming a live musical performance.
7 Features for Hosting Concert Live Streams
As we mentioned, there are a few specific features that are very important for live streaming concerts. 
Let's take a look at 7 online video hosting tools that many concert broadcasters would say are essential when choosing the best platform for live streaming concerts.
1. High-Quality Streaming
Since you'll want to make your virtual concert feel as lifelike as possible, it is important to prioritize the quality of your stream.
There are a few elements that you can control that factor into your stream's quality. First, you'll want to ensure that you choose an online video platform that is capable of HD or 4K streaming. This is usually made possible by using a powerful content delivery network (CDN).
Most online video platforms partner with a live streaming CDN, which is a network of servers that are generally spread around the world. The purpose of a CDN is to deliver content quickly to large, geographically distributed audiences. 
They do this by copying the stream as it's being produced and broadcasting it from local servers to users in the area. This process is transparent to the viewers and ensures they get the best possible speed at any one time.
However, not all CDNs are created equal. In general, a CDN with more servers will be able to deliver live streams faster and more reliably. Larger CDNs are also often able to invest in the latest technology to improve quality, security, and so on. 
On top of this, geography is a factor. The best live streaming CDN for you will have servers located geographically close to your main audience.
Another element to pay attention to is your own upload speed. Of course, this is unrelated to your online video platform, but it is applicable when it comes to producing a high-quality stream.
In general, we recommend using a connection with double the upload speed necessary for your stream. Figuring out exactly what that means involves adding up your bitrates, which you can learn more about in our article on bandwidth requirements for streaming live video.
2. No Viewer Limits
The next critical factor for streaming live music shows is having no limits on viewers. Major artists can easily attract hundreds of thousands, sometimes even millions, of simultaneous viewers. This can overwhelm some smaller streaming services.
A huge audience is a major success, so you don't want to ruin that with lag or buffering.
Another way that online video platform limits can affect music producers is by restricting simultaneous streams. Many live streaming providers limit their users to a single stream at any given time. If your event features multiple stages, you'll need to be sure your platform supports concurrent streams to make this possible.
3. White-Label Video Player
Licensing and branding are critical in the music industry where piracy is always an issue. Therefore, we recommend that you use an online concert streaming platform that offers a "white-label" service.
White-label means that the video stream doesn't include the logo of the OTT video services provider. Instead, you can insert your own branding or logos from sponsors or the band itself.
Consumer-grade, free streaming platforms like YouTube, Facebook, and Periscope don't have this feature. Rather, they want the "free advertising" provided by their logo being on every video streamed on their platform. 
Most professional video hosting and streaming services will have this white-label feature, but often only with an expensive plan, so you'll want to choose a solution that has white-label capabilities at the plan that falls into your budget.
4. Secure Paywall and Monetization Options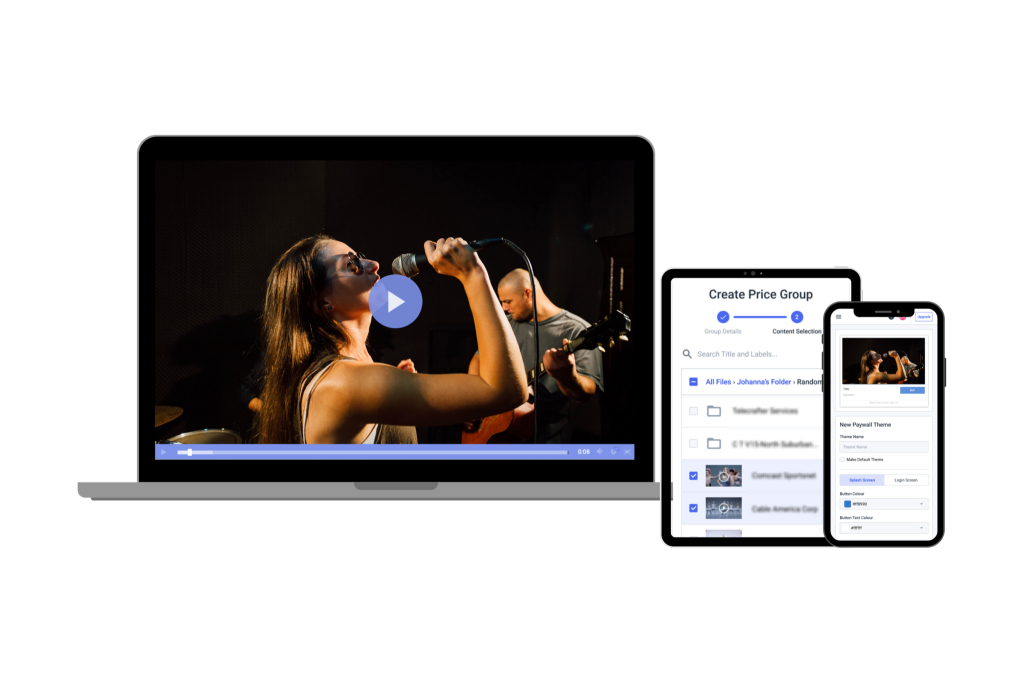 Many in-person concerts and music festivals are paid events, and live streaming is usually the same. Otherwise, you could end up undermining your in-person audience.
A high-quality online video platform for live music streaming should include easy-to-use tools for video monetization. For live streaming concerts, this usually involves the "pay-per-view" or transactional model. 
If you take a pay-per-view approach, users will reach a paywall when they visit your website. To pass the paywall, they enter their payment info and the show goes on. 
Advertising and donations are also sometimes used to monetize live music streams.
Some OVPs don't offer a paywall or have limited monetization features. Make sure to investigate this before choosing your OVP. On top of that, make sure your paywall is secure so that your viewers can trust that their financial information is safe and sound.
5. Analytics Dashboard
Analytics gathers data on the people viewing your live stream, which gives you a better idea of who your audience is. The type of data gathered by analytics typically includes:
Number of viewers

Geographic location

Amount of data transferred over time

Time spent watching

Revenue over time
This information is highly valuable for identifying where your online audience lives and other information that can help you make future events even more successful. Generally, video analytics data is gathered via a "dashboard" that can be customized to show the statistics that are most important to you.
6. Auto-Archiving
It's a rule of thumb in the digital multimedia world that you should aim to have at least two backups of any important files. That rule definitely applies to concerts. 
Auto-archiving refers to the automatic recording of live streams. This is a convenient and easy way to maintain an off-site backup of your concerts. This method can be combined with local backups of your stream. This way, you'll always have multiple copies of your live music stream.
Additionally, auto-archiving saves time if you're going to make your live stream available for on-demand playback after your concert or music festival has ended. 
Since you don't have to upload a local recording to your video host after the fact, auto-archiving allows you to start distributing the recording of the show almost immediately. 
That can help you capitalize on the buzz around the event, generate revenue, and please fans quickly. Some shows are even monetizing recordings by selling video or audio recordings of the show to fans as they are leaving the venue.
7. Privacy and Security
Video piracy costs broadcasters billions of dollars each year. That's why it's so important to protect your video content so that scammers cannot sell your live concert streams as your own.
Domain restrictions are a must for concert broadcasting. Essentially, this security measure makes it impossible to embed a video player in websites with uncertified domains. For example, if your website is "liveconcert.com," you can set restrictions so that the live stream only plays from pages on that site.
Relatedly, you can use secure upload tools to make sure that nobody infiltrates your live stream in front of millions of paying viewers.
Final Thoughts
Bands, producers, and event hosts have a great deal to gain from expanding their live music concerts to a global audience via live streaming. 
Live broadcasting concerts can seem intimidating, but with the right online concert streaming platform, you should have no trouble getting started.
Luckily, this post has provided all the information you need about choosing a streaming platform with the best features for the task at hand.
Not sure where to go from here? We recommend checking out our comparison of the 10 best professional live streaming platforms, then taking advantage of free trials from different streaming solutions to get a real feel for their features.
Dacast offers a risk-free 30-day trial that provides access to all of the powerful features we've covered in this post. Why not give it a try to start your search on the right foot?
All you have to do is create a Dacast account to start your trial. No credit card required.
Let us know what you think in the comments. We love to hear from our readers, and will answers as many questions as we can.
For regular live streaming tips and exclusive offers, you can also join our LinkedIn group.
Thanks for reading and good luck with your live streaming!